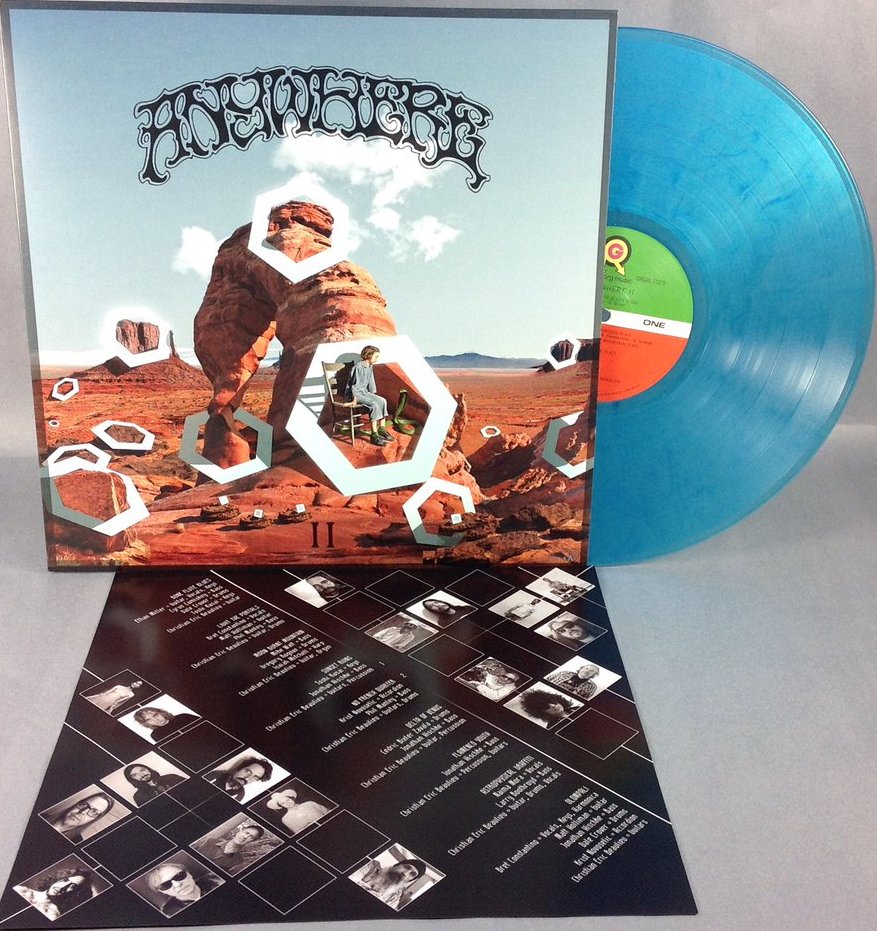 Mac DeMarco, Courtney Barnett, Tom Waits, Wilco, Brian Eno with My Bloody Valentine Kevin Shields,  The Flaming Lips, The National, The Cure, Arcade Fire, David Bowie, Sufjan Stevens, Swans, Car Seat Headrest, Fleet Foxes and Lou Reed are among the many artists releasing special vinyl records on April 21st for Record Store Day. Click through for guides to hip-hop releases, classic rock, prog and psych, jazz and jam bands. The complete Record Store Day 2018 list is here – as well as here, sorted by genre. The most anticipated alternative and indie releases are previewed in the bottom of this post, but first a summary of some of the releases slipping under the radar of too many.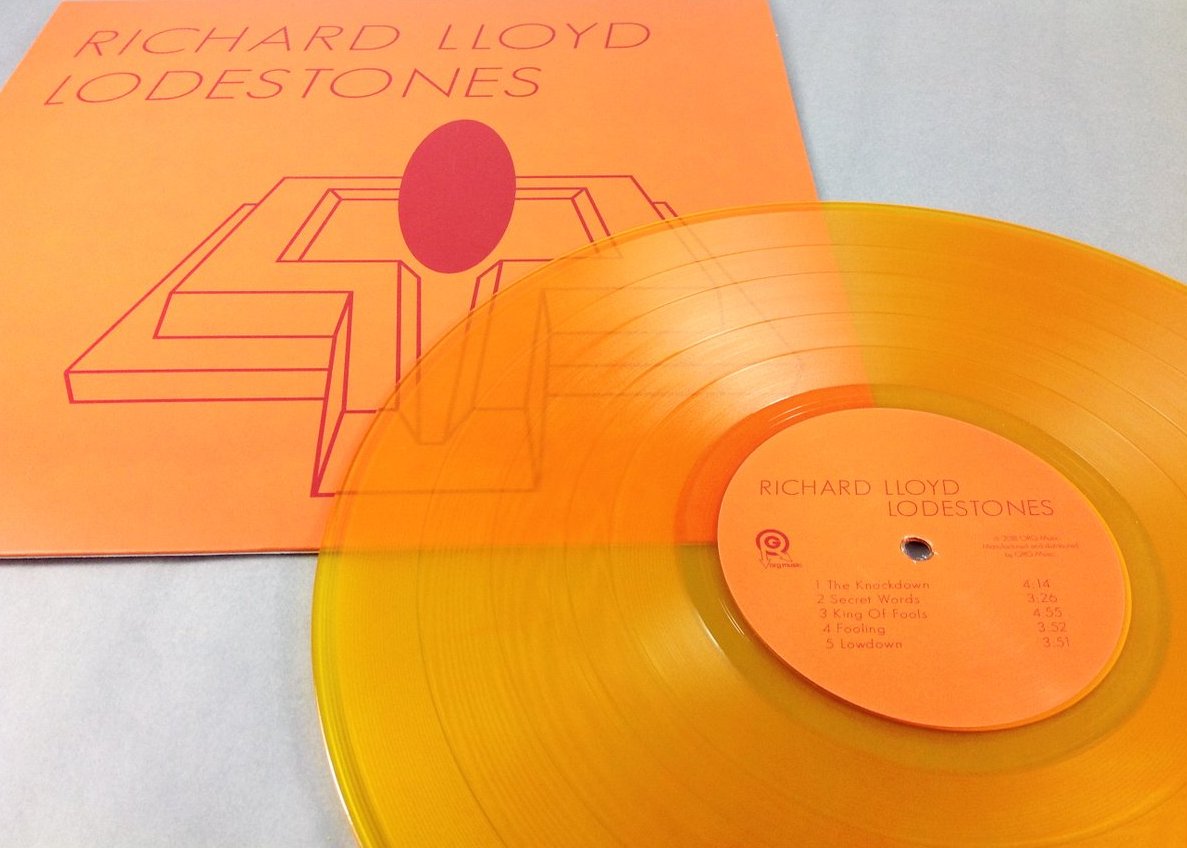 Two solo albums by Television co-founder Richard Lloyd will be released on vinyl for the first time: The Radiant Monkey and Lodestones, the former on green transparent vinyl and the latter (shown right) on orange vinyl. Christian Eric Beaulieu and The Mars Volta's Cedric Bixler Zavala's Anywhere project returns with sophomore album Anywhere II, a RSD Exclusive on translucent blue vinyl (shown above) featuring Krist Novoselic, Mike Watt, Dale Crover and others. Watt's side project with Raymond Pettibon, Sock-Tight is releasing "Second Wind," a translucent orange limited edition 7-inch featuring a different sax player on every track with a gatefold jacket designed by Pettibon:

Also of note: Mick Jones post-Clash band's Big Audio Dynamite EP On The Road – Live '92 gets its first ever vinyl issue; Mom+Pop is reissuing FIDLAR's self-titled debut album as an LP picture disc, and The Lurkers Fulham Fallout will be reissued for its 40th anniversary on orange vinyl. The MC5 are reissuing two of their earliest singles: "Looking At You" and "I Can Only Give You Everything." Both were pressed at Detroit's own Third Man Pressing and feature new packaging with rare photos and linear notes by  David Fricke. Ramones early mixes previously only available in the Leave Home: 40th Anniversary Edition deluxe CD box are compiled on new vinyl LP Sundragon Sessions. Lou Reed's 2004 live album Animal Serenade will be available for the first time on vinyl – recorded live in 2003 with a drummer-less band including Mike Rathke (guitar/synth, bassist), Jane Scarpantoni (cello), and vocalists Fernando Saunders and Anohni, from Antony and the Johnsons. Touche Amore will mark the tenth anniversary of Demo 12″ with a 12-inch edition featuring a B-side etching. An unreleased concert from The Wipers "Youth Of America" tour recorded on New Year's Eve 1982 in Portland, Oregon has been mixed from the original master tapes for Live At The Met 12/31/82.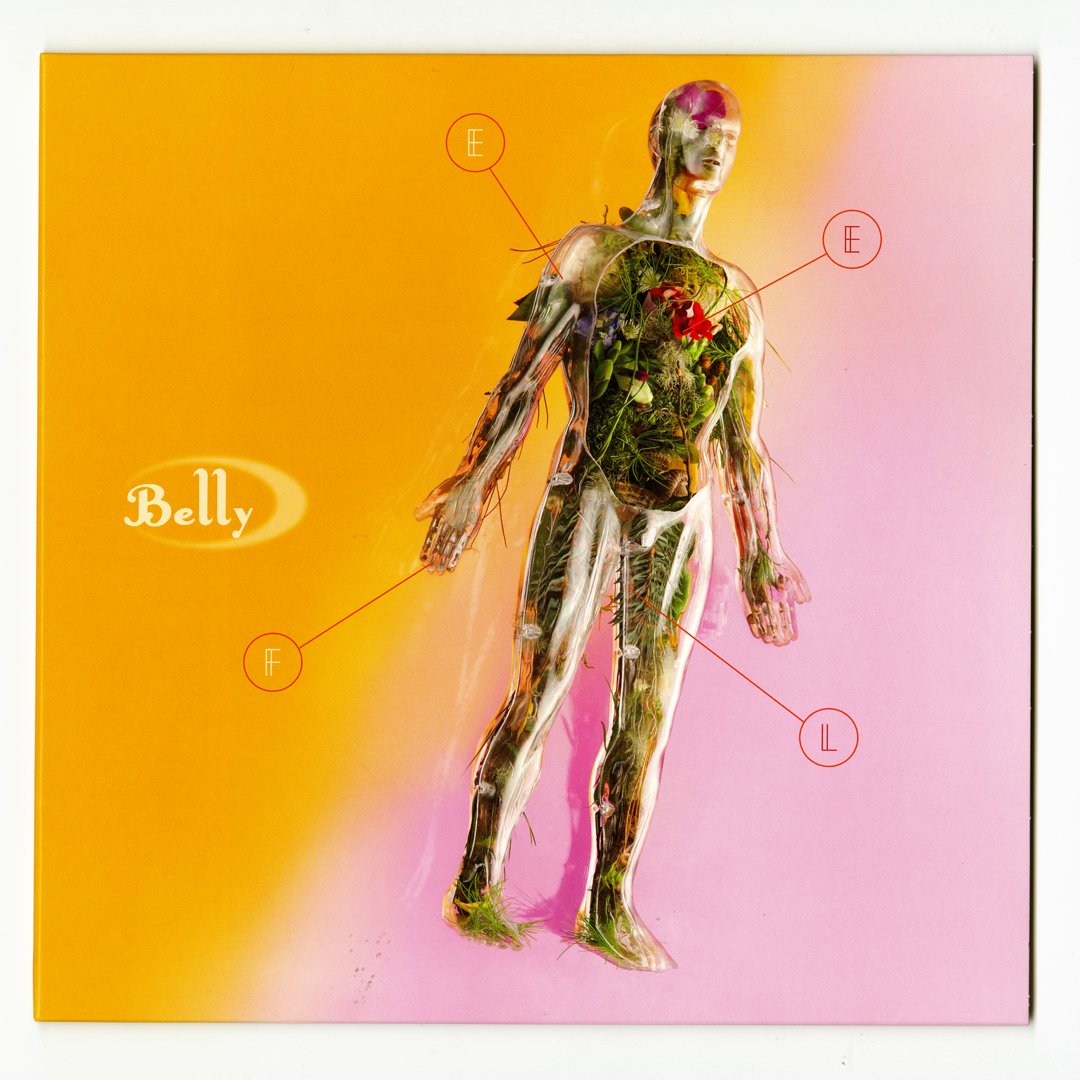 Among other indie and alternative gems available this year The Strokes' Albert Hammond, Jr. is releasing two outtakes from his last album; Julian Casablancas' 'other band' The Voidz will issue "Qyurruys" with an exclusive song on its flipside, "Coul As A Ghoul;" and Parquet Courts preview their forthcoming album with two previously unreleased tracks. Phoenix is issuing "Monologu," a precviously unreleased out-take from the Ti Amo sessions, on a heart-designed 7-inch colored vinyl (preview it above). Robyn Hitchcock is releasing three live recordings as a 7-inch single and The Dream Syndicate have compiled new live tracks and bonus cuts from their latest album into a new LP. Belly will preview their forthcoming album – their first in 23 years – with two tracks on a 10-inch colored vinyl EP, and two non-album exclusive tracks on the B-side. Stream "Starryeyed," one of the new songs Belly EP songs, on YouTube. Grunge pioneers TAD have compiled '90s studio and live recordings onto a new LP to be pressed on green vinyl. Beck has a remix on the B-side of U2's new single and has mysteriously promised "some Colors tour surprises in select stores."
Among other releases of particular interest for punk fans:
Details on the most anticipated indie and alternative releases follow below. Click "see more" or open in Facebook on any entry for additional details including full tracklists. Open pictures in Facebook for a larger view. All of the below can also be commented on Facebook, "liked," shared and so on. Each entry also includes streaming audio when possible, in many cases the entire release.
Mac DeMarco and Shamir
– Beat Happening Covers
Also Old Dog Demos
Sufjan Stevens – Mystery of Love
Courtney Barnett – The Double EP: A Sea of Split Peas
Also "City Looks Pretty" 12-Inch
The Cure – Torn Down
U2 – Lights of Home
The National – Boxer:
Live In Brussels
Tom Waits
– Brawlers, Bawlers And Bastards
Wilco – Live At The Troubadour (11/12/96)
Ride – Waking Up In Another Town: Weather Diaries Remixed
Swans – Die Tur 1st
Brian Eno With Kevin Shields
– The Weight Of History In Clouds
The Shins vs Los Lobos – The Fear
Fleet Foxes
– Crack Up (Choral Version)
Arcade Fire – EP
Car Seat Headrest
– Twin Fantasy (Mirror To Mirror)
Rage Against The Machine
– Live At The Democratic
National Convention
Soundgarden – A-Sides
The Flaming Lips – The Story Of Yum Yum And Dragon