Updated August 5th
Read a condensed version
of this article on twitter. 
With the origins of at least two of its eleven tracks dating back to 2012, The Flaming Lips have been working in earnest on their next album proper – that is, not a classic LP remake, not a collaborative project with "fwends," not some edible or otherwise unconventional release – since late 2014. It seems almost as long Wayne Coyne has been saying it's near complete. In the May 2015 interview excerpted below for instance Coyne suggested The Terror's follow-up could have been finished last fall:
That obviously didn't happen (they were focused on being Dead Petz with Miley Cyrus). Fast forward almost exactly one year to May 2016 and it may have seemed not much had changed: alongside work on Miley's next album, Wayne gave a similar status report for the Lips LP. "We're almost done with our new album," he told Free Press Houston ahead of their 2016 Memorial Day Blowout at White Oak Music Hall. But following a final trip to producer Dave Fridmann's Tarbox Road Studios in late June, it seems their next record now really is upon us!
Though nothing has been officially confirmed yet, here's what we (maybe) know:
All Signs Point…
…That The Album Title Is "Oczy Mlody"
George Salisbury – Coyne's main partner for all Lips visuals (album covers, music videos, concert projections, etc) – teased a short video with Instagram's new "story" feature titled "Gettin' close!!!!" It shows artwork on a computer screen, then a list of five files, each labeled "The Flaming Lips – Oczy Mlody…"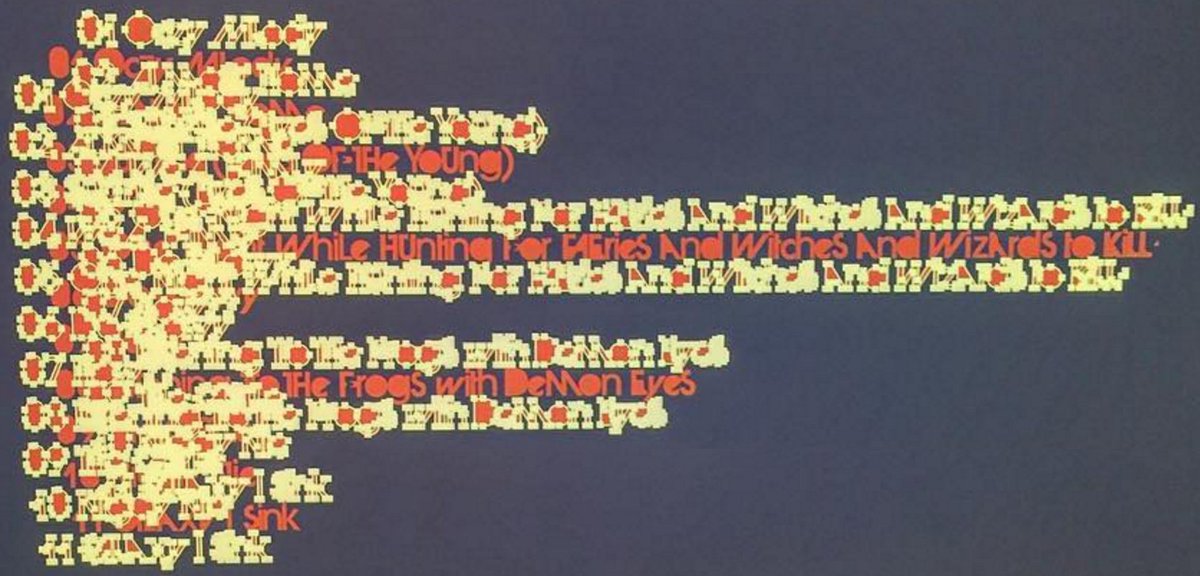 Polish for "Eyes of the Young" – well, broken Polish (let's say it's Polish-ish) – the phrase "Oczy Mlody" has been teased several times before. Though it's hard to discern, look closely to see it at the top of the above shown album tracklist (right click on the image above for a larger view) shared by Wayne on June 1st (more on that later below). It's also a hashtag Coyne has randomly used on various Instagrams (not necessarily relating to the album; see a couple of examples of the #oczymlody hashtag in action here and here). "Oczy Mlody" was also in Steven Drozd's Instagram bio last month. Although he's since changed it a cache in search engines shows the bio as it was:


(Whisper Ants is one of Drozd's pre-Lips bands, the others are more recent endeavors.)
Adding to all that, these teases seem to have spawned an oczymlody Instagram account by a Brazilian fan.
…And That This Is A Tease Of The Album Artwork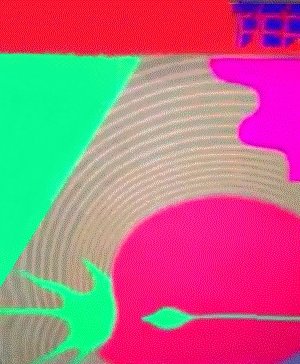 As can be seen in the video, the five aforementioned files have the .ai filename extension used by Adobe Illustrator (key takeaway: they're image files). Their full names are:
The Flaming Lips – Oczy Mlody – GATE INSIDE 20
The Flaming Lips – Oczy Mlody – GATE OUTSIDE 20
The Flaming Lips – Oczy Mlody – DUST 1.19
The Flaming Lips – Oczy Mlody – DUST 2.19
The Flaming Lips – Oczy Mlody – DUST UNUSED 18 In the video GATE OUTSIDE 20 is highlighted/clicked on, suggesting it was the graphic that immediately preceded it. Presumably the "dust" files are the visuals for the record sleeve (aka dust sleeve) and the "gate" files are the artwork for its gatefold. This suggests the image shown in the video – presumably "GATE OUTSIDE 20" – is either the front or back album cover.
This Is The Art For The Inside Of Its Gatefold Sleeve
.
…note the last hashtag.
And This Is The Tracklist
While deciding fonts for the tracklist on June 1st, Wayne Coyne shared this:
.
First notice that the presumed album title is above the tracklist (and possibly below, stylized with pink squiggly writing). On closer inspection, it may be that "Oczy Mlody" is the title of the opening track as well. The names of the songs listed are hard to make out save for a few words, though the tease does confirm the album has eleven tracks (assuming there haven't been, or won't be additional changes). Upwards of five titles are discernible – the lead title track, if that's what it is, and four others. Most significant, this tracklist confirms two songs already speculated to be on the album: "One Night While Hunting For Fairies And Witches And Wizards To Kill" and "Listening To The Frogs With Demon Eyes."
Also note: whatever track three on the new album is, its title clearly ends with "….of the Young" – notable because the apparent album title is Polish (or Polish-ish if you will) for "Eyes of the Young."
Sidenote: Why Polish? It hasn't been revealed but it's perhaps worth noting (or maybe not, but a fun tidbit to bring up whenever possible regardless) that Steven Drozd got his start as a professional musician playing drums in his dad's Polka band:
More speculation (though decidedly not fun): it's perhaps worth noting – then again it might be completely off-base to mention – that Steven's father passed away during the making of this album. (The Lips have a history of songs shaped by deaths of their near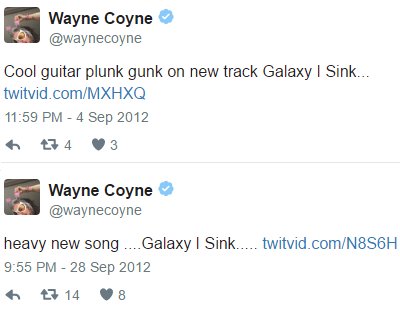 and dear ones.)
And some more:
Track eleven, the album closer, appears to be "Galaxy I Sink," another song with origins dating back to the period in 2012 between The Terror's recording and release.
.
Most notable is "Listening To The Frogs With Demon Eyes," a song inspired by frogs Wayne would hear when he took his dog Dazey for walks that's also been in the works since the period that immediately followed The Terror's completion in April 2012:
At one point "Listening To The Frogs With Demon Eyes" was planned for a concept EP of sorts. "We have a series of songs that we haven't released yet that is about listening to some frogs that are in a little stream in a park that I would walk my dog in," Wayne explained to Rock It Out! Blog at SXSW. "Steven and I talked about this sort of collection of songs being in maybe a frog."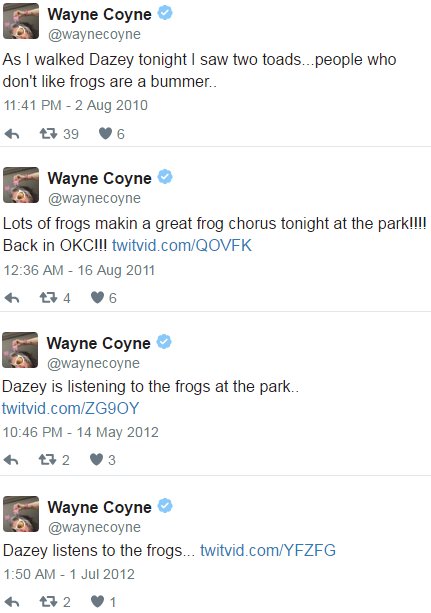 It was speculated in 2013 that the "Listening to Frogs…" release would be the long-promised, never-delivered "Gummy Frog" regularly rumored in the second half of 2011 as the next in the Lips' series of monthly releases that year. "We have an edible, psychedelic frog coming out," Coyne explained to Clash Music in October 2011. "It's a clear frog that you can pour psychedelic dust on and then lick it – it's going to be a pretty good one." That December the Aspen Times announced the Lips' next release would be "a batch of songs to be sold in a psychedelic gummy frog. The frogs will have powder sprinkled on them that is meant to be licked off; the idea was inspired by the South American toads that, when licked, can cause hallucinations." It never came to be. Not in 2011 – as originally suggested; not in 2012 – as teased at the time; and not in 2013 when the "Listening To The Frogs With Demon Eyes" concept was explained. But "Listening To The Frogs…" survived and will finally be released on the new album!
Their Intention Going In
(Will The New Album Sound Like The Soft Bulletin?)
The Flaming Lips first discussed the next album-to-be in several summer 2014 interviews, mentioning that they would begin work at the end of that year (which they did). At that time Wayne suggested it would pendulum swing away from the bleakness of The Terror back towards a sound closer to The Soft Bulletin and Yoshimi. "We're always kind of going [with] a yin and a yang," he told The Baltimore Sun.
Did they? That remains to been seen…
…stay tuned for a future post on the album sessions that followed and a preview of the new record – coming soon!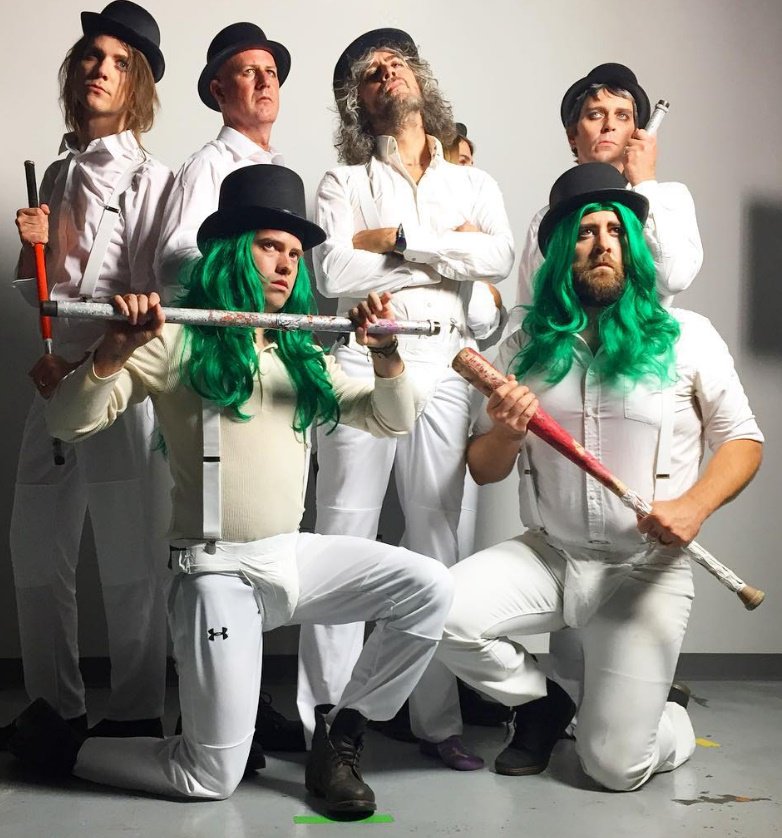 In the meantime, check out some snaps of The Flaming Lips as characters from movies. Ahead of their new album, The Flaming Lips had a photo shoot for new band pics dressed as the droogs from A Clockwork Orange and the Wizard of Oz gang. How Gnarls Barkley of them…
Like these photos? There's many more from this shoot collected here.
https://www.instagram.com/p/BIvJmetgbW9/
https://www.instagram.com/p/BIvQhEhgU-p/
.
Follow updates on Facebook and Twitter
Thanks to Downtown Randall Brown for help with this post. Read his column for Go Knoxville (recommended: his 2015 interview with Wayne Coyne) and check out his band Quartjar.