Intent on recording demos in late 1985 that captured how Spacemen 3's sound had coalesced, founding frontman/guitarist Jason "Spaceman" Pierce convinced the band's original-but-since-departed bassist Pete "Bassman" Bain to rejoin the group. They recorded a tape in January 1986, mostly live-to-a-16-track-console at a home studio near Northampton, UK – including early versions of songs that appeared later that year on their debut LP, Sound of Confusion. This demo tape led to them signing to Glass Records, gained repute with fans and was issued in 1990 as the album Taking Drugs to Make Music to Take Drugs To. It's been reissued several times since, including twice on CD by Space Age Recordings, the label run by the band's former manager Gerald Palmer that members have accused of ripping them off.
Now Taking Drugs… is set to be reissued on vinyl in the UK April 21st for Record Store Day.
But according to Bassman, this reissue is another example of Palmer "on the rip again"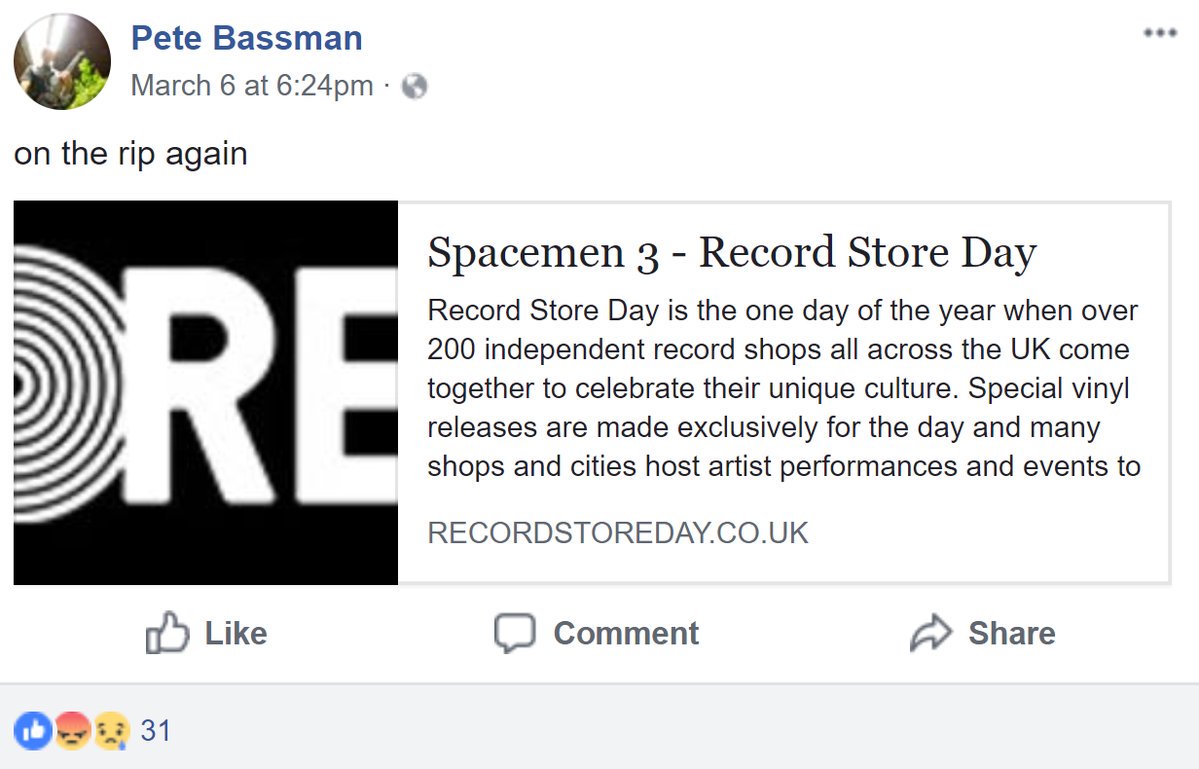 Public objections from Spacemen 3 members to reissues from Space Age Recordings like this one aren't new. Spacemen 3 co-founder and mainstay Peter "Sonic Boom" Kember has posted on several sites in recent years alleging Palmer and Space Age Recordings has ripped off the group. Bassman has criticized Palmer even more so, repeatedly since 2015 in a series of posts previously summarized by The Future Heart.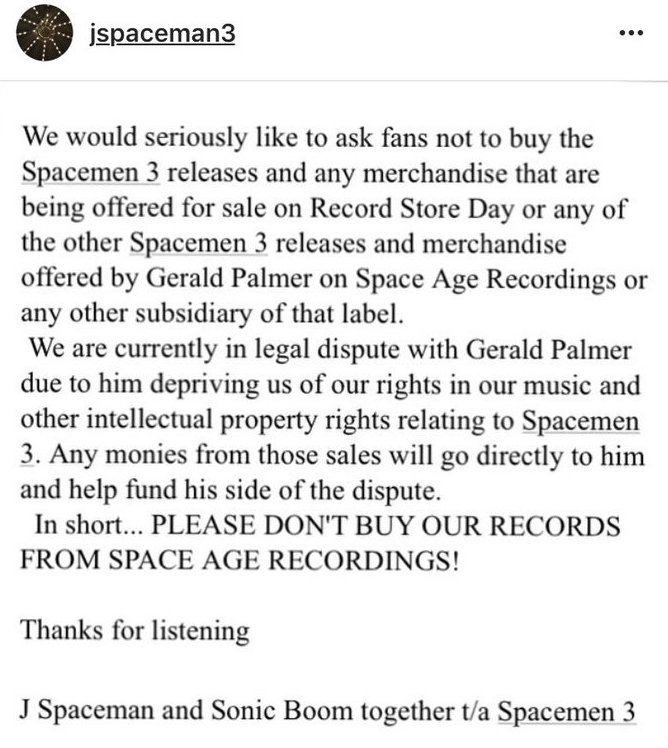 The conflict came to the attention of most fans last April. Provoked by Space Age Recordings re-releasing three albums for Record Store Day 2017 (Playing With Fire, Recurring and For All The Fucked Up Children), Sonic Boom and Jason issued a joint statement asking "fans not to buy…Spacemen 3 releases and merchandise offered by Gerald Palmer on Space Age Recordings or any other subsidiary of that label." (Full statement in screen shot at right). Shared across all Spacemen 3's and Spiritualized's social media platforms, it not only marked Jason's first public comment on the situation, but also a reunion of sorts between him and Sonic Boom: they hadn't spoken even one word to each other since Spacemen 3 broke-up in 1991 according to a 2011 interview with Sonic. Palmer e-mailed The Future Heart the same day as Sonic and Jason's joint statement in response to The Future Heart's previously published coverage of the band members' years-long objections to Space Age Recordings and Bassman's claim that Palmer was "cashing in by releasing without the artists consent a trio of Spacemen 3 reissues." Palmer insisted:
"all claims that these reissues are 'illegitimate,' that legal action is being taken, and that the band's members are being paid 'very little to NO ROYALTIES' are both strenuously denied and completely refuted."  
Sonic Boom and Jason's joint statement requesting fans not buy Space Age Recordings products was removed from all platforms on April 28th, six days after Record Store Day 2017, at the demand of Palmer's legal representation. In a follow-up interview with The Future Heart a week later Bassman explained his perspective. Among other points he said:
Bassman also discussed the controversy on his
personal blog
at the time, writing:
"We have achieved unity between all SP3 members and gained the support of our fan base. Gerald has been asked to participate in a mediation process to address the concerns we have, so far he has failed to capitulate."
"There are certain parameters in this and Gerald still has an opportunity to nullify contention and public debate, this is not a witch hunt but an issue that has many aspects and nuances."
Nonetheless business appeared to continue as usual for Palmer, and in August 2017 Space Age Recordings reissued a CD edition of  For All the Fucked Up Children. Bassman again commented on his personal blog, writing, "this time he is up against the substantial amount of criticism and animosity that resides within the global community of SP3 fans. It will be against the wishes of all SP3 members who would like to see a resolution to the current state of contention before continued commercial exploitation." Bassman also claimed that the last reissue came with a "note to retailers" denying the band's public objections to Space Age's reissues and that:
"Gerald has managed to remove all images of himself from Google, makes you wonder why, maybe it is because the most recent photo of Gerald was taken whilst in court during his altercation with The Enid. The photo was distributed publically with the word 'RAPE,' and various other statements accusing Gerald of wrong doings. It was an inflammatory gesture made in desperation by a person that had suffered considerably from Gerald's behaviour."
Now, with another Space Age Recordings reissue due out in the UK for Record Store Day 2018, Bassman updated The Future Heart on the current status of the conflict, as well as what else is on his horizon.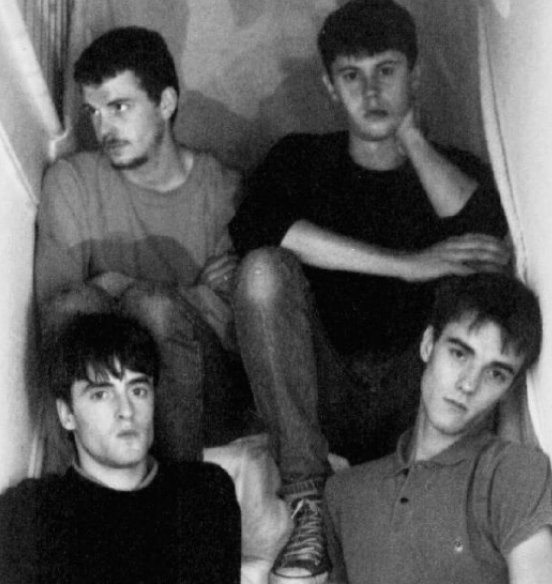 Natty Brooker, Bassman, Sonic Boom and Jason Pierce
1986 PR Photo by Craig Wagstaff
The Future Heart: Spacemen 3 was criticized last year for waiting until two days before Record Store Day to request fans not buy the Space Age reissues. The argument went that since by that point the stores had already bought and stocked the albums, any boycott efforts would hurt the stores while having minimal consequences for Space Age. The stores had already paid the label. 
Bassman: I understand the point you make regarding the boycott which Sonic and Jason instigated. I was certainly 'stirring things up' by issuing the statements concerning Gerald Palmer. At the time the anger and frustration had turned to outright hatred of Gerald and the way he had over exploited us. Not just the exploitation but the repellent attitude and conceit. Sonic and Jason had a short lived attempt at standing up to Gerald but quickly backed down. The boycott was ill conceived. At this point in time record stores need all the support they can get. They are absolutely vital to the people left trying to keep this fragile economy afloat. It has created a large amount of confusion and mistrust, and what makes things worse for the legacy of the band is the lack of open dialogue between all parties. Gerald has a very unsound agenda and that is to gain control of as much of Spacemen 3 as he can get his hands on. Instead of fucking off into the ether he is continuing on a trajectory that will guarantee perpetual conflict. I wait patiently for the time when the principle songwriters, Jason and Sonic can begin to address the issues that have accumulated over the years. Since the public boycott of Space Age things have certainly become quiet and information regarding any future negotiations with Gerald is scarce. And I know why. Because there is a high possibility that I will turn it into a blog! As the old saying goes, 'Either you are part of the problem, or part of the solution.' I would be honest and say I am willing to be a part of the solution, to find an amicable and satisfactory solution. But if that is not achievable or undermined by ego's or stubborn attitudes then I guess the gloves will come off. Things could get ugly but I hope Jason and Sonic are continuing to build their case with the intention of engaging with Gerald with some purposefully negotiations. It is an ongoing story and the current chapter is in my opinion highly cryptic. Only time will tell.
"The boycott was ill conceived.
At this point in time record stores
need all the support they can get."
I own 50% of the recordings and I am attempting to negotiate with Palmer. My losses over the years on these recordings is substantial. Regarding the boycott and the current situation with Spacemen 3, I think we are treading a fine line here.
The Future Heart: Do you mean specifically 50% of the Taking Drugs to Make Music to Take Drugs recordings?
Bassman: I am in contact with Gerald Palmer, and once again I will try to encourage him to address some of the issues, and one point is my ownership of the forthcoming release Taking Drugs to Make Music to Take Drugs. It was Sonic who reminded me I paid 50% of the recording session. We shared the cost of that session. I forgot.
The Future Heart: What do you want fans that wish to buy the Taking Drugs reissue on Record Store Day to know?
Bassman: I do know the release will be remastered by John Rivers. He's a good guy, He recorded Darkside [All That Noise] and The Specials second LP [More Specials, among hundreds of other albums], but I am unsure if he will master from an existing vinyl record or the studio masters. John mastered the Space Age release of Live at the New Morning [Geneva Switzerland 18] from the Swiss version which is basically bootlegging. We will get royalties but according to percentages that are heavily biased towards Gerald, as always. Current royalty statements reveal an absurd situation regarding merchandise and the financial disparity between us and Gerald. Will Carruthers [Bassman's replacement in Spacemen 3] has promised to publish his royalty statements. I will do so as well. This could be the only way to illustrate the depth of our problems with Gerald.
Gerald has kept the door open for negotiation but the problem is nobody wants to step through it.
The Future Heart: This year's Record Store Day release was promoted on Spacemen 3's official twitter (embedded below). Jason and Sonic tweeted from the same account last year to urge fans to not buy the Record Store Day 2017 reissues. Who runs that account?
Bassman: No idea who is behind the Spacemen 3 twitter account, but I will find out. I will probably say to them, "who the fuck are you?" Personally I don't like this at all and find it a little creepy.
The Future Heart: The original Taking Drugs to Make Music to Take Drugs To release is hard to categorize within the Spacemen 3 discography. It's not uncommon to see it referred to as a quintessential Spacemen 3 album, though it was recorded merely as a demo and was never released as an official album. It seems beneath it to call it a "bootleg." Where do you place it and do you have any thoughts on the new reissue replacing prior cover art with color artwork by Spacemen 3's former drummer and subsequent visual artist Natty Brooker?
Bassman: It was Byron Coley who first put it out. I bought it thinking it was a bootleg. [Note: The original 1990 LP was released by Father Yod, a trippy offshoot of Byron Coley and Thurston Moore's associated label Ecstatic Peace!]. The artwork was created by Byron I think – certainly not Natty's work.
I have advised Gerald of my ownership. Of course he thinks it is his, a bargain offered to him by Sonic during the heroin-soaked past.
The Future Heart: As for your other bands, you issued a Darkside box set last December and suggested that a Darkside release of live material and an Alphastone collection might be next. More immediately, you've said a reissue of Alphastone Stereophonic Pop Art Music on double 12″ vinyl from Hoga Nord with unreleased material is scheduled. 
Bassman: The Alphastone box set largely depends if we sell the Darkside box which has been a diabolical disaster from start to finish – the worst release I have ever been involved in. This prompted me to say things on my blog regards Stuart Roswell and the band. [Note: Bassman is referring to two paragraphs from this blog post that have since been removed.]
The Future Heart: What else is on your horizon?
Bassman: I plan to focus on guitar loop material and a more experimental vibe. I have been on and off music for many years but now I play everyday and feel really connected with my sound. I have joined a Leicester band called Cherry Choke, playing bass. The drummer Dan [Lockton] is an old friend and a great drummer out of the Keith Moon mound. Matt [Bethancourt], the guitar player and vocalist, is another highly proficient musician. I think together we can make a really fine band. They have already released four LPs. The plan is to work on an EP. I really appreciate that they want to work with me and that is another factor that has pulled me out of rut that you fall into sometimes.
Other than music I hope to release my first book Midlands UFO Trip, which is about the local sightings and abduction cases that have happened in our locality. I think Spacemen 3 fans will find it interesting and probably amusing because I was a participant in a close encounter – of which kind? Well you just will have read the book but I promise it is a walk on the weird side!
The Future Heart: On your blog you mentioned you also wrote a book about The Darkside that you lost large chunks of from a faulty laptop hard drive, but may re-write to sell as a limited edition book.
Bassman: The book will cover all this deeply unpleasant bullshit that has rained down on me. The experience has been so unsettling I cannot bear to think about that band.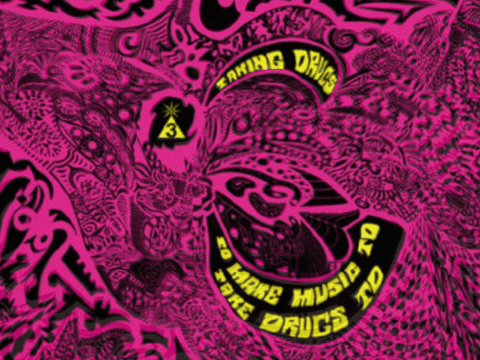 Note that Pete Bassman's comments regarding Taking Drugs To Make Music To Take Drugs To refer specifically to the UK and European reissue due out April 21, 2018 on Space Age Recordings. They do not refer to the US reissue of the same album due out April 20, 2018 from San Francisco's Superior Viaduct, the latest in the imprint's Spacemen 3 vinyl reissue series praised by Will Carruthers, former Spacemen 3 bassist (Carruthers also wrote the liner notes for Superior Viaduct's just released Dreamweapon reissue). The pending Space Age Recordings reissue can be easily spotted by its unique purple and yellow colorized album color, whereas the Superior Viaduct reissue will have the same design but in black and white (like the original 1990 Father Yod release). Space Age Recordings is also reissuing Taking Drugs To Make Music To Take Drugs on CD April 27th with the same album cover as the 1994 BOMP! edition).