Updated April 21st With Reply From Pete Bassman
Updated April 28th With Comment From Gerald Palmer
As reported by The Future Heart last month, three Spacemen 3 albums are slated for reissue in the UK  by Space Age Recordings on Record Store Day – Playing With Fire, Recurring and For All The Fucked Up Children – but the authorization of these releases is debated by band members. To recap: Space Age Recordings is run by Gerald Palmer, Spacemen 3's former manager. Peter Kember, one of two Spacemen 3 founding members and mainstays – the other being Jason Pierce – has posted on numerous sites in recent years alleging Palmer and Space Age Recordings is ripping the band off. Better known as 'Sonic Boom,' he wrote on Spiritualized's message board last year:
"SPACE AGE ARE CURRENTLY UNDER-PAYING , OR IN SOME CASES NOT PAYING AT ALL , ROYALTIES TO THE MEMBERS OF SPACEMEN 3.
I AM NOT , NOR EVER HAVE BEEN A BENEFICIARY OF SPACE AGE RECORDINGS . IT IS OWNED 100% BY PALMER .
GERALD PALMER – IS NOW CLAIMING HE OWNS ALL SPACEMEN 3 RECORDS , AND IS INFACT SPACEMEN 3 ……HE HAS EVEN REGISTERED OUR TRADEMARK ILLEGITIMATELY .
AFTER RECENT FINDINGS & FINDING OLD PAPERWORK , THE MEMBERS OF THE BAND ARE CURRENTLY UNDERTAKING LEGAL PROCEEDINGS TO STOP HIS LAND GRABBING & DEFILING THEIR RIGHTS .
PLEASE FEEL FREE TO WRITE TO HIM & HIS SIDE KICK – STEVE KALIDOSKI AT ADASAM / SPACE AGE AND SHARE ANY DISPLEASURE YOU MIGHT FEEL WITH THIS FLAGRANT ABUSE OF THE BAND .
ALSO , PLEASE SHARE THIS POST ON ANY RELEVANT SITES ."
He subsequently shared this post on other message boards including muffwiggler.com and Animal Collective's forum at collectedanimals.org. On the latter he added:
"AS YOU KNOW….
ONE OF SPACEMEN 3s MAIN PROPONENTS IN RECENT YEARS HAVE BEEN ANIMAL COLLECTIVE . AND FOR THAT I AM ETERNALLY GRATEFUL .
BUT , I THOUGHT SOME OF YOU MIGHT BE INTERESTED IN THE CURRENT SITUATION REGARDING SPACEMEN 3 AND THEIR FORMER MANAGER GERALD PALMER & SOME OF THE LABELS WHO ARE ALSO CURRENTLY NOT PAYING OR UNDERPAYING SIGNIFICANTLY THE MEMBERS OF SPACEMEN 3 ."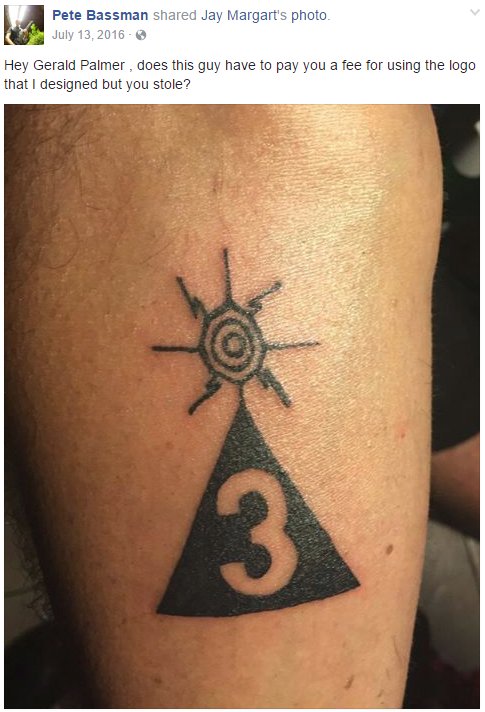 Spacemen 3's bassist from 1982 – 1983 and again from 1986 – 1988 Pete Bain, more commonly known as 'Pete Bassman,' also regularly criticizes Palmer online, including in several Facebook posts (one of which is above, others are below) and numerous blogs on his wordpress site. A few excerpts from the latter: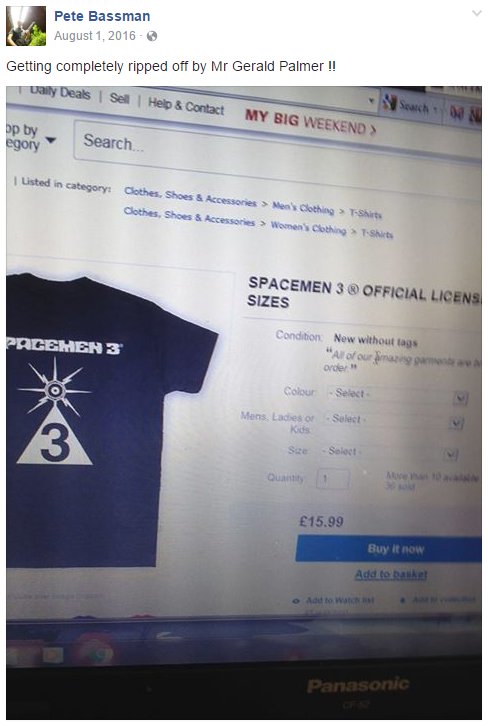 In regards specifically to the three new reissues for Record Store Day, on March 10th Entheo Sounds record store owner Dan Brinner posted news of the 2017 Record Store Day Spacemen 3 reissues. On March 11th Pete Bassman shared the post, adding "For Record Store Day, professional Spacemen 3 rapist Gerald Palmer is cashing in by releasing without the artists consent a trio of Spacemen 3 reissues ." On March 12th Dan commented on Pete's share that at the time of his original post he was not aware of the situation with Palmer but since learning of it "will definitely NOT be carrying these releases and will discourage our customers from purchasing them." The next day Dan posted a warning on facebook.com/EntheoSounds, which led to The Future Heart's coverage and warnings over the rest of the month.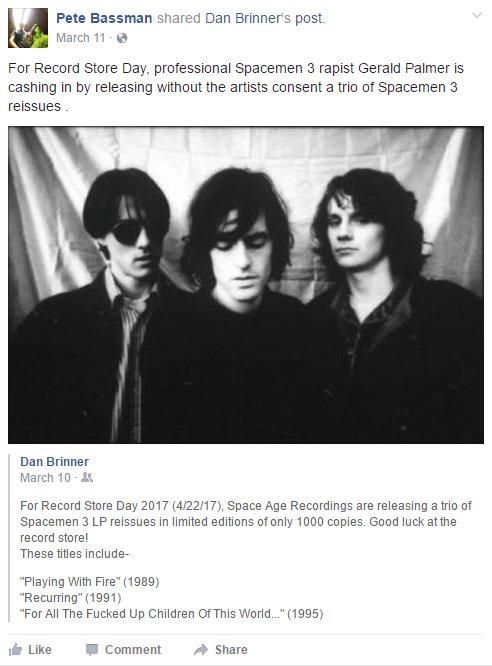 The Future Heart contacted Sonic Boom, Bassman and Palmer for comment, and to ensure all sides are represented. To date Palmer and Bassman have replied. Asked specifically for his response to Bassman's facebook post about the Record Store Day releases (in which Bassman refered to Palmer as "professional Spacemen 3 rapist") Palmer wrote in an e-mail sent the morning of April 20th, "I haven't seen Pete Bassman's grotesque and libellous post purporting me to be a 'professional rapist' nor for that matter do I have any intention to do so" and added "it should be noted that Pete Bassman does not appear as either writer or performer on any of the three limited edition Spacemen 3 albums being released for Record Store Day 2017 that he now deems fit to comment on in such a reprehensible manner." Asked to respond to Sonic Boom's allegations that Space Age releases unauthorized records and under pays royalties, if at all, Palmer did not specifically reply, but rather copied into the e-mail a comment he left on EntheoSounds' facebook, which Palmer says he wrote after being linked there the day before by The Future Heart. In his comment there, copied into the e-mail sent to The Future Heart, he wrote:
"'Fake news' at its finest. Having been alerted to this post by one of the ex SP3 band members and as an ardent supporter of an individual's right to free speech I (Gerald Palmer) wish to make a comment on this piece of 'fake news'.
I assume that as a matter of due diligence you've fact checked the veracity of your claims? What's your source?…..a Donald Trump tweet perhaps?….. a disgruntled ex-band member erroneously alleging he got paid 'zero' royalties?
As a general rule I ordinarily choose not to air my dirty laundry on social media but let me pose a question you may wish to consider; if these releases are purported to be "illegitimate" then why has no other label (excepting only Space Age Recordings) pressed or sold these recordings since the expiration of the licenses to Fire Records, BMG and subsequently Taang! Records in the U.S.A. in the 90's?
For the record I've been working with the members of Spacemen 3 continually since 1987. These albums are owned and controlled by me for life of copyright and Space Age Recordings has exclusively manufactured, distributed and sold these records on a worldwide basis for approximately the last 20 years. All the ex-members of Spacemen 3 continue to be accounted to and paid artist royalties on a bi-annual basis as they have been for the last 30 years, with the total sum paid out in royalties running into substantial six figure sums.
All claims that these reissues are "illegitimate," that legal action is being taken, and that the band's members are being paid "very little to NO ROYALTIES" are both strenuously denied and completely refuted."
This comment is apparently his standard reply, as he not only copied it from the April 19th Facebook comment to the e-mail the following day, but also (with slight variation) from a reply last month in a thread on Spiritualized's forum.
In closing his e-mail to The Future Heart, Palmer wrote:
"…always happy to chat and would welcome your call.
By the way, as you're probably aware these coloured vinyl issues have a very limited pressing and our distro informs me that all copies have firm sales order in advance of RSD but I'd be happy to send a promo of each in for review if you'd like; if so, please advise mailing address."
Earlier this month when Palmer chimed in the discussion about the Record Store Day releases on Spiritualized's forum, Bassman linked and replied to Palmer's reply on his Facebook, commenting:
"I doubt very much that Gerald is an ardent supporter of free speech. The online discourse on the Spiritualized forum is certainly becoming a thorn in his side which prompted the surprise statement from him. Gerald has a right to reply and his statement should be welcomed by the SP3 fanbase. Donald Trump is not I believe a SP3 fan but would go for a bit of Spiritualized I think. The disgruntled SP3 member is Sonic and as a founder and principle member of SP3 has an unchallengeable right to comment and engage with the SP3 fanbase. His indignation is an indication that relationships have broken down and an insurmountable rift exists between Gerald and all SP3 members. Airing dirty laundry in public has been mentioned to me before and my opinion was that the people who purchase the music and create the revenue and interest in the band have every right to know about the situation between Gerald and us. They are not 'scamps,' or a fucking sowing circle. Without these people there would be no SP3, so Gerald needs to show some respect . The bootleg status is erroneous information. Gerald has released these records without consultation with any of the musicians that created the music so i guess a more apt description is unauthorised. How Gerald came to own any SP3 recordings needs some examination. Did he accuire these recordings through honest and transparent business practices or gained through less honest means? It is my opinion that all transactions that relate to SP3 should be scrutinised and judged by today's standards and the contractual agreements made between him and other parties are nothing but junk and devoid of integrity . For that reason i say that his ownership and right to commercially exploit any recorded work by SP3 should be questioned . Until this process is carried out Gerald has to accept that nothing will be recognised as official releases until he repairs relationships and creates a workable agreement or relinquishes his control. Considering Gerald was appointed manager of the band he has stepped far beyond the parameters a management role, a role he failed to perform adequately in the first place. It has been the disproportionate level of revenue taken from the band during the past decades and the strategy of acquiring as much SP3 assets that has caused so much anger. Yes we get paid royalties but the royalty statements are basic, at times cryptic and insubstantial. We created an honesty box. The total paid out to each member is not even close to substantial. . The 30 years of royalty payments does not even equal the amount a person would earn working a low paid part time job for a year. For Gerald it has provided substantial supply of free money which is considerably higher than any SP3 member. It has to be said Gerald is not the sole architect of this contention and cannot be wholly blamed . I am in tune with Sonic's opinions and feelings about this and I believe he wants to achieve some reconcilliation and not just for himself. Jason should also join the party and shake a leg. Gerald says he is passionate about the integrity of SP3 but his behaviour contradicts this sentiment. You can assume from Gerald's post he identifies with Trump's dislike of 'fake news,' I would say he is always missing the point , it makes no difference at all if the records are bootlegs or legit he does not give a rat's arse about the band or members just the drip, drip , drip of free money. And don't tell me that the same reissue after reissue with no investment into improving the recordings by remastering , using exactly the same artwork and the same people to produce the products is anything but a no brainer and very fucking easy money. It is an issue that is certainly complex , with many nuances that should be considered. It is not just Gerald that is being held to account but the music industry and the shitty business practices that went on back in the day and the legacy of these cowboy operators. Gerald now owns Nick 'Natty,' Brooker's share in SP3. Maybe I should describe the circumstances regarding this acquisition . This will resolutely condemn Gerald . For the time being he can proceed being a conceited twat but I am ready to rumble big man. By the way I did remove the references to male and female gentalia from Facebook , I realised you cannot be a cunt and a prick at the same time."
Meanwhile in a surprising development given their long-standing disagreements on other matters, both of Spacemen 3's career-long members, J Spaceman and Sonic Boom, issued a joint statement April 20th on Spiritualized's facebook subsequently shared across Spiritualized's and Spacemen 3's various social media platforms. This marks J. Spaceman's first public comment on the situation. Previous to this it was mainly Sonic Boom protesting Palmer publicly, with Pete Bassman adding much outspoken support, as documented above. In the April 20th joint post, Sonic Boom and Spaceman further encouraged fans – and as explicitly as possible – to not buy the Record Store Day reissues:
"We would seriously like to ask fans not to buy the Spacemen 3 releases and any merchandise that are being offered for sale on Record Store Day or any of the other Spacemen 3 releases and merchandise offered by Gerald Palmer on Space Age Recordings or any other subsidiary of that label.
We are currently in legal dispute with Gerald Palmer due to him depriving us of our rights in our music and other intellectual property rights relating to Spacemen 3. Any monies from those sales will go directly to him and help fund his side of the dispute.
In short… PLEASE DON'T BUY OUR RECORDS FROM SPACE AGE RECORDINGS!
Thanks for listening
J Spaceman and Sonic Boom together t/a Spacemen 3″
Update – April 21st
After sharing The Future Heart's April 20th Facebook post linking to this page on his personal Facebook profile, Pete Basman contacted The Future Heart early April 21st, commenting on his own previous statements and Jason's newfound involvement. Asked if he takes issue with anything in this post he replied, "I am cool with it," adding that "it was Sonic and myself that instigated the opposition, with Jason now on board and working in tandem with Sonic is a game changer so an interesting situation is unfolding." Regarding the situation in general Bassman writes:
"I knew that at some point the gloves would come off and this situation with Gerald could become a bit of a brawl but so far Gerald just issues the same statements of indignation rather than a well constructed defence . Why I said so much in the blog and the acidic comments on Facebook is because he staunchly refused to heed advice I offered to him in the past . I encouraged him to adopt a more benign approach and to consider making a gesture of benevolence
..but that advice went unheeded , instead he decided to push the boat out and claim more, all he had to do was communicate in an honest manner and to recognise that there are numerous issues that required scrutiny . The situation regards merchandise is wholly unacceptable and Sonic and myself have had to pursue all the various operators out there who have entered into a licensing agreement with Gerald involving artwork that is not owned by him . I have always I hope made it clear he has the opportunity to reply to my statements . Gerald's attitude and business practices are in today's climate anachronistic and unacceptable . I said in a Facebook statement there is the as yet untold story of Gerald's acquisition of Natty's share in SP3 , this will resolutely condemn
Gerald ."
Separately, Bassman also updated his personal site April 21st with a post titled "An Apology for Gerald Palmer." In the blog he calls his aforementioned "professional Spacemen 3 rapist" comment "offensive and unacceptable" and apologizes to both rape victims and Palmer:
"I realise this is a gross mistake and offer a sincere apology to those who have been victim to such a deplorable act.
I also offer the same apology to Gerald."
Update – April 28th
Jason Pierce and Peter Kember's April 20th joint statement has been removed from all their social media platforms. In an e-mail to Pitchfork Palmer once again copy and pasted the aforementioned retort he originally posted on Spiritualized's forum and later in an e-mail to The Future Heart and elsewhere, but added commentary on the removal of the joint statement from social media:
"Subsequent to being alerted to Pitchfork's news story I contacted Jason Pierce and Peter Kember's legal advisers yesterday (26th April) requesting (amongst other things) that I required their immediate confirmation that they would remove the wildly inaccurate, distorted and untrue postings made on the official Spiritualized Facebook page and the official Spirtualized twitter page. I received a response 2 hours later confirming 'we can confirm that the posting has been removed from the Spiritualized Facebook and Twitter page and that it will not be re-posted.'"
"As a foot note, it is the small independent record stores who will suffer the financial consequence of Pete and Jason's reckless actions the most."