Instrument theft from touring musicians' parked vehicles or trailers is a semi-common problem, particularly for bands that travel by van. Occasionally even the van itself is stolen, as was the case for Lower Dens in 2016. For everyone of the better-known cases (ie Black Flag in 1986, Sonic Youth in 1999, The Decemberists in 2005, Grizzly Bear and Dinosaur Jr in 2006, Nils Lofgren last year) there's countless other incidents by bands not famous enough to generate media attention (aside perhaps nowadays from a gofundme reverberating through social media).
One of the more devastating tour van burglaries occurred September 18, 2005 in Brooklyn when Brian Jonestown Massacre's van and trailer were stolen with all their gear including a bevy of guitars, distortion pedals, amps, a Gretsch drum set, a Hammond B3 and more. Being that 14 years later none of the gear has been recovered, it's worth reposing the list of stolen gear that circulated the web at the time. From their 2005 statement:
"In Brooklyn, before the BJM's Bowery Ballroom show, the band's van along with the U-haul trailer containing ALL OF THE BANDS EQUIPMENT was stolen. People I guess have hustled to get stuff together for them to play the gig tonight but that leaves Anton, Rickey, Frankie, Collin, and Dan without a vehicle and most importantly, without all of their precious musical instruments and amplifiers…

If everyone in the area (or even not so close) keeps an eye out at pawn shops, music stores, private sellers, and even e-bay for this missing gear-it could help eventually track some of it down.
We'll try to provide a more comprehensive list eventually- but off the top of my head is this-
Gretch 1960's round badge drum kit-turquoise.
-kick drum has the BJM logo on it (who knows- the robbers might be stupid enough not to take it off)
Fender Bassman 1960's blackface head
-notable that the 'B' is blackend out so that it reads "assman"
-this is one of the most unique and amazing sounding bass rigs, has a really warm, big fucked up fuzz sound when turned up.
Frankie's 1970's siverface Fender Twin amp
2 Fender Twin re-issue black face amps
– the one Anton plays is notable for it's amazing huge sounding reverb.
Basically it is a huge part of Anton's sound.
-notable for a sticker on the front that reads "Masonic" (again, the bandits might be stupid enough…)
Collin's Rickenbacker bass- red Rickey's 12-string 1960's Gibson ES-335 (possibly (hopefully) he had this with him and it was not stolen)
-amazingly beautiful guitar
Vox Cheetah- maroon
-quite fucked up from years of tour abuse, but Anton's main guitar (owned by Frankie)
Vox 12-string Phantom- black and white
Vox 12-string Starstreamer- sunburst teardrop shape
Rickenbacker 12-string 360- black and white Epiphone 6-string- sunburst
Frankie also has a Telecaster- I'm not sure the details of it."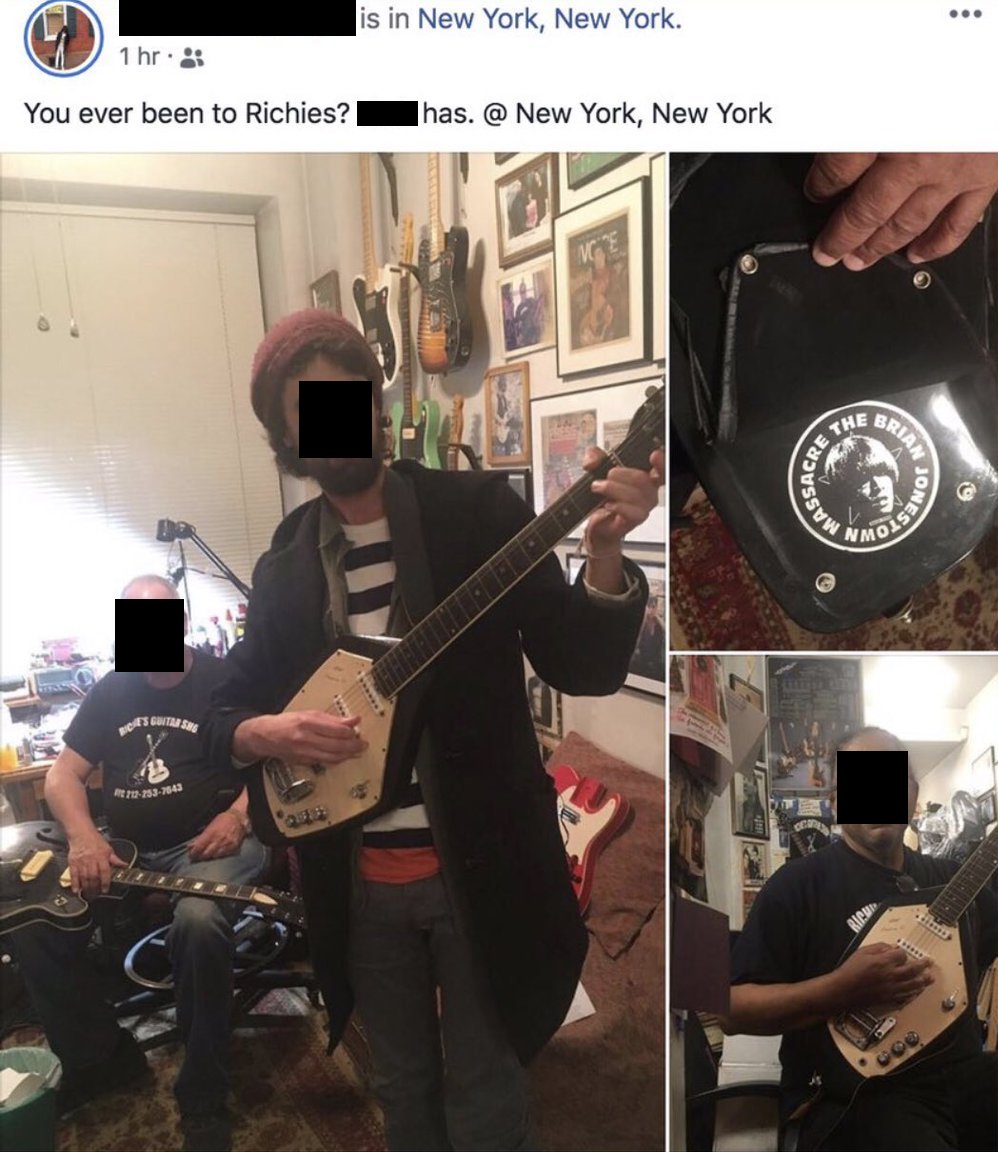 14 years later it appears two of those guitars associated with the band's late '90s work have been located through Facebook. "Looks like someone is having a great time on my stolen vox phantom – that took forever to pop up," lead Massacre Anton Newcombe tweeted with a picture of the Facebook post. "Our van and all of our gear were stolen in nyc some years ago – everything – passports – gretsch drums,Hammond b3 loads of guitars (all good ones) amps the works," he added. "I lost everything I owned."
"A photo popped up of some guy playing in a guitar shop in nyc," Anton noted to Geoff Barrow (of Portishead and Beak) in a follow-up tweet. "I'm looking into it – I've called and texted the guy at the shop." It appears Anton's ability to recoup his gear may be hampered by how much time has passed. "Turns out he bought not one, but two of my vox guitars," Newcombe adds.
Hopefully this Facebook find will lead to a real life reunification. Help spread the word and if you happen upon any of the other stolen instruments in a used gear store contact Anton.