Updated May 20th
Chris Cornell, singer/ songwriter/ guitarist for grunge pioneers Soundgarden, was found dead at age 52 following the band's performance at Detroit's Fox Theatre on May 17, 2017. The Wayne County Medical Examiner's Office announced on May 18th "the cause of death has been determined as suicide by hanging. A full autopsy report has not yet been completed." Cornell will be buried at Los Angeles' Hollywood Forever Cemetery during a private funeral on May 26th. "The family is thinking about a (public) memorial for fans, but is coping now with their loss and the funeral service," a source told CNN. A Soundgarden publicist told The Detroit News that band members are not speaking publicly about Cornell's death.
Cornell, also the frontman of Temple of the Dog and Audioslave, was widely regarded among the most gifted singers of his generation, particularly for his vocal range, and wrote many of the songs that defined the late '80s/ early '90s Seattle rock scene. Cornell is estimated by Nielsen Music to have sold nearly 15 million albums and 8.8 million digital songs in the U.S. between his various bands and solo releases.
According to a police source talking to WWJ Newsradio 950 on May 18th, Chris went back to his hotel room at the MGM Grand Casino Hotel after the Soundgarden show and spoke to his wife on the phone who subsequently called to have Chris check on. When security broke in his locked room they found him dead in the bathroom with a strap around his neck the police source says.
Sources told FOX 2 Cornell hung up on his wife at 11:35 p.m. "At 12 a.m. [local time], we received a 911 call from the MGM Grand Casino Hotel," Detroit Police director of media relations told Variety. "It appears as though a family friend was checking up on Cornell at his wife's request. He went to hotel and discovered him unresponsive on the bathroom floor. Police made the location with EMS, and he was pronounced dead at the scene."
Chris Cornell's family objected to the medical examiner's ruling, noting medical literature that suggests the medication Chris was prescribed can cause paranoid or suicidal thoughts, slurred speech and impaired judgment. "Without the results of toxicology tests, we do not know what was going on with Chris—or if any substances contributed to his demise," family attorney Kirk Pasich stated May 19th in a press release. "Chris, a recovering addict, had a prescription for Ativan and may have taken more Ativan than recommended dosages.  The family believes that if Chris took his life, he did not know what he was doing, and that drugs or other substances may have affected his actions." Cornell's wife, Vicky Cornell added her own statement on Chris' death, reading:
"Chris's death is a loss that escapes words and has created an emptiness in my heart that will never be filled. As everyone who knew him commented, Chris was a devoted father and husband. He was my best friend. His world revolved around his family first and of course, his music, second. He flew home for Mother's Day to spend time with our family. He flew out mid-day Wednesday, the day of the show, after spending time with the children. When we spoke before the show, we discussed plans for a vacation over Memorial Day and other things we wanted to do. When we spoke after the show, I noticed he was slurring his words; he was different. When he told me he may have taken an extra Ativan or two, I contacted security and asked that they check on him. What happened is inexplicable and I am hopeful that further medical reports will provide additional details. I know that he loved our children and he would not hurt them by intentionally taking his own life.
The outpouring of love and support from his fans, friends and family means so much more to us than anyone can know. Thank you for that, and for understanding how difficult this is for us."
A police report obtained by The Detroit News outlines the following suspected timeline:
At 11:30 p.m. "Cornell was back in Room 1136 at the MGM, where bodyguard Martin Kirsten helped fix the star's computer and gave him two doses of an anti-anxiety medicine."
"At 11:35 p.m., Cornell was on the phone with his wife." According to Chris' wife Vicky, "her husband was slurring his words, sounded groggy and kept repeating: 'I'm just tired.'"
At 12:15 a.m. Vicky called Kirsten to check on him. "Kirsten walked two doors down to Cornell's suite, to which he had a key, but found the door latched… he called security from hotel phone in hallway." "Security stated they can not let him into the room because he is not registered to that room." "Kirsten kicked the door open, only to find a second door leading to the bedroom suite also was latched — so, the report said, he kicked that door open, too, and found Cornell."
Fan footage of Cornell at the top of his game at Soundgarden's final show are being uploaded on YouTube. The last song Chris performed was "Slaves And Bulldozers" paired with two verses and refrains from "In My Time of Dying," a gospel song famously played by Led Zeppelin, Bob Dylan and others. Specifically, Chris sang:
"Meet me, Jesus, meet me
Meet me in the middle of the air
If my wings should fail me, Lord
Please meet me with another pair
Well, well, well, so I can die easy
Well, well, well, so I can die easy
Jesus gonna make up my dying bed
And I promise in my time of dying
I ain't gonna cry, I ain't gonna moan
All I need you to do
Is drag my body home
Well, well, well, so I can die easy
Well, well, well, so I can die easy
Jesus gonna make up
Jesus gonna make up
Jesus gonna make up
Jesus gonna make up
Jesus gonna make up
Jesus gonna make up my dying bed"
Watch the excerpt of Chris singing the above quoted lyrics from "In My Time Of Dying," or the complete performance of "Slaves and Bulldozers" with "Time of Dying," as filmed by fan Duncan Oliver Upton Gaines. Though Soundgarden has paired these two songs for years (here's an example from 2011) and closed other recent shows with the pairing (last week in Indianapolis for instance), the lyrics take on new poignancy as Chris' final performance.
Among performance tributes in the days following Chris' death, Megadeth covered "Outshined" in Tokyo, Ann Wilson, Scott Stapp and Ryan Adams sang "Black Hole Sun" on Jimmy Kimmel Live, in York and in New Zealand respectively, bassist Rob Trujillo played "Black Hole Sun" at Metallica's concert in Massachusetts, Josh Klinghoffer covered 'Seasons' at Red Hot Chili Peppers show in Indianapolis, Living Colour played "Blow Up The Outside World" in Perth, Gov't Mule took on "Fell On Black Days" in Philadelphia and Umphrey's McGee performed "Hunger Strike" in Norfolk.
"Chris Cornell painted in song the darkness and beauty of life in Seattle," Pearl Jam's Mike McCready said of his Temple of the Dog bandmate to the Seattle Times. "Chris means a lot to me today, as he trusted me to play on Temple. He handed me a dream in getting to actually play on beautiful songs. Informed how I would play on Pearl Jam records in the future, I believe. Gave me the break into the music business I'd wanted since I was 11. He was a friend I will miss. I miss you, brother." Read more reactions from musicians following May 18th reports from Associated Press below: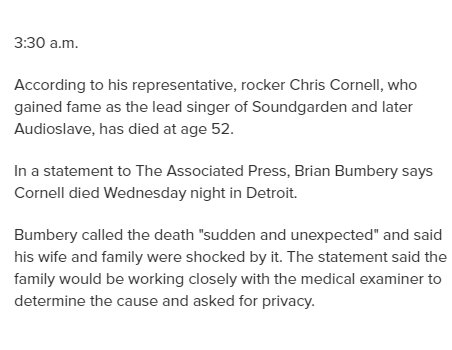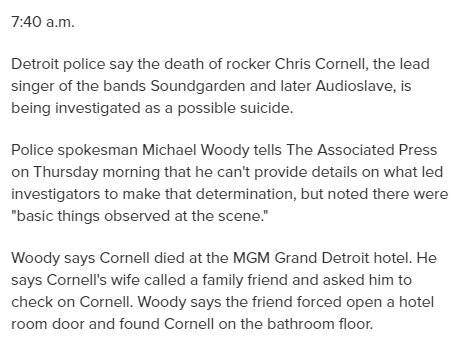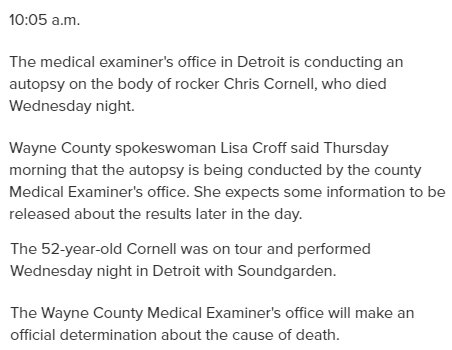 https://www.instagram.com/p/BUPZt_4hL71/