Among the most anticipated Record Store Day 2017 releases is a previously unreleased live album from David Bowie recorded September 5, 1974 in Los Angeles. Titled Cracked Actor, the 3 LP set finds Bowie in a moment of transition between the Diamond Dogs tour and the so-called Philly Dogs tour. Cracked Actor was produced by David Bowie and mixed by Tony Visconti at Human Studios, NYC in October and November 2016. It will be pressed on 180 gram, black 12″ vinyl with an etching on the sixth side. Cracked Actor is just one of several Record Store Day 2017 released either from or otherwise related to Bowie. A photo of the package, along with the tracklist is at the bottom of this post.
David Bowie's manager Tony Defries had 500 promo LPs pressed in August 1971 in an effort to get record deals for Bowie and Dana Gillespie. Seven song by David were on the A side, five by Gillespie on the flip. Referred to as the BOWPROMO white label album, it's being mass released for the first time on Record Store Day. This new run replicates Bowie's side of the original 1971 promo, with his seven tracks on a one-sided black vinyl album. Pressed on 180 gram, 12-inch black vinyl, this limited edition of 15,000 includes a box of five Bowie prints in tissue paper wrapping. A photo of the package, along with the tracklist is at the bottom of this post.
David Bowie's No Plan EP – released digitally this past January to mark what would have been his 70th birthday (and the one year anniversary of his passing) – will be available as numbered 12-inch EPs on clear blue vinyl with a laser etching on the flip side on Record Store Day in the UK. No Plan features four songs written by Bowie for the Broadway musical Lazarus and recorded during the sessions for his final studio album, Blackstar. Aside from its January digital release, No Plan was released on CD February 24th and will be available on black vinyl on April 21st. The blue vinyl out the following day in the UK is exclusive to Record Store Day. On May 26th limited edition, made-to-order die-cut white vinyl 12-inch versions of No Plan will be available with exclusive lithograph artwork.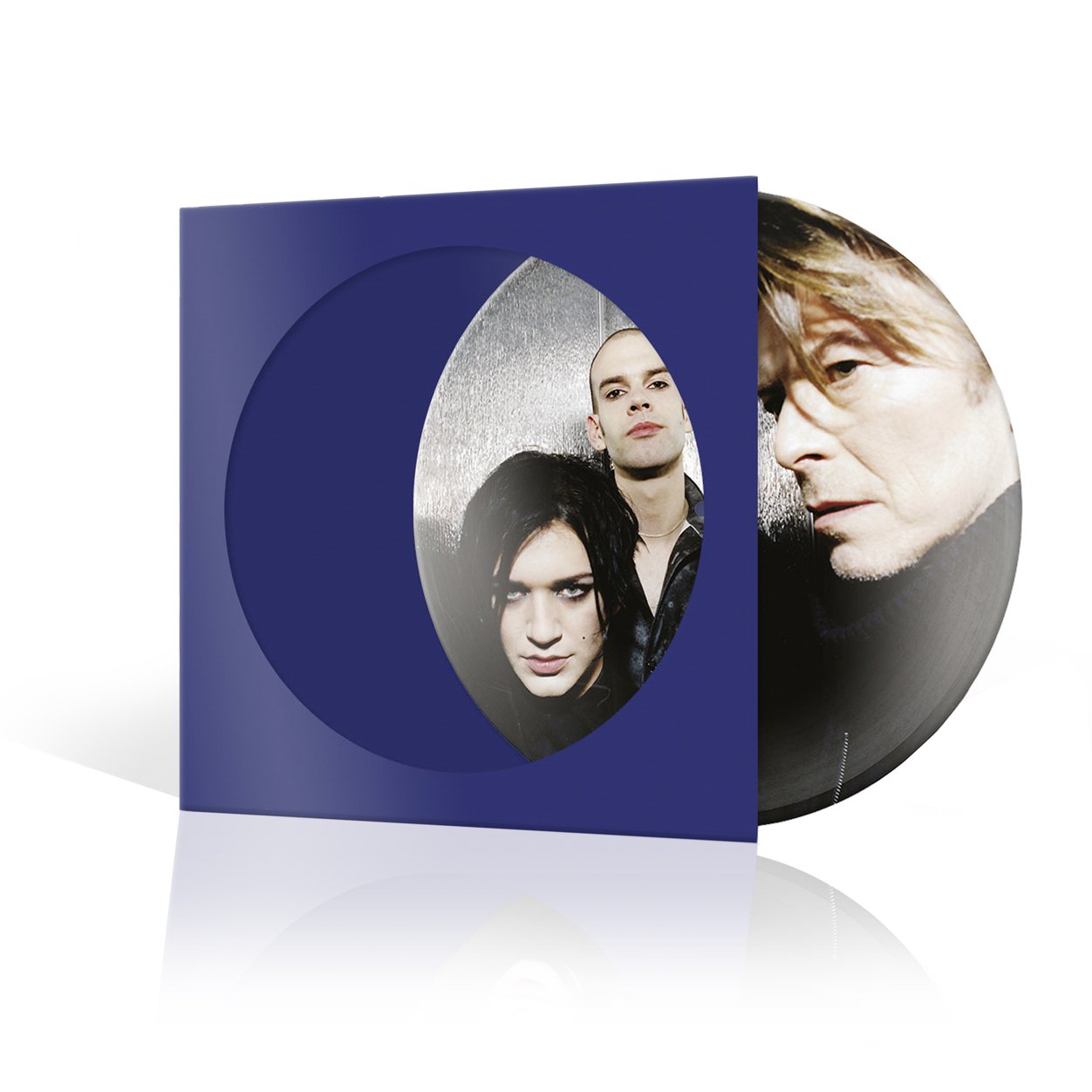 David Bowie is also featured on a new 12-inch picture disc from Placebo, "Without You I'm Nothing International." Originally released in 1999 on CD only, this limited edition of 5000 will be its first vinyl pressing and is only available in the UK. As you can in the picture to the right, the picture disc features a photo of Placebo with David.
Other Bowie related releases out Record Store Day exclusively in the UK include:
The Temperance Movement "The Ziggy Stardust"- 7″ from British rock band The Temperance Movement featuring a live tribute to Bowie recorded January 27, 2016 at London's Kentish Town Forum.
Ian Hunter & The Rant Band "Dandy" – Limited edition, hand-numbered, gold vinyl 7″ taken from his new album Fingers Crossed, a paean to Bowie.
Adam Franklin "Iron Horse" – On the flip side of this transparent blue with green splatters 7″ by Adam Franklin of Swervedriver are cover tributes to Bowie ("Thursday's Child") and Lemmy ("Born To Lose").

BOWPROMO Tracklist
Side A
1 Oh! You Pretty Things (BOWPROMO Mix)
2 Eight Line Poem (BOWPROMO Mix)
3 Kooks (BOWPROMO Mix)
4 It Ain't Easy
5 Queen Bitch (BOWPROMO Mix)
6 Quicksand (BOWPROMO Mix)
7 Bombers (BOWPROMO Mix)
Cracked Actor Tracklist
Side A
1 Introduction (Live)
2 1984 (Live)
3 Rebel Rebel (Live)
4 Moonage Daydream (Live)
5 Sweet Thing/Candidate/Sweet Thing (Reprise) (Live)
Side B
1 Changes (Live)
2 Suffragette City (Live)
3 Aladdin Sane (Live)
4 All The Young Dudes (Live)
5 Cracked Actor (Live)
Side C
1 Rock N Roll With Me (Live)
2 Knock on Wood (Live)
3 It's Gonna Be Me (Live)
4 Space Oddity (Live)
Side D
1 Diamond Dogs (Live)
2 Big Brother (Live)
3 Time (Live)
Side E
1 The Jean Genie (Live)
2 Rock N Roll Suicide (Live)
3 John, I'm Only Dancing (Again) (Live)
Side F
Etching