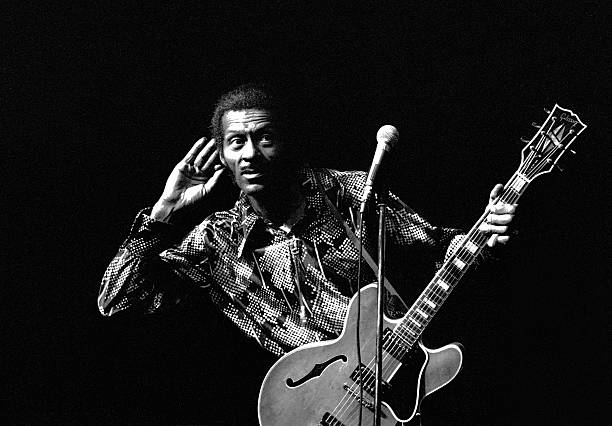 If rock n' roll has an "inventor," it's Chuck Berry. Call him the "architect," the "real king of rock n' roll," the "father of rock n' roll," the "father of rock," "the prototypical guitar god," "the greatest rock and roll storyteller," or its "poet laureate" if you will – he was simply the greatest. Of the many tributes to pour in from musicians on social media tonight (collected at the bottom of this page) it's perhaps Questlove who best summed Chuck's status in the rock pantheon: "Thou Shall Have No Other Rock Gods Before Him"
No one recombined all rock's initial roots – boogie woogie, blues, hillbilly, big band and pre-modern small combo jazz, the Spanish tinge, Western swing, R & B, the traditions of American popular song – as daringly original as Chuck. One of rock's all time greatest lyricists, showmen and charismatic figures, to even try to define the scope of his influence is to reduce it to cliches. "If you tried to give rock and roll another name, you might call it 'Chuck Berry'" John Lennon famously said on The Mike Douglas Show, a quote recalled so often its increasing platitudinous undermines its truth. To say he was the teacher and every rock legend you can name was his pupil – or, as Lennon put it in another oft-repeated quote: "Elvis was my idol, Chuck Berry was my teacher" – is trite, but true. From Presley to the who's who of British Invasion stars, The Beach Boys to the who's who of Frisco acid rockers, the Electric Light Orchestra to contemporary bluesmen, Bob Dylan to UK punks, Motown to Buck Owens, Jimi Hendrix to Motörhead, The Velvet Underground to Led Zeppelin, Bowie to Springsteen, The New York Dolls to KISS, The MC5 to garage bands everywhere, his impact on rock n' soul and pazz and jop knows no bounds.
What did Paul Simon and David Gilmour do when they met in 1964? They jammed on Chuck Berry tunes, of course. His music is the thread that ties together the last six decade's greatest hits; all roads lead to Chuck Berry. But to say this rings of more cliches, albeit more truth. So how then to express his impact without belittling it to stale quotes or stock phrases? To say Berry is rock's George Washington isn't hyperbole, it's understatement. But to define him by the legends he influenced is to miss his unique greatness. His lyrics, vocal delivery, guitar licks, improv, stage moves, rapport with audiences, records and so on would be no less stunning if they didn't serve as textbook for generations of musicians.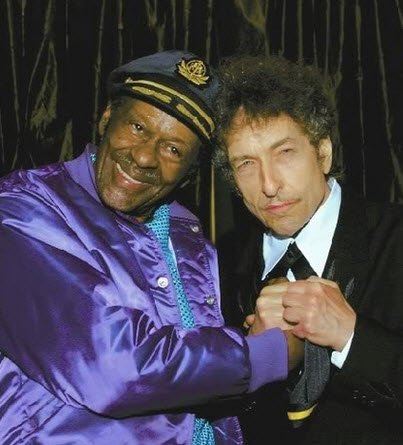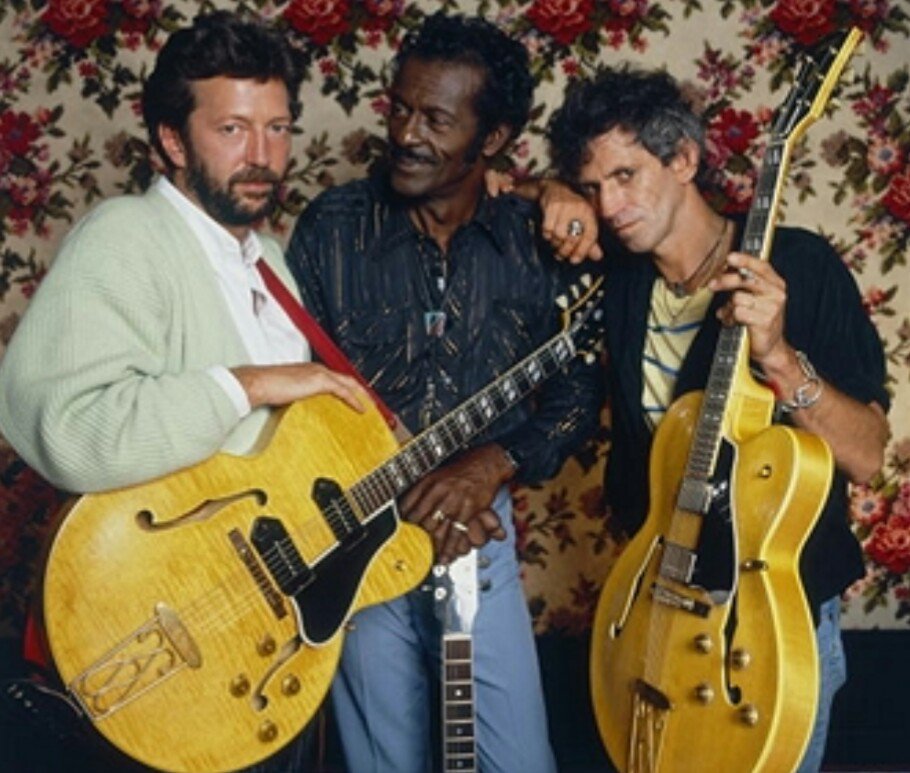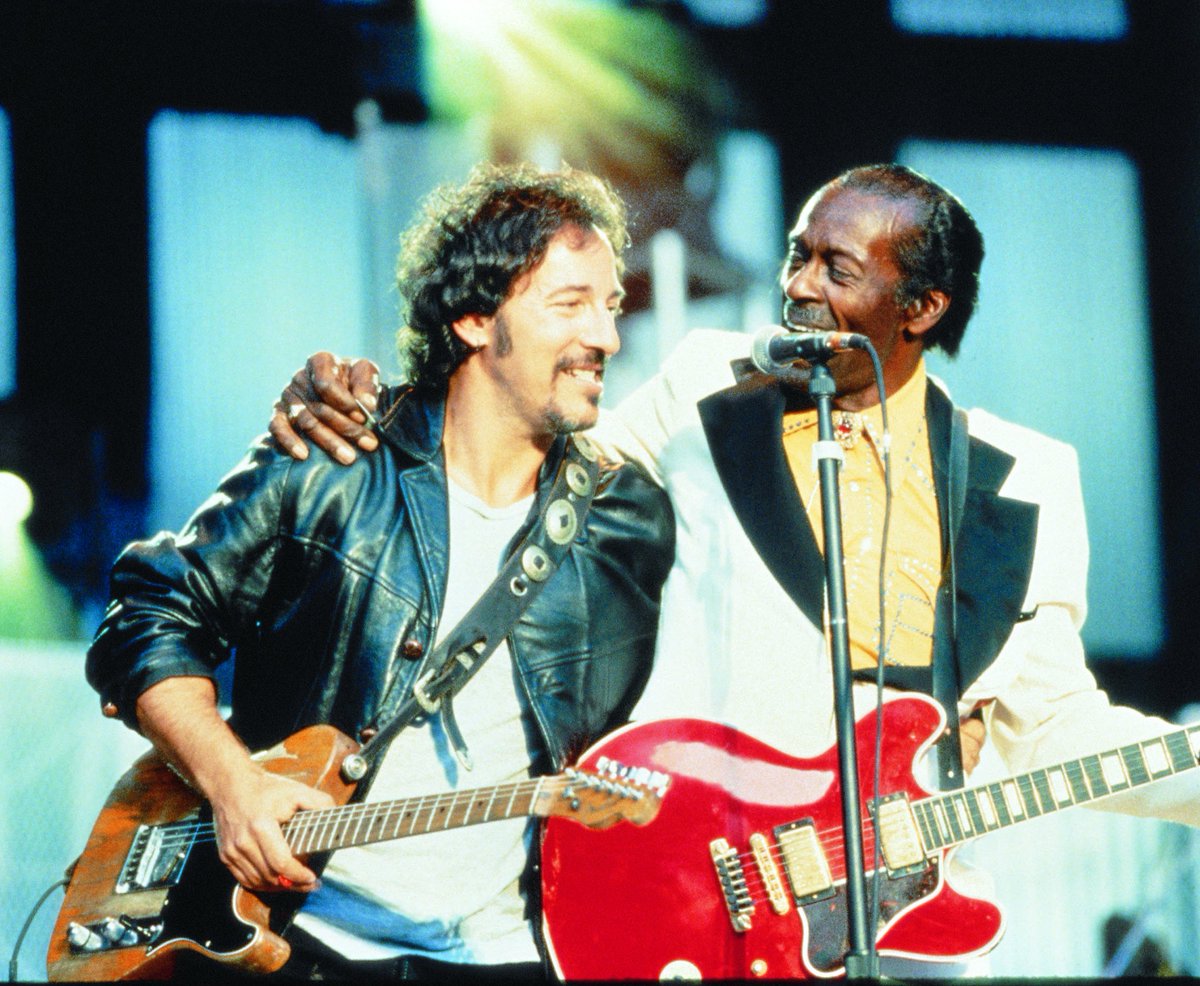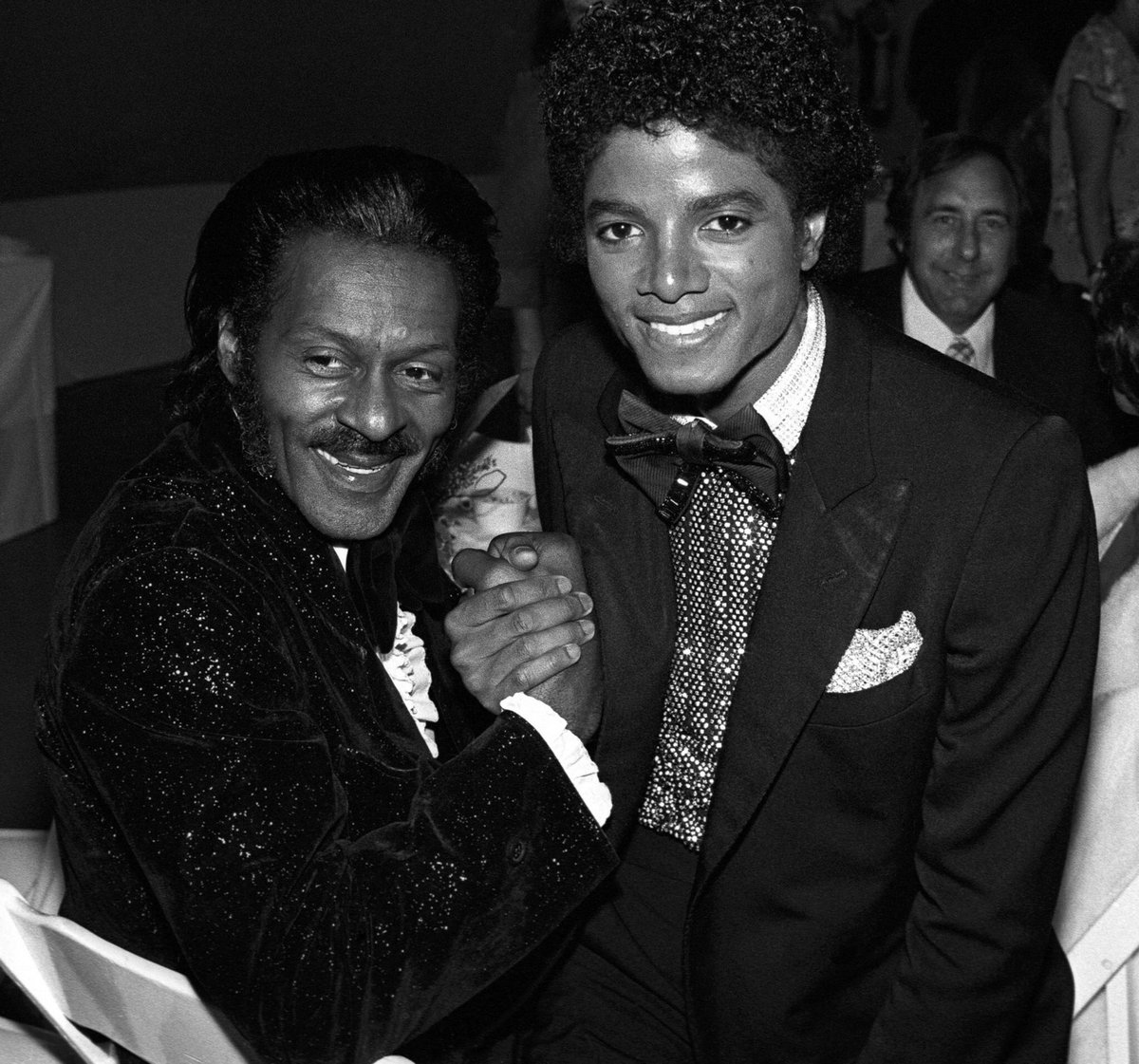 He created the notion of the "guitar hero" both with his genre-bending fretwork creating an arsenal of riffs that has since become rock guitar 101 and his telling of a "country boy named Johnny B. Goode/ Who never ever learned to read or write so well/ But he could play the guitar just like a ringing a bell." Johnny B. Goode is a Horatio Alger-like character reinvented as rock's ultimate folk hero in rock's ultimate rock tale, the template for Ziggy Stardust and all other mythical rock stars to follow. It's only apt "Johnny B. Goode" was included on the golden record launched into outer space upon the Voyager spaceship in 1977 for the starmen and space beings of the universe to discover there is intelligent life on the third stone from the sun.
But there's so much more to Chuck's songbook than his biggest hit, or even all his hits combined. His debut album After School Session alone has more grade A material than many artists' entire careers. The first rock LP to truly work as an "album" in the contemporary sense – not just a collection of singles with hastily thrown together filler, as was custom in the '50s – Berry displays his versatile songwriting throughout. From the low down "Wee Wee Hours" and hoochie coochie blues turned car shopping anecdote of "No Money Down," to the much–copied, proto-punk of "Too Much Monkey Business," and sly social commentary of "Brown Eyed Handsome Man," After School Session defined rock n' roll not as a singular sound but rather by its eclecticism, a trait core to rock's ensuing evolution. In doing so he liberated rock n' roll from being a '50s fad and set the groundwork for it to develop for decades to come. There's ballads, a jam session in "Roly Poly" and a bit of calypso in "Havana Moon."
Then there's "Downbound Train," possibly the first song ever to begin with a fade-in (contrary to the often repeated claim of The Beatles "Eight Days A Week" – where do you think they got it from?), and an example of Berry's detailed storytelling so poetic and full of dark, vivid images it's hard to believe it was written at the same time as any song by any of Chuck's peers. Consider these few verses for example:
"Rich men in broadcloth, beggars in rags
Handsome young ladies and wicked old hags
As the train rushed on at a terrible pace
Sulphuric fumes scorched their hands and face;
Wider and wider the country grew
Faster and faster the engine flew
Louder and louder the thunder crashed
Brighter and brighter the lightning flashed
Hotter and hotter the air became
Till their clothes were burned and they were screaming with pain;
Then out of the distance there came a yell
'Ha ha,' said the devil, 'We're nearing home'
Oh how the passengers shrieked with pain
And begged old Satan to stop that train
The stranger awoke with an anguished cry
His clothes wet with sweat and his hair standing high"
And that's not even considering After School Session's two pop hits ("School Day" and "Roll Over Beethoven"), any of his brilliant standards to follow ("Rock and Roll Music," "Almost Grown," "Back in the U.S.A.," "Memphis, Tennessee," "You Never Can Tell," "Nadine," and so on) or his many over-looked songs ("Come On," "Still Got The Blues," "Dear Dad," "It Wasn't Me," "It's My Own Business," "Tulane," etc).
His command on the stage of the songs, his fellow musicians, the audience in front of him; his mastery of dynamics and time itself; his devotion to playing in the now; the way he physically embodied the music with quirky facial expressions and his trademark moves, most famously the duckwalk. He was simply the greatest. The lyricist to fuse fun with intelligence, the guitarist that schooled all, the band leader that infectiously rubbed straight rhythms against swung notes, the wordsmith that single-handedly advanced rock's vocabulary, the singer that demanded attention not with range but rather the patter of his voice, the songwriter that wrote about many of rock's greatest themes first, the "black man playing hillbilly music" for mixed audiences in a time of segregation… the greatest.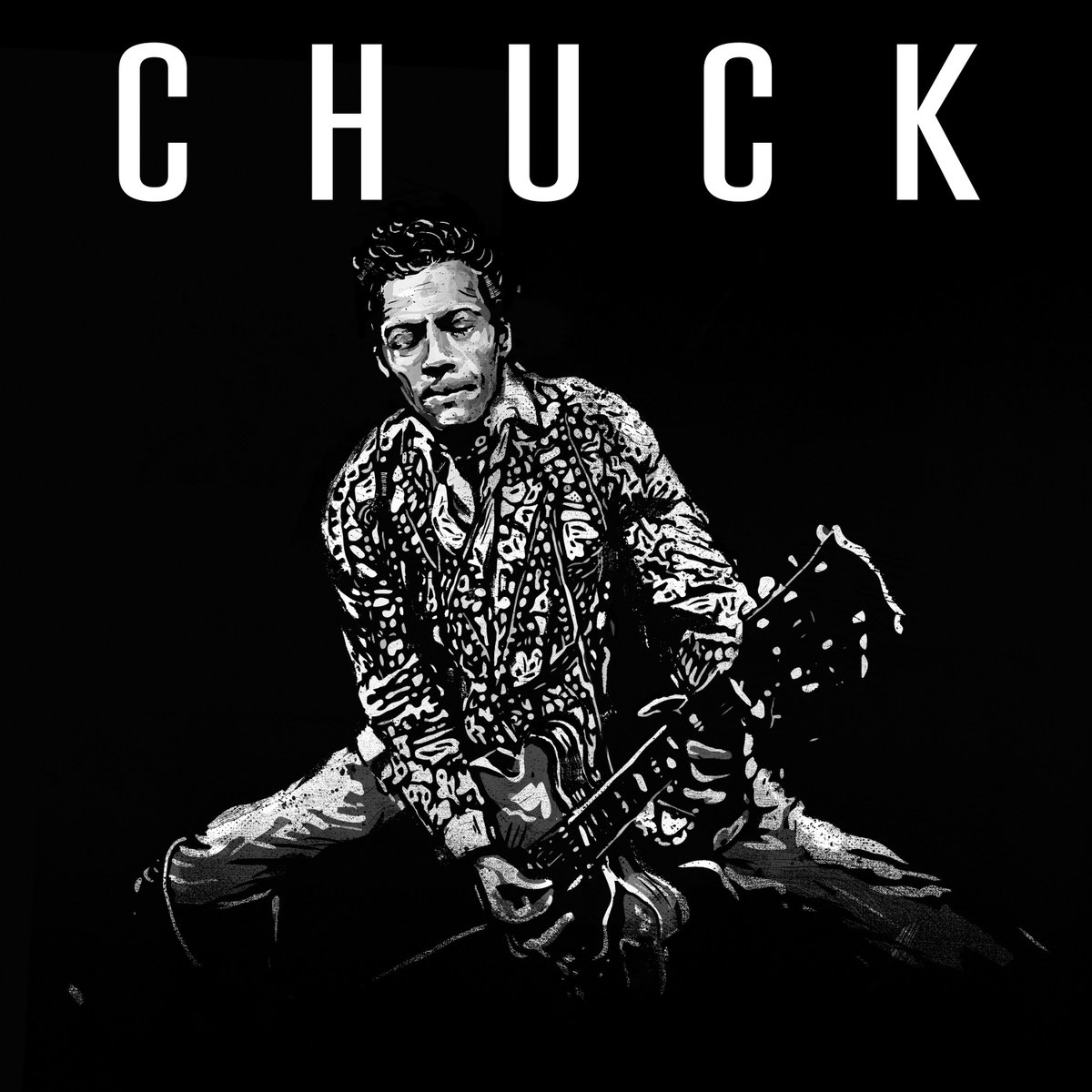 Titled Chuck, Berry's long-awaited final album, his first in four decades, was announced last October on his 90th birthday and is due out later this year. Sadly Berry did not live to see its release. Even though Berry has been working on this record for years – in some ways decades – it takes on new meaning with his passing. What promised to be the triumphant finale of his revolutionary career will now be heard as if an epitaph.
Berry regularly gigged through 2014, though retired from live performance after playing his 200th consecutive monthly show at his St. Louis club that October. Even so, Berry's bass player for over 40 years Jimmy Marsala told the St Louis Post Dispatch last fall that Berry was still considering gigging. "Let's go get on the bus and kick some ass like we used to,'" Berry said to him.
As icon after icon passed away in 2016 while Chuck Berry went on to celebrate his 90th birthday with an announcement of a new album, it seemed like he might live forever. Alas, he's mortal after all. But his songs….
Hail hail rock n' roll! Chuck Berry's music will – as Carl Sagan once pointed out – literally last forever, or at least a billion years.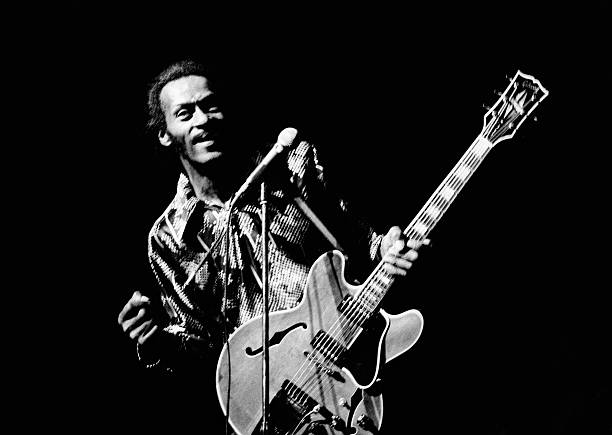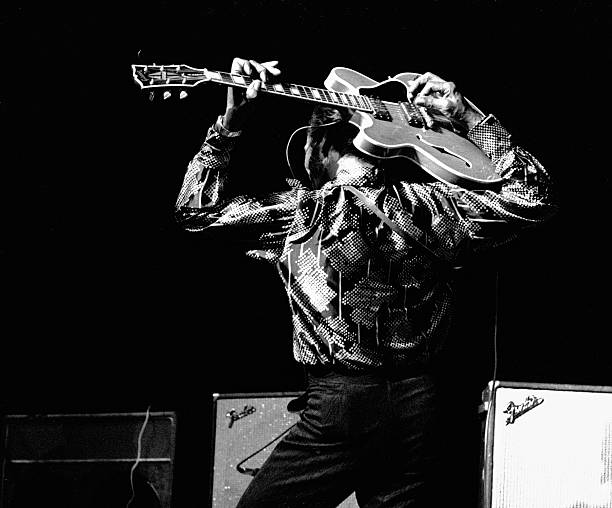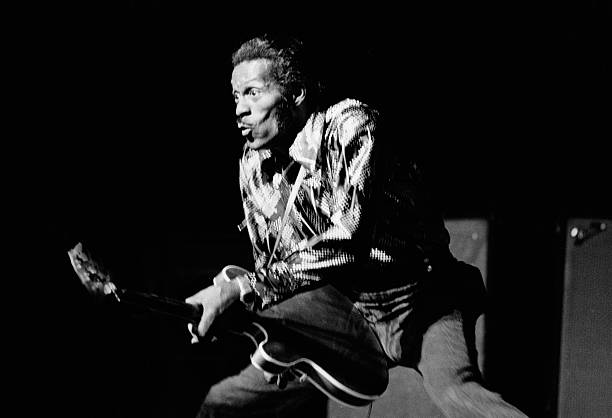 Musicians React
https://twitter.com/vincestaples/status/843234722461470721
https://twitter.com/QtipTheAbstract/status/843239696960569345
https://www.instagram.com/p/BRzCEctlHG0/
https://twitter.com/UMO/status/843269608333225984
https://www.instagram.com/p/BRzZrwLBe2G/
https://twitter.com/UMO/status/843297177657004032
https://twitter.com/ToroyMoi/status/843321680252493824
https://twitter.com/IzzyStradlin999/status/843506358020321281