2019 Update – The article below was originally published November 29, 2018 to mark Viola Smith's 106th birthday. Viola is now 107 years old and according to a Jazz Journal article posted earlier this month "she still occasionally plays with bands in Costa Mesa, California, including the Piecemakers and the Forever Young Band."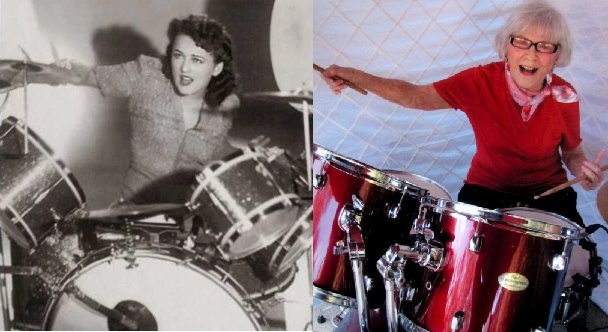 Viola Smith – the world's oldest, living renowned music maker – celebrates her 106th 107th birthday today. After getting her start in the 1920s with her siblings in the group the Schmidt Sisters, Smith started the all-woman orchestra The Coquettes in 1938 with her sister, saxophonist/clarinetist Mildred Bartash. Viola turned down an offer to play in Woody Herman's popular big band Thundering Herd to continue with The Coquettes until they disbanded in 1941. Among her early accomplishments were appearing on the cover of Billboard magazine in 1940 (pictured below) and endorsement deals with Ludwig, WFL Drum Company and Zildjian. She remains to this day the latter's longest running endorser.

In 1941 she joined the renowned all-woman swing orchestra Phil Spitalny's Hour of Charm. With a radio nationally aired radio program broadcast every Sunday on CBS (1935, 1946-48) and NBC (1936-46), appearances in films – including Abbott & Costello's Here Come the Co-Eds (Smith and her massive drum set are easy to spot on the movie poster, shown right – and later on television, Hour of Charm were popular enough from the mid-1930s through the mid-1950s to be casually name-checked on an episode of I Love Lucy. Smith remained the group's drummer until they disbanded in 1954. (A fascinating, well-researched article on the group can be read here. Sherrie Tucker's book Swing Shift: All-Girl" Bands of the 1940s is also recommended both for its in depth appraisal of Spitalny, and the broader context of all-women orchestras of the big band era. Read excepts here.)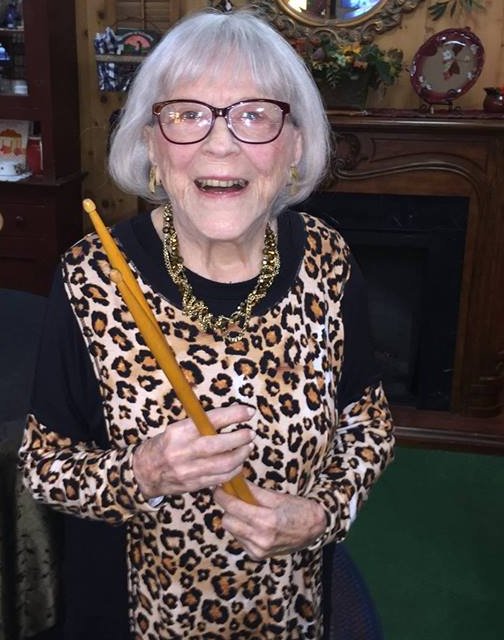 Viola played The Ed Sullivan Show five times, was the onstage drummer for the original 1960's Broadway production of Cabaret and remains active as the drummer for Forever Young: America's Oldest Act of Professional Entertainers. Her most recent media appearances include an interview with womenofrock.org earlier this year (click through to the site's interviews, or watch it at the bottom of this page), and the featured artist of episode 136 of The Trap Set podcast in 2017.
Other elder living musicians of note are listed below in order of their birth date. All are over 100, or soon to be.
Oldest Renowned Music Makers Alive Today
Viola Smith – November 29, 1912 – Legendary drummer
Eleanor Sokoloff – June 16, 1914 – Pianist and renowned teacher at Philadelphia conservatory the Curtis Institute of Music
Fred Fox – July 14, 1914 – Former French horn player for New York Philharmonic, National Symphony Orchestra, Frank Sinatra, various film scores and others
Al G. Wright – June 23, 1916 – Chairman of the Board John Philip Sousa Foundation
Everett Lee – August 31, 1916 – First African American to conduct a Broadway musical and first to conduct a performance by a major US opera company
Berisford "Shep" Shepherd – January 19, 1917 – Multi-instrumental jazz musician and renowned arranger, best known for his work with Bill Doggett
Vera Lynn – March 20, 1917 – Popular WWII-era singer and actress
Antonio Coppola – March 21, 1917 – Opera conductor and composer of various concert pieces and film scores
Francis Jackson, CBE – October 2, 1917) Organist and director of music at York Minster
Elisabeth Dentzel Waldo – June 18, 1918 – Ethnomusicologist, conductor, violinist and composer/songwriter
Dave Bartholomew – December 24, 1918 – Legendary New Orleans R&B song-writer, bandleader, arranger and producer best known for his partnership with Fats Domino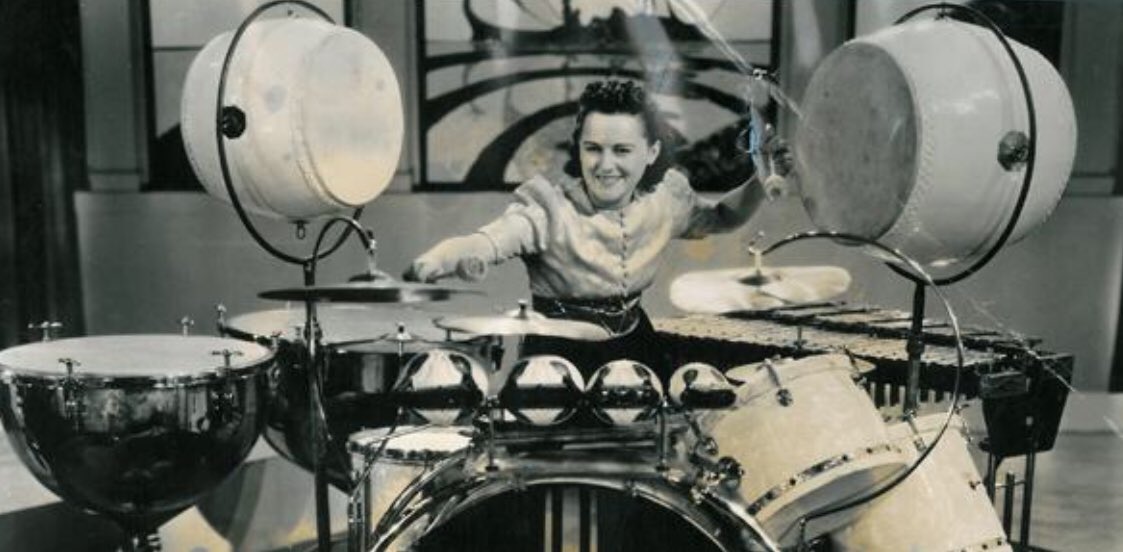 Viola was born in Mount Calvary, Wisconsin, the eight of ten children. Her father encouraged them all to be musical and established a family orchestra with his eight daughters – known as the Schmidt Sisters – to play the restaurant/dance hall he owned. How did she come to start on drums? "I was the sixth girl," she explained in 2012 to Zildjian. "My dad dictated the choice of instruments in the family."
The Schmidt Sisters began touring when Viola was twelve years old – after her father received permission for the underage girls from the local union – and became known on the RKO circuit (Radio-Keith-Orpheum) circuit of vaudeville and movie theater, appearing alongside The Andrews Sisters and others. She later developed her craft working with a variety of top teachers. "I studied with Ted Reed in his NY Studio and with Billy Gladstone at Radio City Music Hall," she told Zildjian. "I had a scholarship to Julliard School of Music and Saul Goodman was my timpani teacher there. Karl Glassman, Timpanist with the NBC Symphony Orchestra while Toscanini was Conductor, also was a teacher."
Viola established her own band in 1938 with her sister Mildred, The Coquettes, through which she rose to national recognition, including a cover feature in Billboard magazine (pictured right). She wrote a famous editorial advocating on behalf of women musicians in the World World II era published in 1942 by Downbeat magazine. "My Down Beat article… was a timely question to be addressed as the male musicians were leaving orchestras in droves to join the Army, Navy and Marines," she explained to Zildjian. "I was asked to write the article on behalf of the many capable girl musicians who were out of work."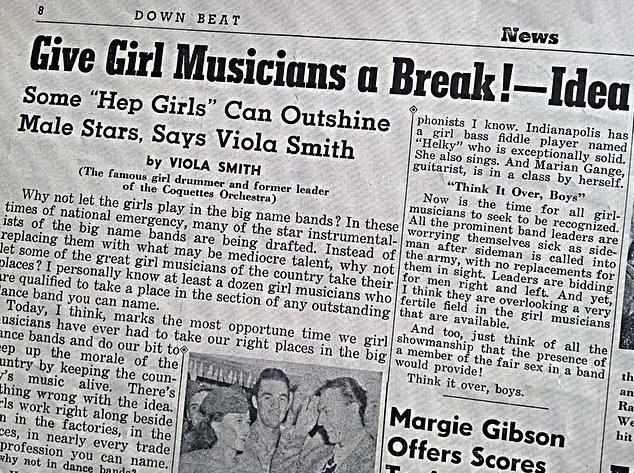 Drumming every week from 1942 though 1954 on General Electric's national syndicated radio program with Phil Spitalny's all woman Hour of Charm Orchestra, Viola remained in demand long after the war ended. Movie appearances, drumming at President Truman's inauguration celebration, The Ed Sullivan Show, playing on Broadway for the original run of Cabaret – she did it all!
Several years ago she retired from teaching drums, but to this day she still performs. Explaining her longevity to Zildjian she said:
"I definitely think that the exercise involved in drumming contributes to longevity. Spending two summers in Europe in 1942 and '44 started the wine habit: two glasses with dinner. Also hearing about a wine drinking community in Southern France where the longevity far exceeds that of the country as a whole. Thirdly, reading all of Adele Davis' books over several decades ago, on a recipe for a long life."
Some of her many career highlights are listed below.
Viola Smith's Professional Highlights
Began touring with Schmidt Sisters at age twelve
Featured on the cover of Billboard magazine on February 24, 1940
Made her silver screen debut in Warner Brothers' 1940 short Frances Carroll & the Coquettes (subsequently featured in the 2002 documentary Added Attractions: The Hollywood Shorts Story). The original nine minute short featured the band playing five songs (watch here – it also airs semi-regularly on TCM). The highlight of the film is Smith's drum solo on "Snake  Charmer" (watch here).
Published an article for Down Beat magazine in 1942 entitled "Give Girl Musicians a Break!" (below)
Appeared in the 1942 movie When Johnny Comes Marching Home 
Appeared in the 1945 Abbott & Costello movie Here Come the Co-Eds
Performed at the inauguration celebration of President Harry S. Truman in Washington, D.C. in 1949
Toured America with various bands for decades
Her signature trick – hurling her drumstick onto her drum, then jumping in the air to catch catch it – earned her the nickname "The Female Gene Krupa"
She was also known and billed as America's "fastest girl drummer"
Another of her signatures was her massive kit: over twelve drums in her set, plus timpani and vibraphone to her sides (as can be clearly seen in the famous photo used for her Billboard cover)
Played vibraphone and timpani on Phil Spitalny records
Led her own band (after Hour of Charm disbanded), Viola and her Seventeen Drums
Wrote and performed original piece "Drum Concertos" with Chick Webb and Ella Fitzgerald
Played on Ed Sullivan's TV Show five times
Was a WFL Drum Company and Ludwig endorser. She remains Zildjian's longest running endorser. She was the first women to endorse with either company.
On the occasion of her 100th birthday, Ludwig declared "Viola Smith Day"
As a member of the Kit Kat Band was the onstage drummer from 1966 to 1970 for the original 1960's Broadway production of Cabaret
Featured in the 2011 documentary The Girls in the Band
Still plays today with Forever Young: America's Oldest Act of Professional Entertainers and is the drummer for a band in her home community.