"Our only stipulation was that you played well live.

–

And I loved that  being our genre."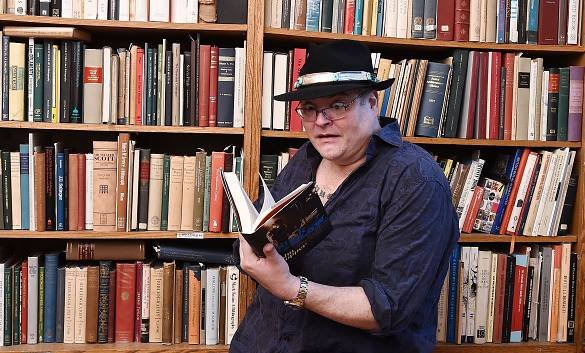 October 2008. John Popper gifts a harmonica to the host of CBS The Early Show just as Blues Traveler is about to perform for its national television audience. "It's like life," he says of the harmonica, "sometimes you blow, sometimes you suck." It's a line he's been recycling for decades and on this occasion was funny more for its awkwardness – the host's raised eyebrows and nervous laugh – than the joke itself. The pun of course is that a harmonica, the instrument Popper revolutionized, is played by blowing and sucking air in and out of it. But it's the humor within the social awkwardness this double entendre creates that makes Suck and Blow an apt title for Popper's new book, in stores tomorrow. Written in a self-deprecating, conversational voice, Suck and Blow reads like Popper is hanging with you, telling one funny story after another of himself, a misfit ad-libbing his way through the awkwardness that is life. It's not for nothing it was The Future Heart's most anticipated book of the season. It surpasses expectations. The pages fly by, partly because of the brisk pace set by its short chapters, but mostly because of John's way with words and, of course, the tales being told.
Ahead of the book release The Future Heart caught up with Popper on his book tour. "I was funny enough to know I wasn't funny," he says of his adolescent ambition to be a comedian. "It's like being a chess enthusiast and knowing you'll never be a great chess player. That's me and comedy." That's also what makes the book hilarious: he's aware of the awkwardness. He's in on the joke even when he's the punchline. His young aspiration to be a comedian led him to imitating the Blues Brothers – literally the source of the "Blues" in "Blues Traveler" – which led him to changing lanes from comedy to music, which eventually led him to twenty appearances on Letterman, a Billboard Hot 100 record for longest chart run, over ten-million album sales and – yep, more awkward situations. Like when he won a Grammy only to be mistaken – literally as he's leaving the ceremony – for that guy from Tommy Boy. Or when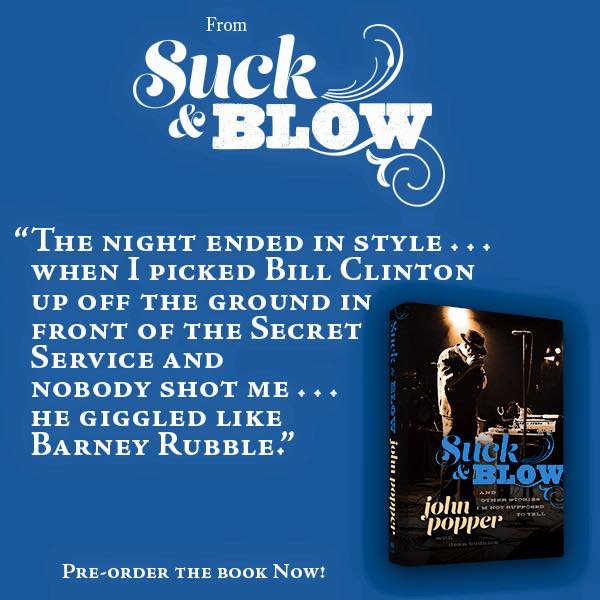 he met with his label to discuss the song that earned him that Grammy, "Run-Around," dressed in a bathrobe and Buffalo Bill fringe gloves, sword in hand. "I plopped my saber on the table," he writes, "pulled a diet Coke from my pocket, and said, 'Let's talk.'" Among the many other awkward encounters hilariously described in the book are several  with Bill Clinton and others in positions of power.
It also led him to a unique role in the formative years of the jam scene and contemporary festival culture. H.O.R.D.E., the touring fest Popper co-founded and ran from 1992-1998, was first known for elevating up-and-coming jammers out of the club circuit, into open-air amphitheaters, laying the groundwork for the contemporary jam band scene. Then H.O.R.D.E. became associated with breaking artists: Spin Doctors, Melissa Etheridge, Big Head Todd and the Monsters, Sheryl Crow, Dave Matthews Band, Joan Osborne, 311, Ben Folds Five, The Mighty Mighty Bosstones, Barenaked Ladies. H.O.R.D.E. can be credited from the vantage point of two decades on with an arguably greater impact that was not discernible at the time: its track record for bringing early exposure to bands that would years later develop devoted followings. Countless thousands of fans first encountered Wilco, Spiritualized, Medeski, Martin & Wood, Ben Harper, Gov't Mule, Galatic, Derek Trucks Band, Guster or Spoon at H.O.R.D.E. There's also bands like Primus to consider. All their alternative chart hits were behind them when they headlined H.O.R.D.E., but it was afterwards that Les Claypool's career developed in unexpected directions and broadened his fanbase. Ditto Ween. The point isn't that these bands went onto bigger and better because of H.O.R.D.E. (even if in some cases that might be true), rather the point is that the festival's eclectic rosters foreshadowed the diversity of current fests – at a time when niche-specific billings were the order of the day (Ozzfest, Lollapalooza, Lilith Fair, Smokin' Grooves) – by focusing on artists' quality of performance, not name-recognizability or genre. And another thing: H.O.R.D.E. booked one icon headliner per year throughout the mid-'90s – Allman Brothers, King Crimson, Neil Young and Crazy Horse – much like how Bonnaroo and others today designate a main stage headline slot to a big draw veteran. This mix of jammers, hit-makers, up-and-comers and legends made H.O.R.D.E. unlike anything of its time, or as Popper has long called it, "an alternative to alternative."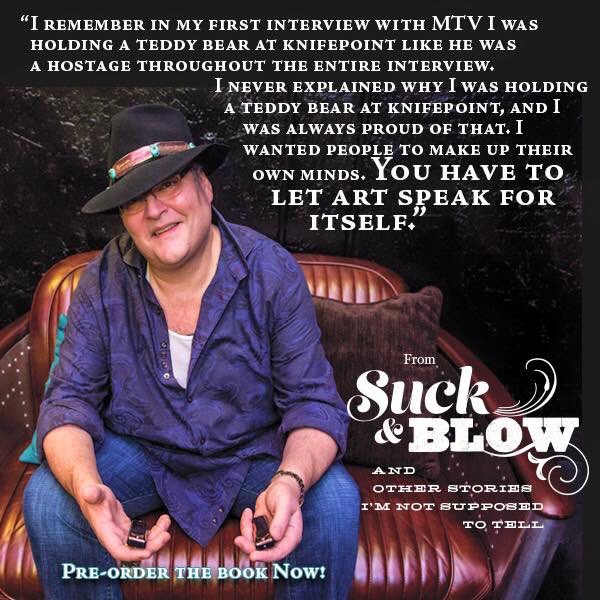 All of this gave Popper a lot of experiences, musically and otherwise, which is crucial to Suck and Blow's key accomplishment: the sense one gets reading it that it could not have been written by the 26-year old that wrote "Run-Around," only by someone who has lived long enough to have had numerous run-arounds in professional and personal life. Someone who has seen for himself the highs and lows of the music industry, played with a musicians-of-the-last-quarter-century who's-who, and had enough time to thoughtfully reflect on it all. Suck and Blow is characterized by wit, yes, but also wisdom.
Ahead of the book's release – available for order in hard cover and Kindle at Amazon, and other retailers – Popper shared the same humor, reflectiveness and story-telling knack in discussion with The Future Heart:
What do you think is the biggest misconception about Blues Traveler?
John Popper: That jam band is one kind of music. The term "jam band" – it has to sound like the Dead or has to sound like Phish. I think the Dead and Phish sound vastly different from each other. And I think that misconception is kind of unfortunate, but people are like that. That's just human nature –
So do you think of Blues Traveler as a jam band?
No.
How do you think of yourself?
I always tell people to ask us what kind of music we play and [our reply is] it's 'ours.' I don't think people have genres – it's like a fingerprint – but because people sell music the way they do they have to have a genre. Sometimes we're 'jam band,' sometimes we're funk. Sometimes we're rock, sometimes we're folk. We have no idea what we are. Sometimes we're blues. To me blues means more of a honesty than a style of music. I had a great teacher [Arnie Lawrence founder of New School's jazz program] who said, 'The blues is the sound a baby makes when it cries for the first time because after you know you'll get picked up, then it's all show business.' That really does sum it up. And so it's about making an honest sound, rather than a style of music. But people need to hear a style of music, so 'jam band' works.
The way you were promoted early on, the Wetlands posters would say "Kick Ass Psychedelic Dancin' Blues Jams" or something like that –
Yeah, right.
That kind of covers it all!
Yeah, it sort of does. It's kind of a mish-mash and you talk to any young band and they always say that. They always say, 'It's sort of a funk-soul-rock thing with some psychedelic and some dance thrown in.' They always mention every genre they can because nobody wants to be pigeon-holed. And maybe they'll latch on to some genre that's selling or something, so why not?
And Blues Traveler has shifted through different periods.
Exactly. And then we had a Top Twenty record –
 – Top Ten!
Yeah, 'Run-Around' went to number eight, so we're technically 'pop' then. So what does that mean, we're like Michael Jackson? I don't know. And it's kind of weird but it really depends on how you, the audience perceives us at a given time in your life. If you heard us on the radio amidst TLC, you'd think of us as a pop band. But if you heard us at a Widespread concert, you'd think of us as a jam band. So it's really what the listener brings with them. And I guess that's the best we could hope for, to try to be amorphous to whatever you want us to be. Then maybe we're doing the job the best. It's like we're not even there, it's your perception of us. We're providing you with the tools, hopefully.
One of Blues Traveler's trademarks coming up was ambitious segues like special full set segues and non-stop transitions from your band to another swapping in/out one musician at a time. How did the band get into that?
Our bass player Bobby [Sheehan] was very into segues and he was big into the Grateful Dead –
So 'China/Riders'  –
Yeah, exactly.
Bobby, he had that drive to make us be a band because – he liked 'Blues Traveler' because he kept going, 'Blues Traveler.' He already imagined a psychedelic name. He kept making us play Dead tunes, and I didn't know any Dead tunes. And I'll tell you this, I was being dragged to Dead shows [in high school] by him and our first tour manager, Dave Precheur. They would talk the whole time. Like, 'Dude, this is the part.' 'Yeah, we were over at Pine Knob…' And you don't even get to hear because they're like emperors new clothes, 'Isn't this great? This is the best thing ever.' And basically that's what the whole thing sounds like. And everyone there would know the words and I never got to learn the freaking words, so every Dead song sounds like [singing], 'Ham and eggs, ham and…' and you hear the whole crowd, 'Ham and eggs...' It took me for freaking ever [to just hear the band], and I actually snuck away from them so I could sit in a chair and still [Deadheads] they'd be like, 'Dude, why aren't you dancing?' 'Cuz I don't want to!'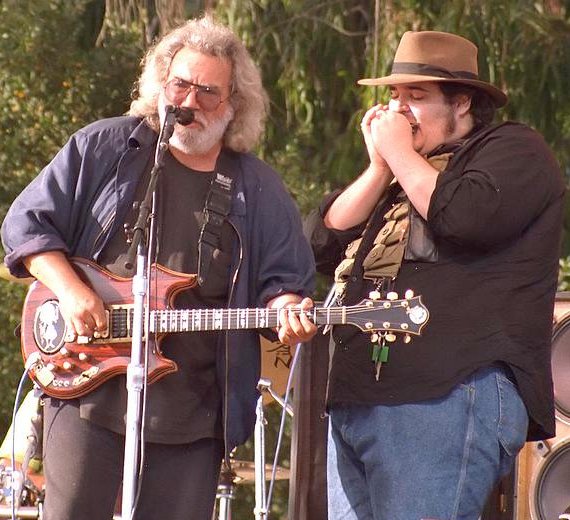 It took years for me to actually start to appreciate them as a band. And it took a lot of me getting away from Deadheads. Just don't go to a Dead show with them. But they're all there.
With jamming bands, there was the Dead, Allmans and whatnot before you but there wasn't a scene per se. That was something that developed around you and Phish and Widespread and through H.O.R.D.E. and Wetlands and so on. And then it's taken on a whole other life over the last twenty years. Where do you see Blues Traveler in all that? 
It's hard to see your own place in any thing because it's happening to you. It always seems like we know our songs more than most people know them because we're the ones singing them. So it's hard to have that perspective but I hope that we were a positive contribution.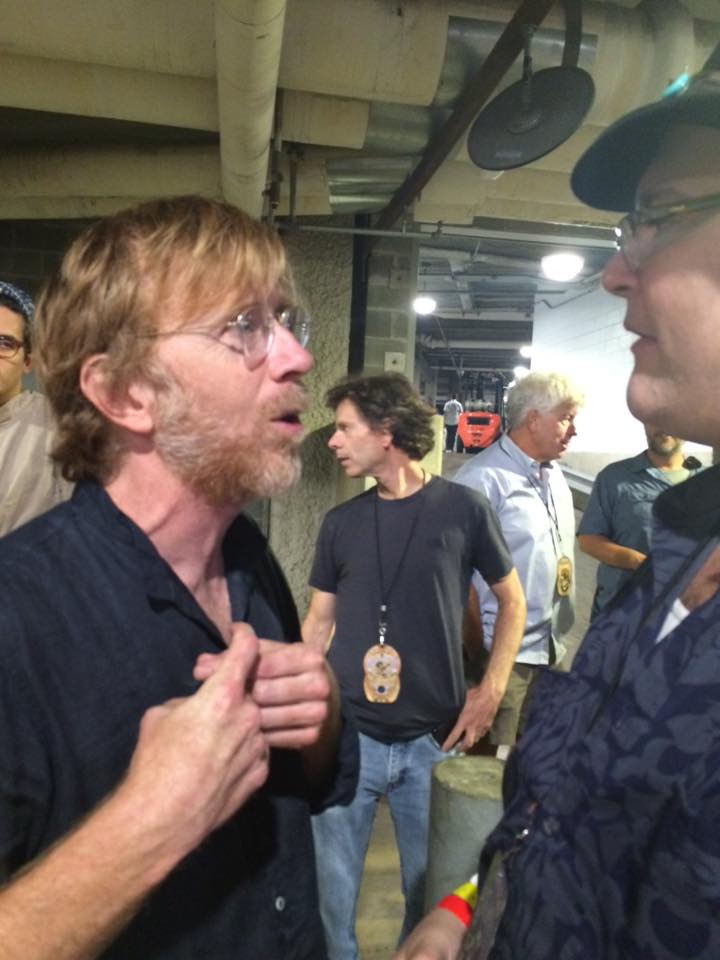 There's always been a comparison between the Dead and Phish and when Trey [Anastasio] got to play with the Dead at the 50th thing [Fare Thee Well] I was glad to get to see that because that's something that my generation, we wanted that validation in a weird way. Even though it's kind of silly to have that sort of comparison, 'cause Phish was ours and they were very different in my mind. They played chess with their crowd, you know? They did stuff that other bands never tried to do, and so I was very blown away by any interaction we had with them. We knew they were different but it was as you get to know them and as they did stunts.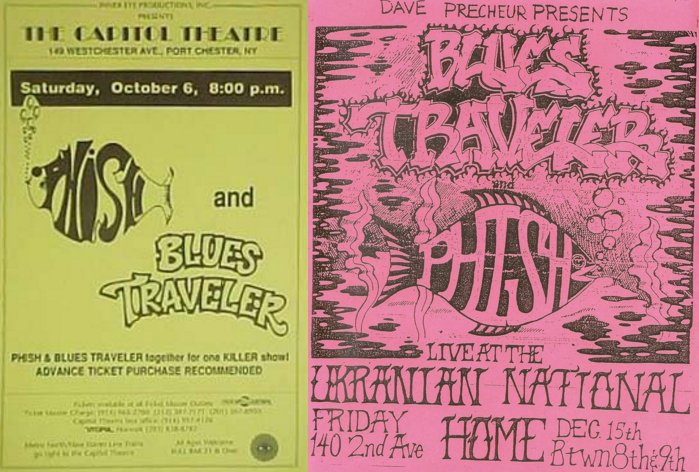 My favorite stunt was the one where I was in a wheelchair. The year before was the first H.O.R.D.E. and we had a little gag. You know how when Phish does 'You Enjoy Myself' they do a trampoline routine? They put out an extra trampoline. I was going to jump and it was rigged to break. So I walk out and everyone sees the extra trampoline and they see me coming and they all go crazy. I jump right through it, and then walk off all dejected. I thought it was funny, they thought it was funny [but] it [only] took like four seconds. The next day everybody was like, 'Don't worry about John. You know not everybody can jump the trampoline. So what if it broke?' And I'm like, 'No, it was supposed to break!' 'Sure man, sure.'
All day everybody was consoling me for breaking this trampoline so I knew what I was going to do. The next year we got a giant 14-foot yard trampoline and we got a dummy of me, dressed like me in a wheelchair [like Popper at the time] and I'm off-stage, pretending that that's me. And we do this big jam with all the bands [specifically Popper, Chan Kinchla, Dave Matthews, Matt Mundy, Jimmy Herring, Todd Park Mohr] and at the very end the fake-me lowers over this giant yard trampoline, and they drop it, and it breaks through. I'm off stage playing and going 'ahhh…I'm alright, I'm alright!' The thing is, we were so late that as soon as they dropped [dummy] me to the trampoline, the lights came up! So it looked like something really terrible had happened. So I was getting calls for years, 'Dude, I was at the show at Richmond. Are you OK?'
And do you see a connection between what you did with those bands and with H.O.R.D.E. and what's come since with festivals like Bonnaroo and Lockn'?
I think so but I don't think we started it, I think we continued it for our era and passed something we learned from European-styled festivals on to other festivals. So it sort of never really starts, it's kind of passed on and changes.
When we were [first] talking about H.O.R.D.E. Phish lobbied really hard to call it The Great Went, even then [in 1992]. And the Clifford Ball was something they saw in an airport and they lobbied hard for that as well. We just liked the thematic idea of H.O.R.D.E.: Horizons of Rock Developing Everywhere. We liked the anagram.
Phish liked the randomness of calling it the Clifford Ball because they had some epiphanic moment at this airport. Clifford Ball, he was this pilot that the airport honored, and they wrote a plaque and [Phish] said, 'this should be the name of a festival.' And that's the thing: they told us the first year that they were going to kind of go off and do their own thing.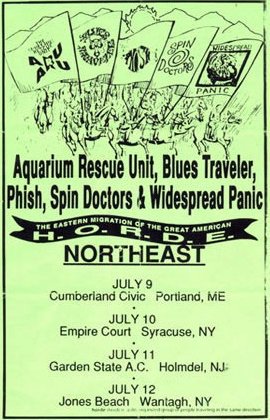 Out of all these bands [in the early '90s] we had the largest range. Phish were doing their thing in the Northeast, and they were going out to Colorado. And Widespread was down south and they were going out to Colorado. And [Blues Traveler] we were touring all over the country. I had these Penguin atlases and I was into military history. [It was like] the Huns were in this section of Europe. We wanted our little section to be everywhere. We were trying to be the Roman Empire. Really I wanted to be Attila the Hun and so I had this idea of bands who were starting to get big in clubs and almost moving to theaters – we were playing some theaters – but I wanted to see if we could all team up and maybe we'd get to play sheds in the summer. That was the idea, to get outside in the summer. At the time all the bands had that idea and everyone was talking about it but because we had the largest range – we worked with Widespread more than Phish had, and we worked with Phish more than Widespread had – we wound up calling the meeting. And then Phish would say, 'We need this,' and then we had to tell Widespread what Phish needs, and they'd say, 'alright, we need this.' We became the go-between and eventually I was on the phone a lot more than I wanted to be.
As [Blues Traveler guitarist] Chan [Kinchla] points out a lot of what made it awesome was that we ran into some really cool bands who were on their way up anyway. It's not like we discovered them. Sheryl Crow [her commercial success] was about to happen and she came and did our tour. Same with Dave Matthews. It was a great time for music and we got to be involved in a lot of it and again because we were relentlessly touring, everybody knew us. So that gave us a little carte blanche. But it was a lot of phone tag. That helped me gain some weight. You stress eat. Each tour took nine months to plan and I was micro-managing way too much.
It was hard for every band to work together because when you're a band in the kind of jungle that we were all in – the environment we were all growing up in, you had to take care of your own band. You had to jealously guard your slot and your money. The first day we talked about H.O.R.D.E. somebody in Phish said, 'let's make it equal pay, equal billing the whole time' because we all loved the Aquarium Rescue Unit who were the smallest band by far, but all of us looked up to them. And the idea was it was going to be equal billing – who cares who's big where – and then the next day Trey calls me up and says, 'I talked to my manager, we can't do that. We're going to need more money up North.' And so Widespread said, 'Well it's a shame but we kind of figured. That makes sense. But we're going to need more money down South.' So then everybody goes to their corners and starts protecting what they've worked really hard to build. And there wasn't any animosity to that, it was just the reality of these little empires – The Vandalls and the Visigoths and the Huns – like we were all little tribes and we had our own little territories that we were proud of and those had to be represented. And that really became the problem with H.O.R.D.E. I remember towards the end I had Primus and Neil Young [share billing on H.O.R.D.E.] and they were both kind of afraid of each other's audience, but they wanted each other's audience. They wanted to not play with each other, but they wanted each other's audience. It was a really hard thing to do and each year we kept trying to make weirder and weirder calls, but getting everybody to work together – you get very protective of your little deal. And everybody has to do it and that's kind of what makes it hard. Phish was the first one to go off and do their own thing, and then Widespread did their own thing. And these guys got huge.
We always sort of felt like we kind of stuck hosting this party every year that was getting lamer and lamer. More work, more work for us – 'cause our role in it was becoming less. There were so many good bands. We'd done it so many times. At least at the time it seemed like we'd already taken it – for us anyway – as far as it could go.
But now we had one last year [the first since 1998, and the first as a single day event]. We're going to try it again this year. We want to keep the H.O.R.D.E. going. But having said that, you've got Bonnaroo. You've got Lockn'. See Dave Frey and I own H.O.R.D.E. We started H.O.R.D.E. and while he was looking for space for H.O.R.D.E. he hooked up with Pete Shapiro and found this property [that became Lockn'] and the cool thing about Lockn' is it doesn't have to be H.O.R.D.E. It gets to do everything cool that H.O.R.D.E. does and expand on that and come up with its own traditions.
Who picked the roster for H.O.R.D.E.?
We did. Myself and Dave Frey and a lot of record companies behesting us and various extortions. There were a few bands that we were forced to take because then we could get the other band we really wanted.
I remember we had The Rembrandts on because they were opening for Sheryl Crow. We said, 'We'll have them on as long as they don't do that song from that TV show ['I"ll Be There For You' from Friends].' I just wanted to see what they would do. Of course they played it, they had to.
We had Robert Fripp [with King Crimson] – it was crazy. We had a lot of – our only stipulation was that you played well live. And I loved that being our genre.
It's interesting that it began with jam bands but within a few years it started to get like –
Smashing Pumpkins!
Yeah, exactly. Beck, Wilco, Ween, Primus, Spoon, Spiritualized.
Like I was saying, our only stipulation was that they played good live. And so we started with what we knew, which was more jam bands, and that eventually branched out and before we knew it pretty much anybody with a good live show –
And you picked all those bands?
Yeah. Myself and Dave Frey would go through his roster. You start with what you wanted, then you see what you got, and then you would make deals.
What was your relationship with these artists? Were you close to them? 
Some of them.
Did you learn from them? Did they learn from you?
That was happening all the time and that was what was great about the workshop stage because you could really play with them. That relationship was really important. My favorite thing about H.O.R.D.E. was the workshop stage because then you got Neil Young happily playing with Primus. Then you got all these different bands playing with each other. I think those are the best. Those recordings are out there – somebody recorded them – and those are the best things to find because you will hear stuff you'd never hear anybody do [elsewhere].
But we also went [to book] bands that we didn't know and that sometimes was more exciting because then you really learn something. When you're with your friends, you learned a lot of that pretty early.
So I would say it was a mish-mash of both, and every combination in between. Some we didn't know at all, and some we became dear friends, and some already were.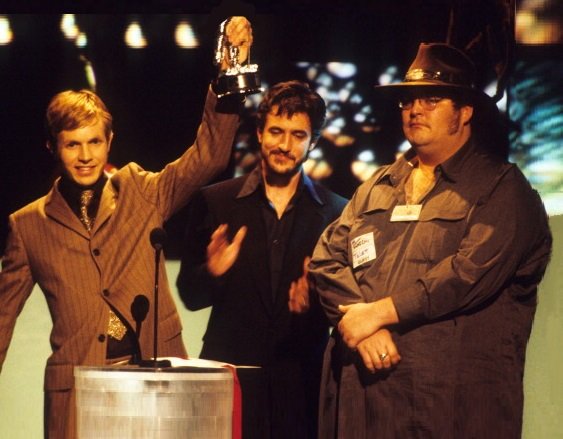 And someone like Beck, was he just off doing his own thing, or would you hangout together backstage?
Sometimes. At first you try to meet everybody. I had a deal I made with myself that on the last day of every tour I would sit-in with every band. And that got a lot more daunting as we started cramming more and more bands . That's the other thing: it became an eight hour onslaught of bands on three stages. It was getting pretty crazy.
Like festivals today. It's particularly interesting because several of those bands weren't well known at the time but grew large followings afterwards. Like Wilco, in '95 not many people knew who they were –
Well a lot of credit I have to give to Dave Frey because he was really paying attention to that stuff. He started out working with Delsener/Slater, those promoters in New York, and then Bill Graham – that's how he met us and became our manager – and he always had his ear to the ground. These were also bands that promoters knew were good and developing a following, so there's an indicator that way. But really, if they could hang live, we were interested.
What really killed H.O.R.D.E. though was [local festivals hosted by] radio shows. 'You come down and we'll give you air time.' We had nothing we could offer a band [to compete with that]. We could give you $30,000, which would be a lot for an up and coming band, but that's nothing compared to heavy rotation. That sold way more records. There was a radio jamboroo in pretty much every locality.
It was that and also by the time Lilith Fair got there, that was all the women groups. And Smokin' Grooves booked all the African-American groups. And that left me with just white, hetero men, which is kind of a genre that was done already. And I remember screaming at Marty Diamond who was running the Lilith Fair, 'I want to play with these women. I like the Indigo Girls! I don't get to play coffee house music anymore because the cool people are off in this-gender-only concert.'
What are you thinking when you're playing a harmonica solo? Patterns? Scales? 'That's the third of the chord' like a jazz musician might? The overall shape?
Sometimes you'll go to that, where you know what you're doing but I would suggest that even a jazz player eventually is going for patterns or something he feels and the key is to know your instrument well enough that you don't have to think anymore. Music is like a language and if you're thinking, 'the third,' it's like saying, 'I'm going to use the letter P now. Here I go: That was proper. I did it!'
So like that's the thing – you can focus on the letters you're using, or you can think about the statement you want to make. And when you're really flying free, and that's what it feels like, it's a sensation like flying –
Not that you're aiming for specific chord tones, but that you're aware of them as you play them –
You don't aim, right –
 – and that you're playing a pattern?
You're aware of where it goes. You're not aiming for precision, you're sort of taking it where it will take you. And you let it take you.
A lot of your harmonica solos have a shape to them where you start off with longer notes and then become more frantic.
Exactly. That's me getting more frustrated because I'm running out of things to play and I feel like a cornered gunfighter. And some of it is also like you're making out with a really old friend combined with a really cold beverage after a long walk in the desert. There's that feeling too. Imagine a sexy girl that's turned into a colt beverage as you kiss her.
That sums it up…
.
Follow John's posts on Blues Traveler's Twitter, Instagram and Facebook pages.
Order "Suck and Blow: And Other Stories I'm Not Supposed to Tell"
in hard cover or Kindle at Amazon.