Before "Dreams," before winning big at the Grammys, before releasing Morning Phase or Song Reader, back when it still appeared from a distance Beck might have semi-retired from being where it's at to become a covers artist and producer for others, his right hand music man Justin Meldal-Johnsen made clear otherwise. "I would estimate that there are currently about three or four albums' worth of material floating around," Justin told mxdn in October 2012. This idea – that Beck's relative quiet period between 2008's Modern Guilt and it's follow-up six years later was actually incredibly prolific – has since been repeated several times by Beck himself, most recently in an interview published by Clash on June 18th. "I probably produced about six or seven albums in that time, so as far as I've been concerned I've been making albums night and day for years," Beck says. He's referring in part to his production work for Charlotte Gainsbourg (2009's IRM), Thurston Moore (2011's Demolished Thoughts) and Stephen Malkmus and the Jicks (2011's Mirror Traffic), as well as an unreleased Bat for Lashes record. "That Thurston Moore record, I worked just as hard on that as I did on Morning Phase…I wrote all the songs [on IRM] and produced and played most of the instruments, so I've been making more records than ever!"
That's four albums for other artists, but what about the other three or so for himself. Let's break it down:
Nashville, Rococo, Another Morning Phase, Pharrell…
"I had spent long periods of time working on a certain record that was going in a certain direction and then it didn't feel quit right so I went to Nashville and tried to do a kind of country, folk record," Beck explained to Zane Lowe last year. "And then I spent a long time on a lot of kind of electronic things, things that were a little more abstract, less structured songs."
In fact, Beck first traveled to Nashville in 2005 to make an album, but never finished it. He returned in 2012 to further work on said country, folk album at Jack White's Third Man studios. "At the end of it, it wasn't quite there," Beck explained to Rolling Stone in 2013. "But I ended up keeping a few songs." "Country Down," "Waking Light" and "Blackbird Chain" from those sessions were released last year on Morning Phase, coupled with a batch of songs he and his band had recorded basic tracks for over three days in early 2013 in Los Angeles, as well as his 2009 stab at orchestral music. "The song 'Wave' is something I recorded about five years ago and tried to give to a few other people," he explained to NPR last year. "I was producing and trying to write for other people for a while. I just had it sitting around for a long time, and when I played it for people it always got a reaction, so I started to put together songs that felt like they could go with that song and build around that. That was always the center of the record. And then I had some of these Nashville songs to add a little bit of lightness."
While all of the above has been known since late 2013, this week Beck revealed to Clash that there's actually a lot more from where Morning Phase came, a whole other record in fact. "I have another album's worth of stuff [like Morning Phase] recorded already. I don't think I would release it now because we just did something in that vein, so there's something to be said for trying different sounds."
There's also a completely different album of mostly unreleased material dating back to the fall of 2008 that's been described by Rolling Stone as "closer to the clutter and swerve of Odelay…He completed it, then shelved it." Beck never settled on a name, though fans commonly refer to it by its working title, Rococo. "I've worked on it a little bit here or there," Beck explained to Pitchfork in 2010, "but it's the kind of thing where I turn around and two years have gone by and it starts to get less relevant to what's happening at large. At this point, five other bands may have done something that felt really exciting and new two years ago. Like, the title of the record was going to be Rococo and now Arcade Fire have a song called Rococo. But I'm sure the music is going to come out. I'm not sure if I'm going to put out 12″s or put the songs on my website. I just have to get them done. I'm going to try and finish them this summer. It's just a matter of the songs being good enough and not embarrassing."
Beck updated the status of the project to triple j radio in November 2012 ,"I started a record, largely recorded in 2008, so I'm trying to carve out some time from all the production work I'm doing to finish those songs before they become records from a lost era. It's going on a half decade at this point."
In 2013 Beck planned to release the so-called Rococo material as 12-inch singles, issuing the first three – "Defriended," "I Won't Be Long," and "Gimme" – that year on his own label, FONOGRAF. Confusing the issue further, Beck described one of these songs in the 2010 Pitchfork interview as "similar to this other project that I've been working on for years, which started with a song I did in '95 called "Inferno." We left it off of Odelay because it ended up feeling like this weird rap-rock thing…I'd always wanted to do a longer piece of music like that with all these different sections." This description is similar to "Gimme," which – like each of the three FONOGRAF singles – was released as an edit with a longer mix on the flipside. In fact, "Gimme" one-upped its predecessors: it was a double 12-inch single. The first first disc contains the short version and an "extended length edit" on its B-side; the second disc split "two halves of a 30-minute extended mix of the track." (To recap its predecessors: after surfacing in May 2013 as a 3:49 leaked YouTube video – mysteriously uploaded by a user with no YouTube history identifying as Bob Bobnbob – "Defriended" was officially released on Beck's YouTube on June 4, 2013, then as a digital download in mid-June and finally as a 12″ single with the full 14-minute mix as its B-side on June 24th. "It  Won't Be Long" was similarly released as an official YouTube video on July 1st, followed by a 12″ single with a 15-minute version – including a guest appearance by Kim Gordon – on July 8th). Essentially Beck was playing with ideas associated with release forms. The full mixes of these three tracks could have been released as an hour long record, but they wouldn't have fit together as an "album." On the other hand, they weren't conventional singles either. Rather than stick to release norms, Beck used the Rococo material to explore the multiplicity of potential within any musical idea through a series of stand-alones that have no definitive mixes.
There's public knowledge of a fourth song speculated from this project as well, "Shakey Ground" – copyrighted at the same time as "Defriended" and "Gimme" in early 2013 but still unreleased – and Beck has suggested there's still more singles in this series on the way (presumably all from the so-called "Rococo sessions" of late 2008). Additionally Beck contributed three "songs" in 2012 to Sound Shapes, a PS3 video game: "Cities," "Touch The People" and "Spiral Staircase." Even more so than the FONOGRAF singles, there's no definitive versions of any of these: the players moves control the mix; each is "remixed" just by playing the game (check out the various versions of various lengths on YouTube). It's speculated these originated in the 2008 sessions, though Beck has only confirmed that of the FONOGRAF records. "I've recorded albums but I just haven't put them out, for different reasons," Beck revealed to Página/12 in 2013. "After a few years I just felt like the music wasn't as fresh to me…But I started to put some of those songs on these twelve inches. I'm doing a series of twelve inches for my own label and those songs are coming out slowly but in the meantime I have a few other records that I've been working on."
Those other records include the LP slated to be his next (the parent album of "Dreams") and a project with Pharrell that may never be finished. The latter was started at sessions prior the massive success of "Get Lucky" and "Happy." Beck has mentioned the sessions with Pharrell in several interviews over the past sixteen months, most recently with Alt 98.7 earlier this month, "I worked with him a few years ago. So this was… 2012? Right before the Daft Punk record came out. Maybe six months before that. And understandably I think he just got busy. He's had his plate full for a while so we never got to finish that body of songs but we did work together and it was great. You know I've been running into him for years and wanting to work with him forever." 
Beck Will Record With Nile Rodgers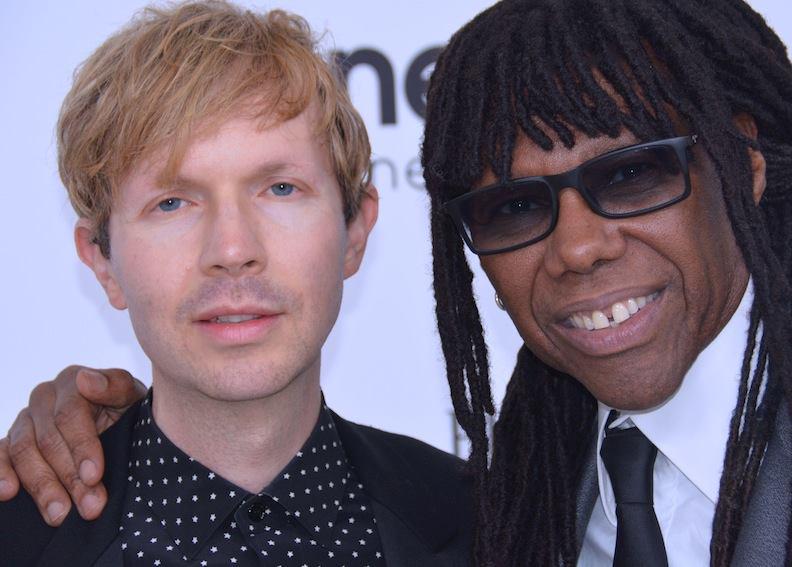 In a new interview with to Yahoo Music Rodgers recalls meeting Beck earlier this year on the red carpet before playing Elton John's annual Oscar party with Chic. "He said, 'I've been wanting to call you for five years!' I said, 'I been wanting you to call me for six!'" Rodgers – who won the Grammy Album of the Year in 2014 for his work on Daft Punk's Random Access Memories – is hosting a the FOLD Festival – Freak Out Let's Dance – on Tuesday, August 4th, headlined by Beck, and Wednesday, August 5, 2015, headlined by Duran Duran. The full-day Riverhead, New York event at Martha Clara Vineyards is expected to attract its maximum capacity 10,000 people each day in this, its inaugural year, and also features Pharrell, Janelle Monáe, Duran Duran, Chaka Khan, and many others. Niles teased he would perform during various sets at FOLD, possibly Beck's included, and confirmed he scheduled studio time to record with Beck and Paloma Faith a few days before the festival. Rodgers explained to radio.com, "We haven't gone into the studio yet. We're going into the studio out on [Long] Island. We have the studio booked, we're ready to go." It isn't clear if these sessions are for Beck's new album or something else, possibly one of Niles' projects. But given Beck has recently name checked Daft Punk as an inspiration for his new music, don't be surprised if the next Beck LP has its own "Get Lucky [feat. Nile Rodgers]". . .
As for Beck's next album, the new material Beck has been working on hasn't made its way to Beck's setlists yet, but that will soon change. Says Beck: "We haven't played any of them [new songs]. You know I think this summer, they'll be in the show for sure."