Beck, Beck and More Beck
Beck's new single "Dreams" jumped to #1 on Billboard + Twitter's Trending 140 chart upon its Monday release (on the heels of several days of social media teases last week and iHeartRadio's "World Premiere" Sunday night). Racking up a half-million YouTube plays in its first five days, the track received a mostly positive reaction (that was nonetheless somewhat divided between fans of the song and those that found it too radio-friendly-slash-too-much-like-Foster-the-People-slash-too-much-like-MGMT-slash-other-complaints).
UPDATE June 25th – The numbers are in: "Dreams" had a huge first week. Radio airplay is monitored by Broadcast Data Systems, which uses computers to track all large stations throughout the country, and Mediabase, which relies on people to listen to the radio and report what is played. All Billboard airplay charts – such as the Top 40 and the Alternative Songs chart – are based on BDS findings; Radio & Records charts are mostly derived from MediaBase. Needless to say, since both are monitoring most of the same stations, there's a lot of overlap on their respective weekly charts. Such is the case with their latest charts as Beck is the top debut on Billboard's "Alternative Songs," "Rock Airplay" and "Adult Alternative" charts (published in today's issue) as well as Mediabase's "Alternative Rock Radio Songs," and "Triple A Radio Songs" charts (announced earlier this week). Other debuts this week: "Future People" by Alabama Shakes, "Roll Up Your Sleeves" by Meg Mac and "Different Colors" by WALK THE MOON. "Dreams" is the week's "Greatest Gainer" on each of the Billboard charts, launching it into the top ten on the "Rock Airplay" (with 7.2 million audience) and "Adult Alternative" lists, and giving Beck his career high debut for the "Alternative Songs" chart. Mediabase reports a massive 1018 spins for "Dreams," a week-best for Beck. (For context/comparison: Modest Mouse's "Lampshades on Fire" debuted with their week-best 812 spins last December and Florence and the Machine "What Kind of Man" jumped to a week-best 440 spins in early March). In addition to the three Billboard radio charts, "Dreams'" 22,000 downloads and 462,000 domestic streams landed it at #5 on the "Rock Digital Songs"chart and #9 on "Rock Songs" (Beck had never previously appeared in the top ten of either).
In short, this week was Beck's best ever for a new single's airplay and downloads. If "Dreams" continues to sell and spin like this, it could be the biggest hit of his career.
Additionally it was announced that on June 29th Beck will participate in multimedia artist Doug Aitken's Station to Station: A 30 Day Happening at London's Barbican Hall. Beck will host an event that's part spoken word, part music (readings from Simon Armitage and Jemima Foxtrot are scheduled; Thurston Moore will perform).
Also this week, after a month off Beck resumed his 2015 tour, garnering yet more comments from peers on social media (as Beck instagrammed how it's done).
Alabama Shakes, My Morning Jacket, Don Draper Rock 'Roo
Mad Men's Jon Hamm showed up unannounced at Bonnaroo, co-lead the SuperJam (with Zach Galifianakis) in a "We Are the World" sing-along, and fed gummy bears to Belle and Sebastian during their set. In other surprise guests spots, My Morning Jacket, Dawes, The War on Drugs' Jon Natchez, Hozier, Ed Helms, and Danny Clinch joined Mumford & Sons for a sing-along of "With a Little Help From My Friends" (ala their famous performance of the same Beatles' classic at Glastonbury 2013 with a little help from Vampire Weekend, The Vaccines, The Staves and First Aid Kit).
Watch full Bonnaroo sets by My Morning Jacket, Alabama Shakes, The War on Drugs, D'Angelo and The Vanguard, Robert Plant and the Sensational Space Shifters, Ben Folds & Ymusic, Spoon, Belle & Sebastian, and others here.
Rockin' In The Free World
After Donald Trump's June 16th arrival on stage to announce his bid for presidency was soundtracked by Neil Young's "Rockin' In The Free World," a statement from Young retorted, "Donald Trump was not authorized to use 'Rockin' in the Free World' in his presidential candidacy announcement. Neil Young, a Canadian citizen, is a supporter of Bernie Sanders for President of the United States of America."
Candidates are required to pay public performance royalties to performance rights organizations (ie ASCAP, BMI), but are not required to get a musician's permission to use a song at a live political event. Campaign manager Corey Lewandowski maintains, "We've done everything legal and by the book. The Trump Campaign for President wrote two checks, which were cashed, and signed two contracts: One was with [performance-rights organization] ASCAP and the other was with BMI. We have two legally binding contracts in place that allow us to go to their repertoire of music and use those [tracks] legally." Regardless, Lewandowski announced on Thursday, "We won't be using it again. There are plenty of other songs to choose from, despite the fact that Mr. Trump is a big fan and likes Neil very much. We will respect his wish and not use it because it's the right thing to do."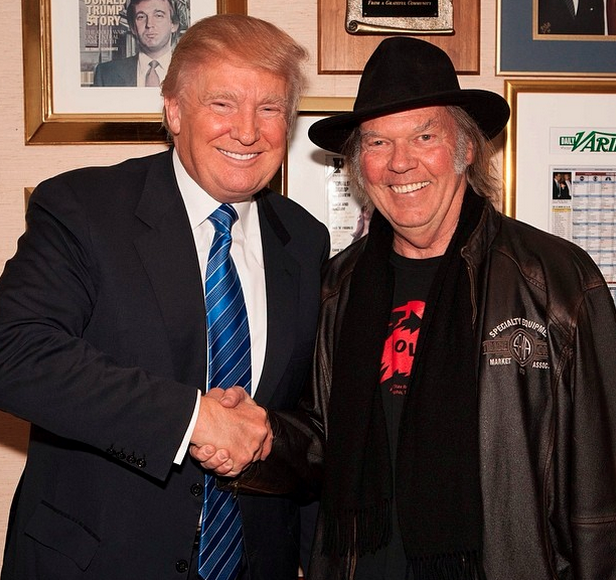 Young's previous attempt to have Trump fund Pono, pictured above, was brought into focus by this incident. Neil addressed these issues – and why he doesn't "like the current political system in the USA and some other countries" – in an open letter posted on his Facebook. "Had I been asked to allow my music to be used for a candidate – I would have said no." He closed the letter, "I do not trust self serving misinformation coming from corporations and their media trolls. I do not trust politicians who are taking millions from those corporations either. I trust people. So I make my music for people not for candidates."
Moby Keeps Tweeting About Pope Francis' Encyclical
Can the Pope get an "Amen?" He can, and has many times before on Moby's social feeds. This week Moby wasn't alone: several other musicians also praised the Bishop of Rome on twitter and Neil Young posted an open letter about his encyclical on Facebook. "These words of wisdom resonated strongly with me And fill me with gratitude." In Neil's view, "Pope Francis has given us a map for navigating these times."
https://twitter.com/flea333/status/611591340481089536
Two Thumbs Up For Love and Mercy
Bill Pohlad's Brian Wilson biopic – in which a parallel narrative depicts the life of the Beach Boy in the '60s and '80s – opened June 5th in theaters. Several musicians tweeted reviews, or something like that:
https://twitter.com/MikalCronin/status/609501967329570816
https://twitter.com/trent_reznor/status/609464999262617600
They Say It's Your Birthday
Two legendary songwriters celebrated turned 73 this week: Sir Paul and Dog Ears.
Miley Cyrus Launched #InstaPride
Miley Cyrus' new Happy Hippie Foundation announced #InstaPride on June 15th, a partnership with Instagram dedicated to sharing "stories of transgender and gender expansive people from around the country over the next 2 weeks." 
Deerhoof Ask Fans For Artwork
Via their Facebook page: "Deerhoof is preparing a live LP that we're really excited about. We want part of the cover to be a collage of manga-style Deerhoof portraits. Can you help? Send your drawings to deerhoofmanga@gmail.com by July 1st."
Speaking of which, the band's 2004 live album Bibidi Babidi Boo is back online as a free download.
Coldplay – Top of the Interpops
Coldplay have long had one of the most ambitiously curated websites among pop musicians. Now they also have arguably the most uniquely designed. Even if you're not a fan of the band, it's worth checking out.
As Seen On TV
Adam Lambert and James Taylor made the late show rounds; Courtney Barnett rocked "Pedestrian at Best" on The Tonight Show Starring Jimmy Fallon:
Tweedy Family Goes Shopping
Wilco frontman Jeff Tweedy and his sons Spencer and Sam picked up some items at Hollywood's Amoeba Music: Chastity Belt, Captain Beefheart & His Magic Band, Black Flag, Akron/Family, The Pretty Things, Smog, Lightning Bolt, Paul Simon, Charlotte Gainsbourg and more…
Andrew WK's Words of Wisdom
Musicians joined in two of the most discussed topics on twitter this week: Rachel Dolezal and the mass murder at Charleston's Emanuel African Methodist Episcopal Church. Some of the most popular tweets on the latter have been collected here (Questlove, Taylor Swift, Hayley Williams, Common, Brad Paisley, Bruno Mars, Alicia Keys, more); others are here (Flea, Kathleen Hanna, Billy Bragg, Janelle Monae, more) and below, after the comments on Dolezal:
https://twitter.com/AZEALIABANKS/status/610574941675782144
https://twitter.com/AZEALIABANKS/status/612377294775185408
On A Lighter Note