UPDATES
Beck's new single "Dreams" is now available to download on iTunes.
The radio version – edited for time and language – is streaming on radio sites.
The uncut track is on Spotify and YouTube (below).
The MGMT and Daft Punk-inspired psych-pop dance track was co-written by 
Beck, Greg Kurstin and Miike Snow frontman Andrew Wyatt and mixed by
Serban Ghenea (Beyonce, Katy Perry, Maroon 5, P!NK, Taylor Swift, Ke$ha).
Morning Phase vets David Greenbaum and Cassidy Turbin engineered it.
Production and all vocals and instrumentation are by Beck and Kurstin.
Slight errors in the leaked lyrics have been corrected below with the official lyrics.
Details on Beck's next album included in an earlier version of this post have been moved to a newer post with additional updates.
"Dreams" jumped to #1 on Billboard + Twitter Trending 140 chart upon release and was the week's top debut on Billboard's Rock Airplay, Alternative Songs and Adult Alternative charts.

Several indications that Beck's next album is on the way were compiled here on June 7th. Numerous new details have been revealed since then, outlined below:
Previews Of New Single "Dreams" Teased Online
On June 11th Beck officially announced his new single "Dreams" – his first release since Grammy 'Album of the Year' Morning Phase – with a GIF on twitter and his facebook and twitter profile and header photos, as well as the beck.com homepage, updated to the single's official artwork. On June 12th he teased a 15 second snippet of "Dreams" first on Spotify, and then across all his social media accounts – including his new Instagram – and YouTube:
Another 15 second clip was teased across all Beck's web presences on June 13th:
A third 15 second clip was previewed by Beck's online outlets on June 14th:
iHeartRadio Will Premiere "Dreams"
"Dreams" was originally announced to be world premiered by Philadelphia alternative station WRFF 104.5 – an iHeartRadio channel – and confirmed to be released by Capitol and Beck's own Fonograf label to "Adult Album Alternative" format radio stations across the country, such as Pittsburgh's WYEP, on Monday, June 15th. It has now been revealed that iHeartRadio stations nationwide will premiere the song at the stroke of midnight into Monday EST. That's Sunday at 9:00 PM on the West Coast. San Francisco's Live 105 has announced hourly airings at 9, 10 and 11PM (click here to stream the station worldwide). It will also debut on various stations around the world at the same time, including Australia's Triple J and New Zealand's Haurak. iHeartRadio also confirmed that "Dreams" is the lead single from Beck's next album (more on that below).
Listen – Beck Has Already Played "Dreams" In Memphis
For the past month Beck devotees have been wondering what the song in the below video from Beck's May 16th soundcheck at Memphis' Mud Island Amphitheater is, speculating it was Beck's next single once news of the release began to surface online. With yesterday's social media/ Spotify tease we now know that is the case. Beck is eager to play "Dreams" in concert. "We did this one [recorded "Dreams'] a few years back and I've been really looking forward to getting it out and being able to play it live and have people hear it," Beck recently told Los Angeles radio station Alt 98.7 "I came up with this riff working with an old friend of mine and it started out kind of like a heavy garage rock thing and then it became much more of a kind of dance or, some other kind of hybrid. I'm not sure what it is yet."
Beck's tour resumes June 16th – following the past few weeks off – with three shows in the three days directly following "Dreams" release. It's likely Beck was taking advantage of his Memphis soundcheck to rehearse "Dreams" with the band to live debut it next week.
"Dreams" Lyrics Have Leaked Online
The lyrics to "Dreams" have leaked, appearing on genius.com and lyrics.mp3oo.com. Although the verses have not been confirmed, the words of the bridge and chorus on those sites match the lyrics Beck sang in Memphis. Hear for yourself by listening to the above video while reading the lyrics below. The video starts at the end of the second chorus:
End of Chorus Two
She's makin' me high, I wanna get messy (Correction: I wanna get me free)
Nothing gonna get me in my world
Nothing gonna get me in my world
Bridge
Ahh
Stop fucking with my dreams, dreams, yeah
Ahh
Stop fucking with my dreams, dreams, yeah
Ahh, Here we are
Chorus
Dreams Dreams Dreams Dreams
She's making me high, she's making me high
Dreams Dreams Dreams Dreams
All day and all night, I wanna get messy
(Correction: She's making me high, I wanna get me free)
Nothing gonna get me in my world
I wanna get messy (Correction: I wanna get me free)

And here's the rest of the lyrics.
Verse 1
Come on out of your dreams
And wake up from your reverie
Time is here don't go to sleep
Streets are running on the brink
They say that we've got nothing
But a dollar for a life of sin
Cos there's trouble on the way
Oh there's trouble on the way
Get a dog and pony for a judgement day

Pre-chorus
Here we are
Running circles around around around around
When nothing's right just close your eyes
Close your eyes and you're gone
Verse 2
Now can these broken wings free me
about a light year from reality
If you want to fall in a dream
You could put the weight right onto me
"Dreams" Artwork Was Created By Alexander Medel
Beck first teased "Dreams" by sharing a GIF on twitter and updating his facebook and twitter profile and header photos to the new single's official artwork on June 11th . The surreal art – showing tears of blood from Beck's right eye and squiggles over his face – is the work of Santiago-based graphic designer and illustrator Alexander Medel. Alexander has a playful, cartoonish take on pop art distinguished by his bold use of primary colors. Medel's fun visuals perfectly match the entirely different direction from Morning Phase Beck is heading in this go around.
"Dreams" Is The Lead Single From Beck's Next Album
Beck's teases on social media leading up to "Dreams" release has been covered by a slew of sites: Pitchfork, Spin, Under the Radar, Exclaim, etc. Hasty reporting by some blogs have the story a bit confused though. To clarify, "Dreams" is the name of the single being released to radio on June 15th (not the name of a project separate from the single release, nor the name of an album). Speculation that the release of "Dreams" indicates an album is soon to follow, or that "Dreams" holds special significance in announcing the album to the world is also unfounded. Says Beck: "It's just the song that I had that was the closest to being finished."
In an interview on the red carpet of the pre-Grammys Gala on February 7, 2015 Beck estimated he was about 35-70% complete. In his most recent interview posted yesterday by Alt 98.7 Beck explains, "With me I'm always working on things. Some of the songson Morning Phase I did six, seven years ago. So there's various states of being finished. Eventually, time willing, I get enough songs together and make a record and put it out there. But you know I'm kind of working a lot of the stuff simultaneously. I'm working with different people, doing things on my own, collaborating with producers."
As mentioned above, Alt 98.7 confirmed "Dreams" as the lead single for the new album, as opposed to a stand-alone like Beck's three 2013 singles. Beck says he likes "Dreams" "because it brings a few different worlds together musically. I have a great fondness for garage rock. They're heavy, but it's not quite punk, it's not quite metal. It's just a raw energy thing. But then this has a beat as well and you know the way it marries the two is gratifying to me. It's a bit of a trick to make those two world work together."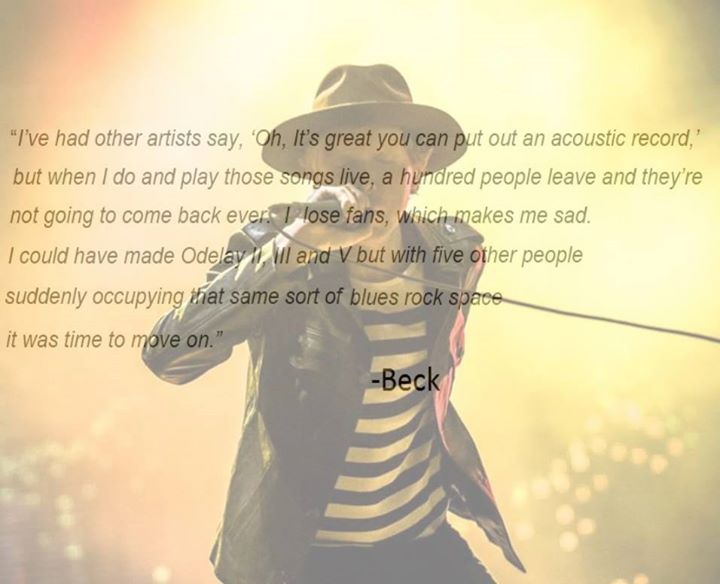 It's Not A Coincidence "Dreams" Reminds Fans of MGMT
When the Memphis soundcheck "Dreams" bootleg surfaced online in May fans immediately recognized a stylistic similarity to MGMT. Beck has now elaborated how MGMT and other music from the past few years have inspired his next album with Alt 98.7. "MGMT, they did their first tour on the first album with us, so I got to watch them starting out. We've been playing with so many of these bands, everybody from Phoenix to Daft Punk, to you know to newer bands and just seeing how all that's evolved over the years is really interesting. When I came out there was a lot of divisions of music you know. I started out I was getting played on radio stations that were mostly guitar bands but my music had hip hop beats and dance beats, a real mixture, amalgam of things and it was hard for it, to figure out where you fit. And now it's just sort of, everybody's ears have opened a bit, so it feels like a lot more possibilities and what you can do."
Beck says of his younger peers, "Whatever influences they have, I think they're all really interesting directions and you know, it expands music."
"I think I've been inspired by a lot of the music coming out the last five years and how rock bands have been able to bring these other elements to the music. I think it just expands it and makes the shows a little bit more diverse."
Beck and MGMT have a history. In addition to touring Modern Guilt with MGMT, Beck covered "Electric Feel" with the duo twice: first at a secret show on September 25, 2008 in an El Paso, Texas coffee shop, then during a full set with MGMT for 93XRT Chicago's Live From Studio X. Beck also covered "Time To Pretend" with MGMT during the latter, which is detailed fuller at whiskeyclone.net, the internet's ultimate Beck resource. MGMT also collaborated on Beck's second Record Club project, a full album remake of Songs of Leonard Cohen:
…Or That It's So Radio Friendly
Our first knowledge of the "Dreams" studio track came from two industry insiders that heard it and tweeted their reaction. First Philadelphia's 104.5 morning DJ Johnny referred to it as an "infectious jam," then Rolling Stone's Will Hermes tweeted: "No Morning Phase retread here; more like Tame Impala playing pétanque with fun. on ayahuasca."
This was followed by Beck's official teases, which sonically reminded listeners of Foster The People and similar hits on alternative radio. That's not a coincidence. In addition to being co-written with Greg Kurstin – whose CV includes Foster The People, Tegan and Sara and Top 40 stars such as Beyoncé, P!NK, Kelly Clarkson, Lily Allen, and others – "Dreams" was mixed by Serban Ghenea, one of the most in demand mixers in Top 40 today. Ghenea has mixed chart-toppers for Beyoncé, P!NK, Kelly Clarkson, Katy Perry, Maroon 5 and many others. Basically, if you want a hit, call Ghenea. (Or another way of saying that – if you've ever asked, "why does everything on hit radio sound the same?" – Ghenea is your answer). His greatest hits are listed below (just his #1s though, his full resume is much longer), though he can't be pigeonholed-holed by these (he's mixed everything from "My Humps" to tracks by Björk, R. Kelly, Rod Stewart, Robert Randolph & The Family Band, Usher and Dave Matthews Band). "Dreams" marks Beck's first time working with Ghenea, a move that's bound to be as controversial among a certain breed of rock fan's as Weezer's work with him for Raditude and The Hives for The Black and White Album.
Katy Perry
"This Is How We Do" – No. 1 US Billboard Dance Club Songs
"Dark Horse" – No. 1 US Billboard Hot 100
"Roar" – No. 1 US Billboard Hot 100
"Unconditionally – No. 1 US Billboard Dance Club Songs
"Wide Awake" – No. 1 US Billboard Pop Songs
"Part of Me"- No. 1 US Billboard Hot 100
"The One That Got Away" – No. 1 US Billboard Pop Songs
"Last Friday Night (T.G.I.F.)"- No. 1 US Billboard Hot 100
"E.T." Featuring Kanye West- No. 1 US Billboard Hot 100
"Peacock"- No. 1 US Billboard Hot Dance Club Play
"California Gurls"- No. 1 US Billboard Hot 100
"Teenage Dream"- No. 1 US Billboard Hot 100
"I Kissed a Girl" – No. 1 US Billboard Hot 100
"Hot n Cold" – No. 1 US Billboboard Pop Songs
"Waking Up in Vegas" – No. 1 US Billboboard Pop Songs
Maroon 5
"Sugar" – No. 1 US Billboard Pop Songs
"Animals" – No. 1 US Billboard Adult Pop Songs
"Maps" – No. 1 US Billboard Adult Pop Songs
"Love Somebody" – No. 1 US Billboard Adult Pop Songs
"Payphone" – No. 1 US Billboard Pop Songs
"One More Night" – No. 1 US Billboard Hot 100
"Daylight" – No. 1 US Billboard Pop Songs
"Moves like Jagger" – No. 1 US Billboard Hot 100
Kelly Clarkson
"Catch My Breath" – No. 1 US Billboard Hot Dance Club Play
"Dark Side" No. 1 US Billboard Hot Dance Club Play
"Stronger (What Doesn't Kill You)" – No. 1 US Billboard Hot 100
"Mr. Know It All"- No. 1 US Bilboard Adult Pop Songs
"My Life Would Suck Without You" – No. 1 US Billboard Hot 100
"Already Gone" – No. 1 Billboard Adult Pop Songs
"Since U Been Gone" – No. 1 US Billboard Pop 100
"Because Of You" – No. 1 US Billboard Pop Songs
Pink
The Truth About Love – No. 1 US Billboard 200
"Blow Me (One Last Kiss)" – No. 1 US Billboard Pop Songs
"Raise Your Glass"- No. 1 US Billboard Hot 100
"Fuckin' Perfect"- No. 1 US Billboard Pop Songs
"So What" – No. 1 US Billboard Hot 100
"Sober" – No. 1 US Billboard Hot Adult Pop Songs
"Who Knew" – No. 1 US Billboard Hot Adult Pop Songs
"U + Ur Hand"- No. 1 US Billboard Pop Songs
Taylor Swift
"Bad Blood" – No. 1 US Billboard Hot 100
"Style" – No. 1 US Billboard Pop Songs
"Blank Space" – No. 1 US Billboard Hot 100
"Shake It Off" – No. 1 US Billboard Hot 100
"We Are Never Ever Getting Back Together" – No. 1 US Billboard Hot 100
"I Knew You Were Trouble" – No. 1 US Billboard Pop Songs
Britney Spears
"I Wanna Go" – No. 1 US Billboard Pop Songs
"Hold It Against Me"- No. 1 US Billboard Hot 100
"3" – No. 1 US Billboard Hot 100
"Womanizer" – No. 1 US Billboard Hot 100
"Circus" – No. 1 US Billboard Hot Digital Songs
"Me Against the Music" – No. 1 US Billboard Hot Dance Club Play
Kesha
"Die Young" – No. 1 US Billboard Pop Songs
"We R Who We R"- No. 1 US Billboard Hot 100
"Tik Tok"- No. 1 US Billboard Hot 100
"Your Love Is My Drug"- No. 1 US Billboard Pop Songs
Keith Urban
"Little Bit of Everything" – No. 1 US Billboard Country Airplay
"We Were Us" – No 1 US Billboard Hot Country Songs
"Somewhere in My Car" – No. 1 US Billboard Country Airplay
Beyoncé
"Run the World (Girls)" – No. 1 US Billboard Hot Dance Club Play
"Love on Top" No. 1 US Billboard R&B/Hip Hop Songs
"Countdown" – No. 1 US Billboard Hot Dance Club Play
Ariana Grande
"Problem" – No. 1 US Billboard Pop Songs
"Love Me Harder" – No. 1 US Billboard Rhythmic Songs
Miley Cyrus
"Wrecking Ball" – No. 1 US Billboard Hot 100
"Party in the U.S.A." – No. 1 US Billboard Pop 100
Demi Lovato
"Neon Lights – No. 1 US Billboard Hot Dance Club Play
"Really Don't Care" – No. 1 US Billboard Hot Dance Club Play
Gym Class Heroes
"Stereo Hearts" – No. 1 US Billboard Pop Songs
"Cupid's Chokehold" – No. 1 US Billboard Pop Songs
Flo Rida
"Good Feeling" – No. 1 US Billboard Pop Songs
"Right Round" – No. 1 US Billboard Hot 100
La Roux
"In for the Kill"- No. 1 US Billboard Hot Dance Club Play
"Bulletproof"- No. 1 US Billboard Hot Dance Club Play
Jewel
"Intuition" – No. 1 US Billboard Hot Dance Club Play
"Stand" – No. 1 US Billboard Hot Dance Club Play
Justin Timberlake
"Like I Love You" – No. 1 US Billboard Hot Dance Club Play
"Rock Your Body" – No. 1 US Billboard Pop 100
Ellie Goulding "Love Me Like You Do" – No. 1 US Billboard Pop Songs
Mark Ronson "Uptown Funk" Featuring Bruno Mars – No. 1 US Billboard Hot 100
Mary Lambert "Secrets" – No. 1 US Billboard Dance Club Songs
Pitbull with Ke$ha "Timber" – No. 1 US Billboard Hot 100
Justin Bieber "Beauty and a Beat" – No. 1 US Billboard Hot Dance Club Play
Christina Aguilera "Your Body" – No. 1 US Billboard Hot Dance Club Play
Rihanna "You Da One" – No. 1 US Billboard Hot Dance Club Play
Neon Hitch "F U Betta" – No. 1 US Billboard Hot Dance Club Play
Jessie J "Domino – No. 1 US Billboard Hot Dance Club Play
Gavin DeGraw "Not Over You" – No. 1 US Bilboard Adult Pop Songs
Selena Gomez & The Scene "Who Says" – No. 1 US Billboard Hot Dance Club Play
Taio Cruz "Dynamite"- No. 1 US Billboard Pop Songs
Train "If It's Love"- No. 1 US Billboard Adult Pop Songs
Jason Derulo "In My Head" No. 1 US Billboard Pop Songs
Iyaz "Replay"- No. 1 US Billboard Pop Songs
Jay Sean "Down" – No. 1 US Billboard Hot 100
Livvi Franc "Now I'm That Bitch" Single – No. 1 US Billboard Hot Dance Club Play
The Fray "You Found Me" Single – No. 1 US Billboard Hot Adult Top 40 Track
Avril Lavigne "Girlfriend" – No. 1 US Billboard Hot 100
Carrie Underwood "Inside Your Heaven" – No. 1 US Billboboard Hot 100
Musiq Soulchild "Teachme" – No. 1 US Billboard Hot Adult R&B Airplay
Blackstreet "No Diggity"- No. 1 US Billboard Hot 100