Was Beck winning "Album of the Year" a surprise?
In KCSN Los Angeles program director Sky Daniels' opinion: "No, it was affirmation of what adult alternative stands for." The "shock" of Beck's victory – tagged an "upset" by media outlets such as The Wall Street Journal – was mostly felt by those unfamiliar in general with left-of-the-dial radio and Beck's work specifically. In WFUV New York's Rita Houston view, "Beck is just the latest example," referring to "Album of the Year" 2011, 2012 and 2013 winners Arcade Fire, Adele and Mumford & Sons. WTTS Indianapolis Brad Holtz adds, "this year's Grammy nominees and winners included Hozier, Ryan Adams, the Black Keys, Jack White, Haim, St. Vincent, Alt-J and others whose records were first supported by adult alternative stations around the country. The list of artists who received their first significant airplay at the format is long and impressive." The Billboard article all of these quotes are taken from concludes "the niche ["Adult Alternative"] format continues to solidify its status as radio's tastemaker that foretells greater mainstream acclaim."
Morning Phase's lead single "Blue Moon" topped Billboard's Adult Alternative Songs chart for two weeks last spring, and the album was the most requested in 2014 by listeners at stations like KCSN. "Beck made a graceful, intelligent record that resonated with our audience," Daniels' explains. "It appeals to thoughtful, erudite fans, so it wasn't a surprise that the Grammy voting members found it to be worthy of the honor." Sirius XM Radio's The Loft founder and program director Mike Marrone agrees. "I thought it was a really good album," he told Billboard. "It showed Beck maturing. I think there are some really great songs on there. I love Beck, and if somebody had to win album of the year — good for him. I love the way he has gotten older and matured his sound. There are some amazing melodies on this record."
"Beck is an icon and I was delighted to see him win, though he is not getting the amount of airplay he deserves on U.S. radio," WXRT Chicago program director Norm Winer told Billboard, noting Morning Phase was among the top voted for albums in his station's annual music poll.
It's not as though Beck was confined by the adult alt niche though. To the contrary, throughout last year he was as close to ubiquitous as an artist without a Top 40 hit could be in 2014. His busiest year on the road since 2000, Beck headlined Pitchfork Music Festival, iTunes Festival, Firefly, Forecastle, and numerous other fests around the world, in addition to high profile slots elsewhere (Coachella, ACL Music Festival etc). He played Saturday Night Live (for the eighth time), The Tonight Show, The Colbert Report, Conan (twice), The Ellen DeGeneres Show, and a full hour set for Austin City Limits 40th season premiere. Amongst countless magazine interviews and profiles, Beck was the only rock artist besides Tom Petty to have his new album greeted with a feature on the cover of Billboard. The New York Times, Mojo, and The New Yorker applauded Morning Phase with thoughtful, rave reviews. Beck also kept in the news with other projects. He dueted with Sia for the soundtrack to Annie, released a compilation of various artists – from Jack White to Jack Black – interepeting material from his Song Reader book of sheet music, produced Jenny Lewis' "Just One Of The Guys" single, helped Bat for Lashes soundtrack her short film Under the Indigo Moon and lent aid to Neil Young's Pono Kickstarter.
Which isn't to suggest Beck sold as many records last year as fellow "Album of Year" nominees Beyonce, Ed Sheeran, Sam Smith or Pharrell Williams. He didn't – but for an album not pushed by hit radio (as the other four contenders all were), Morning Phase fared remarkably well, debuting at #3 on the Billboard 200 and – even more impressive for an album in 2014 without airplay saturation – staying on the chart for seven months. At year's end it was one of just four 2014 rock records amongst Billboard's top 100 albums of the year. Unsurprisingly, rock's three other top sellers – the latest from The Black Keys, Jack White and Tom Petty – were all nominated for various Grammys as well, though Morning Phase lead them with five nominations ("Album of the Year," "Best Rock Performance," "Best Rock Song," "Best Rock Album" and "Best Engineered Album"). Morning Phase also bested all of rock's top sellers and every "Album of the Year" Grammy contender on critics' year end rankings, topping lists by Esquire, Mojo, Austin Chronicle and others.
Morning Phase's widespread acclaim throughout 2014 set the stage for Beck to win big at the 57th annual Grammy Awards on February 8, 2015. He picked up "Best Engineered Album, Non-Classical" before the television broadcast, followed in prime time by "Best Rock Album" and the coveted "Album of the Year." The latter was met with a sea of reactions, the most famous of course being Kanye West approaching the Grammy podium to interrupt Beck's acceptance speech – as he did to Taylor Swift at the 2009 VMAs – then turning around, smirking and sitting down instead:
Initially assumed to be a joke, Ye explained why he stepped on that stage in an interview with E! immediately following the ceremony: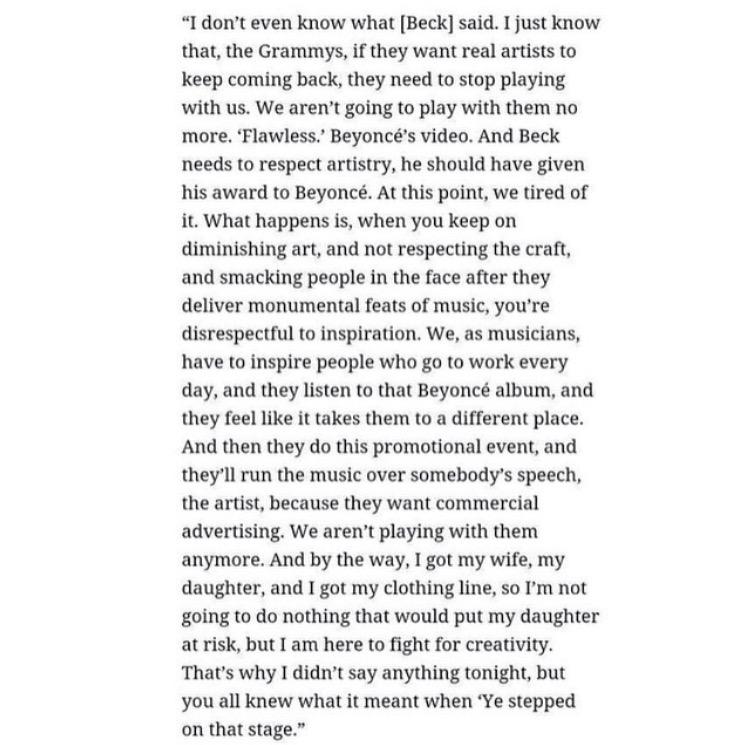 This post temporarily had a series of updates covering the aftermath of Kanye's Grammy night beef. These updates have been moved to an entire new post, with all future updates to also be added there.