Last Updated February 26, 2015
Beck won "Album of the Year" at the 2015 Grammys Awards.
Here's what happened next:
Musicians on Twitter Congratulated Beck
See also The Future Heart 2015 Grammys live tweet recap (Wilco's John Stirratt called Beck "classy," Mike Mills recalled seeing Beck's first appearance on 120 Minutes, Roseanne Barr said Beck is "a genius but a bit of a" – click here to read more).
https://twitter.com/speakz/status/564675187174416385
https://twitter.com/skyferreira/status/565705177383329792
https://twitter.com/UMO/status/564633831555088384
https://twitter.com/UMO/status/564657949289639936
Sylvia Rhone, Kanye West And Others Were Less Pleased
Not everybody was happy for Beck. As detailed here, Kanye West approached the Grammy podium to interrupt Beck's acceptance speech, and explained his action in a viral interview with E! after the ceremonies: "Beck needs to respect artistry and he should have given his award to Beyoncé…"
https://twitter.com/edwarddroste/status/565007059738165248
https://twitter.com/edwarddroste/status/565008201243185153
https://twitter.com/edwarddroste/status/565008745378631682
https://twitter.com/edwarddroste/status/565010610535301120
https://twitter.com/edwarddroste/status/565013940573573120
When Kanye's initial moved towards the stage, Epic Records president Sylvia Rhone tweeted in astonishment of Beck's win that Kanye should take the Grammy from Beck, sparking antagonizing replies from Spoon, Beck's PR firm, Nasty Little Man, and others:
Many others on twitter, presumably teens, trended "Who is Beck" shortly after the win (as previously posted about in greater depth here).
Kim Kardashian took to twitter with a joke selfie when Beck won Album of the Year. John Legend, who appears in Kim's photo, distanced himself from the picture soon after by tweeting, "Congrats to all winners, including @beck. Much respect. That selfie was taken before Album of the Year was announced." Legend added to Us Weekly that he "looked at [Kanye walking on stage] as just a funny thing that people were going to talk about. It didn't hurt anybody." Legend also told the magazine, "Beck is super talented and I have several of his albums and I've listened to him for a long time. I think people were surprised that he won but that doesn't mean he's not deserving, that just means people thought other people were going to win too."
Following blowback from his Us Weekly interview, Legend clarified on instagram, "I wasn't referring to Kanye's comments after the show which I have now seen and heard. I disagree with those comments. Beck is indeed a true artist's artist. He's a multi-instrumentalist, a creative and unique singer-songwriter whose music I have bought and enjoyed over the years. While his win may have been a surprise to many, it's not because he's not a great artist deserving of recognition. All of the other nominated artists, including Beyonce, are incredible in their own right, and arguments could be made for any of them deserving to win…But even if you didn't vote for [Beck], plenty of our colleagues in the music business did. These voters are all creators who love music and have dedicated their lives to it, and the plurality of them chose Beck as the Album of the Year."
The BeyHive Protested Online, Wrote Petitions
Beyonce's fans wrote petitions – such as this change.org demanding the National Academy of Recording Arts and Sciences "Rightfully Give BEYONCÉ the 2015 AOTY Award or Disband" – and edited Beck's wikipedia page to express outrage that he's a "stealer/theif from hell most commonly known as stealing the Best Album of the Year awards from Beyonce…"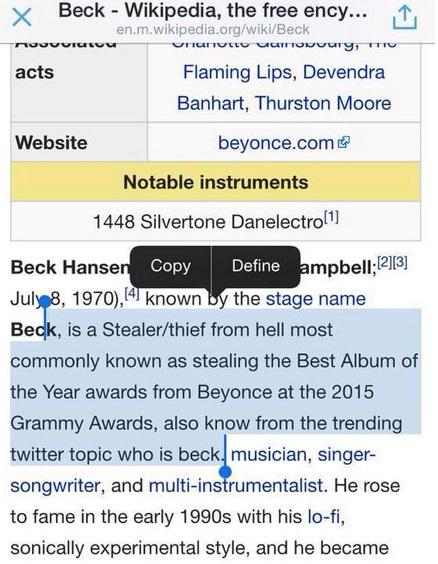 'Ye's Mocked on Social Media By Patrick Carney, Brandon Browner, Paul Stanley, Sinbad, Nikki Sixx, Shirley Manson, Matt Sorum…
…And the list goes on and on. Even your grandma got in on the action (probably).
Bull Moose Mailed Beck CDs to Kanye
Chris Brown – the vinyl enthusiast and retailer who conceived Record Store Day – led Bull Moose Record Store in a campaign to use the media attention that followed Kanye's comments as an opportunity to raise money for music education and set up a small gofundme: "We're going to send Kanye the CDs, but we're going to send the donations to a charity that involves music and kids. We've got two Maine charities in mind, but we'd love to hear your suggestions if you have any," the fund raiser's page says. "And we're not trying to be mean. Kanye has given the world a lot. Let's give something back to him."
Beck's Music Sales and Streams Spiked
Spotify rejoiced on social media when Beck won, but the best was yet to come for the music discovery service: Morning Phase streams spiked 524% worldwide that night on Spotify.
Beck received similar Grammy bumps in album sales, single downloads, facebook likes and twitter follows. Updated stats on all of the above are here.
TV Personalities Weighed In
All of this made for several days worth of segments and jokes on talk shows and late night programs. Wendy Williams – and virtually her entire audience – admitted she had never heard of Beck the morning after his wins. Two nights later on Conan David Spade joked "it's virtually impossible" to like Kanye.
"B E C K" Appeared in New York City Windows
The Thursday following the Grammys Kanye performed a much hyped set at the first annual Roc City Classic live streamed on Jay Z's Life + Times website.  PNYC – an advertising agency located around the corner from the venue – spelled "B E C K" in giant letters in the windows facing the concert, a nod of course to Kanye singling out Beck in his E! interview after the Grammys. A similar sign appeared that same night across from the show's after party at the 40/40 Club:
Matt and Jason from PNYC explained to Gothamist:
"We are an agency actively researching the effects of Out of Home (OOH) advertising. We found out Kanye was playing outside of our building and we wanted to make a point about being in the right place at the right time with the right message and how that can be amplified through digital channels. And… don't fuck with Beck."
Win Butler Mashed "Jesus Walks, Loser"
Arcade Fire had some fun with Kanye's rant over the weekend following the Grammys as well. It began on Friday with frontman Win Butler wearing Kanye West-designed Nike Red Octobers at the NBA All-Star Celebrity Game in Madison Square Garden. After Win's team won and Kevin Hart was awarded MVP, Will Butler tweeted:
Win was one of several music celebs to DJ at the Rock On Foundation benefit that night at Bowery Ballroom. Performing as DJ Windows '98, the set began with a mash-up of Kanye's "Jesus Walks"and Beck's "Loser." On Saturday night, he played the mash-up again at a DJ Windows '98 late-night set at Baby's All Right, before uploading it to soundcloud on Monday:
https://soundcloud.com/dj-windows98/jesus-walks-loser
Wayne's World Praised Beck
The Sunday following the Grammys, Saturday Night Live celebrated their fourth decade with the star-studded SNL 40th Anniversary Special. Many of the show's live-tweeters joked about Beck during Kanye's performance:
Later Mike Myers and Dana Carvey reprised their roles as Wayne Campbell and Garth Algar in a Wayne's World skit counting down their "Top Ten Things About SNL." Number six on the list was "Musical Guests." "I think Beck was one of the best," Carvey joked, "Even better than Beyoncé." Next on the list: "Kanye, Sit Down!"
West, watching from the studio audience, made a brief cameo laughing it off:
YACHT Build "Kanye, Am I a Real Artist?" Website
"I built this site the day after the Grammys but forgot to tell anyone about it," YACHT posted on Tumblr. "It's a magic 8-ball, ask Kanye if you're real artist and load it. Then refresh if you want a different answer."
With every refresh kanye.am/iarealartist paraphrases actual quotes from Kanye like this:
…And The Comments Keep Coming
Elton John's AIDS Foundation hosted an Oscar viewing party on February 22nd attended by Beck, among many other celebrities. Elton told Variety he believed "Morning Phase was "fantastic. I thought it was the most deserved win."
Many others have also commented on Beck's Album of the Year Grammy win, focusing more on Kanye's reaction than Beck's accomplishment. Among the most recent, Piers Morgan agreed with West's post-Grammy rant – dismissing Morning Phase as "cheesy guff – and Billy Corgan said he "would've knocked him [Kanye] out" (read these quotes in full – and many other reactions to Kanye's Grammy protest – here).