Pete Bain and Peter Kember, two of Spacemen 3's original members, have repeatedly accused the band's former manager Gerald Palmer of ripping them off in online posts dating back to 2015 (nearly all of which are outlined and excerpted here). Among the claims: Palmer is underpaying royalties and releasing unauthorized reissues, including three recently issued for Record Store Day. Bain, more commonly known as Pete Bassman, was Spacemen 3's bassist from 1982 – 1983 and 1986 – 1988. Bassman has been the most vocal, including the below shown indictment of the Record Store Day 2017 reissues in early March, before they were even announced officially, as reported about at the time here on The Future Heart.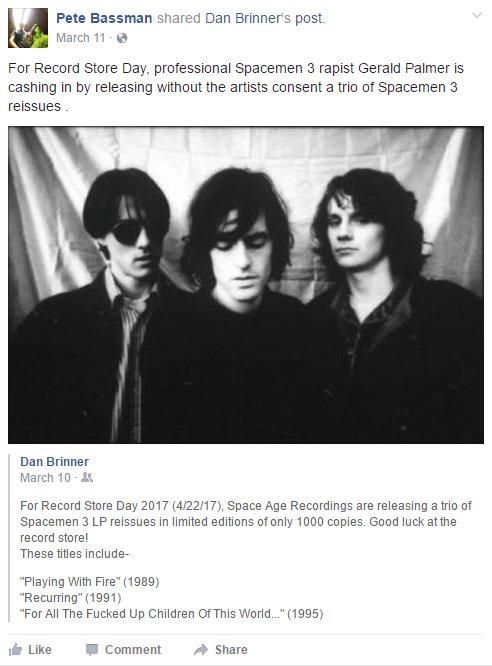 The situation came to the attention of many two days before Record Store Day with a joint statement from Kember, better known as Sonic Boom, and fellow Spacemen 3 founding member Jason Pierce, now of Spiritualized, asking "fans not to buy…Spacemen 3 releases and merchandise offered by Gerald Palmer on Space Age Recordings or any other subsidiary of that label." Shared across both bands' various social media platforms, it not only marked Jason's first public comment on the situation, but also a reunion of sorts between Jason and Sonic. Being that the latter said in a 2011 interview they hadn't even spoken one word to each other since Spacemen 3 broke-up in 1991, this was a major development. The same day Palmer e-mailed The Future Heart insisting "all claims that these reissues are 'illegitimate,' that legal action is being taken, and that the band's members are being paid 'very little to NO ROYALTIES' are both strenuously denied and completely refuted."  Bassman responded the next morning, telling The Future Heart, "it was Sonic and myself that instigated the opposition, with Jason now on board and working in tandem with Sonic is a game changer." Monumental as it may have been, it was not to last: their joint statement was removed from all social media platforms on April 26th at the request of Palmer.
The Future Heart asked Pete Bassman once more to elaborate on all of the above.
What do you want fans to know before purchasing from Space Age Records?
"Purchasing records from Space Age creates revenue for all of us but Palmer receives the most. As a method to undermine Gerald Palmer a boycott may have some effect."

Are there legal proceedings against Palmer or Space Age Records?
"Legal action is an option that I believe should be a last resort. The substantial amount of revenue required to fund litigation makes it a risky option. I am unsure if litigation is viable considering the commercial value of the Spacemen 3 catalogue and the scale of solicitors fees. I would hope that there can be an opportunity for Spacemen 3 to negotiate with Gerald Palmer outside of court."
You published a post on you website last year titled "The Theft of the Spacemen 3 Logo" in which you criticized Palmer selling Spacemen 3 shirts and argued "merchandise sales are very significant, a t-shirt earns more money than a record" and that "the logo was appropriated by Gerald Palmer/Adasam and registered as a trademark, Gerald has never distributed any revenue from merchandise sales…"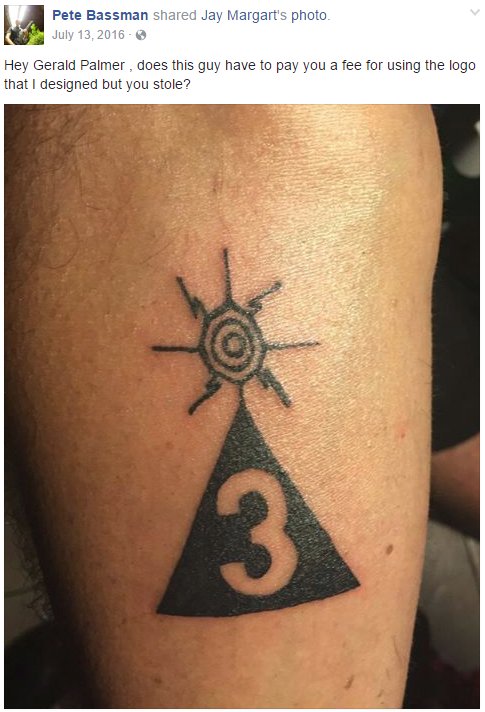 You've also posted on Facebook about Palmer selling Spacemen 3 shirts and that he stole the logo you designed. Can you elaborate on the situation regarding the logo and Spacemen 3 merchandise?
"The trademark issue is very frustrating. Gerald Palmer has never obtained any ownership of artwork or an agreement to produce merchandise. He has been told numerous times to stop granting licences. Gerald Palmer has registered the name Spacemen 3, the logo is not registered as far as I know, it will be registered this year by myself and will be under joint ownership between Sonic, Jason and myself."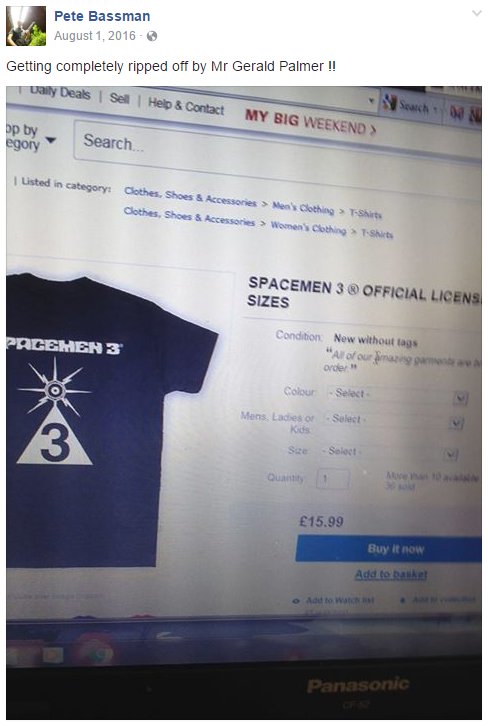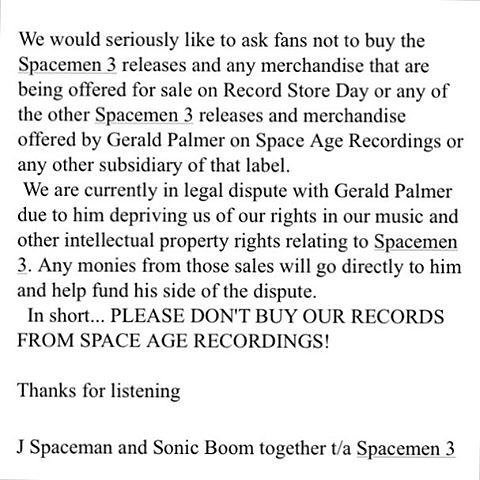 Spacemen 3 ended in 1991 with a very public falling-out between Jason and Sonic. 20 years later Sonic said in an interview with Rock Edition that the two had not been in contact with each other since that time. Given this, it was surprising to see Jason and Sonic release a joint statement on April 20th (screen captured above) urging fans to not buy from Space Age Records. Has there been any thawing in the friction between them? 
"We had to achieve some kind of unity to confront Gerald. When I first spoke to Sonic about Gerald I said that an entity or company needed to be formed, it seemed logical, I was at the time creating a partnership with The Darkside members to address our situation. Sonic and Jason have done the same. This is a big step forwards and like most people I am pleased that they can cooperate with each other to resolve this issue. Time is not on our side so I sincerely hope we can all forgive each other for past transgressions and live the remainder of our lives free from animosity. If litigation is inevitable this will mean that Sonic and Jason will have to continue to work together, perhaps this may provide the means for both of them to resolve any differences and establish better relations."
The joint statement urging fans not to buy from Space Age Records was also surprising because, although both you and Sonic have been making these accusations about Palmer and Space Age Records for years, this was the first time Pierce publicly joined the conversation. The morning after the statement you described Jason's participation to The Future Heart as "a game changer." What impact do expect Pierce joining may have?
"Jason's support was essential, without him Gerald would have been able to exploit this weakness and negate any action against him.  Jason is a great musician and deserves respect for his achievements. He is a nice guy. I do not think he enjoys contention or conflict so I think he has decided to become involved with some reservation but for the right reasons."
Finally it was surprising that on April 26th Jason and Sonic's joint statement from April 20th was removed from all of their respective social media profiles. Palmer said in an e-mail to Pitchfork the posts were removed after he contacted their legal advisers requesting its removal. Can you elaborate any further on the removal?
"I had no idea that the statement was removed. I can understand why, as Gerald's rights have yet to be challenged in court. To tell him and his legalman to go fuck themselves was the response I would have liked!"
You've described the royalties former Spacemen 3 members are paid as "basic, at times cryptic and insubstantial" and that "30 years of royalty payments does not even equal the amount a person would earn working a low paid part time job for a year. For Gerald it has provided substantial supply of free money which is considerably higher than any Spacemen 3 member." Gerald however contends that "all the ex-members of Spacemen 3 continue to be accounted to and paid artist royalties on a bi-annual basis as they have been for the last 30 years, with the total sum paid out in royalties running into substantial six figure sums." How would you explain this situation to an average fan reading both claims that doesn't know what to make of them?
"I was considering publishing a basic pie chart to illustrate the scale of profits. A visual representation is better than the figures. It requires a lot of work to extrapolate the correct information. Gerald's scale of profit is very substantial compared to ours, but that is often the case when a person is acting as the label. Our revenue that Gerald describes as a 'substantial six figure sum,' is erroneous and absurd, I stick by my previous statement that working a part time job for one year would cover it. You would be surprised if not shocked at Gerald's profits from Spacemen 3 in comparison to ours."
In a 1996 interview with Ptolemaic Terrascope Sonic described Space Age as having "a lot to do with Gerald Palmer who runs the label with me and for me." More recent comments portray it as simply Palmer's label.
"Yes, all our relationships with Gerald have turned to shit. We never trusted him, we never liked him but somehow he stuck to us. He works from a remote position and his distance from us has only encouraged his predatory behaviour. The history of Space Age is Sonic's story to tell and I do not think I know enough to comment. Space Age is now Gerald's label and Sonic is not involved."
It's been claimed when Jason and Sonic entered into a contractual relationship with Gerald Palmer he gained ownership of the master tapes of Spacemen 3 recordings in exchange for Palmer financing the band's touring and recording costs, and all parties agreed to split profits (50% for Palmer, 50% for Jason and Sonic to divide amongst themselves and the rest of the band). Is this correct?
"I can only comment on the period I was in the band. I only signed one contract, which was an amature attempt at creating an official legal document. I am sure Gerald offered finance, and also took advantage of the band as a consequence."
You've previously said, "the contractual agreements made between him and other parties are nothing but junk and devoid of integrity." You've also said, "it is not just Gerald that is being held to account but the music industry and the shitty business practices that went on back in the day and the legacy of these cowboy operators." How so?
"Music business contracts were always anachronistic. Based on monetary figures established by the economic climate of the times. The times were always changing but the terms contained within the documents remain unchallengeable. Why? Were these contracts fair? If they were fair then would the same terms be offered today? Only independent scrutiny by a lawyer could substantiate my claim that any contract issued during the past was insufficient to provide fair rates of financial remuneration and to be a suitable to establish a fair working agreement. Cowboy operators? Perhaps not, the good, the bad and the ugly. [There have been] many great labels fronted by passionate music lovers, people who made great music [and] others who were greedy and built empires. In the end it all ebbed away."
Palmer sent an e-mail to The Future Heart  on April 20th, the same day as Jason and Sonic's joint statement. His refutation of the allegations against him and Space Age (a screenshot of which is shown below) claims "these albums are owned and controlled by me for life of copyright and Space Age Recordings" and that "all claims that these reissues [for Record Store Day 2017] are 'illegitimate,' that legal action is being taken, and that the band's members are being paid 'very little to NO ROYALTIES' are both strenuously denied and completely refuted."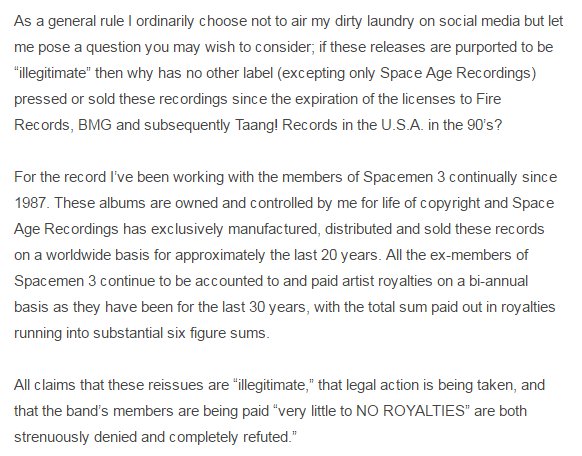 Some readers might push back that if Palmer has the right to release them, then even if reissues like the three for Record Store Day are not approved by band members, they are indeed authorized releases. How do you respond to this line of argument? 
"Gerald is trying to assert his authority at a time when we have entered into contention. No matter what he claims is his, he must realise that we are challenging his rights based on his bad business practices. This should negate any commercial exploitation until matters are resolved to our satisfaction."
In the same e-mail to The Future Heart Palmer commented, "it should be noted that Pete Bassman does not appear as either writer or performer on any of the three limited edition Spacemen 3 albums being released for Record Store Day 2017 …" Is that relevant in your opinion? How do you respond to this criticism?
"Yes I know I do not play on the Record Store Day releases. I made one impulsive comment, do I care? Not really. All is fair in love and war."
You've claimed Palmer now owns Nick 'Natty' Brooker's share in Spacemen 3. 
"The story of Natty's share of Spacemen 3 and the sale would be contentious and damaging to Gerald. He has the option to sell the share to Sonic and Jason for the amount he paid or face more contention."
To end on more pleasant matters, last summer you released your first solo record, Lost In Space, on Hoga Nord Records. What should fans be on the lookout for next?
"I have been working with Rosco on a Darkside 5 CD box set due for release soon. This will be followed by a live collection. I will be releasing a solo LP on Discos Volante in Argentina. I am currently working on a new version of Alphastone involving some of the people who I have worked with over the years. The sound is a combination of analogue electronics and live percussion and bass. I hope to be playing live during the Autumn this year. I have more projects planned: an Alphastone CD box set and another release on Hoga Nord. Seems like I am busy!"