Since 2006 The Roots have worked on a pet project with Steve Mandel. It's called Swindles and it's a Squeeze tribute album featuring a rotating cast of guests: Erykah Badu, Elvis Costello, Todd Rundgren, others. Members of Squeeze contribute as well, including a track with Rod Hohl fronted by Glenn Tillbrook. Though the 20 track tribute has been finished for nearly five years, it's yet to see release. That may change soon. Elvis Costello's cover of "Someone Else's Heart" from Swindles will be issued as a "Record Store Day First" 7-inch single on April 21st with a list price of $8.97. It's backed with an instrumental version of the same song on the flipside. Yep Roc Records will press 4,000 copies worldwide, limited to 2600 in the US ahead of a tentative release of the full Swindles (which explains why Costello's new single is on a label that he isn't). "Thank you to the very good people at Yep Roc for believing in my project and for doing such a fine job with our first release," Mandel posted on Instagram. "We hope to continue releasing singles like this until the entire album is available." Mandel last discussed the album's fate on a 2016 episode of Jeremy Dylan's My Favorite Albums podcast:
"Squeeze tribute album is finished, it has been, and it's mastered. I'm just still shopping it around seeing if there's any Squeeze fans in power that can help me get this thing out. Besides Squeeze themselves, who are the biggest fans of the album. It's been done. There's a couple of songs now I want to remix if I were ever to put this album out. For now we're experimenting with the idea of releasing a couple of songs from it like the Elvis song, and the Roots with guys from Squeeze singing on it, and Erykah Badu song, and a Todd Rundgren song. So maybe those four.
Start with those and see if there's interest to put out a full album, but it is finished, just so the world knows."
The complete Record Store Day 2018 list is here. Follow updates at twitter/TheFutureHeart and facebook/TheFutureHeart, and in the Record Releases Facebook group.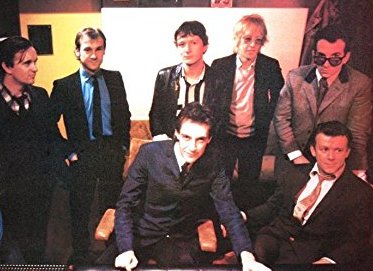 Elvis Costello in the studio with Squeeze, 1981
"Someone Else's Heart" was originally recorded by Squeeze on their 1981 album East Side Story, produced by Costello (stream that version at the bottom of this page). Costello's full-circle cover was recorded in 2011 for the years-in-the-making Squeeze tribute album by hip-hop royalty/Tonight Show house band The Roots. It marks the first studio recording collaboration between Costello and The Roots – specifically Questlove, Kirk Douglas, Owen Biddle, Ray Angry, and Frank Knuckles – and led to their full album together two years later, Wise Up Ghost.
Questlove and Wise Up Ghost co-producer Steve Mandel explained how The Roots cover of "Someone Else's Heart" with Costello came about in the October 2013 Electronic Musician cover story shown right (click to order a back issue). "Most talk shows start shooting at 5:30 or 6 in the evening," Questlove said, "but on our show we take a lot of meticulous measures to make sure everything is perfect, so everyone is required to get here at 11. There's a lot of downtime. And our dressing room here is also our recording studio. We've made albums here; we made Undun here. But we also have a lot of time to work on 'meaningless' musical projects, meaning stuff that may never see the light of day, or maybe only our friends will hear. When we first came here, Steve Mandel was like, 'Why don't we make a Squeeze tribute record?' And we were like, 'Okay.'"
In a separate interview with Fast Company Mandel elaborated "that Squeeze tribute record started back in Philadelphia long before we got to Fallon. Eventually, Ahmir [Questlove] got more involved, drumming on some stuff and then, once we started working on Fallon, we had more access to a lot of these artists and every once in a while, if I thought somebody was right for that album, me or Quest would ask them to be on it." For instance, after Elvis and The Roots met each other and together performed a version of Costello classic "High Fidelity" arranged by Mandel on a 2009 episode of The Tonight Show. "I could just hear that Questlove would sound great playing it, and Kirk sang backing vocals," Mandel explained to Electronic Musician.
Mandel recalled to Electronic Musician that they asked "Elvis to do a song on the Squeeze tribute and he did 'Someone Else's Heart,' and it came out incredible—really sick." Mandel explained to Fast Company "that was some full circle stuff for him but it was the first time I was in the studio with Elvis, recording his vocals, and thinking 'Oh my God!' and stuff like that. The session kind of established that Elvis was great with The Roots, live and also in the studio. So to me, that was sort of the impetus to say 'Okay let's do a full record.'" The satisfaction was mutual. Costello "liked the results of that [Squeeze cover]," Questlove told Electronic Musician, "and he was like, 'Why don't we work on some stuff?'" He didn't have a label, and we didn't know where it was going; it was just like, let's see what happens. So we said, 'Come back tomorrow at 7 p.m.'"
Costello mentioned the importance of their "Someone Else's Heart" cover to Wise Up Ghost in an interview with Irish Times:
"I made three appearances on the show. I also went and sang on one of the songs on the album they've done of Squeeze songs, which hasn't appeared yet. Right at the root of it was that we were getting to know one another and our working methods and the process by which they prepared for work on the TV show."
In short: The Tonight Show performance of "High Fidelity" lead to Costello contributing to the Squeeze tribute, which in turn lead to a  year-and-a-half of subsequent recordings – some live in NBC studio – that became 2013's Wise Up Ghost. But the Squeeze recordings remained unreleased. Until now. The new 45 rpm single's cover artwork by Lawrence McGarvey and tracklist are below: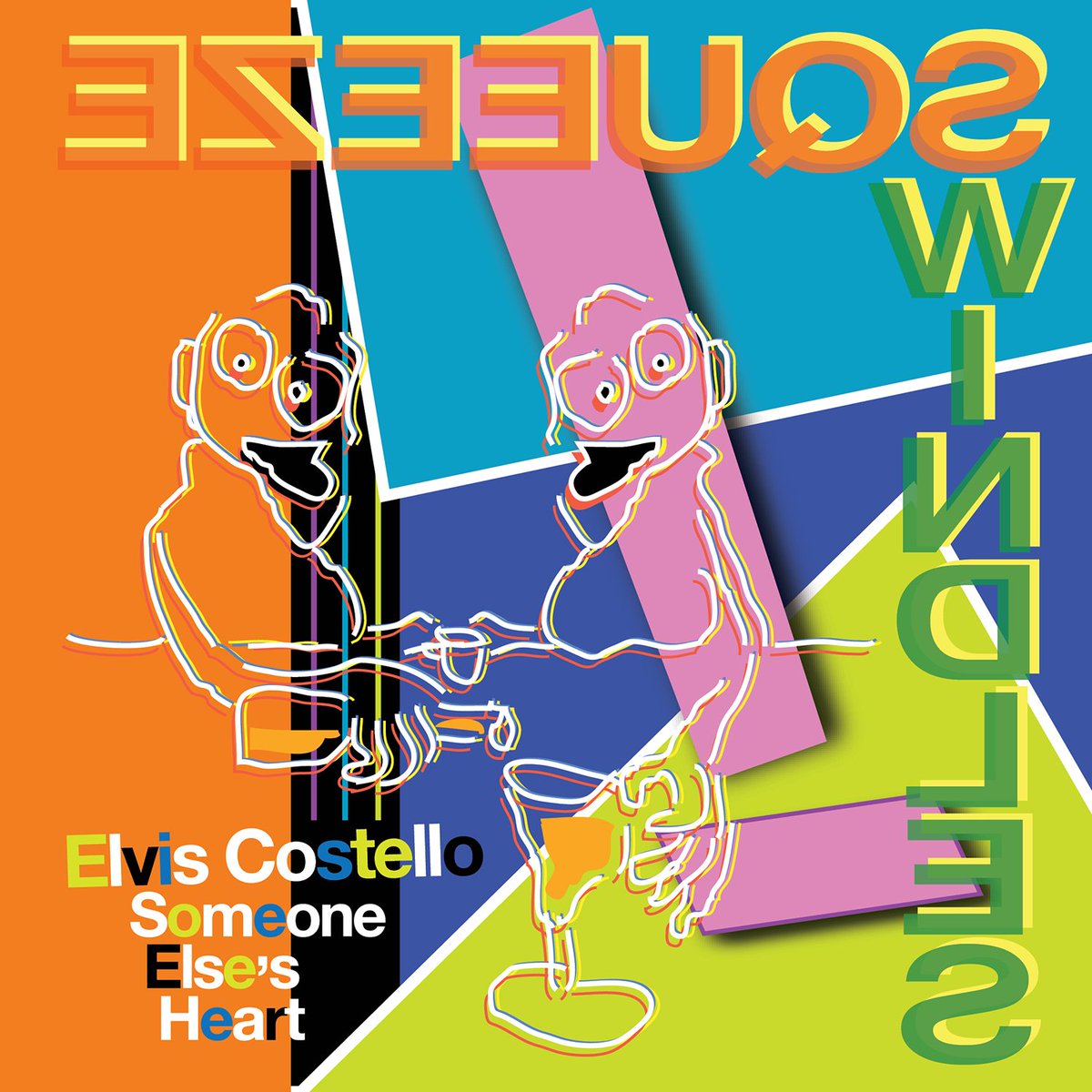 Tracklist
Side A
Someone Else's Heart

Side B
Someone Else's Heart (Instrumental)