Updated March 10, 2015
The entire list has been released.
Read it here.
Record Store Day – an annual celebration of the over 700 independently owned record shops – is Saturday, April 18th this year. Next Tuesday, March 10th, a panel featuring Annie Clark (St. Vincent), Kate Pierson (B-52s), Kozmo Vinyl, Todd Barry, Sam Calagione and Record Store Day co-founders Michael Kurtz, Eric Levin and Carrie Colliton will hold a 1pm press conference at Rough Trade Records in Brooklyn to officially announce the full list of 2015 offerings. Over 400 releases are expected, with 254 of those being from indie labels. Hundred of these have already been announced individually by artists and labels, or confirmed by the distribution catalogs stores order their stock from. Below is a preview of the hottest items confirmed so far.
Foo Fighters — Songs From The Laundry Room EP
With Dave Grohl as this year's Record Store Day ambassador, a Foos release was a given. The tracklist of their new EP Songs from the Laundry Room was revealed by a photo in latest issue of Kerrang! (below) of a handwritten J-card showing Dave's recordings from Barrett Jones Laundry Room Studios revealing the tracks:
Side A:
Alone + Easy Target
Big Me
Side B
Kids In America
Empty Handed
(title crossed out)
This is presumed to be Dave's demo from January 1992, which would sync up nicely with Foos celebrating their 20th anniversary this year. Tag it as a going-back-to-the-start release.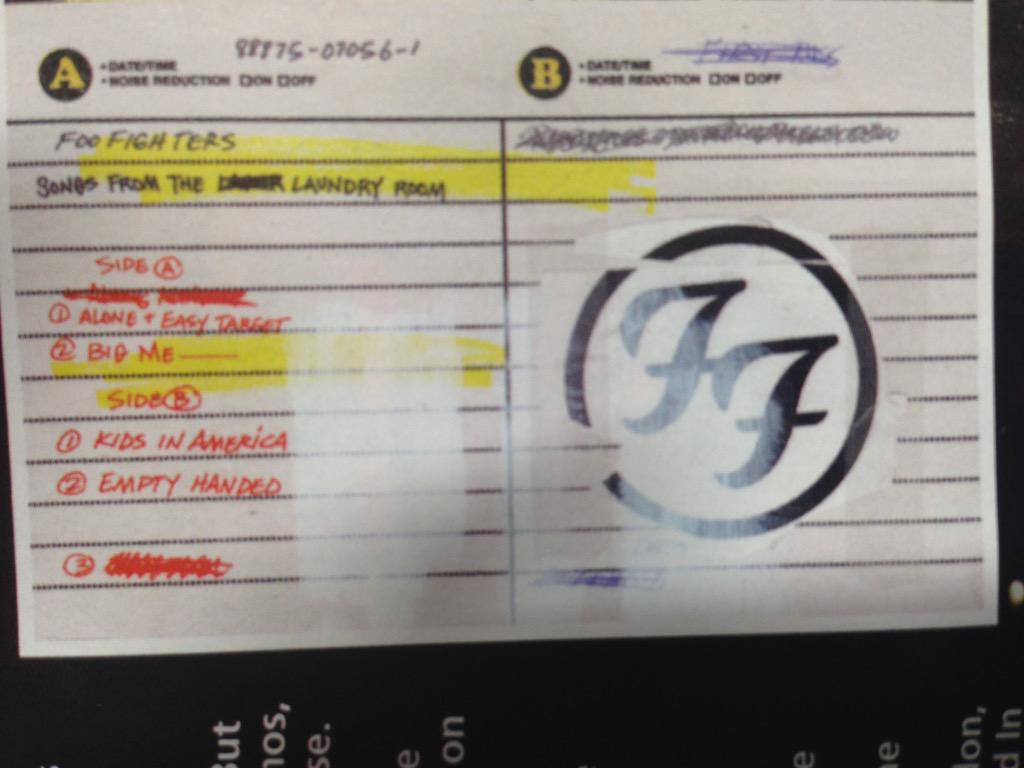 Phish – New Year's Eve 1995 Madison Square Garden 6LP
Last week Phish shared a photo on their facebook page showing "Side K" of an unannounced release. Sure enough New Year's Eve 1995 – Madison Square Garden has been confirmed as a 6 LP set – that's 12 sides! Though Phish phans will never agree on the band's greatest concert, this show is the closest there is to consensus as one of their best. Officially released on 3 CD in 2005, this new 6 LP version will be its first on vinyl.
Trey Anastasio Band – "Bounce" b/w "Never" 7-inch
Phans have another item to save their pennies for: 1,000 copies of "Bounce" b/w "Never" will be released on 7-inch. Both songs will be on the new Trey Anastasio album, Paper Wheels, and both are currently streaming online.
Jerry Garcia — Garcia LP
The Grateful Dead guitarist's covers-filled sophomore solo album from 1974 – also known as Compliments – will be re-released on green vinyl.
Rockabye Baby – Lullabye Renditions Of Grateful Dead LP
For nearly a decade the Rockabye Baby series has re-arranged various classic artists' greatest hits as music box instrumentals for infants. This Record Store Day skeletons from the Dead's closet on vinyl will be putting babies to sleep.
Grateful Dead – Wake Up To Find Out: Nassau Coliseum, Uniondale NY 3/29/90
Released last year as part of the box set, Spring 90 The Other One, this 5 LP black 180 gram set marks its first time on vinyl: nine sides of music, one side etching.
Gov't Mule – Stoned Side of the Mule Volume LP
Like Volume 1, this six song sequel feature Rolling Stones covers recorded live on Halloween 2009 at the Tower Theatre in Philadelphia. 3500 copies of newly edited and mastered vinyl lacquers are being cut from the old Stax Records lathe in Memphis.
The White Stripes – Get Behind Me Satan LP
Third Man Records have announced The White Stripes will commemorate the tenth anniversary of Get Behind Me Satan with its first ever commercially available vinyl pressing, a 180-gram double LP features disc one pressed on red vinyl and disc two on white. It includes a full-size, 12" x 12", gatefold lenticular jacket, newly created inner artwork reprising themes of the original promo-only version of the Satan LP, and an MP3 download code. A non-exclusive, standard-artwork, black vinyl version will be released later this year, but the special pressing described above is exclusive to Record Store Day.
The Black Keys/Junior Kimbrough – "Meet Me in the City" 7-inch
We'll have to wait until Tuesday for full details, but this looks like the latest addition to Warner's Side By Side series in which they pair a cover of a song with the original on a split 7-inch. 6000 copies have been confirmed.
David Bowie – "Changes" and "Kingdom Come" 7-inch
Likewise, David Bowie/Tom Verlaine's respective versions of "Kingdom Come" will be issued on 7-inch as part of the Side By Side series. That's in addition to"Changes," the latest addition to Bowie's ongoing picture disc series.
Syd Barrett/R.E.M. – "Dark Globe" 7-inch
Another Side By Side 7″, this gold, white, red and black mixed vinyl contains Syd's "Dark Globe" with REM's cover on the flip.
Elvis Presley – "My Happiness" b/w "That's When Your Heartaches Begin" 10-inch
Jack White anonymously bought the first record Elvis ever cut earlier this year for $300,000. To recreate the sole original copy, these 1953 recordings will be issued by Third Man Records as a 10″ on Record Store Day without being remastered. A wider pressing on 7″ restored by Alan Stoker will also be available later this year.
Autumn Defense – The Autumn Defense LP
The third album by John Stirratt and Pat Sansone's long-running Wilco side-project will be released as a double LP in a gatefold sleeve, a first for the 2007 album.
Grizzly Bear – Horn Of Plenty LP
Grizzly Bear's 2004 debut studio album will be available on vinyl this Record Store Day.
Courtney Barnett – "Kim's Caravan" 12-inch
2500 copies of a 12-inch featuring Barnett's cover of John Cale's "Close Watch" on the B-side.
Midlake – Live in Denton, TX DVD and 12-inch
Midlake filmed their hometown show at Dan's Silverleaf during the Antiphon tour in November 2013 and edited it into a 90 minute film that is part live concert movie, part documentary on Denton. Produced and directed by Eric Noren and actor Jason Lee, the film premiered at last year's CMJ Music Marathon. It will be released on DVD on Record Store Day along with a limited edition 4-track 12″ vinyl EP including live versions of "The Old And The Young," "Antiphon," "Roscoe" and "Going Down."
The Family Jams film
On DVD this Record Store Day for the first time, this documentary staring Joanna Newsom, Devendra Banhart and Vetiver is officially described as:
"Three musical acts at the fleeting moment when they transcend the world they've built for themselves, and the rest of world takes notice."
of Montreal — Snare Lustrous Doomings 2LP
A double LP of 19 live performances at San Francisco's Great American Music Hall and Portland's Wonder Ballroom pressed on 180-gram yellow and orange vinyl, it includes a free download and a large format, full-colour booklet with professionally shot tour photos. Limited to just 3000 copies.
Robert Plant – More Roar EP
If you haven't checked out Plant's recent work lately, get on that ASAP. Both his 2014 album lullaby and… The Ceaseless Roar and his recent live shows are among the best work of his career. On Record Store Day the Golden God will release a 10" live EP entitled More Roar in a limited edition run of 10,000 copies. It includes exclusive performances from his recent world tour of "Turn It Up", "Arbaden", "Poor Howard" and a reworking of Led Zeppelin's "Whole Lotta Love."
Various Artists – I'm Here LP
A soundtrack to a short film by Spike Jonze, this LP collects tracks by Animal Collective, Sleigh Bells and more.
Built to Spill – Untethered Moon LP
Ahead of the April 21st release of their first album of this decade Built to Spill will issue a mere 500 copies of their new Untethered Moon LP on transparent blue vinyl this Record Store Day. The limited edition run will include transparent blue pressings randomly inserted throughout record stores.
The Flaming Lips – Cloud Taste Metallic-era EPs and T-shirts
One of many ways The Flaming Lips are marking the 20th anniversary of Clouds Taste Metallic is with a limited series of its three mid-90s UK EPs repackaged on vinyl for the first time as multi-color 10" EPs. "Bad Days" will be on white, green and yellow mixed vinyl, "This Here Giraffe" on clear and solid orange mixed and "Brainville" on solid yellow vinyl. Additionally the Lips will release a "Brainville Yellow Slim Fit T-Shirt" and a "These Clouds Are Real Orange Slim Fit T-Shirt."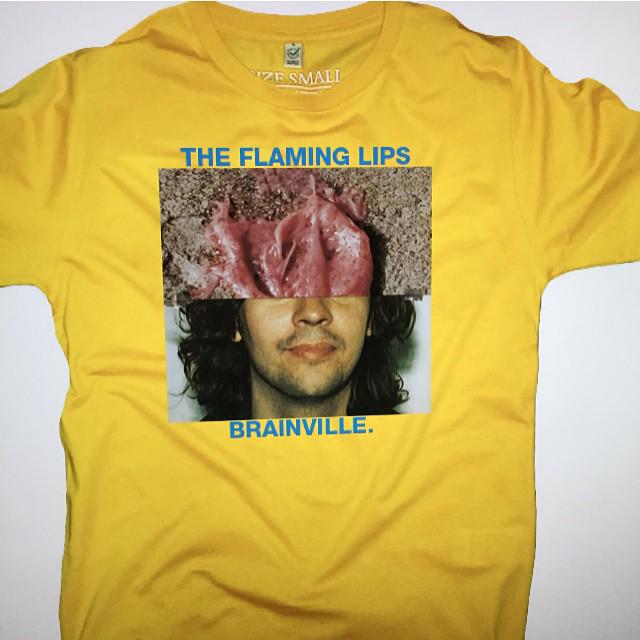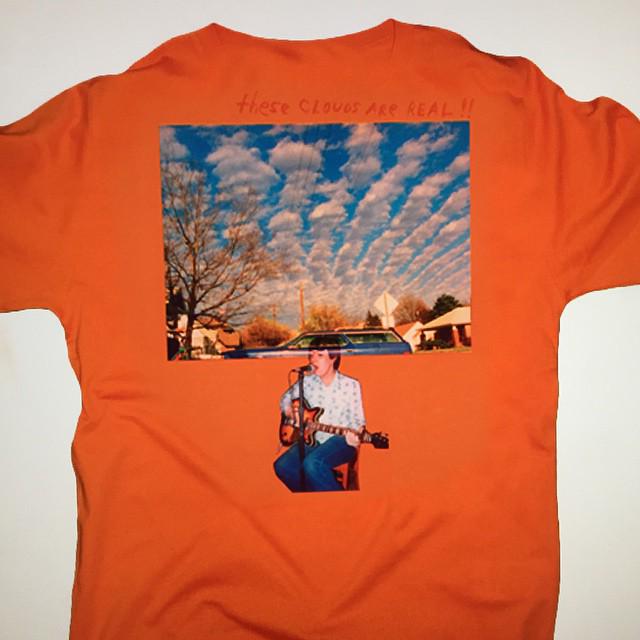 Jeff Beck – 3 colored 7-inch singles
The legendary guitarist will release three 7-inch singles featuring his early work. 1750 copies of "Hi Ho Silver Lining" b/w "Beck's Bolero will be pressed on red 7-inch, 2000 copies of "Love Is Blue" / "I've Been Drinking on blue 7-inch and 1750 copies of "Tallyman" / "Rock My Plimsoul" on gold 7-inch.
The Zombies – R.I.P. (The Lost Album) LP
The back story goes something like this:
The Zombies had their biggest hit in 1969 with "Time of the Season," but had been broken up for over a year by then. To capitalize on their moment in the spotlight, original members Rod Argent (keyboards) and Chris White (bass) agreed to release songs they were already writing together for a new group as follow-up singles to their hit under The Zombies name. Plans were made by their label to collect these singles with unreleased studio outtakes and issue it as the final Zombies album under the title R.I.P. When none of the singles became hits, the label didn't follow through. All twelve tracks planned for that album appeared first on the Zombie Heaven 1997 box set and then in the originally planned sequence on a Japan-only 2008 CD. Last year R.I.P. received an official release throughout the rest of the world, and on Record Store Day it will be available on vinyl for the first time ever.
Hawkwind – "Back On The Streets" 7-inch and Live Seventy Nine LP
Originally released on the space rockers 1976 LP Astounding Sounds, Amazing Music, "Back on the Street" will be re-released b/w "The Dream of Isis" on white vinyl 7-inch in a limited run of just 700 copies. Additionally Hawkwind's 1980 live album Live Seventy Nine will be re-released on 140-gram transparent yellow vinyl in a run limited to 1,000 copies.
Deerhoof — Offend Maggie LP
The San Fran experimental rockers' ninth studio album from 2008 will get the white vinyl treatment with a 2,500 limited run this Record Store Day.
Public Image Ltd. — 3 live LPs
PiL is releasing three limited edition live LPs this Record Store Day:
Live at The Isle Of Wight Festival 2011 on 140-gram blue vinyl (1,000 copies)
Live At Brixton Academy Part 1 (ALife 2009) on 140-gram white vinyl (1,000 copies)
Live At Brixton Academy Part 2 (ALife 2009) on 140-gram red vinyl (1,000 copies)
The Residents — Intermission LP
This is presumably a re-release of Intermission: Extraneous Music from the Residents' Mole Show, a 1982 EP by experimental rock legends The Residents. Strange though, it's Record Store Day 2015 version is listed as an LP. Does this mean it's coming with more tracks? We'll find out next Tuesday…
Violent Femmes — Happy New Year EP
Happy New Year features four new songs on champagne colored 12-inch recorded this past New Year's Eve in Hobart, Tasmania following their show at Sydney Opera House. Their first record of original material since 2000's Freak Magnet, the EP's lead track is the Jake Brebes-penned single "Love Love Love Love Love," streamable below:
Feelies – TBA box set
Details have yet to be released, but it has been confirmed that influential cult-indie rock band The Feelies will release 2000 copies of a 7-inch box set on Record Store Day.
The Kinks – 2 EP and "You Really Got Me" 7-inch
The Kinks are pressing three 7-inch releases this Record Store Day:
Kinksize Hits EP
Kinksize Session EP
"You Really Got Me (Live)" / "Milk Cow Blue (Live)"
St. Paul and the Broken Bones – Live from the Alabama Theater LP
Fans of old-school soul made new have a lot to enjoy in recent years thanks to Daptone Records artists Charles Bradley, Lee Fields, Sharon Jones and their like minded peers. There's also a revival of older artist that never got their just due the first time around, Bettye LaVette for instance. The hottest addition to this old school cool is St. Paul and the Broken Bones, who will release 2000 copies of a live set this Record Store Day on an Alabama-shaped 12-inch picture disc.
Temples – Mesmerise Live EP
Likewise, the psych revival of recent years has introduced many of the most exciting rock bands working today. 2014's hottest addition to this pack was Temples. They'll release 3000 copies of a live EP on coloured 12-inch this Record Store Day.
The Prodigy – Ibiza LP
So far the forerunners for most unique vinyl coming this Record Store Day are St. Paul and the Broken Bones' aforementioned Alabama-shaped 12-inch picture disc and The Prodigy's Ibiza. 2000 copies of the latter will be pressed on glow in the dark vinyl.
(International) Noise Conspiracy – Live At Oslo Jazz Festival LP
Dennis Lyxzén followed the 1998 break-up of his influential Swedish punk band The Refused with this more garage-minded outfit. Originally released in 2003, a red vinyl reissue of their second live album is on its way for Record Store Day with two bonus tracks.
Warpaint/Daughter — Remix EP
The tracks are TBA, though it's confirmed this split 12-inch features them covering each others songs.
Xiu Xiu/Merzbow — Split 12-inch
Likewise Xiu Xiu and Merzbow are releasing 1,000 copies of a split 12-inch with a splatter design. Xiu Xiu are also releasing their LP Fabulous Muscles on 180-gram blue vinyl, remastered for a limited 1,500 pressings.
Heartbreakers — Live at Max's Kansas City (Vol. 1 and 2) LP
Recorded over a run of autumn 1978 reunion/farewell shows, Johnny Thunders' 1979 live album will be re-released on 2,500 copies of multi-color vinyl.
The Lemonheads — Bored On The 4th July 12-inch
….another 12-inch with limited info available at the moment, though a white vinyl pressing has been confirmed.
Off! — Live From The BBC 10-inch
Get to the store early before Anthony Kiedis snags what could be your copy…
Metalica – No Life 'Til Leather cassette
Metallica now operate their own label, Blackened Recordings, and their first order of business is re-issuing their master recordings – which they own – with an ambitious new series of special releases. This Record Store Day will see the first offering. Rather than start with their 1983 debut Kill 'Em All, they're going back even further to the second demo tape they circulated. Lars Ulrich recently reminisced to Rolling Stone about writing the J cards in his bedroom and mailing them to tape collectors around the world. Keeping in that spirit this 1982 demo will be released as a limited edition cassette remastered from the original tapes with the artwork replicating Ulrich's own copy and the tracklisting in his handwriting.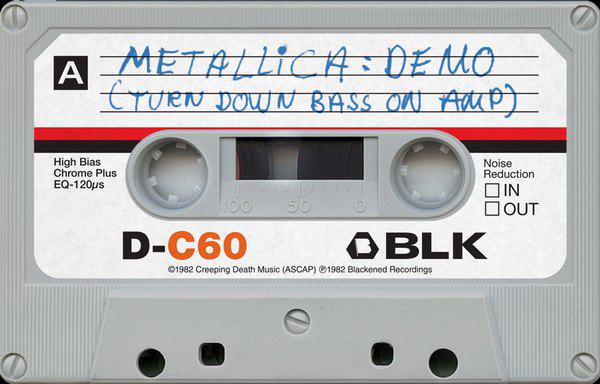 Other highly anticipated releases include:
The 101'ers – "Elgin Avenue Breakdown" (2x 12″ vinyl)
The 1975 – Facedown EP (12-inch)
The 1975 – IV EP (12-inch)
The 1975 – Music For Cars EP (12-inch)
Ryan Adams – "Come Pick Me Up" (Alternate Take) / "Rope Gets Tight" (7-inch)
Air – "Playground Love" (colored 7-inch)
Alabama Shakes – "Sound And Color" (LP)
Gregg Allman – picture disc (10-inch)
Alvin Lee – Still on the Road to Freedom (LP, 750 copies)
Animals – The Animals No. 2 EP (10-inch)
At the Gates – Gardens of Grief (coloured LP, 1500 copies)
Atreyu – So Others May Live (7-inch)
Chet Atkins – My Brother Sings (2000 copies)
Avcii – The Days/Nights remix EP (12-inch)
Banks – The Remixes Part 2 (12-inch, 2000 copies)
Azealia Banks – Broke with Expensive Taste (Deluxe Version) (LP)
The Baseball Project/The Minus 5 – "Red Eyed in Austin" (12″ colored)
Bedhead – Live in Chicago (LP, 1000 copies)
Blackberry Smoke – Wood Wire and Roses EP (colored 10-inch)
Black Dahlia Murder – Grind 'Em All (covers 7-inch)
Blitzen Trapper – Harvest (live Neil Young covers LP)
Braid – Kids Get Grids (7-inch)
Brand New – Deja Entendu (180gram black vinyl, 1500 copies)
Brian Reitzell – 30 Days of Night: Original Motion Picture Soundtrack (blood red vinyl, 1000 copies)
Junior Brown – "Better Call Saul – Theme" (7-inch, 1000 copies)
John Butler Trio – "Ocean" / "Heading South" (12-inch)
Buzzcocks – "The Way" (7″ colored)
Captain Beefheart and the Magic Band – "Rough Raw and Amazing" (2x 12″)
Carcass – Choice Cuts (red and clear splatter 2LP, 1500 copies)
Neko Case – Fox Confessor Brings the Flood (red vinyl LP)
Johnny Cash – "Koncert V Praze (In Prague – Live) (12" colored)
Clutch – From Beale Street to Oblivion (purple 2LP, 1000 copies)
Comeback Kid – Rain City Sessions EP (white or clear red 10-inch, 1850 copies)
Cold War Kids – Five Quick Cuts EP (12-inch, 2000 copies)
James Cotton – Cut You Loose! (LP)
Country Joe & the Fish – Together (LP)
D Generation – Queens of A (10-inch)
D'Angelo – "The Charade" (7-inch)
Dandy Warhols – "20th Anniversary Dandys Rule EP (2x 12″ colored)
The Darjeeling Limited soundtrack (green LP)
Miles Davis – The Prestige 10" Collection Volume 2 (5×10-inch box set)
The Dead Milkmen – "Beelzebubba" (12″ colored)
Death Cab For Cutie/Freedy Johnston – "Bad Reputation" (7-inch colored)
The Decemberists – "Picaresque" (12-inch colored)
Deep Purple – "Black Night"/"Speed" (7-inch colored)
J Dilla – "Fuck the Police" (7-inch picture disc)
J Dilla – "Love" (7-inch)
Diarrhea Planet/Those Darlins — Split LP
The Dixie Cups – Chapel of Love (LP)
The Doors – "Strange Days" – 12-inch)
Dresden Dolls – "The Virginia Monologues" (12-inch colored)
Bob Dylan – "The Night We Called It A Day" (7-inch colored)
Bob Dylan – "The Basement Tapes" (12-inch)
Justin Townes Earle – Live at Grimey's (10-inch)
Echosmith — Acoustic Dreams (10-inch, 3,000 copies)
Electric Wizard – Time to Die (silver LP)
Empire of the Sun – Walking on a Dream (LP)
Brian Eno – "My Squelchy Life" (2x 12″)
The Everly Brothers – 15 Everly Hits (LP)
Fall Out Boy – American Beauty/American Psycho (6×7-inch box set)
Father John Misty – I Love You, Honeybear (7-inch, colored
Charlie Feathers – Charlie Feathers (10-inch singles compilation, 1500 copies)
Field Music – Music for Drifters (12-inch)
Florence + The Machine – What Kind of Man (12-inch colored)
Curtis Fuller's Quintet Featuring Benny Golson – Blues-ette (LP)
Garbage – "The Chemicals" (orange 10-inch)
Marvin Gaye – "How Sweet It Is (To Be Loved by You) / "Once Upon a Time (Featuring Mary Wells) (7-inch)
Stan Getz & Joao Gilberto – Getz/Gilberto '76 EP (green 10-inch)
Joe Gibbs – African Dub: Chapter 2 (picture disc LP)
The Go! Team – "Ye Ye Yamaha"/"Til We Do It Together" (colored 7-inch)
Goldfrapp – Felt Mountain (colored LP)
Grandmaster Flash/Stiff Little Fingers – "The Message" (side by side 7-inch colored)
Grouplove – Under the Covers – 10-inch
GWAR – America Must Be Destroyed (45 RPM 2LP, 3000 copies)
Jimi Hendrix – "Purple Haze"/"Freedom" (7-inch)
Herman's Hermits – Blaze (LP)
Bernard Herrmann – Psycho (7-inch colored)
Robyn Hitchcock + Emma Swift – Follow Your Money (7-inch)
The Hold Steady – Boys and Girls in America (purple or white LP)
The Hold Steady – Heaven Is Whenever (red LP)
Hutch and Kathy – Hutch and Kathy (pre-Thermals band) (LP)
Interpol – "Everything Is Wrong"/"What Is What" (7-inch)
Islander – Violence & Destruction (white or teal LP, 900 copies)
Joan Jett & The Blackhearts – Flashback (Rarities Collection) (blue 2LP + CD)
Jungle Rot – Terror Regime (blue or red LP, 900 copies)
Robert Earl Keen – Gringo Honeymoon (LP)
Kid Cudi – Satellite Fight: The Journey to the Mother Moon (LP)
Mark Kozelek – What's Next To The Moon? (12-inch)
Alvin Lee – Still on the Road to Freedom (LP, 750 copies)
Ben Lee — Big Love (Black Vinyl, 3,000)
Lees of Memory – "Soft Places Within A Dream II" (7-inch)
The Lego Movie Deluxe Soundtrack (picture disc with poster, 2000 copies)
Manic Street Preachers – The Holy Bible (picture disc)
Bob Marley – Bob Marley Interviews: So Much Things to Say (LP)
Johnny Marr – "I Feel You" (7-inch colored)
Mastodon – "Atlanta" ft. Gibby Haynes from Butthole Surfers (pictured disc)
Paul McCartney – The Family Way: Original Soundtrack Recording (LP)
Mighty Mighty Bosstones – Question the Answer (12-inch colored)
Ministry – Trax Box (CD Box Set)
Mumford & Sons – "Believe" (7-inch)
Wes Montgomery ft. the Eddie Higgins Trio – One Night In Indy (LP)
Ennio Morricone — For A Few Dollars More (gatefold 10-inch with mini poster)
Charlie Musselwhite – Stand Back! (LP)
Willie Nelson – Teatro (2x 12″ colored)
Okkervil River – Sleep and Wake-Up Songs (12-inch)
Orange is the New Black Original Television Soundtrack (orange and black vinyl)
Charlie Parker – The Charlie Parker Story (LP)
Gram Parsons/Lemonheads – "Brass Buttons" (side by side 7-inch colored)
Dolly Parton – The Grass Is Blue (1999 LP on vinyl for the first time)
Path of Resistance – Who Dares Wins (white or green vinyl, 900 copies)
Placebo — Placebo (red LP)
Polaris – Music from The Adventures of Pete & Pete
The Pizza Underground – First Demo Session (7-inch)
Power Glove – EP 1 (bright red vinyl, 1000 copies)
The Pretty Things – The Pretty Things EP (7-inch)
Steven Price – Fury (Original Motion Picture Soundtrack) (10-inch)
Public Enemy – Harder Than You Think (12-inch picture disc)
Pullman – Viewfinder (LP)
Pullman – Turnstiles and Junkpiles (LP)
Real Friends – More Acoustic Songs EP (12-inch picture disc, 1500 copies)
Record Store Day Presents: Trojan Records Rude Boy Rumble (LP)
Red House Painters – Red House Painters vinyl box (bronze 6LP, 1500 copies)
Otis Blue – Otis Redding Sings Soul (2 x 12-inch)
Steve Reich — Music For 18 Musicians (180-Gram black)
Brian Reitzell – 30 Days of Night: Original Motion Picture Soundtrack (blood red vinyl, 1000 copies)
The Replacements – Replacements EP (10-inch)
Rev. Horton Heat – "It's a Rave-Up" / "Beer, Write This Song" (red or pink 7-inch, 1850 copies)
Ride – OX4 (best-of LP)
Rise Against – Eco-Terrorist In Me (7-inch)
Rick Ross – The Maybach Edition (LP)
Run the Jewels – four-song EP (12-inch picture disc, 5000 copies)
The Seshen/Lost Midas – Reworked (clear splatter 7-inch)
Kenny Wayne Shepherd – A Little Something from the Road Volume 1 EP (live 10-inch)
Simon & Garfunkel – "Homeward Bound"/"Leaves That Are Green" (7-inch)
Sinatra, Frank – Songs for Young Lovers (10-inch)
Slayer – "When the Stillness Comes" / "Black Magic" (live) (7-inch picture disc, 5000 copies)
Sleaford Mods – Tiswas EP (12-inch picture disc, 1000 copies)
Sly and the Family Stone – Live at the Fillmore (2 x 12-inch colored)
Small Faces – Afterglow of Your Love (7-inch)
Todd Snider – "Impending Doom" (7-inch, 1500 copies)
Social Distortion – Social Distortion (split-color blue and white vinyl, 1500 copies)
Stooges – Have Some Fun: Live at Ungano's (12-inch colored)
STRFKR – "Astronaut" / "Little Lover" (7-inch, 1000 copies)
Sun Ra — Calling Planet Earth (colored vinyl)
Supergrass – "Sofa (of My Lethargy)/" I Beleve in Love" (7-inch colored)
Swans 12″ EP (12-inch)
Tears for Fears – "Shout" / "Everybody Wants to Rule the World" (12-inch)
Tegan and Sara — Live At ZIA Records (4,500 on aqua blue/500 on purple)
George Thorogood – George Thorogood and the Delaware Destroyers (LP)
Those Darlins/Diarrhea Planet – Live at Pickathon (split LP)
Tove Lo – Truth Serum EP (pink 10-inch)
Twin Peaks – single (7-inch)
Typhoon – "Prosthetic Love (Piano Version)" (7-inch)
U2 – Age of Innocence Deluxe (2x 12-inch)
Vampire Weekend – Step (12-inch colored)
Various Artists – Lows in the Mid Sixties Vol. 54: Kosmic City Part 2
Various Artists – Ork Box ft. Television, Richard Hell, Alex Chilton, the Feelies (7-inch box set, 2000 copies)
Venom – From the Very Depths (LP)
The Walking Dead: AMC Original Soundtrack Volume 2 (picture disc, 1800 copies)
Warzone – Fight for Justice (grey or red LP, 900 copies)
Mike Watt + The Secondmen/EV Kain – "Shit on Me"/"Striking Out" (7-inch colored)
Doc & Merle Watson – Ballads from Deep Gap (LP)
Junior Wells – It's My Life Baby! (LP)
When I Reach That Heavenly Shore: Unearthly Black Gospel – 1926-1936 (3LP)
Whiplash: Original Motion Picture Soundtrack (LP)
Brian Wilson – "The Right Time"/"Sail Away" (7-inch)
Johnny Winter – Live Bootleg Series Vol 4 (colored 12-inch)
Johnny Winter – It's My Life, Baby–The Best of The Alligator Records Years (12-inch)
Jah Wobble – Let's Go Psycho (10-inch)
Wood, Brenton – Oogum Boogum (white LP)
Larry Young – In Paris: The O.R.T.F. Recordings EP (10-inch)
Frank Zappa – "200 Motels" (colored 7-inch)