Revised May 11th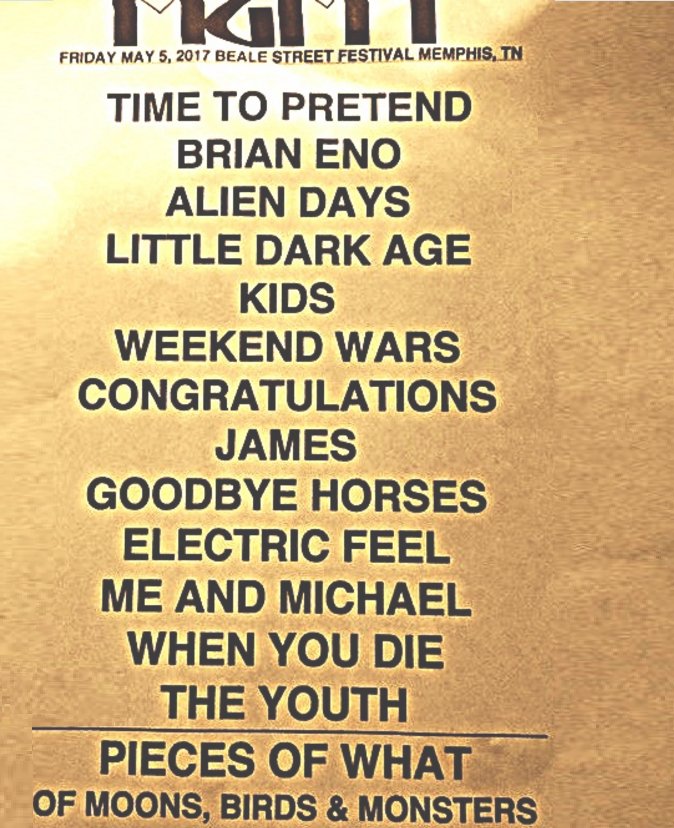 MGMT live debuted material from their recently completed new album on May 5th at Memphis' Beale Street Music Fest, their first show since 2014. As you can see from the stage setlist to the right, they introduced five songs: "Little Dark Age," "James," "Me And Michael," "When You Die" and a cover of Q Lazzarus' "Goodbye Horses." The setlist all but confirmed their new album would be called Little Dark Age, as the band had previously teased the initials of its title were "Lda" (see tweets below). Watch a sampler of footage of all five live debuts at the following time markings as captured by instagrammers Eric Decker and Rich below:
Little Dark Age 0:00
James 0:39
Me And Michael 2:12
When You Die 3:11
Goodbye Horses (Q Lazzarus cover) 4:10
Earlier on May 5th the band sent a message to mailing list subscribers that confirmed their recently completed new album is planned for 2017 release and that they would be playing material from it on their tour scheduled to kick off that night. The newsletter read:
HELLO AGAIN
This is definitely us, mgmt (band), and we are right here in your emails to announce personally and succinctly, to you, and you alone, as well as to all those receiving this email, that, in this the year 2017, this auspicious year, we (MGMT) are genuinely excited to tell you of our imminent and immediate return to the world and the top of the stage. In other words – we are RETURNING! Incredibly soon we will get back up on the horse of live music in Memphis, TN, the birthplace of rock and roll and the home of the blues (and formerly Andrew), and from atop this great horse we will play old songs and new songs. New songs from our new album that you will newly hear this year! Does this make any sense? What we are saying is we are about to tour around North America and also put out a new album ! If you need new mgmt merchandise to help this all make more sense, it is available right here!!! Mostly we want most of you to see us and hear us this summer and we want that too!
Love mgmt
As mentioned above, MGMT first teased the album title by tweeting its initials on March 22nd. On May 3rd they further teased the album's name by tweeting a series of anagrams constructed from the letters within "little dark age." Finally on May 7th MGMT shared a teaser video for the album that officially confirmed in its caption their new album will be titled Little Dark Age:
Complete recordings of Beale Street's five live debuts have been shared on the bigconcertfan.com YouTube channel, along with a request for gofundme donations to aid their mother with cancer. Based on these recordings the lyrics appear to be as follows (note the lyrics below are unofficial and contain errors that will be revised when possible; tips and corrections are welcome in the comment section):
Little Dark Age
Breathing in the dark, lying on its side
The ruins of the day paint you with a star
And the more I straighten it out, the less it wants to try
The feelings start to rot, one week at a time
Forgiving who you are or what you stand to change
Just know that if you hide, it doesn't go away
When you look out ahead, they've seen you standing for a lie
All is shown on the stage, my little dark age
… seeing what's that like
The carvings on the … say they find it hard
And the religions fail to … our limits of disguise
Their heroes not the same coming from denial
I keep standing on, the stereo starts screaming
You know that if you hide, it doesn't go away
If I get out of hand, you'll see me standing for a lie
… on the stage, my little dark age
I keep the stereo, the stereo starts screaming
You know that if you hide, it doesn't go away
If you get out ahead you'll see me standing for a lie
Mortified, turn the page, my little dark age
Giddy with delight, seeing what's to come
… in my mind
… swear to God …
I know my friends and I will all return as one
If you get out of hand, you'll see us having …
… my little dark age
I keep the stereo, the stereo starts screaming
You know that if you hide, it doesn't go away
If you get out of hand …
… my little dark age
…
… turn the page, my little dark age
When You Die
I'm not that nice
I'm mean and I'm evil
Don't call me nice
I'm gonna eat your heart out
I've got some work to do …
Go fuck yourself
You heard me right
Don't call me nice again
Don't you have somewhere to be, I said maybe
Baby … blow my brains out
… won't do anything…
I …
I won't feel anything
… with you when you die
… won't do anything…
I …
I won't feel anything
… with you when you die
Go fuck yourself
I'm mean not nice
You said it twice, you said it twice
Don't you have somewhere to be, I said baby
I've ….
I'm gonna eat your heart out
…
Me and Michael
Now everyone can see that me and Michael
The only …
… we'll reappear on silver nights…
… but they can't find out
…it's me and Michael
…
The danger signs were never …
… his hand on me
Me and Michael
Solid as they come
Me and Michael
It's not a question now
It's me and Michael
Solid as they come
Me and Michael
It's …
It's me and Michael
…
Me and Michael
Solid as they come
Me and Michael
It's not a question now
It's me and Michael
Solid as they come
Me and Michael
It's not a question now
Me and Michael
James
James
You heed the call
You go outside, you walk along
You're always there
Forever you …
You can always say that you've…
James
If you need a friend
And I know that …
And I'll be there
My door is always open .
…
James
… just know that
…
James
…
…
Goodbye Horses (Q Lazzarus Cover)
You told me, I see you rise
But, it always falls
I see you come, I see you go
You say, "All things pass into the night"
And I say, "Oh no sir I must say you're wrong
I must disagree, oh no sir, I must say you're wrong"
Won't you listen to me
You told me, I've seen it all before
Been there, I've seen my hopes and dreams
A lying on the ground
I've seen the sky just begin to fall
And you say, "All things pass into the night"
And I say, "Oh no sir, I must say you're wrong
I must disagree, oh no sir, I must say you're wrong"
Won't you listen to me
Good-bye horses I'm flying over you
Good-bye horses I'm flying over you