This article is split into three pages. This page, the first, is the backstory and outlines accusations made since 2014 against the psych bedroom glam band Foxygen, specifically Sam France, by his ex-girlfriend Elizabeth le Fey, also a former touring member of the group. It does not involve Sean Lennon at all, but is necessary to understand the context from which le Fey recently solicited Lennon and their subsequent interactions, including his defense of what he says are her "slander and lies" against him. In the past two weeks the back and forth between le Fey and Lennon has spiraled across scads of tweets, Tumblr posts, Instagrams and Insta comments. For easier reading these have been collected on page two. In response to this very public disagreement countless social media users have criticized, attacked, praised and debated Lennon. An overview of his responses is on page three.

Don't have the time/ interest to read through all three pages? Read a summary of the key points here.
Follow updates at facebook/TheFutureHeart and twitter/TheFutureHeart.
The most famous of Elizabeth's posts though is no doubt a viral July 2013 Tumblr entry – titled "Some Of My Tour Memories" – that detailed how she came to co-star in Foxygen's "San Francisco" music video and join the group in 2012, along with numerous claims of band infighting through their meteoric rise in early 2013. Lizzie had previously tweeted in May 2013 that she would not be on Foxygen's next tour, explaining she was "treated unfairly by some members of foxygen so I didn't wanna go this time" (Foxygen has yet to elaborate on their side of the story). In her Tumblr post a month and a half later Lizzie assessed the duo, criticizing Jonathan Rado while praising Sam France – still her boyfriend at that time. According to the post:
"When we took band photos in Amsterdam Rado kept trying to put Shaun [Fleming] in front of me and didn't want me in the pictures. It was obvious on tour that he was miserable because he wasn't with his girlfriend and she was torturing him about that. She was pissed off that she was "replaced" by me but in my eyes she chose not to go on the tour and go to school.  When I joined the band Sam France called [Rado's girlfriend] Jackie [Cohen] to talk to her to make her feel better about it all. Jackie was never a musician anyway really, she just played the tambourine and happened to be around. Rado never could even call me or talk to me once after the UMO tour about his problems with me and thought he was just going to ignore me forever. Rado never once opened up to me or even tried to be my friend and didn't talk to Sam either. IT was strange meeting him and knowing they were supposed to be a "duo" but there was no friendship at all, just contracts that needed to be fulfilled.  Once Sam and I started dating in November, he never once wanted to accept I was Sams girlfriend or ANYTHING."
"At the end of the UMO tour Rado and Shaun blamed all the problems in Foxygen on me, I was the perfect scape goat: the only girl, a new member, a loud opinionated female. Rado said things like I was "unprofessional" which is just a joke."
"[Rado] he tried to completely control Foxygen even though Sam wrote 95% of the last album. He came out with a solo album out of nowhere and didn't even tell Sam about it. He made such a big deal about Sam releasing his album "Star Power" online a year ago and made him take it down but then he goes and releases a solo album behind his back."
"[Rado]  he was threatened by Sam and I, saying it was, "The Sam and Lizzie show". Well we are going to start our own band (not saying it is replacing Foxygen). It sickens to me to see how Sam has been walked all over."
"It's been hard for us as a couple [Sam and Lizzie] facing al these trials and tribulations but ultimately it has made us stronger."
"I really do wonder if anyone other than Sam and Justin [Nijssen] believe in things like peace & magic."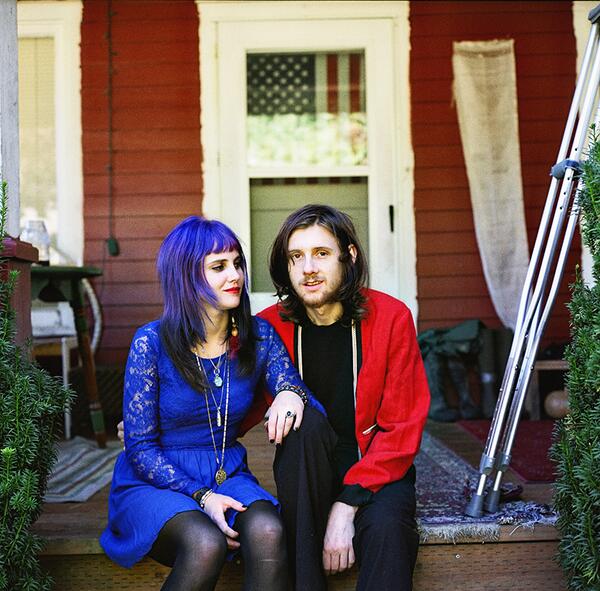 Foxygen did not directly comment on Lizzie's "Tour Memories" post but did implicate response by tweeting, "ALWAYS, DEFINITELY, BELIEVE THE INTERNET" that same day. Soon after the band's publicist confirmed to Pitchfork "that Foxygen is not breaking up," as Globelamp distanced herself from the same rumors. "Just letting everyone know, I never said Foxygen was breaking up," she tweeted. "Just wrote about my tour experience and people spun it that way." Rather than break-up, Foxygen went on to release their third album – double LP …And Star Power – and play high profile shows throughout the world in 2014. In interviews supporting that album they denied inner turmoil. "We were never, y'know, fighting, we were never gonna break up," Sam told LA Weekly in 2014. "We missed some shows but it's not because of like… band drama. Plus I got injured. I broke my leg last year. So." Foxygen's spring/summer 2015 shows were billed as their "Farewell Tour," though they didn't disband and are currently booked to play the Desert Daze music festival on October 16th, their only 2016 gig.
In the months following her contentious Tumblr "Tour Memories" Lizzie and Sam's relationship soured. Gone were the days of her tweeting he was her "#1 fan" – they broke-up in October 2013. She began tweeting about getting hit in the face by an unnamed person late that December but contradictory was served a restraining order on January 8, 2014. Initially she did not explicitly identify on social media who was behind the order, just that she had not seen the other party for "months" before that ("we broke up months ago leave me alone," she tweeted). At the end of that year however she did publicly state "foxygen got a restraining order on me" (it was actually Sam and his family, not the band). By that point she had already directly accused Sam of abuse online having tweeted a photo of herself with a bruised lip captioned "Pic of my lip after Sam France of #foxygen hit me in the face" in mid-August 2014 (the tweet has since been deleted, but not before a manual retweet). She periodically reposts the photo on her various social media accounts, though what – if anything – it suggests is unclear. It neither confirms nor denies claims she's made of Sam knocking her teeth out and there's no indication when the picture was taken. At the time of being served she tweeted, "Dentist wrote me a letter 4 court saying when i came in my front teeth had suffered some type of trauma like something hitting them." If she did in fact have such a letter, it proved insufficient.
"Him and his family claimed i tried to break into his house, which is a total lie," Lizzie claimed on Tumblr. She explained the court hearing in more detail to Impose last year. "They were trying to frame me as an abuser," she alleged. "The thing is, they can say that all they want. The judge didn't grant the restraining order because of that. The judge did it because his mom lied [when his mom said that] I tried to break into [France's] house." Impose claimed "there were instances that could be mistaken for [Lizzie] stalking or breaking-and-entering." As for the abuse accusations Lizzie said, "Me and Sam did not have the best relationship. I've been a victim, like he hit me in the mouth. But for the most part it was equal." Last week on twitter however she claimed "it wasn't [mutual]. He was violent to me and himself many times. Google sam france foxygen hitting himself." Having never filed a police report against Sam, Lizzie says she could not prove Sam had been violent towards her.
Lizzie also told Impose that after she broke up with Sam they fought over control of her Star Dust record. "We had been working on it together;" she said. "I wrote the songs and he co-produced and played/sang on it." The same article states Lizzie "received a 32-page restraining order that prohibited her from encountering France's entire family, both parents and siblings, until January 22, 2019" – five years from the date 0f her court hearing. "I didn't have a lawyer so I had no one to ask for legal advice," she told the site. "I posted a picture of the restraining [order online] months ago—which I am legally allowed to do—and within a few hours the LAPD called me saying someone had filed a complaint against me."