Revised October 15th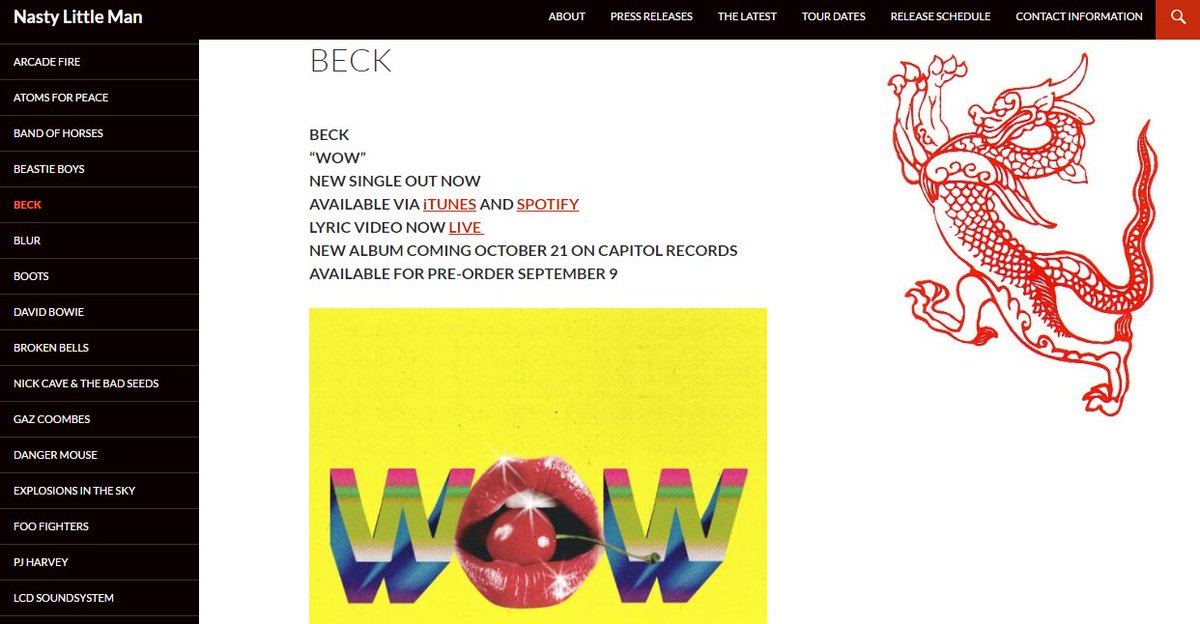 Beck's new album – years in the making with recordings pre-dating Morning Phase sessions –  was originally slated for late 2014, then 2015, then "it's done when it's done." Late last year it was claimed to be coming in the first half of 2016 and this past spring Alt AZ's program director Christy Taylor detailed a March 18th meeting of radio programmers at SXSW to discuss their role in its release this year. Official word of the release date finally came on June 2nd with iHeartRadio, Beats 1 and BBC 6 Music's premiere of "Wow" – the second single from the LP following last year's "Dreams." Beck's PR firm Nasty Little Man confirmed the new album was due October 21st, and released new press photos (see one of the pics directly below to the right), along with a new bio. But in August Nasty Little Man's site removed the page that had originally confirmed the October due date (captured in the above-right screen shot; click for larger view) and the issue was pushed back – quietly, without any announcement. Perhaps the move was the result of the 21st being a big release day (including Lady Gaga's new album Joanne, featuring Beck). Or maybe it was to space it out with a vinyl reissue series of Beck's catalog originally scheduled to launch October 28th (though that too has been delayed to December 2nd). Regardless, the October 21st release was abandoned without a new issue announced.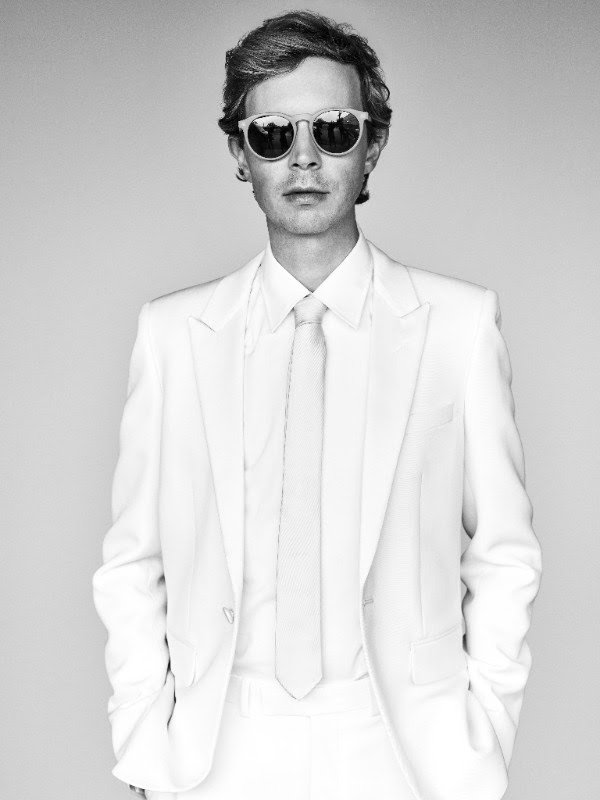 The most recent update to Nasty Little Man's site lists no date, simply referring to it as "upcoming." According to a New York Times preview from September 18th the release day was moved a few weeks to November. This was apparently the original delay plan but it seems that time-frame has also been pushed back. In a radio broadcast interview with Nashville's Lightning 100 backstage at Pilgrimage Music on September 24th Beck himself said "there's another single [presumably "Up All Night"] coming soon and then the record. I think the record was coming out next month [October]; I don't know when it's coming out." It could be Beck knew when but claimed otherwise to protect its marketing strategy, or perhaps it really is up in the air. Either way, "it's probably in a few months" is as definitive as he gets in the latest interview. On October 13th KCRW premiered a remix of "Wow" by TOKiMONSTA on Morning Becomes Eclectic and Jason Bentley announced that the album is now planned to be issued early next year.
"I've been in the studio pretty much day in, day out since October [2014]," Beck explained to Clash in summer 2015. "I've actually never really left, I've been in the studio for about three [now four] years straight [since 2012]. I toured all [2014] but any time I was home for five days I was straight into the studio. I try and get as much done with the time that I had." Beck's wasn't messing around with his Mourning Phase follow-up. "I'm working 14 hours a day in the studio. I'm trying to get it done as soon as I can," he told The Line of Best Fit. Finished late this spring, Beck discussed the results – and the offers for shows that delayed in completion – with Vulture in August:
Vulture: It feels like a great sunny-afternoon album.
Beck: It's frustrating that it isn't coming out this summer.
Wasn't it supposed to come out last summer?
Yeah.
We started the record three or four years ago. So it wasn't ideal, but it is what it is. And I think the time gave us a little bit more perspective. Or maybe too much perspective.
The September 2016 issue of Q magazine previews the new album. Beck reiterates his hard work, saying "the very next day" after he won big at the 2015 Grammys – while much of the music media world was debating his wins and the infamous remarks that followed from Kanye West – he was in the studio working on the new album. "Same as with Coachella [in 2014], then the next day, back in the studio. I was going back and forth between touring and the studio [with the new album] more than with any I've ever done because I wanted to keep that same feeling I get from playing shows. That moment when the walls break down between yourself and the audience and it's suddenly like a party among friends." Part of the reason it took so long is Beck – dissatisfied with the directions his new creations were headed – began anew several times. "After the Grammys, we got rid of half of it and started again," he told Rolling Stone. "It took a while for it to find an identity." It was a process of trial and error – not that the abandoned material were "errors," but that it took creating a lot of scrapped music to find the songs that were the album Beck wanted to make. "We'd go off on a Talking Heads kick, and then we'd come back six months later listening to something else," he explained to Rolling Stone. "The record started to find an identity. My constant overriding thing was to find that affirming feeling – energy and joy." 
With Prince and psychedelic-era Beatles among its "key influences" according to Q, its tracks include "7th Heaven" (described by Q as a "lost '80s pop classic"), "No Distraction" ("a self-help cry in the face of 21st century overload"), "Up All Night" ("euphoria") and "Dear Life." Beck says "Dear Life is just about the inevitable turmoil of being alive. Like, can somebody throw me a lifeline here?"  The New York Times describes it as "a late-Beatles-esque existential cry;" Q as "lush Beatles-like psychedelia spiked with an existential cry-for-help for a lyric." Rolling Stone previewed "Seventh Heaven" as "a chiming anthem about falling in love," and "No Distractions" as "a dance-y, Talking Heads-like stomp."
"Anybody who has a phone or a computer lives with the distractions pulling you this way and that," Beck tells Q of "No Distraction." "We haven't figured out how to have access to everybody and everything all the time and how it affects us physically and neurologically. Or at least I haven't. My analogy to friends has been that I feel as if somebody has removed the front door of my house, permanently." The New York Times reports "No Distraction" has "a strummy guitar part over a foursquare rock beat, and a chord progression partly cribbed from the Police."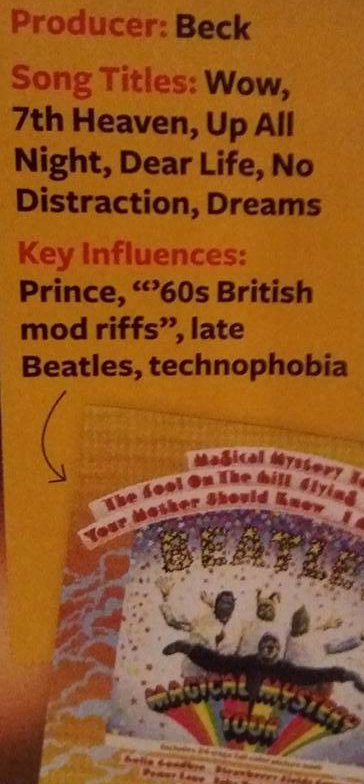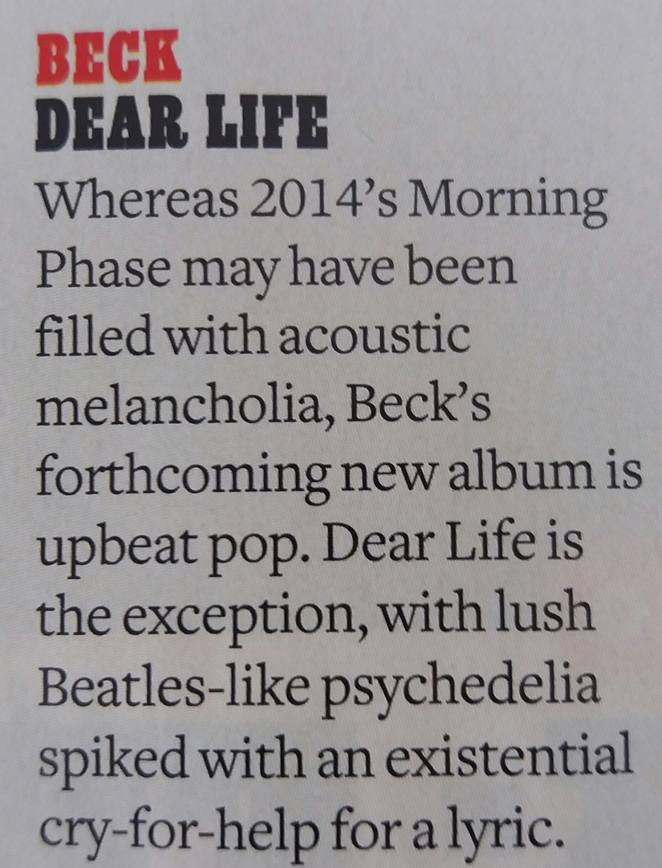 Despite the turmoil expressed in "Dear Life" and "No Distraction," overall Beck has described the new album as "energetic and melodic" in numerous interviews since 2013, calling it "boisterous" at a special show for KCRW. In the new Q Beck says he "was constantly speeding up songs. I wanted to make something with uplift because I've made my fair share of downcast albums, which is a very natural type of music for me to make. This kind is far more difficult. It's easy to break out dark emotions, whereas it's much harder to cheer someone up."
Three of those uplift tracks have already been released: the singles "Dreams" and "Wow," and FIFA 17 track "Up All Night" (click through for stream and more details). On the day "Wow" dropped Beck appeared on KROQ's The Kevin & Bean Show and explained, "most of this song ['Wow'] was completely off the top of my head. I didn't write any of it. It was just us fooling around in the studio. I didn't even mean to release it… I was working on another song and came up with the riff and then I just started freestyling…I think it's just being open and taking in all – especially now with social media, so much imagery and ideas coming all the time. I think that tends to come out in music, especially the more hip-hop tracks. They're a little bit unfiltered."
"'Wow' is a little bit of an outlier [of the new album]. I did most of the record with my old keyboard player Greg Kurstin who's now a pretty well-known producer. We've been working on this for about three years. So most of the record is stuff I did with him. We did the song 'Dreams' which came out last year. A lot of the record is in that vein I'd say. We're thinking a lot about the live show and playing festivals and that kind of thing." Beck explained to NME he "was working on another song – maybe 'Dreams' – when I had an idea for a flute beat. I picked up the mic and 'Wow' came out totally spontaneously. I put it away and forgot about it. Then 'Wow' was on in the studio one day and someone said 'You should put this on the record.' I went 'I don't think anybody would like this.' Usually, I turn in a whole album to my record company when they want a single. But there were a lot of songs in progress, so I sent in a cache of them this time. Nothing happened for months, then suddenly the record company said 'We're putting 'Wow' out as a single.' I was 'Really? 'Wow'? Huh. Well, OK then.' 'Wow' was the last song on the cache I'd sent over… Los Angeles is having a renaissance with people like Kendrick Lamar. I like the new Chance The Rapper record a lot. Four or five months ago, we tried to get Chance on 'Wow'. I'm not sure what happened with that."
In Q Beck added, "The rap was mostly free-form. Later I did try and write something that was more finessed, but it didn't have the same energy. So I left 'Wow' as it was."
"I did it about a year and a half ago. So that isn't too long. I have songs that sometime take awhile," Beck told Alt 98.7 the day of "Wow's" release. "I get an idea for a certain direction for a record and then everything that aligns with that starts to come together. It just evolves that way…The record it's been in progress and 'Dreams' is part of that record. I think we put that out last year because we were touring last summer and we wanted to have something new to play. It's all part of one family of songs." A music video for "Wow" – above – was released September 13th, and surpassed one million YouTube views in the week that followed (since it dropped in June release, "Wow's" lyric video had nearly five million views and the song had amassed over 20 million world wide streams at the time of its offical music video's release; last year's "Dreams" official audio on YouTube has over eight million). There's also been two official "Wow" remixes: the first by GUAU! Mexican Institute Of Sound, the second by TOKiMONSTA.
What else has Beck revealed about his latest LP? Read on for a summary of his various other interviews from the past year or so:
The New Album's Recording Overlapped With Morning Phase
"I'm always working on two or three things at once," Beck told (The Undertones frontman) Paul McLoone last year on Today FM, Ireland's premier independent commercial radio station. "["Dreams'] I did during the time of [the recording of] Morning Phase." To Alt 98.7 he elaborated, "I've been working on it ["Dreams"] for a few years. There's so much that goes into these records and the songs and there's so many people involved, so you're really working on things that sometimes aren't going to come out for a few years. Even though this last record came out, and the Grammys thing, we were already working on this other material."
Though supporting Morning Phase delayed that timeline of the new album's release – fact: '14 was Beck's busiest touring year since Y2K – he worked non-stop since his gig schedule settled down in fall 2014. Speaking of his next album with Paul McLoone Beck said, "It was supposed to be done last year [2014], and then it was suppose to be done this year [2015]. I've been getting busy doing other things. We just did the Rock and Roll Hall of Fame, and working on other people's records, and so, one of these days I'll get it done. We just keep putting out tracks until then. Seems to be OK to do that these days. Back in the day you'd have to put out a record, and a song that went with the record – everything was sort of coordinated. Now's it's just really put something out there and see if somebody likes it and if they don't, do something else." This echoed Beck's timeline from earlier that month: "It's done when it's done," he told Alt 98.7. "I'm definitely in a position where I'm doing a lot of different things, I'm working on other people's records, so as soon as possible…I'd really like to get it out. I'd like to get some new songs out."
"I'm still working on that [name for the next record]," Beck told Alt 98.7 last year. "I tend to come up with that at the last minute, unfortunately. Great album titles are just, for me, like if you have a great album title, it just makes an album ten times better. So that's going to be on my mind…I've got to get to work."
Touring Was Crucial To The Recording
"My idea is to just keep touring," he explained to Alt 98.7. "We did a long tour last year [2014], we did about nine, ten months. But I think ideally I'd like to just keep putting out songs and touring, instead of separating it so much where you put out a record every three years and then you go away for a long time. We just did a show in Kansas. Willie Nelson opened for us and he's, what 84, 86? And doing 260 shows a year? And he said to me, 'oh yeah I got a new record coming up next week.' I think that's just the way it should be for musicians. It should be this continuum: making records, making new songs and getting new ideas, and keeping things new, and letting the shows, live performances and what every thing you get from the audience go into the music. I think that's really what it's about. So that's something I'm striving towards."
Beck put it this way to Rolling Stone: "It's a summer night, people have their hands up. It's a communal, celebratory thing. I wanted to take that into the studio, a kind of energy or joy. The thing that wakes you up a little bit." Indeed that perfectly describes the vibe of "Up All Night," and not by coincidence (its lyrics: "Hands up, you're waving it around now get yourself together," "Hands up in the air if you don't really care").
"I think [the next album] it's probably the opposite [of Morning Phase]. I mean I was really trying to make something that would be good to to play live, be good for the show," Beck told Alt 98.7. "The last album was very much of a particular sound and you know when we performed it live, it was very intimate you know, but it's a different kind of record to perform live. So having some songs like "Dreams" and some of the others we've been working on, I'm looking forward to having those kind of song in the show."
"I always think of it in terms of our live set," Beck explained to Clash, "so I did 'Morning Phase', so we have this whole body of songs that are a bit more quiet, contemplative but you need some loud songs, songs that get people moving. Y'know, then I'll turn my focus to something like that." This summer, after completing the album, Beck explained to Vulture his quality threshold for releasing music is higher than it used to be, and how a song is likely to be received by concert crowds is an integral factor. "I think maybe I'm a little bit more picky about what I put out. At this point, I don't know if I would put something out just to put it out," he said. "It's something that you want to listen to more than once — maybe twice, hopefully four or five times. And you have to want to play it live. I have stuff that I've been playing for 20 years, and they still get the same reaction. Those are the songs that have life in them. I've toured with the [Rolling] Stones, I've toured with Tom Petty, I've toured with the Police, and they've created an entire output of songs they can play. I think I came from an era where bands only had two songs. [Laughs.]"
In fact, Beck says he lost fans playing Morning Phase in concert, telling Hot Press:"I've had other artists say, 'Oh, It's great you can put out an acoustic record,' but when I do and play those songs live, a hundred people leave and they're not going to come back ever. I lose fans, which makes me sad. I could have made Odelay II, III and V but with five other people suddenly occupying that same sort of blues rock space it was time to move on." 
Beck has said in several interviews since 2013 the next album will feature material written specifically to light up the concert stage. "I think about that a lot because when you get out there and you're playing shows and festivals, I mean that's the real world," Beck explained to Alt 98.7. "In the studio you can come up with any idea you want kind of make things work but in the real world some things don't work live. So after a while, after a number of records you start to get an idea of what's going to work out on stage and in front of an audience. And I really wanted to figure out how to make these songs work live."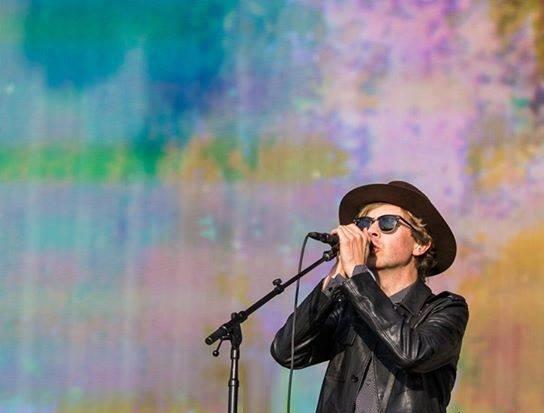 Greg Kurstin Was Also Crucial
"Lately, I'm just trying to write songs with other people," Beck explained to Clash, "whereas I've typically done most of the writing myself with some production help. Or I'm just completely off on my own with an engineer. It's different. After a while you kind of know where your instincts are going to be and where you're going to take it. So I'm a big believer in throwing in some random elements."
"When you work with somebody else they hear it completely different, and do different things" Beck continues. "I might write a riff which I feel is a classic garage rock kind of thing, and they might hear it as a funk thing. So that's great – that's where it gets interesting."
"Say if you're in a band with some strong musical writer forces and some strong writers, you get to enjoy that collaborative process a lot more, but most of the time I'm sort of off on my own, trying to figure out how to make these songs work. So being with other people and seeing how they figure it out is really very inspiring."

Beck elaborated to Alt 98.7, "I'm working with Greg Kurstin who is someone who has played with me for for a long time in my band and is a pretty well known producer now. [I'm recording the new album with] just different friends, the musicians in my band, the engineers that I've been working with for years. I have a whole family of people."
Kurstin is key. An in demand producer and songwriter (Lily Allen, Foster The People, Kelly Clarkson, The Shins, Beyoncé, Tegan and Sara, P!NK, and others, as well as his own band, The Bird and the Bee), scheduling sessions with him was complicating. Beck explains in the recent Q preview: "I had to wait for these little windows when Greg was free. So we pretty much wrote and recorded the whole thing between us."
Kurstin has periodically toured and recorded with Beck since the 2002 Sea Change tour in which he joined The Flaming Lips as Beck's backing band. Although Kurstin and Beck have a long history together – including Beck's duet with Sia for 2014's Annie soundtrack, "Moonquake Lake" – the two have never previously written together. Perhaps this partly explains why so many commented upon "Dreams" release that it reminded them of Foster The People: Greg co-performed, co-produced and co-wrote it with Beck (co-writing credit for "Dreams" also goes to Miike Snow frontman Andrew Wyatt). As previously discussed here in greater detail, Greg and Beck also wrote an unreleased song with P!NK, "We Could Have It All," confirmed by its registration with ASCAP last spring. Although his work with Kurstin is no doubt closer to contemporary top 40 than any of Beck's previous works, the new songs aren't as straightforward as their shiny production may initially make them seem. "There's a substratum to a lot of the songs – songs within other songs, choruses that became bridges," Beck told Rolling Stone. "It's not far from how I made my first couple of records."
Speaking to Zane Lowe about Kurstin this past June, Beck said "He played in my band for awhile and he was just one of my favorite musicians that I've worked with. When he left the band he was still playing on my records, I always had him come in. He always had the most perfect ideas. He always added so much to everything we did. And now he's built up his whole producing thing and we got together about three and a half years ago. So we've been working non-stop and forming this partnership that I think began years ago but now it's really come to fruition."
"I've been working on it with Greg Kurstin for three-and-a-half years. For the first year, we were experimenting and there was a lot of trial and error… 'Dreams' was one of the early songs to come along and make me think the idea had legs," Beck told NME in June. "He has such an intimate understanding of my music that he knows what I'm thinking before I have to say it. When Greg left the band, I was despondent. Making this record with Greg has been an excuse to hang out, talk about music and make each other laugh. But all of these people I work with are monster talents. The band I have now, you can't go wrong with them behind you. We all grew up watching bands who have an energy and who are able to break the ice…This record is just myself and Greg. But it'd be a good idea at some point to do a record with a lot of collaborations. Being a solo artist is an advantage, as it's more acceptable to do a collaborative record."
Kurstin described the album in an interview with EW last December, saying "We've been working on a lot of stuff that will be fun to play live. It reminds me of some of the first stuff I heard from Beck when I first got into him, like 'Odelay' and 'Midnite Vultures.' It's really fun and beat-driven."
Beck Describes The Album As…
"I'm not sure if it sounds like anything I've done before," Beck told The Line of Best Fit. "It doesn't sound like Morning Phase though I hate to characterize it. I haven't made the final song selection yet but there's music coming."
"I think it's pretty diverse but it definitely has – a lot of it has this energy and it's a group of songs that really fit together," Beck says in the Alt 98.7 interview. "It's its own world I think."
Beck detailed his new music on this past June 2nd's Zane Lowe Beats 1 show "World Record" [recorded May 25th, when Beck was on the show discussing his collaboration with Flume]. "We've been working on this [album] for a few years," Beck said, "so this whole body of songs has this energy that I think will be really good for our live shows." He continued, "there's a lot of my songs and the things that I've released that work on album better than on stage. So that's something I've thought about for this record, 'I want all these songs to work well live.'"
"This record I think has an identity," Beck told Zane of the forthcoming album, "and it was something we had to find and work on. We started this a year before 'Morning Phase' came out. But you know in a way it's like we had to find whatever that voice, whatever that sound is, the thing that works. And I think this could've come out two years ago and it would have been fine but I think we really wanted to put the extra time in and develop it, let it get richer and hopefully it's something that's a little bit more long lasting… I think it would have been easy to make something that would've sounded like 'Odelay' or 'Midnight Vultures' but I felt like, 'find something specific to this record; you're in a different era, a different time.' I think this era has informed this record…There's these songs that I spent two months just tirelessly fashioning into something listenable."
"This was supposed to come out last year and two more opportunities come up – collaborations [presumably he's referring to M83, Flume and Lady Gaga] and all these things come along. So I've been trying to do it all and get this record to where it needs to be. Something like 'Wow' I wasn't going to even put on the record. I wasn't even going to give it to the record company…[My kids] said, 'put this on the record.' They never say anything like that." [Beck discussed his studio work with M83, as well as his live performances in the past year with Taylor Swift and Nirvana, and the loss of Bowie and Prince in fuller detail here].
"The rest of the album is probably what exists in the range between 'Dreams' at one end and 'Wow' at the other," Beck told NME this June. "This record has felt like a lot of freedom, as I've had time to work things out and try things. I'll go too far in one direction, then go too far in another. There were a few other ideas that have come out of making this record that are interesting and have pushed me in other directions."
Beck frequently refers to the idea of "songs fitting together" when discussing his album-creation process. "I'm always writing and working on things and then over time certain songs gravitate together," Beck explained to Zane Lowe in 2014.
"There's a lot of records I love that have a mood, whether it's Velvet Underground or Joni Mitchell or Jesus and The Mary Chain or The Clash or whoever," he explained to Paul McLoone. "Those are just songs that fit together. [Morning Phase] was just a matter of removing the songs that didn't fit. It was a process of elimination making that record. It was like, 'nope, this one doesn't fit.' Let's just get to the core of what that feeling is, whatever the feeling that record is. But I've made other records where it's just throw everything in the sink, just make a big mess and let it be a glorious kind of free-for-all, and then other records are more disciplined. I'll usually make a decision somewhere in the beginning what the record is going to be."
Clearly the album making process for Beck isn't just a matter of creating material, it's creating the right material for that moment and fitting it together with the right other material. "It's hard to tell what is really valid, what's necessary," Beck explained to Lowe. "If you're doing a dance track there's probably 500 other people doing that, probably better, right now. And maybe there's a period of time where there aren't so many great dance tracks [or] maybe there isn't a great singer-songwriter record."
"Everything I do is centered around songs and trying to come up with ones that just do that thing that great songs do," Beck explained to The Line of Best Fit. "That's what I'm always striving for . . .I still feel like a beginner. I haven't even cracked the surface of what's possible with music when I compare it to what's out there."
Beck concluded to Clash, "there are, superficially, genres that I'd love to do more with. Like, wouldn't it be great to have a proper rock album – things like that. Ultimately for me, it's about trying to figure out how to make a great song, wherever that leads me. That's where I go to first. The genres are secondary. The sounds are secondary. It's more about the kind of song that rings true. Something that has that thing about it. That's a special category of song, y'know. I don't have many, it's not easy to do. If you can manage to make a few of those over a few decades… that's what I'm hopefully striving for."
Beck's Expectations
Speaking on KROQ this past June Beck said the album was "almost finished" but that he had "no expectations. It's such a strange time. I couldn't predict the reception on the last record ['Morning Phase'] at all."
"There's about twelve or thirteen songs [on the new album]," Beck revealed. "There's some in contention at this point…There's too much really to make sense of. Even this record, what's going to be out is probably a quarter of what we did."
Cue to Beck's next 'next album' – the one after the one due this fall: it's already in the works. "We have half of another record too," Beck told Zane (that's in addition to various other unreleased projects with Pharrell and others). "I've got enough ideas for a few records to follow this one and I've laid the groundwork for a lot of material," Beck told NME. "But you always have to see how it goes, because there are always songs like 'Wow' that just come out very quickly from nowhere."