UPDATES
Beck's new track "Dreams" has been confirmed to be both the lead single from his next album and the previously unidentified song he rehearsed at a soundcheck in Memphis last month, as detailed in this article (video below), and is now streaming online and available to download on iTunes. "Dreams" was co-written by Beck, Greg Kurstin and Miike Snow frontman Andrew Wyatt. Kurstin has also been revealed a main contributor on Beck's next album, as mentioned below in reference to a song co-written by Beck and pop star P!NK.
This post was updated several times in the days following its original publication. The latest updates about "Dreams" – including 30 seconds of the track streaming online, its leaked lyrics and iHeartRadio's premiere info – are here.
The latest details about Beck's next album – including news of a recording session with Nile Rodgers – are here.
____________________________________________________
We're still waiting for the next Beck album. You know, the one he described as "energetic and melodic" in numerous interviews since the tail of 2013 and called "boisterous" at a special show for KCRW last year; the record that was originally planned to be the second of two 2014 Beck LPs, a lively follow-up to counter the mellow gold of Morning Phase. But all signs are now pointing to that wait coming to an end
At the start of this year Øya – a Norwegian music festival Beck is playing this August – posted on their website that Beck is "currently working on a new album which will be out before the summer." That quote, via stewoo.net and whiskeyclone.net, was shared (and screen captured) by The Future Heart in January, from which it was copied by Stereogum and then numerous other blogs. After the tease of a pre-summer release spread across the blogosphere the quote was removed from the festival's site. Apparently the release timeline also changed. In an interview on the red carpet of the pre-Grammys Gala on February 7, 2015 Beck admitted, "the optimist says [the new record is] about 70 per cent [finished] and then the realist says about 35 [per cent]."

It's hard to tell how literal he was being on the red carpet (he did say it with a chuckle after all). Regardless, there's been several signs in the past few weeks that the wheels are in motion for a release sooner than that estimate suggested. Most curious, scant details on two mystery songs surfaced online this spring. First a song titled "We Could Have It All" appeared in the ASCAP database in April with the writers listed as Beck Hansen, Greg Kurstin and Alicia B. Moore. Hansen is of course the artist commonly called by just his first name, while Alicia Beth Moore is better known by her stage moniker: P!NK. Greg Kurstin is a sometimes Beck sideman (since the 2002 Sea Change tour with The Flaming Lips, with which he later collaborated) who has gone on to become a much in demand producer and songwriter for Lily Allen, Foster The People, Kelly Clarkson, The Shins, Beyoncé, Tegan and Sara, P!NK, and others, as well as his own band, The Bird and the Bee. Although Greg has toured and worked in the studio with Beck, the two have never co-written a song. If this history is any indication, it's most likely Greg collaborated with P!NK – who he has written with since 2006 – on a song that was then sampled or otherwise merged with a song by Beck. That said, there's a few possibilities of what "We Could Have It All" could be:
a new Beck song written with and perhaps featuring P!NK
a new Beck song that samples a P!NK track
a new P!NK song written with and perhaps featuring Beck
a new P!NK song that samples a Beck track
Whatever it is, there's a precedent of sorts: "Feel Good Time," a song Beck and William Orbit co-wrote and recorded circa 2002 that surfaced the following year on both the Charlie's Angels: Full Throttle soundtrack and P!NK's Try This album with Beck's vocals replaced by P!NK. (Read more details on the song's history at the internet's unofficial but totally awesome Beck encyclopedia, whiskeyclone.net; hear Beck's original here and watch P!NK perform it at the MTV Movie Awards here). Also keep in mind Kurstin was the executive producer of last year's Annie soundtrack which featured Sia and Beck's duet "Moonquake Lake" (written by Sia and Kurstin). Perhaps "We Could Have It All" is another collaboration of that sort for a forthcoming film or compilation album. But there's still the possibility it could be a track on Beck's next album. At this point nothing is certain other than the fact it exists.
The second mystery song was played during Beck's May 16th soundcheck at Memphis' Mud Island Amphitheater and heard by fans waiting outside. It includes a rockin' guitar part, killer hook and synth lines towards the end reminiscent of Beck's former touring pals and Record Club collaborators MGMT. Again, at this point all that is certain is the fact it exists, but it's a reasonable assumption that this might be the lead single from Beck's next album. Take a listen below (the MGMT-esque bits start four seconds in, and then again at about the one and a half minute mark):
Beck recently joining Instagram may also be a sign of the new album to come. Beck after all generally steers clear of social media, though in this day and age of promotion Instagram is a necessary tool. It could even be that "MidiSaxStreetCred," his original account name prior his account being verified, is a reference to a lyric on the album.
Some of this speculation might be cleared up with the premiere of Beck's next single on Philadelphia's 104.5. The station's weekday morning DJ Johnny, who is known for debuting new music every weekday at 12:15 PM, described the brand new, as-yet-unreleased track as an "infectious jam" in a  tweet on June 5th. This characterization fits with the descriptions Beck made of his next album in several interviews over the past year and a half. (For instance, he told Uncut in late 2013 that while making his next album he was "thinking more about the live show, which is more about energy. It's a lot more up [than Morning Phase]"). It also fits the mood of Beck's recent setlists: his 2015 concerts so far have been rowdier and less introspective than was the norm last year. (It's worth noting Beck has been performing with his A-team, including bassist Justin Meldal-Johnsen – despite announcing last year he was done touring with Beck.) Given, aside from a few one-off special appearances early this year (a tribute to Bob Dylan at the 2015 MusiCares Person of the Year ceremonies, a duet with Chris Martin on the 57th Grammy Awards, crashing some random fans' living room for The Late Late Show with James Corden and honoring Lou Reed, then joining the living Beatles for a sing-along at the 30th Anniversary Rock and Roll Hall of Fame Induction Ceremony), Beck only toured one brief leg this spring. It was not lost on attendees though that infectious jams from Guero, Odelay, Modern Guilt and Midnight Vulture predominated these shows (including some rarely played tunes like "Sissyneck" on the tour's opening night of the tour in Kansas City, May 15th, and "Loser" with his friend Sass on sitar for the first time in 12 years at Boston Calling on May 22nd), with the softer sounds of Sea Change and Morning Phase sprinkling in a bit of variety. (Last year's adult alternative chart-topper "Blue Moon" was the sole setlist constant from Morning Phase.)
Johnny clarified that this is "All Beck," not one of Beck's recent guest spots on singles by other artists (The Chemical Brothers, Nate Ruess), but was unable to provide details beyond that. The very fact that the song is being premiered on radio – specifically one of the country's most influential "alternative" stations – likely says something. Like KEXP, KROQ and KCRW, 104.5 WRFF  one of the few stations with a social media presence large enough to have impact far beyond the geographical limits of its signal. According to Nielsen's most resent findings from January 2015, "Radio Remains Top Source for Music Discovery." Avid streamers and blog readers may be surprised, but the facts couldn't be clearer: "243 million U.S. consumers (aged 12 and over) tune in each week to radio. That's 91.3% of the national population…" Which is to say, the choice to premiere on radio suggests Capitol Records wants to make sure the next time Beck wins a Grammy, nobody is tweeting #whoisbeck. This is likely another indication that the new track is the lead single from the "boisterous" album Beck has been talking about since 2013 and that it will be upbeat and catchy (presumably without the layers of introspective nuance that made Morning Phase challenging for some fans). Note too that WRFF is in the "alternative" format. Last year Morning Phase was championed by the mellower Adult Album Alternative format. If the new music was in a similar style, WFUV or WXPN may have had priority to premiere the track. That it was instead given to WRFF suggests, like all the signs above, that the new Beck release will indeed live up to his previous "boisterous" claim.
Which begs the question, what exactly is "alternative" in 2015?

According to WRFF's top songs of last week it's Hozier, Vance Joy, Walk The Moon, Bleachers, Andrew Mcmahon In The Wilderness and The War on Drugs. Though don't read too much into the "alternative" vs triple A issue: it's apparently being cross marketed to both formats.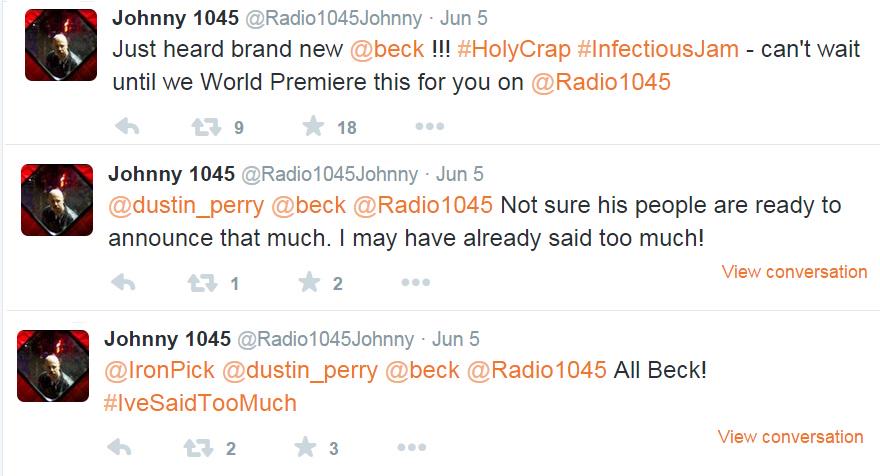 The track in question is called "Dreams" and has been confirmed to be released by Capitol and Beck's own Fonograf label to radio on June 15th. A few details and descriptions dripped out on twitter on June 10th. First 91.3 WYEP Pittsburgh's music director and midday DJ Kyle Smith announced he will play it at noon on June 15th. Soon after that Rolling Stone's Will Hermes tweeted (then deleted), "Just heard new Beck song. No Morning Phase retread here; more like Tame Impala playing pétanque with fun. on ayahuasca."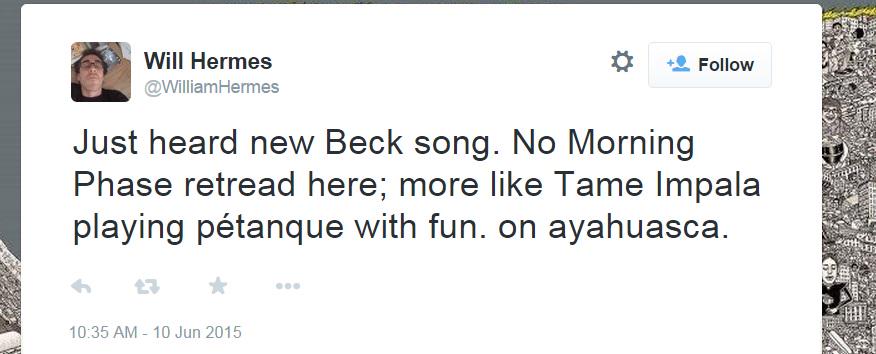 Could this be the mystery soundcheck song from last month? If you listen closely in the video above to the section that starts at around 47 seconds it sounds like Beck sings the word "dreams" a few times within the muffled lyrics. Additionally, it just makes sense. Beck's tour resumes on June 16th and 17th in Ireland and London's Hyde Park on the 18th. The timing of three shows in the three days directly following "Dreams" release suggests Beck may be planning to debut it live at that point. If that's the case, of course they would take advantage of a soundcheck to rehearse it.
As the old saying goes, one man's MGMT is another's Tame Impala on ayahuasca….
Stay tuned.