Updated March 5th
From February 27th through March 2nd, 1969 The Grateful Dead played four consecutive nights at the Fillmore West. The run was recorded and edited down to the Live/Dead, the first rock live album recorded with a 16-track console. This technical breakthrough, combined with the Dead's peerless exploratory live improvisation presented on one of their official releases for the first time made it an instant rock landmark. Most legendary of all was the "Dark Star" that comprised the entirety of side A. Collective improvisation at this level, at this intensity, for this long set Live/Dead apart from any prior live album and disguised both that specific performance and the February 27th show it was culled from a fixture in Deadlore. February 27th was also the source for "St. Stephen" on Live/Dead and various other tracks that have been both officially released and bootlegged over the years on So Many Roads (1965–1995), Fillmore West 1969, Long Strange Trip (Soundtrack), The Best of the Grateful Dead Live and elsewhere. The entire February 27th concert was released in 2005 as part of Fillmore West 1969: The Complete Recordings, a 10 CD, limited edition of 10,000 box set; and several fan recordings can be streamed on archive.org (included this soundboard, as well as this one).
Now The Grateful Dead are releasing Fillmore West, San Francisco, CA 2/27/69 as a 4 LP (8th side etching) box set for Record Store Day – April 21, 2018. Rhino/Grateful Dead Productions will press 6700 copies for US stores, 9000 worldwide, on 180 gram vinyl. Suggested retail price is  $79.98. See the tracklist, packaging and album cover art below. The complete Record Store Day 2018 list is here, including The Allman Brothers, Pink Floyd, Eric Clapton, Phish, and much more. Follow updates at twitter/TheFutureHeart and facebook/TheFutureHeart, and in the new Record Releases 2018 Facebook group.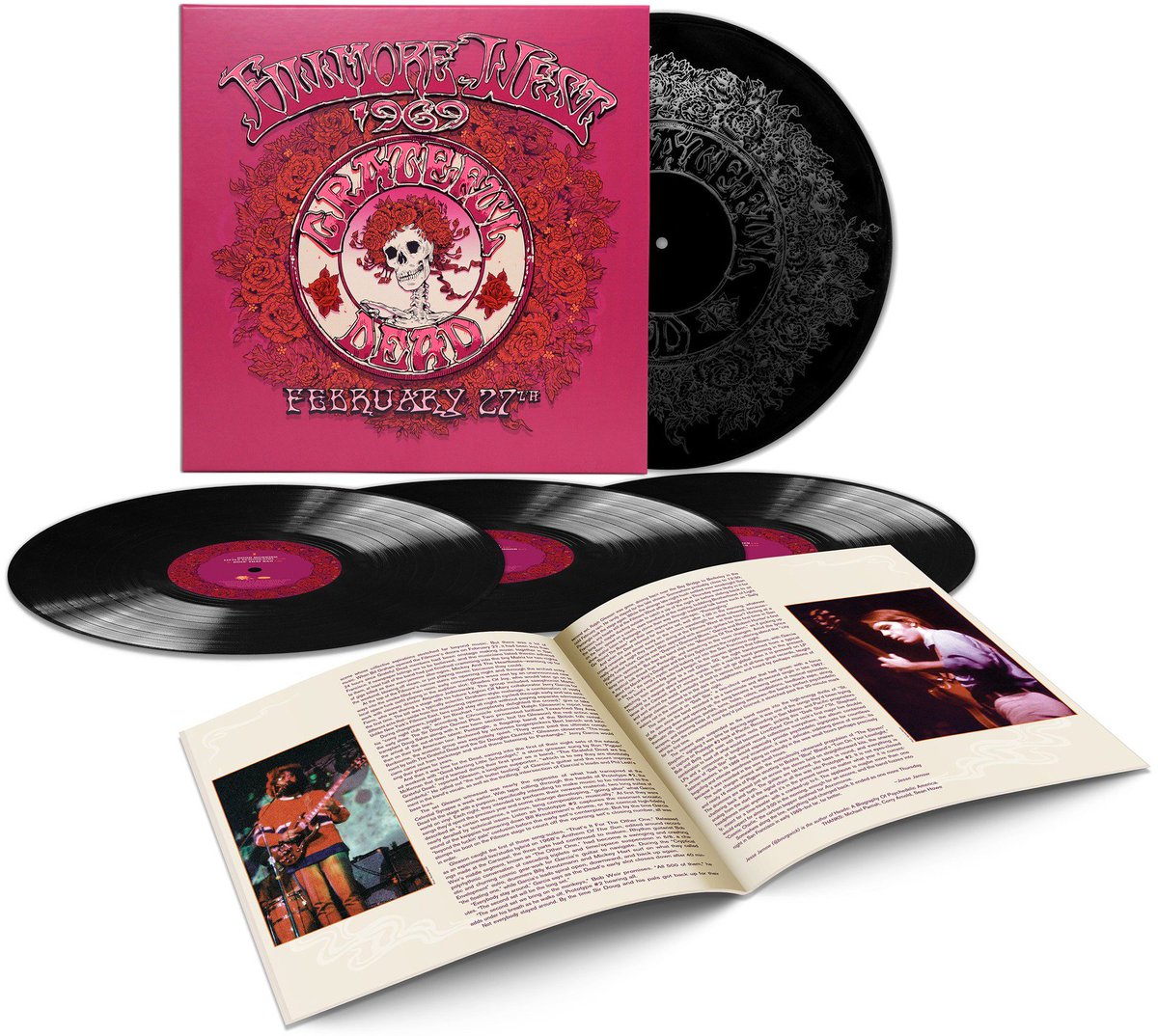 Fillmore West, San Francisco, CA 2/27/69
Side A
1 Slow Train 4:57
2 I Want You 4:04
3 Gotta Serve Somebody 5:51
4 Queen Jane Approximately 6:38
Side B
1 Joey 9:23
2 All Along The Watchtower 6:24
3 Knockin' On Heaven's Door 6:51
There's several other Dead related items also due out Record Store Day. Columbia is reissuing Bob Dylan & The Grateful Dead's Dylan & The Dead. Columbia will reissue 5000 copies of the 1989 live album on red and blue tie-dye vinyl. Suggested retail price is  $19.98. 5000 individually numbered copies of  Jerry Garcia's 1982 album Run for the Roses – his fourth and final solo studio album – will be reissued on  black and orange marbled vinyl on ATO/Round Records. Suggested retail price is $21.98. Verve will press Mickey Hart's 2017 album RAMU on trippy orange vinyl with a suggested retail price of $25.98. And the Wynton Marsalis Septet will release a limited edition 10-inch picture disc featuring John Mayer on the flipside, "I'm Gonna Find Another You" (and Willie Nelson on the A-side, "Night Life"). Blue Engine Records will press 1000 copies as a RSD Limited Run with a suggested retail price of $19.98.