On July 3rd and 5th, 1970 The Allman Brothers Band played sweltering performances at the second annual Atlanta Pop Fest, including guest Johnny Winter on "Mountain Jam." "Statesboro Blues" and "Whipping Post" were immortalized on the 1971 compilation The First Great Rock Festivals Of The Seventies: Isle Of Wight / Atlanta Pop Festival and the entire concerts were officially released in 2003 as Live at the Atlanta International Pop Festival. The blistering sets offer a snapshot the band year before their legendary live album At Fillmore East was recorded. Stream the entire album below.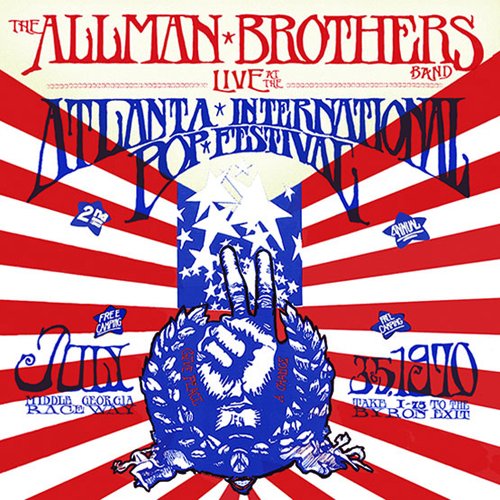 Now these performances are getting the vinyl treatment. Legacy Records will press 3000 copies of Live At The Atlanta Pop Festival out April 21 as a limited edition box set for Record Store Day. Each copy is individually numbered and packaged in an oversize slipcase with an eight page booklet of photos and liner notes. The suggested retail price is $69.98.
Two other Allman Brothers-related records are also out the same day: Dickey Betts Band Live At The Lone Star Roadhouse double LP on RockBeat Records, listed at $34.99, and Gov't Mule 12-inch single "Girl With No Self Esteem" backed with "Bed Of Lies." The Mule single features two previously unreleased tracks from the Revolution Come…Revolution Go sessions and is listed at $10.98. Betts' 2 LP set was recorded in 1988 by a simulcast on Long Island's WLIR. Among the hits: "Blue Sky," "In Memory of Elizabeth Reed," "Jessica," Statesboro Blues," "One Way Out," "Rock 'n Roll Hoochie Coo" with Rick Derringer, "Spoonful" with Jack Bruce and "Southbound." Dickey's band includes Warren Haynes (guitar/vocals), Johnny Neel (keyboard/vocals), Matt Abts (percussion) and Marty Privette (bass).
The complete Record Store Day 2018 list is here. Follow updates at twitter/TheFutureHeart and facebook/TheFutureHeart, and in the new Record Releases 2018 Facebook group.
Live at the Atlanta International Pop Festival
July 3, 1970
Introduction
Statesboro Blues
Trouble No More
Don't Keep Me Wonderin'
Dreams
Every Hungry Woman
Hoochie Coochie Man
In Memory Of Elizabeth Reed
Whipping Post
Mountain Jam Part I
Rain Delay
Mountain Jam Part II
July 5, 1970
Introduction
Don't Keep Me Wonderin'
Statesboro Blues
In Memory Of Elizabeth Reed
Stormy Monday
Whipping Post
Mountain Jam