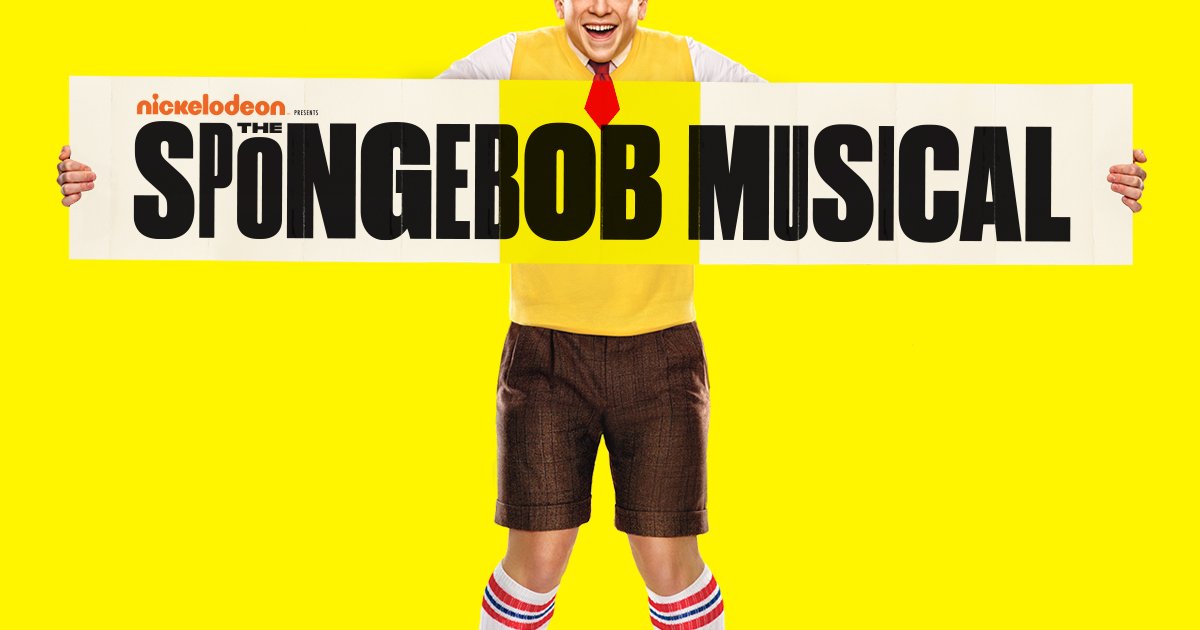 Years in the making, a new musical based on the hit Nickelodeon cartoon series SpongeBob Squarepants is scheduled to premiere June 7th at Broadway in Chicago's Oriental Theatre. Director Tina Landau and book-writer Kyle Jarrow co-conceived the musical, aimed for a New York Broadway run in the 2016-2017 season. Music supervisor Tom Kitt has enlisted an all-star roster of talents to contribute original songs to the production, including David Bowie, Flaming Lips, Alex Ebert of Edward Sharpe and the Magnetic Zeros, Dirty Projectors, They Might Be Giants, Steven Tyler and Joe Perry of Aerosmith, Sara Bareilles, Jonathan Coulton, John Legend, T.I., Lady Antebellum, Cyndi Lauper, Panic! At the Disco, Plain White T's, and more. Each songwriter was given specific lyric and plot points to include in their song by Landau. EW describes the results thusly:
"…an informed but risky guess in assigning each musical act a very specific story beat: T.I. has written a nihilistic, rabble-rousing rap for Plankton akin to 'Ya Got Trouble' from The Music Man. They Might Be Giants gives Squidward his big dance number involving a chorus of tap-dancing sea anemones. John Legend penned a ballad — though Landau clarifies that the only romance in the show is between Plankton and his computer wife."
Landau added that each artist was requested to write in their own style and "not try to do what they think Nickelodeon or SpongeBob would sound like. What's amazing is, when we hear them sung by our performers, you can tell exactly who wrote which song. We really wanted that difference.'"
David Bowie's contribution was not written specifically for the musical but was committed to it by him before his passing to be adapted into the production with additional lyrics by Jonathan Coulton. Bowie has a history with SpongeBob: he famously guest starred in 2007's hit made-for-television musical comedy SpongeBob's Atlantis SquarePantis as the character Lord Royal Highness: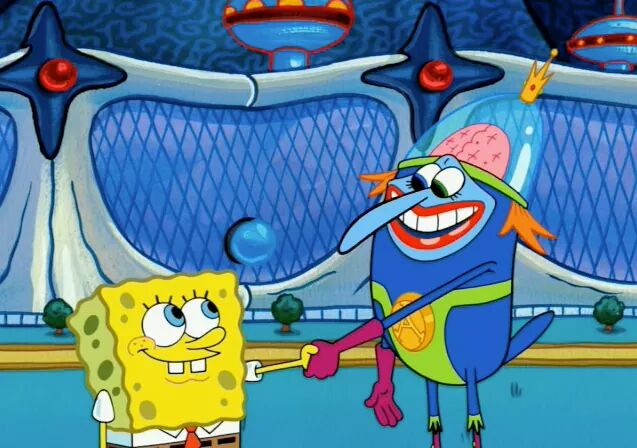 Among other new songs we know a bit about:
The Flaming Lips "Tomorrow Is" was written in January 2014 and is described by frontman Wayne Coyne to "possibly be our greatest song that we've written yet" (whether that's tongue-in-cheek, you be the judge….)
"It's different characters will come in and sing different pieces of the song," Coyne says. The Lips have some experience with live theater: Yoshimi Battles the Pink Robots (the musical) premiered at La Jolla Playhouse in November 2012 and a $10 million Broadway production is reportedly still to come.
The Flaming Lips also have a history with Mr. Squarepants: they not only contributed "Spongebob & Patrick Confront The Psychic Wall of Energy" to the 2004's SpongeBob Movie, they were also the sole artist on its all-star soundtrack to promoted it with a music video (below) and appearances on CNN and Conan. "I really like that SpongeBob SquarePants movie and I like being associated with that thing, too, that was cool," Wayne has said of the project.
Besides the all-star music collaborations, there's a wide range of other attractions integrated into the staging o the new SpongeBob musical: tap and hip-hop dance, juggling, bicycling and skate-boarding. And then there's its decidedly not-cartoony look. "Before there was even a story, from very early on we did movement and physical workshops to explore the idea of whether we could really create these characters onstage without using literal representations of what they look like in the cartoon," Tina Landau told EW at the start of this year of her plans to stage the characters as humans (that is, not puppet-style costumes in intimation of the cartoons). "The DNA is the same but the form is so radically different, we're not approaching it literally. We're not trying to take the cartoon and put it onstage. We're trying to create a live theatrical event.
We brought in different age groups and were most worried [the children] they were going to say, 'But he's not square! The main response was, 'We finally got to see him in real life.' They loved it. They felt they were getting to spend time with him in his authentic form."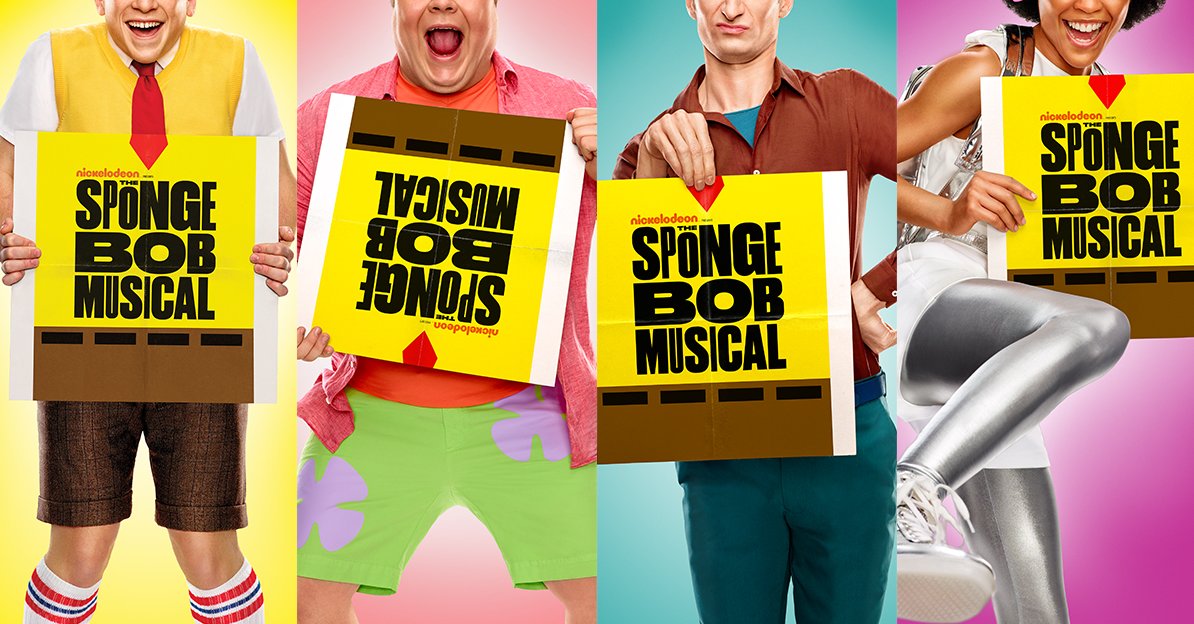 In February the first full song was revealed in the form of a video of Tom Higgenson of The Plain White T's and cast member Ethan Slater performing The Ts new song for the musical "BFF" (follow the link in the above tweet to watch).
A Broadway production of SpongeBob SquarePants has been in the works since 2007 and SpongeBob SquarePants Live! The Sponge Who Could Fly! launched in Singapore that May and traveled to five cities across Asia. In Fall 2007, a Mandarin language version of SpongeBob SquarePants Live! The Sponge Who Could Fly! premiered in China and Hong Kong. The new musical is an original production with the aforementioned new music and a new plot. The storyline follows the citizens of Bikini Bottom over the course of a single day as they learn nearby volcano Mount Humongous is set to erupt at sundown, which beckons…
…SpongeBob to the rescue!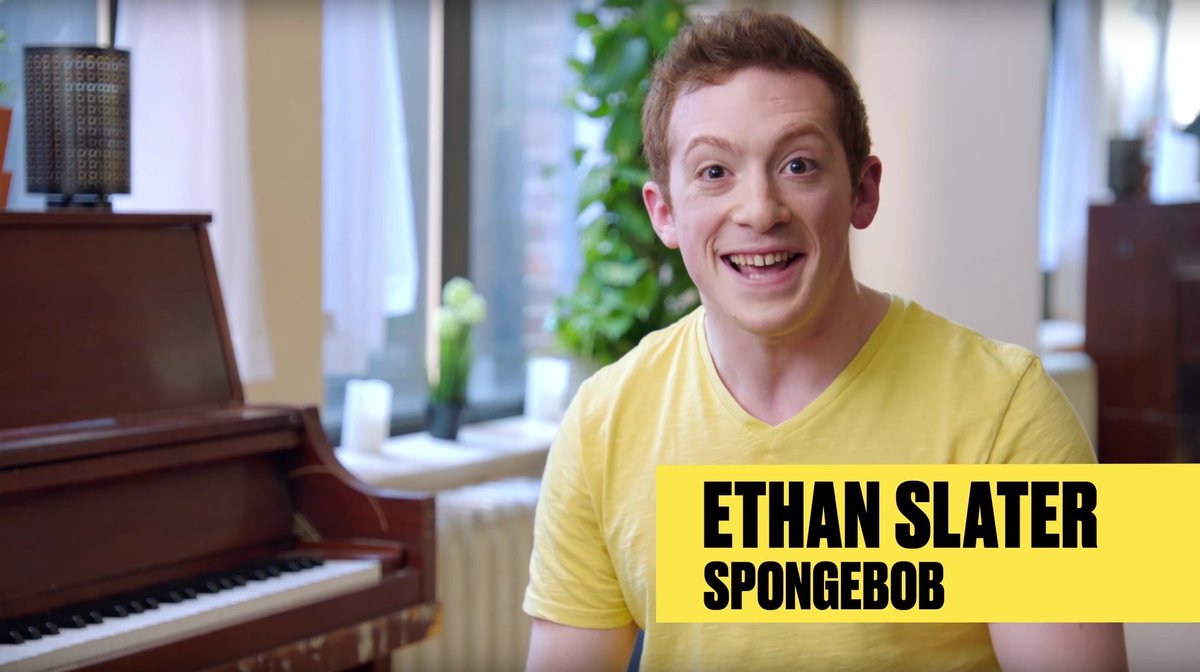 Full casting was announced on April 8th, ahead of the entire cast and creative team meeting for the first time to begin rehearsals on April 11th.
Ethan Slater as SpongeBob Squarepants
Carlos Lopez as Mr. Krabs
Gavin Lee as Squidward
Nick Blaemire as Plankton
Danny Skinner as Patrick
Plus: Gaelen Gilliland, Juliane Godfrey, Curtis Holbrook, Stephanie Hsu, Jesse JP Johnson, L'ogan J'ones, Emmy Raver-Lampman, Mark Ledbetter, Kelvin Moon Loh, Lauralyn McClelland, Vasthy Mompoint, JC Schuster, Allysa Shorte, Jacob Smith, Abby C. Smith, Jason Michael Snow and Allan K. Washington.
Today the production shared an official behind-the-scenes rehersal video (above) – essentially a trailer – with appearances by several of its famous musical collaborator. This follows ABC Chicago's behind-the-scenes from April 1st (below).
TimeOut Chicago is offering a pair of free tickets among various prize packages in a sweepstakes that runs through May 5th.