"The whole thing started because HOTT MT told Wayne [Coyne] they wanted to cover 'This Is The One'," New Fumes' Daniel Huffman tells The Future Heart of The Stone Roses debut album full remake The Flaming Lips created earlier this year with "fwends."  The record is the second in a series of new versions of classic LPs Coyne is overseeing following last year's Playing Hide and Seek with the Ghosts of Dawn – a re-recording of In the Court of the Crimson King featuring New Fumes, Stardeath and White Dwarfs, Linear Downfall, Spaceface and The Flaming Lips covering every song from the 1969 prog milestone. "Last year, [Wayne] got a few bands together and did King Crimson," Steven Drozd explained to MTV in April, "Wayne just loves to collaborate with other bands. He's always working on stuff."  Huffman – a former guitarist for The Polyphonic Spree, longtime Lips confederate, and recent My Bloody Valentine opening act – adds to The Future Heart about the decision to cover The Stone Roses that "Wayne had been trying to decide on an album to cover after that King Crimson record. It seemed an odd choice, but so right."
The Stone Roses covers came together quickly after that, apparently without much fuss – like any fun side project should.   New Fumes and HOTT MT were joined first by Stardeath and White Dwarfs, Spaceface, Depth and Current, and Def Rain.  Then Wayne enlisted Polica,  Peaking Lights, and Jonathan Rado from Foxygen.  Its planned release this past August was delayed by legal issues for months but it's finally due in stores November 29th, with a new cover art (pictured above right) and linear notes. Officially titled The Time Has Come To Shoot You Down…What A Sound and credited to "The Flaming Lips and Friends" 500 multi-color vinyl (some pictured at the bottom of this post) will be available for Record Store Day Black Friday.  Expect a price tag of approximately $36. Details for digital, CD and all non-US versions are still be worked out for TBA future releases.  Only the multi-color vinyl will be on sale November 29th.  The tracklist is below.
UPDATE – November 20th
Our first taste of the album has come in the form of a video New Fumes has uploaded featuring his cover of "I Am The Resurrection." Check it out below and read more details here.
The full tracklist is below, followed by an overview of the making of the album.  New Fumes and The Flaming Lips – particularly Wayne Coyne – were heavily involved in the recording of The Stone Roses remake so some of their lesser contributions go uncredited. For example New Fumes plays a synth line that runs through all of "Don't Stop," though its otherwise a cover by Stardeath and White Dwarfs.  Also note for "Waterfall" Death and Current are listed under Wayne's nickname for them, Blobs Descending From Heaven (though they are credited under their own name on "This is the One"), and another artist is listed on two tracks with anonymous dots.  Also note the original album has been released several times with slightly different tracklists.  "We weren't really sure if [Fool's Gold] was part of the record or not but we added it in because [Space Face's] version was so great," Wayne told Rolling Stone. "It doesn't really have a drum track, they're really good guitar players with a lot of effects and some cool things that we added in."
Side A
1. "I Wanna Be Adored" – HOTT MT – Stardeath and White Dwarfs
2. "She Bangs the Drums" – The Flaming Lips, Polica, New Fumes
3. "Waterfall" – Blobs Descending From Heaven – HOTT MT – Stardeath
4. "Don't Stop" – Stardeath and White Dwarfs
5. "Bye Bye Badman" – New Fumes – Def Rain
6. "Elizabeth My Dear" – New Fumes – The Flaming Lips
Side B
7. "(Song for My) Sugar Spun Sister" – HOTT MT
8. "Made of Stone" – Stardeath and White Dwarfs – The Flaming Lips
9. "Shoot You Down" – Peaking Lights
10. "This Is the One" – Depth and Current – Jonathan Rado (Foxygen) – The Flaming Lips
11. "I Am the Resurrection" – New Fumes
12. "Fools Gold" – SpaceFace
https://soundcloud.com/surfingelectrode/sets/the-time-has-come-to-shoot-you
https://twitter.com/theflaminglips/status/290950478412513280
HOTT MT – the "LA weirdos" who entered Coyne's life by appearing at his door, uninvited, bearing gifts for his 51st birthday in January 2012 and ended up recording "2012 (You Must Be Upgraded)" with him –  returned to Coyne's home this past January for his 52nd birthday.  And thus begins the story of the new Stone Roses cover album:
Much of the recording was completed within weeks of Coyne and HOTT MT setting the project into motion. HOTT MT and New Fumes took a crack at "I Am The Resurrection," the former mixed "I Wanna Be Adored" with Stardeath and White Dwarfs, and the latter worked on "Bye Bye Badman" (all of which is shown in the below video). Soon Oklahoma shoegazers Depth and Current (or as Wayne calls them, "Blobs from Heaven") joined the project, and Polica's Channy Leaneagh was recruited for Madchester anthem "She Bangs The Drums."
By March the album was "almost done," according to Coyne in his Rock it Out! Blog interview (watch here). "I have a studio at my house and whenever groups are in there I'll say, 'hey you gotta spend like an hour…you gotta do a song for me. And sometimes it's just a song, sometimes we kind of have an agenda."
The Stone Roses and parts of (The Flaming Lips' major label début) Hit to Death in the Future Head share similar sensibilities – one of the prime reasons fans of both groups are curious about the new record. Coyne though isn't quite the Roses fan one might suspect. "I don't really love them but I guess I do by loving their music," Wayne told The Sun in April, adding that their debut is "virtually the same song over and over again." Considering repetition a bit more he continued, "if you like one song, you'll probably like all of them. If you hate one, you'll hate them all. Dark Side Of The Moon is like that and so is The Terror."
Since then Coyne has added more fwends to the project: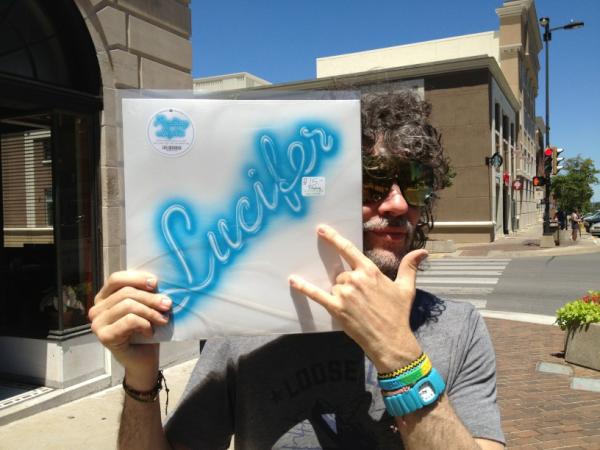 When the collaboration circle spread out from the initial crew – Coyne, HOTT MT, New Fumes – one of the first suggestions was Peaking Lights, who ended up covering "Shoot You Down." Ultimately HOTT MT recorded "Waterfall" and "Sugar Spun Sister" for the new LP, while Depth And Current took on "This Is The One" with Foxygen. Stardeath and White Dwarfs – who previously recorded Dark Side of the Moon with the Lips and covered "In the Court of the Crimson King" for Playing Hide and Seek – have one of the album's highlights, "Don't Stop," as well as "I Wanna Be Adored" (with Coyne and HOTT MT) and "Made of Stone." LP closer "Fools Gold" is covered by Spaceface, the main band of touring Lips member Jake Ingalls.
New Fumes was involved in recording nearly half the album, most notably "I Am the Resurrection," "Bye Bye Badman" with Def Rain, and "She Bangs the Drum" with the Lips and Polica. "Wayne was definitely in charge of the general overall mix and production," he tells The Future Heart.
The cover original LP jacket was…
. . . vomit and blood?
The vinyl were pressed for release in August, Wayne Coyne reporting at the time they would "be sold to cool record stores and will sell out within a few days !! Only makin 500 copies!! All the money goes to ACM and Humane Society!!!"
Daniel Huffman, who physically made the vinyl, confirmed they would be "at independent record stores sometime in the next week or two."  Then plans changed, it got delayed and in the intrirm new record sleeves with new art were made.  Today it was announced it will finally be released on Record Store Day Black Friday November 29th.  As of now it is a vinyl-only release, though a future digital release is very possible.  "There are rumors floating about a UK release," according to Depth and Current. Get a glimpse of the multi-color vinyl designs in the below tweets.  No two copies of the record look the same.