"Who would have imagined that you'd need a Record Store Day?" Wayne Coyne mused to Spinner in 2010.  "Back in the day, every day was record store day if you go to a record store.  Now it's a very strange phenomenon — 'ooh there's one day where you go to the records store."  In the three years since Wayne's comment Record Store Day has spawned a second date, Black Friday.

Founded in 2007, Record Store Day rapidly grew to be a much anticipated annual tradition for music fans and vinyl collectors every April.  This year there was over 350 releases – compared to just ten at the first event in 2008.  In the same time annual vinyl sales have risen yearly, outpacing digital sales growth in 2012 with a 17.7% increase (4.55 million units total according to Nielsen SoundScan via Billboard).  The success rate was too great to limit to just one day a year, so a mini-Record Store Day was added the day after Thanksgiving in 2011.
Which brings us to the several special releases going on sale this Black Friday.  Among them: Nick Cave and the Bad Seeds' double vinyl Live at KCRW; two songs from U2 – their first new music of this decade – Ordinary Love and Breathe from the upcoming film Mandela: Long Walk To Freedom; Nick Lowe's new holiday album Quality Street 12″ picture disc; Charles Bradley with Budos Band and the Bullets cover Black Sabbath's "Changes" on a new 7″ b/w "Ain't It a Sin;" and unreleased performances of the Jimi Hendrix Experience live at the 1968 Miami Pop Festival on a collectors 7″. Another hoghlight is Zabriskie Point's soundtrack – featuring Pink Floyd and the Grateful Dead – re-release as a double vinyl set.  The Dead are also issuing their 1970 acoustic set Family Dog at the Great Highway on vinyl for the first time.  Additionally Widespread Panic are releasing a book, Poster Children–The Artwork of Widespread Panic and there's free Baroness' Black Friday posters at participating stores.
Zabriskie Point's soundtrack – featuring Pink Floyd and the Grateful Dead – is being re-released as a double vinyl set.  The Dead are also issuing their 1970 acoustic set Family Dog at the Great Highway on vinyl for the first time.
Perhaps the coolest new release though is Mystical Weapons' Crotesque – a live album by the improvisation duo that is Sean Lennon and Deerhoof's Greg Saunier.  They are joined by multi-instrumentalist Shahzad Ismaily for this set, originally broadcast on WNYC's "Spinning on Air" at the start of this year (circa the release of their eponymous debut LP – one of the 2013's best).  Crotesque features 20 minutes of the set on one-sided vinyl exclusively for Record Store Day Black Friday 2013 as a one time pressing of 1,500 units with an original illustration by Sean screen-printed on the flip.  In promotion of the new platter they're playing Brooklyn's Union Pool on December 5th (get your tickets here).
Click here to stream the digital only bonus track "Live in Iceland."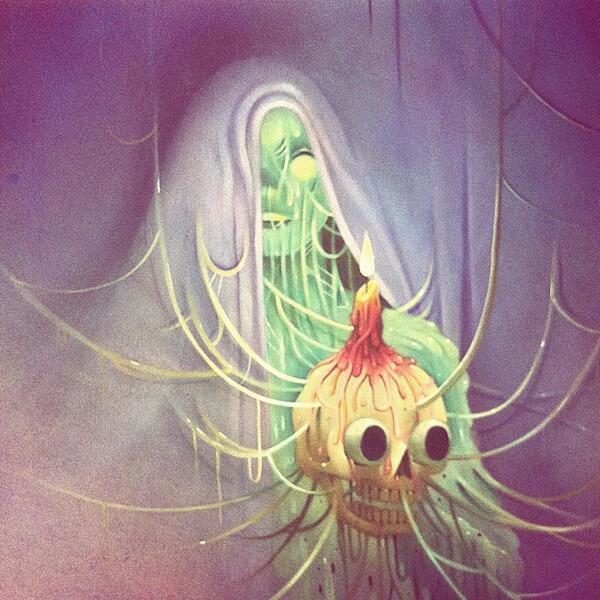 As Record Store Day has become more of a phenomenon, Coyne and his fellow Lips have become like unofficial "ambassadors," releasing a full LP cover of The Dark Side of the Moon in 2010, Heady Nuggs: First 5 Warner Bros. Records in 2011, Heady Fwends and "A Spoonful Weighs a Ton" "baby pink" split 7″ (with metal titans Mastodon covering the song for the B-side) in 2012 and four vinyl edition of Zaireeka this year.  It was only a matter of time before they jumped into the Black Friday version of Record Store Day, and they do so in a big way this year with several releases.  First there's Peace Sword – their Ender's Game associated EP – out on 12″ vinyl and CD.  Even though this is technically the only Record Store Day Black Friday release from the Lips, there's several other items out from the band on November 29th. Come To Shoot You Down…What A Sound is a remake of the Stone Roses entire debut LP with New Fumes, HOTT MT, Stardeath and White Dwarfs, Spaceface, Polica, Depth and Current, Def Rain, Peaking Lights, and Jonathan Rado of Foxygen.  Only 500 multi-color vinyl have been pressed by New Fumes so best of luck getting a copy – you'll need it!  Next there's Peace and Paranoia a 12″ split EP with Tame Impala pressed, also with multi-color vinyl designs by New Fumes.  Several hundred copies have already sold and about 1500 will be available at indie record stores on Friday.  They're also issuing a previously unreleased 1983 demo tape on 7″ along with a toy frog audio recorder in celebratation of their 30th anniversary (most copies of the 7″ will be released without the frog on December 24th, the same day they re-releasing their debut 12″).  Check out pictures and lots more info on the frog and other 30th anniversary Lips releases here.
The most anticipated and unique Black Friday items are highlighted below, followed by a complete release list.  Click on the release title for more details.
| | |
| --- | --- |
| . | |
| | |
| --- | --- |
| | |
| | |
| Flaming Lips and Tame Impala | |
| | |
| | |
| | |
| | |
| | |
| --- | --- |
| | |
| | |
| --- | --- |
| | |
| | |
| --- | --- |
| | |
| | |
| --- | --- |
| | |
| | |
| --- | --- |
| | |
| | |
| --- | --- |
| | |
| | |
| --- | --- |
| | |
| | |
| --- | --- |
| | |
All Record Store Day Black Friday Releases
-Joseph Arthur, The Ballad of Boogie Christ Act 2 CD
-Atlas Genius, So Electric! When It Was Now (The Remixes) vinyl LP
-The Bad Things, "Anybody" 7-inch vinyl
-Band of Horses, "Live at The Ryman" 7-inch vinyl
-Brendan Benson, You Were Right vinyl LP
-Blackberry Smoke/Lynyrd Skynyrd, Lynyrd Skynyrd & Blackberry Smoke Live 12-inch vinyl
-Blind Boys of Alabama/Jason Isbell & John Paul White, "Christmas in Dixie/Old Flame" 7-inch vinyl
-Brandi Carlile/The Lone Bellow, "Live Split" 7-inch vinyl
-Charles Bradley ft. Budos Band and The Bullets, "Changes B/W Ain't it a Sin" 7-inch vinyl
-Cheap Trick, The Classic Albums 1977-79 12-inch vinyl box set
-Chocolate Milk, Action Speaks Louder Than Words 12-inch vinyl
-Civil Wars, "Between the Bars" 10-inch vinyl
-Gene Clark, Here Tonight: The White Light Demos vinyl LP
-Clash, The Clash CD
-Clash, Give 'Em Enough Rope CD
-Clash, London Calling CD
-Clash, Sandinista! CD
-Clash, Combat Rock CD
-Dave Matthews Band, Live Trax Vol. 2: 9-12-04 Golden Gate Park, San Francisco CA 12-inch vinyl box set
-Dave Matthews Band, Live Trax Vol. 3: 8-27-00 Meadows Music Theater, Hartford CT 12-inch vinyl box set
-Miles Davis, Kind of Blue vinyl LP
-Miles Davis, Miles & Monk at Newport vinyl LP
-Miles Davis, Jazz Track vinyl LP
-Dawes, Stripped Down at Grimeys vinyl LP
-Dawes, Stripped Down at Grimeys CD
-Lana Del Ray, Born to Die 12-inch vinyl picture disc
-Devin Townsend Project, "Lucky Animals" 10-inch vinyl
-The Doors, Curated By Record Store Day vinyl LP
-Duran Duran, "No Ordinary EP" 10-inch vinyl
-Bob Dylan, Side Tracks vinyl LP
-Elvis Costello & The Roots, Wise Up: Thought Remixes and Reworks CD
-Failure, Magnified vinyl LP
-Fall Out Boy, "Paxam Days" 7-inch vinyl
-Flaming Lips, Peace Sword CD
-Flaming Lips, Peace Sword vinyl LP
-Fleshtones, "Available B/W Let's Live" 7-inch vinyl
-Foals, CCTV Sessions vinyl LP
-Grateful Dead, Family Dog at the Great Highway vinyl LP
-Jackie Greene, "Small Tempest" 10-inch vinyl
-Hard Working Americans, "Don't Wanna Hurt Nobody" 7-inch vinyl
-Lou Hickey, True Love Ways vinyl LP
-Michael Hurley, "Watertrain/Black & Yellow Bee" 10-inch vinyl
-Jack Johnson, Live at Third Man Records 6-15-13 vinyl LP
-Jethro Tull, Benefit vinyl LP
-Jimi Hendrix Experience, "Fire/Foxey Lady" 7-inch vinyl
-John Denver & The Muppets, A Christmas Together 12-inch picture disc
-Ernie Kovacs, "A Percy Dovetonsils Chrithmath" 10-inch picture disc
-Lady Gaga, Applause Remix Picture Disc 12-inch picture disc
-Ladytron, Gravity the Seducer Remixed vinyl LP
-Sondre Lerche, Public Hi-Fi Sessions 12-inch vinyl
-Life of Agony, River Runs Red vinyl LP
-Nick Lowe, Quality Street 12-inch picture disc
-Low / Shearwater, "Stay / Novacane" vinyl LP
-Joseph Mansfield, Beat Box: A Drum Machine Obsession book
-Metallica, Through the Never Soundtrack Special Edition vinyl LP
-Mystical Weapons, Crotesque vinyl LP
-Nas, "Halftime" 12-inch vinyl
-Nick Cave & The Bad Seeds, Live At KCRW vinyl LP
-Nick Cave & The Bad Seeds, Live at KCRW CD
-Harry Nilsson, Rarities Collection vinyl LP
-Nirvana, In Utero 2013 Mix vinyl LP
-NONONO, Pumpin Blood EP CD
-Roy Orbison, The Monument Vinyl Box 12-inch vinyl box set
-Van Dyke Parks, "Come to the Sunshine / Farther Along" 7-inch vinyl
-Puscifer, Puscifer's 8-Ball Bail Bonds—The Berger Barns Live in Phoenix vinyl LP
-Queens of the Stone Age, …Like Clockwork (Black on Black) vinyl LP
-Red Hot Chili Peppers, I'm Beside You vinyl LP
-Replacements, All Shook Down vinyl LP
-Robbie Hill's Family Affair, Gotta Get Back: The Unreleased L.A. Sessions 12-inch vinyl
-Robert Glasper Experiment, "Porter Chops Glasper" 10-inch vinyl
-Rockabye Baby!, Lullaby Renditions of Pearl Jam vinyl LP
-Rolling Stones, "Got Live If You Want It" 7-inch vinyl
-Rush, "The Garden" 10-inch picture disc
-Silversun Pickups, "Let it Decay / Working Title" 10-inch vinyl
-Paul Simon, Paul Simon vinyl LP
-Paul Simon, There Goes Rhymin' Simon vinyl LP
-Paul Simon, Still Crazy After All These Years vinyl LP
-SKATERS, "Deadbolt" 7-inch vinyl
-Sly & The Family Stone, "Sexy Situation B/W Mother is a Hippy" 7-inch vinyl
-The Standells, "Zebra in the Kitchen / Someday You'll Cry" 7-inch vinyl
-Andy Starr, "Rockin' Rollin' Stone" 7-inch vinyl
-Stone Temple Pilots, Core vinyl LP
-Surfaris, "Wipe Out / Surfer Joe" 7-inch vinyl
-Tegan & Sara, "Guilty as Charged / I Run Empty" 7-inch vinyl
-Josh Tillman, The History of Caves (Soundtrack) vinyl LP
-Trigger Hippy, Trigger Hippy 10-inch vinyl
-Townes Van Zandt, Sunshine Boy: The Unheard Studio Sessions & Demos 1971-1972 12-inch vinyl box set
-U2, "Ordinary Love" 10-inch vinyl
-Uncle Tupelo, "I Wanna Be Your Dog / Commotion" 7-inch vinyl
-Upsetters, Super APE vinyl LP Black Friday etched version
-Various Artists, Fragments of a Year CD
-Various Artists, Hot Wacks -Vinyl Fall Compilation 2013 vinyl LP
-Various Artists, I Am the Resurrection: A Tribute to John Fahey vinyl LP
-Various Artists, Ten Big Stiffs 7-inch vinyl box set
-Various Artists, Truth & Soul Records Presents The Soul Fire Box Set 7-inch vinyl box set
-Various Artists, A Musical Tribute to the Songs of Shel Silverstein vinyl LP
-Various Artists, Zabriskie Point Original Motion Picture Soundtrack vinyl LP
-Vince Guaraldi Trio, "Linus and Lucy" 7-inch vinyl
-Vitamin String Quartet, Vitamin String Quartet Performs Radiohead's In Rainbows vinyl LP
-Widespread Panic, Poster Children—The Artwork of Widespread Panic book