Last month Chuck Berry celebrated his 90th birthday and announced a new album – his first in four decades – the same day. Bravo. Last week Tony Bennett, also 90, sang in the Macy's Thanksgiving Day Parade. Bravo. But Berry and Bennett are mere children compared to the oldest, accomplished professional musician alive today. That distinction goes to Viola Smith.
In a year marked by deaths of musicians from the relatively young (Prince, Sharon Jones, Phife Dawg, NIN's James Woolley, Surfer Blood's Thomas Fekete, P.M. Dawn's Prince Be) to some of the oldest (Kay Starr died earlier this month at 94; Toots Thielemans was the same age when he passed in August; Thomas Round died two weeks shy of his 101st birthday last month; Ralph Stanley, The Weavers' Fred Hellerman and Mose Allison all departed at 89 in June, September and November respectively), it's a relief to remember there are renown musicians active today in their nineties and beyond. At the bottom of this post is a list of the oldest, living music-makers of notoriety – but first a tip of the hat to the artist that tops that list, Viola Smith. She turns 104 today!
After getting her start in the 1920s in the Schmidt Sisters, a family orchestra founded by her father, Smith started the all-woman orchestra The Coquettes in 1938 with her sister, saxophonist/clarinetist Mildred Bartash. Viola turned down an offer from popular big band leader Woody Herman to play in his group Thundering Herd to continue with The Coquettes, but her band disbanded in 1941 and the following year she joined Phil Spitalny's Hour of Charm, a very successful female orchestra which she stayed with until they broke-up in 1954. With a radio program broadcast nationally every Sunday on CBS (1935, 1946-48) and NBC (1936-46), appearances in movies and later on television, Hour of Charm were so popular from the mid-1930s through the mid-1950s that Spitalny was referenced in an episode of I Love Lucy. (A fascinating, well-researched article on the group can be read here. Sherrie Tucker's book Swing Shift: All-Girl" Bands of the 1940s, is also recommended both for its in depth appraisal of Spitalny, and the broader context of all-women orchestras of the big band era. Read excepts here). Watch Smith explain her career moves and more in the 2013 interview above.
Among Viola Smith's professional accomplishments:
Featured on the cover of Billboard magazine in 1940
Made her silver screen debut in Warner Brothers' 1940 short Frances Carroll & the Coquettes (subsequently featured in the 2002 documentary Added Attractions: The Hollywood Shorts Story). The original nine minute short featured the band playing five songs (watch here), highlighted by Smith's drum solo on "Snake  Charmer" (watch here).
Published an article for Down Beat magazine in 1942 entitled "Give Girl Musicians a Break!"
Appeared in the 1942 movie When Johnny Comes Marching Home 
Appeared in the 1945 Abbott & Costello movie Here Come the Co-Eds
Performed at the inauguration celebration of President Harry S. Truman in Washington, D.C. in 1949
Toured America with various bands for decades
Led her own band (after Hour of Charm disbanded), Viola and her Seventeen Drums
Played on Ed Sullivan's TV Show five times
Was a WFL Drum Company and Ludwig endorser. She remains Zildjian's longest running endorser.
As a member of the Kit Kat Band was the onstage drummer from 1966 to 1970 for the original 1960's Broadway production of Cabaret
Featured in the 2011 documentary The Girls in the Band
Still plays today, recently performed with Forever Young: America's Oldest Act of Professional Entertainers and is the drummer for a band in her home community.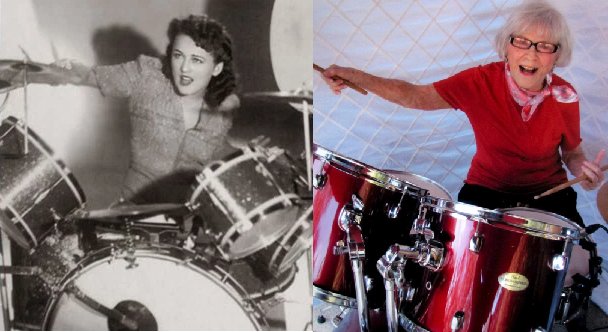 List of the oldest, famous music makers alive today and their birthdates:
Viola Smith – November 29, 1912
Vera Lynn – March 20, 1917
Dave Bartholomew – December 24, 1920
Doris Day – April 3, 1922
Eugene Wright – May 29, 1923
Bob Dorough – December 12, 1923
Sammy Nestico – February 6, 1924
Marshall Allen – May 25, 1924
Roy Haynes – March 13, 1925
Mac Wiseman – May 23, 1925
Sue Thompson – July 19, 1925
Tony Bennett – August 3, 1926
Chuck Berry – October 19, 1926
Freddie Hart – December 21, 1926
Harry Belafonte – March 1, 1927
Big Jay McNeely– April 29, 1927
Ed Ames – July 9, 1927
Lee Konitz – October 13, 1927
Fats Domino – February 26, 1928
Burt Bacharach – May 12, 1928
Vic Damone – June 12, 1928
Joe Messina – December 13, 1928
Jimmy Cobb – January 20, 1929
Benny Golson – January 25, 1929
Cecil Taylor – March 25, 1929