"A Day in the Life" famously intertwines songs John Lennon ("I read the news today…") and Paul McCartney ("Woke up/ Got out of bed…") had written independent of each other. "A Day in the Life's" basic track had an empty 24 bars connecting their two songs, each counted out by assistant Mal Evans (originally recorded as merely a guide vocal but kept in the finished recording with added reverb effects that gradually increase). Lennon suggested a symphony orchestra fill in the gap, sparking Paul's suggestion that every instrument starts by playing their lowest possible note and builds to reach their highest at the end of the 24 bars. And so George Martin hired and arranged a forty piece orchestra (including David Mason, who had played the piccolo trumpet solo "Penny Lane" and Alan Civil, who played the French horn solo on "For No One") to record the epic overdub on February 10, 1967. Martin specifically instructing them not to synchronize their playing. "A well-schooled orchestra plays, ideally, like one man, following the leader," Martin wrote in his book All You Need Is Ears of the session."I emphasized that this was exactly what they must not do. I told them 'I want everyone to be individual. It's every man for himself. Don't listen to the fellow next to you. If he's a third away from you, and you think he's going too fast, let him go. Just do your own slide up, your own way.' Needless to say, they were amazed. They had certainly never been told that before."
John wanted the orchestra to begin before the 24 bar section, under his line "I'd love you turn you on." So Martin wrote a simply two-note pattern for cellos and violas. "However," Martin wrote in his book, "instead of fingering their instruments, which would produce crisp notes, I got them to slide their fingers up and down the frets, building in intensity until the start of the orchestral climax."
Although this was the largest orchestra ever used on a Beatles recording it was less than half the size of the orchestra Paul had originally suggested. The solution: four different takes were overdubbed on top of each other resulting in 160 instruments ascending out of time from each other on the final recording. What's more, the forty players overdubbed their parts dressed – at The Beatles insistence – in tuxedos decked out with funny hats, silly glasses, red rubber clown noses and the like. Martin recalls in his book:
"After one of the rehearsals I went into the control room to consult Geoff Emerick. When I went back into the studio the sight was unbelievable. The orchestra leader, David McCallum, who used to be the leader of the Royal Philharmonic, was sitting there in a bright red false nose. He looked up at me through paper glasses. Eric Gruenberg, now a soloist and once leader of the BBC Symphony Orchestra, was playing happily away, his left hand perfectly normal on the strings of his violin, but his bow held in a giant gorilla's paw. Every member of the orchestra had a funny hat on above the evening dress, and the total effect was completely weird."
Adding to the party environment, The Beatles invited guests. George Harrison's wife Pattie, Mick Jagger, Keith Richards, Brian Jones, Graham Nash, Donovan, Marianne Faithfull, Mike Nesmith, Anita Pallenberg and The Fool all attended. Finally, they hired a camera crew led by NEMS's Tony Bramwell to film the entire shindig and handed out 16mm cameras to the guests to shoot additional footage.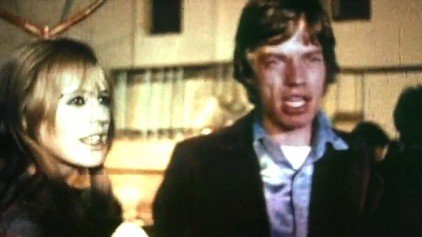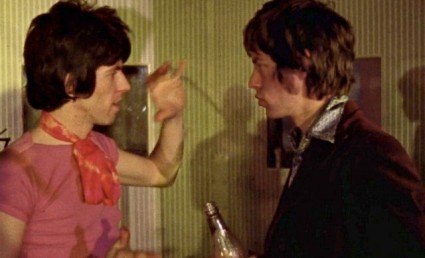 McCartney's friend and "Many Years from Now" co-author Barry Miles recalled the scene from fifty years ago in his book:
"The studio was filled with balloons, and flower children in tattered lace and faded velvet tripped around the room blowing rainbow bubbles. Three Rolling Stones – Brian Jones, Keith Richards and Mick Jagger – accompanied by Marianne Faithfull paraded in King's Road psychedelic finery, with flowing scarves, crushed velvet and satin trousers and multicolored boots. Donovan, the cosmic troubadour, Graham Nash, the only psychedelic member of The Hollies, the Monkee Mike Nesmith, Patti Harrison and dozens of other friends milled around the edge of the room. The four Dutch designers known as The Fool arrived dressed as characters from the Tarot, carrying tambourines and bells, while the mighty Abbey Road air conditioners worked hard to control the rich fragrance of joss sticks and marijuana."