Gimmick title, I know. Sorry.
But seriously, it's February? Already!
With one month of 2017 now behind us I asked various music journalists, bloggers, columnists and the like a simple question, "what music stood out to you in January?" The intention was to get their immediate reaction, a quick response that could be anything: an album, or several; a new song or music video; a mind-melting concert. What pops into mind without having to think?
Likely suspects were named: Foxygen, Spoon, Arcade Fire, Bonobo, Jenny Hval, Moon Duo, The Flaming Lips, et al. But so was plenty of lesser known new music (and in some cases not so new music), all listed below. Every album is linked to a page it can be bought (such as bandcamp or iTunes) and all songs are linked to a stream (YouTube, Soundcloud etc). Thanks to everybody who participated!
Finally, what stood you out to you dear reader? Sound off in the comments below…
Miles Bowe 
"If there was one release from January that really swept me up it was William Basinski's new album A Shadow In Time. The whole thing is conceived as this tribute to David Bowie and is split into two 20 minute sides. The first is this incredible pretty ambient piece, the sort of thing you might call "celestial", but then the second half is very mournful and features this incredible saxophone solo that sounds straight out of the B-side of Low. Together they're just a near-perfect album. I spent the rest of the month obsessing over a band I first heard last year and will put out its debut album at the end of February. They're called Visible Cloaks and are best known for these really amazing mixes of obscure Japanese pop music. Their first album Reassemblage is INCREDIBLE — it somehow reminds me of Oneohtrix Point Never's R + 7, Bladerunner and the Donkey Kong Country soundtracks all at once. I saw the description "Musique plastique" on a track, which is both funny and a good way to describe it. While I'd never exactly call this "catchy," the sounds on here are so jaw-droppingly beautiful and arranged with such precision it hasn't left my mind since I've first heard it."
Miles' superb review of A Shadow In Time for FACT Mag can be read here. Also check out his Best of Bandcamp series, his recent article on Brian Eno's new infinite album and his profile of Spencer Clark. Follow Miles at twitter.com/MilesBowe.
Dave Lucas
"Here are a few things from January by bands I love.
Hiccup – "Teasin'"
Hiccup are awesome. Hallie and Alex play in the house band on the Chris Gethard Show on Fusion (if you haven't watched it, do yourself a favor and check it out here). They're a pop punk trio who make super energetic, catchy music. They have a new album coming out on one of my favorite labels, Father/Daughter Records, and "Teasin'" is the first single, and I love it.
Diet Cig – "Tummy Ache"
I love Diet Cig. They have a few songs out, but their next full length comes out 4/7 on Frenchkiss records and I'm super excited for it. They released "Tummy Ache" earlier this month and it's everything I love about the band: lyrics that sound like they're coming from my own subconscious, memorable melodies, and a vocal delivery I really love from singer Alex Luciano. It's like their songs are equal parts awkward and cool as hell.
Yucky Duster – "Duster's Lament"
This album came out via Infinity Cat's awesome cassette series. (Buy their tape now!). Their songs are funny, I like the way their vocals interrupt each other, and the guitar tone on "Thaw" sounds like something from Roky Erickson's The Evil One."
Dave is marketing manager for Talkhouse, the internet's premier destination for discussions between artists and reviews of music and films by peer musicians and filmmakers. A few recent examples: conversations between Tommy Stinson (The Replacements) and Wayne Kramer (MC5), Andrew W.K. and Dan Deacon, and Wayne Coyne and producer Prince Paul (De La Soul). Dave also plays guitar and writes songs in the band Twiga. Follow him at twitter.com/TwigaMusic.
Sam Shepherd
There's a few things I've heard that I love but they're not out yet…so I guess that doesn't count. The Flaming Lips album Oczy Mlody is great obviously. It took a while to get into it, but there's a lot of depth there, and I think it might just be the best thing they've done since Yoshimi. Avec Le Soleil Sortant De Sa Bouche Pas Pire Pop, I Love You So Much is worth checking out, it's got a wide range of styles and is thoroughly immersive. The new Power Trip tune "Executioner's Tax (Swing of the Axe)" is awesome too, if you like thundering metal onslaught. Right now I'm reacquainting myself with Elvis Costello's King Of America and the re-issue of John Frusciante's To Record Only Water For Ten Days on vinyl which is awesome, although the customs charges were crippling. Finally – the latest GNOD song "Bodies For Money" rules.
Read Sam's reviews for musicOMH of Oczy Mlody (essential reading for Lips' fans) and Pas Pire Pop, I Love You So Much, among others. Read  Sam's preview of new GNOD album Just Say No To The Psycho Right-Wing Capitalist Fascist Industrial Death Machine at Sings The Browns. Follow Sam on twitter at twitter.com/socksinhell.
Psych Insight Music
"Three albums stood out for me in January, they were:
Freak Out Orgasm! by Hibushibire
Invocation And Ritual Dance Of My Demon Twin by Julie's Haircut
Zen Bastard by Earthling Society"
Simon is the man behind Psych Insight Music, an essential reference for staying updated on psychedelic music, especially that of under the radar ilk. Read his reviews of the aforementioned new albums from Hibushibire, Julies Haircut and Earthling Society and follow him at twitter.com/psychinsightmsc.
All Tomorrows Music
"My favorite album was Sampha Process
Song: Julie Byrne "Natural Blue"
Video: Jenny Hval "The Great Undressing"
All Tomorrows Music has perhaps the best Facebook page for direct links (to YouTube etc) of the cream of just-released indie music. Just like their name suggests, their feed is all the tunes that were released today – which is to say, everyday – that will likely be remembered tomorrow. Ditto the twitter feed.
Mark Smotroff
"New Music? Yikes. I'm still playing a bit of catch up on things from last year!
That said… so far into 2017 I'm really liking the new Flaming Lips, Oczy Mlody a whole bunch.
I tend to review a lot of old reissues, so lately I've been reviewing a bunch of the Zappa catalog which came out last year via Universal — those so far have been happily quite excellent. Perhaps the biggest revelation was Joe's Garage which had a major restoration overhaul done on it and the results are significant. My Freak Out and Uncle Meat ("Meat Light" audio documentary) have yet to run, but my reviews of Joe's Garage, Lumpy Gravy and Ruben & The Jets and We're Only In It For The Money have posted as well as some of the CD-only archival issues from the 1972 Grand Wazoo/Wakajawaka era.
The dBs' Peter Holsapple has put out his first solo single in many years ("Don't Mention The War") and its a heart-breaking, heart-warming Band-like homage to a war veteran uncle suffering from PTSD. I really like this one.
I'm loving the first-time-on-vinyl reissues of back catalog by Ireland's Pugwash courtesy of Sugar Bush Records and have their second album Almanac on my radar for review. I reviewed the first reissue of their first album last year.
I've started digging into the King Crimson archival release Radical Action To Unseat The Hold Of Monkey Mind which I finally opened (it came out last year) and it's a pretty amazing document of the 2015 tour with three drummers. It's quite beautiful in places… the show I saw here in San Francisco was a stunner (as most of their shows are but…..well… three drummers!)
I suppose that many people missed Dungen's sort of surprise Record Store Day release called Häxan which is a lovely all instrumental soundtrack type release. I need to spin that one again soon to review it formally.
Oh… one of my fave local bands from the 90s, Creeper Lagoon, has gotten back together! I'm going to see their show here in San Francisco later this month. I'm really hopeful they'll be recording again. Their first album, produced by The Dust Brothers, is still a fantastic listen.
Hmm… That's about it for now. Like I said, I'm kinda backed up and after being derailed a bit by the election, I'm now catching up on things.
Oh… heh heh…. my Kinks Mono LP box just arrived from Popmarket today after some delays…
Stay tuned…"
Among many other pursuits – including creating the rock opera dial with his band ing – Mark writes for audiophilereview.com specializing in commentary specifically for vinyl collectors (very helpful for making purchasing decisions). Want an assessment not just of the music, but also the package? His reviews are what you're looking for (often with photos of the vinyl or sleeve included). Read his audiophilereview.com reviews of Oczy Mlody, Joe's Garage, Cruising with Ruben and the Jets and Lumpy Gravy, We're Only In It For The Money and The Grand Wazoo and Wakajawaka. Follow Mark at twitter.com/Smotroff.
Glide Magazine
Since 2002 Glide Magazine has covered music across genre lines (consider the albums on their "20 Best Albums of 2016" for example). Read Maeri Ferguson's review of Heavy Meta here and follow Glide at twitter.com/glidemag.
Deafen County
"The Belligerents live performance at Sugar Mountain Festival in Melbourne was pretty great. Bambro Koyo Ganda by Bonobo is probably the stand out track."
Think awesome new music coming from the land down under is limited to Tame Impala? Think again, then read Deafen County's "35 Aussie Gems From 2016." Self-described as a "music blog dedicated to quality noise for fuzz sake," follow Deafen County at twitter.com/deafencounty.
Hans Morgenstern
"So far I've really liked Moon Duo's new album [Occult Architecture Vol. 1].
The first interesting music video I've seen this year is No Joy's slyly prescient promo clip for their new song 'Califone'."
Vice chair of the Florida Film Critics Circle, Hans writes about indie music and cinema for a variety of websites including MiamiNewTimes.com and his own Independent Ethos. Follow at twitter.com/Indieethos.
Nathan Poppe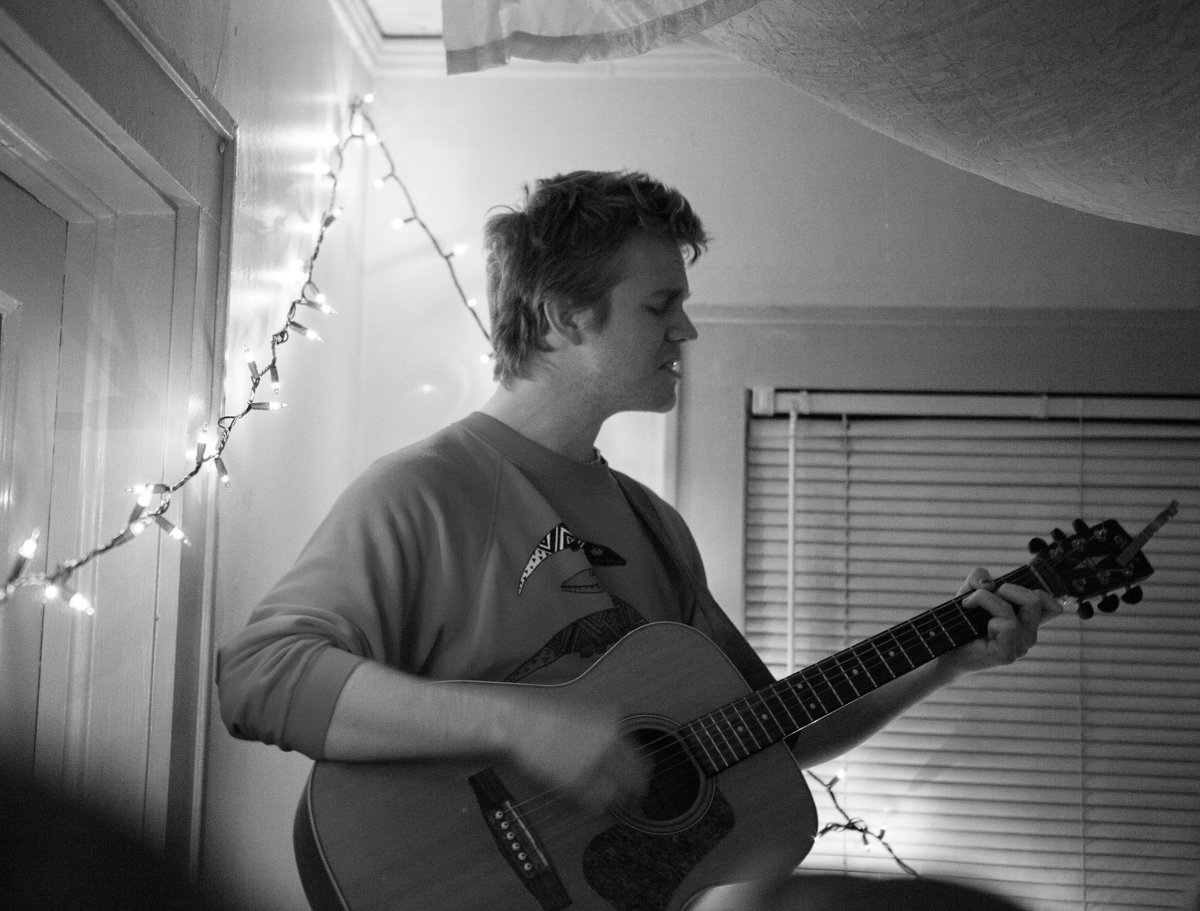 "I've grown into a huge, stinky fan of A Giant Dog. It's a Texas-based punk rock outfit that blends all the best elements of glam, rock and covers it in a gallon of sweat and gasoline. I filmed a live music video with the band's brain trust, Sabrina Ellis and Andrew Cashen. I was tired after but refused to miss them perform at The Opolis in Norman, Okla. I chose wisely and there was a great crowd for a Thursday night. A Giant Dog roared through a boisterously fun set. A Tulsa band called Dead Shakes also killed it on opening duties.
I caught Pinegrove frontman Evan Stephens Hall perform a house show set in Norman. The whole thing was last minute. He was on a road trip and was snaking his way back to New Jersey after picking up his grandma's car in California. Nearly 100 people crammed into a living room to hear him play several unreleased songs and play material off of 2016's excellent Cardinal. You know those shows that remind you why you pursue music in the first place? This was one of them and the very definition of intimate. Evan took a lot of time to talk to fans after the set and was very kind. Just an all-around great experience.
Finally, I love this song from an Okie artist named Carly Gwin. She spends a lot of time fronting a popular '90s cover band, and her original material is stellar. Check out her song, 'The Bottle.'"
Writer/ photographer Nathan Poppe is editor of LOOKatOKC and a reporter for The Oklahoman, as well as house photographer for Oklahoma City's Criterion and the cinematographer behind Spy FM and Fowler Volkswagen's VDub Sessions (in which a band creates a performance video while driving inside a VW van). That's his black and white photo above from the aforementioned Pinegrove show. Read more of what he has to say about Carly Gwin at The Oklahoman and follow him at twitter.com/NathanPoppe.
Wayne Jessup
"In times of trouble, we reach for what comforts us, what gives us strength for the fight ahead. What got me through January was reconnecting with LA's No Age."
Read Wayne's review of No Age's January 25th San Luis Obispo gig at bamnwgan.blogspot and his pieces for The Owl Mag here. That's his video of No Age at San Luis Obispo above. Follow him at twitter.com/waj1.
Alexander Laurence
"I didn't go to many shows in January. Almost none. I saw Devendra, Foxyen on Conan, and this gig in Long Beach.
There are a lot of demonstrations going on. Favorite music doesn't interest me. Same old same old."
Author of numerous book, including Five Fingers Make A Fist, Alexander is founder and editor of Portable Infinite. Follow him at twitter.com/portinfinite. Also recommended: his new interview with White Fence.
Pophistory
"In mid-January, one of my favorite singer-songwriters, Greg Trooper passed away. Since then, I've been revisiting all of his albums, recalling how many great songs he had. I even tracked down one album I didn't have that was out of print. So, I've been listening to his whole catalog, and all of them are excellent. If I had to recommend one to start, I'd suggest his 2015 live album Live At the Rock Room."
Pophistory at Chimesfreedom.com has a unique take on current events: through cultural history. The story of the Mexican workers in California that inspired Woody Guthrie's song "Deportees" for instance, or an article published inauguration weekend about the vice president that co-wrote a hit song. Read his article on Greg Trooper's passing here and follow at twitter.com/pophistory.
Randall Brown
"Nigdy Nie" [from The Flaming Lips Oczy Mlody] is standing out to me. It has minimal 'lyrics' but that bass break in the middle really moves me.
I've also had a strong positive reaction to revisiting Music from The Elder by KISS. Like a suppressed memory has been uncovered. I suddenly realized that it's a favorite album from my early teens."
Downtown Randall Brown writes a weekly column for the USA Today network's Knoxville News Sentinel and fronts the band Quartjar. Here's his recent report on The Flaming Lips' new "Brainville" Rye Whiskey. Follow him at twitter.com/RandallMBrown.
Hype Machine
Zoya Feldman from Hype Machine linked us to Stack, the site's weekly "mix of the most interesting new music on the web, handpicked by the Hype Machine team."
Since 2005 Hype Machine has tracked the new tunes generating buzz on the countless blogs around the world and allowed an easy way to listen to them all. Subscribe to Stack by e-mail here and follow Hype Machine at twitter.com/hypem.
Indie Shuffle
Jason Grishkoff from Indie Shuffle linked us to his monthly playlist which "highlights some pretty unique sounds. And some familiar ones. But mostly unique ones…"