Bethlehem's Musikfest is not a typical music festival.

No expensive tickets, schedule clash nightmares, controlling sponsors or overcrowded audiences, it's nonetheless touted "the largest free music festival in the US" (or, to be more specific, "the nation's largest free, non-gated music festival" or "the largest free music festival in the country based on attendance"). That's not entirely true: each night's main stage headline show is a separately ticketed event, but the remaining 500-plus performances across the other 15 of its 16 stages are open to all at no cost. There's plenty of free parking and even the ticketed shows are a bargain. Case in point: opening night headliners The Flaming Lips played the Sand Steel Stage on Friday, August 7th with two support acts – VoirVoir and CHAPPO – for just $39-$49. That's in addition to the dozens of free performances earlier that day.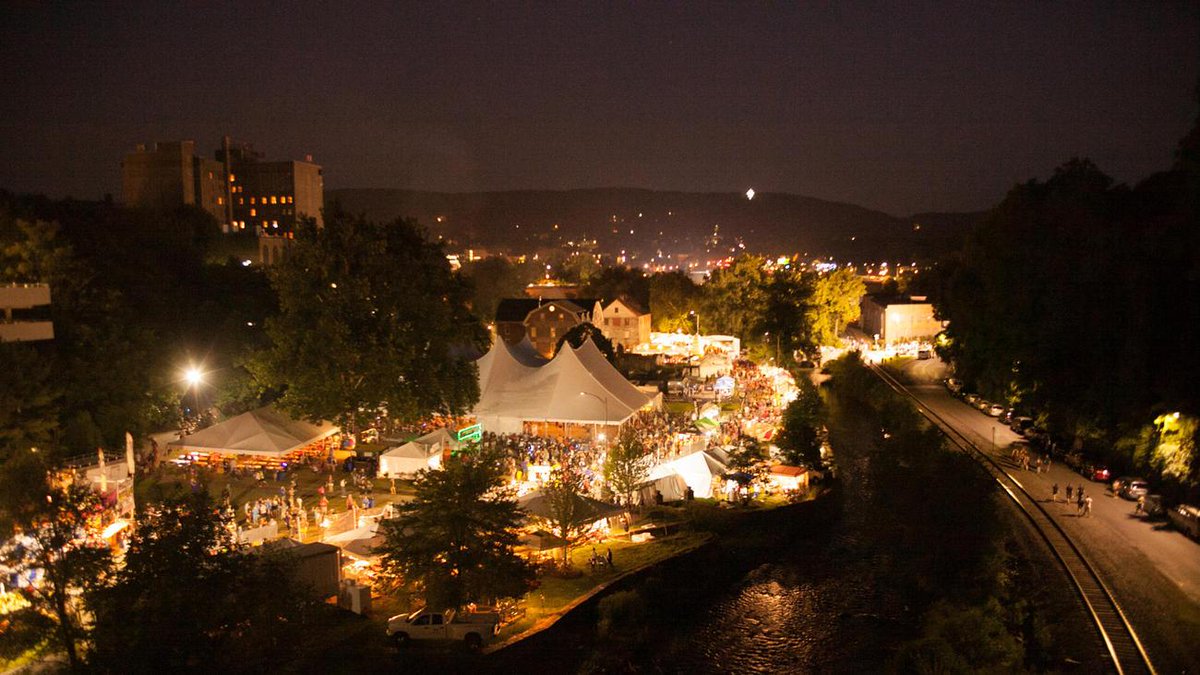 A ten day event held in two areas of the city divided by the Lehigh River, the festivities are spread over enough time and space to never get too congested despite drawing over one million attendees annually in recent years. The stages and vendors in the the north sector are situated between 18th century buildings on historic Bethlehem's cobblestone walkways. The south side of the festival is at the former site of Bethlehem Steel, Cold War America's second-largest steel producer.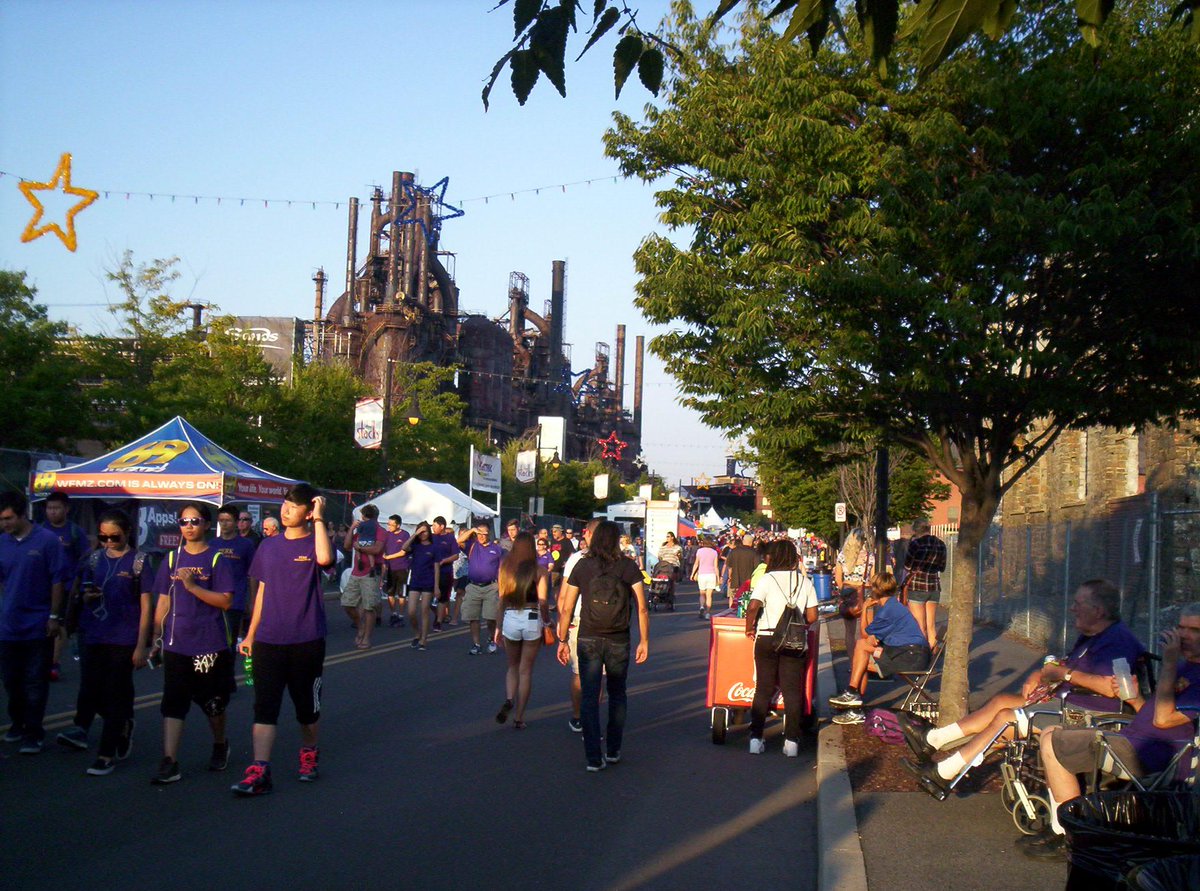 "Such a cool freaky little place," Flaming Lips frontman Wayne Coyne said of Bethlehem on Instagram after playing Musikfest. "It's weird how sometimes in the little towns in America that's where the most freakiest people are." Self-proclaimed "Christmas City USA" and best known throughout the country for its former steel industry (see: Billy Joel's "Allentown"), Bethlehem has a tradition of celebrating a broad spectrum of music dating back centuries. The Bach Choir of Bethlehem, the oldest of its kind in the United States, performed the American premiere of Mass in B Minor in 1900. The choir still exists, and this year hosted their 109th Bach Festival. Visit the same location Musikfest is held in September to hear bagpipes, bodhráns and fiddles at the Celtic Classic, North America's largest free Celtic festival. Return in December for carolers and Christkindlmarkt. Bethlehem is home to both Lehigh University and Moravian College (the sixth oldest college in the United States and the first to educate women), making it a college town of sorts and thus attracting a who's who of touring artists over the decades. Among the legendary shows at Lehigh are David Gilmour's heavily bootlegged July 12, 1984 radio broadcast concert, a popular Nirvana DVD from Kurt Cobain's personal collection that gained notoriety with his passing a few months after the November 9, 1993 gig, a 1979 visit by Elvis Costello and Blues Traveler's October 8, 1995 performance sampled for their Live From The Fall platinum double album. The Grateful Dead played Lehigh's Stabler Arena on September 25, 1981, initiating jam bands proclivity to tour (ie numerous String Cheese Incident performances, Phish, Trey Anastasio, Phil Lesh, Furthur, Bill Kreutzmann, Mickey Hart, Blues Traveler's multiple returns, Umphrey's McGee, moe., moe., and mo' moe). Music videos by Whitney Houston, Bon Jovi and Breaking Benjamin were filmed in Stabler Arena as well. C. F. Martin & Company make their world famous Martin guitars in nearby Nazareth and presented the Bethlehem Guitar Festival with Moravian from 2000 through 2012. Moravian has also hosted performances by many world music virtuosos, master classes by jazz and classical stars (Yo Yo Ma, Wynton Marsalis) and an annual July Jazz Getaway from 1993-2006 (for adult amateurs to jam in a fantasy camp type scenario with musicians like David "Fathead" Newman, Ray Charles' famed saxophonist). Bethlehem was also the site of all but two NEARFests, a weekend progressive rock festival held annually from 1999 through 2012.
Local nonprofit ArtsQuest is behind many of Bethlehem's music, arts and cultural events, including Musikfest and The Levitt Pavilion Summer Concert Series' dozens of free shows from May through September. ArtsQuest also host ticketed concerts at Steel Stacks, the former site of Bethlehem Steel's home plant that's been converted into a ten-acre area for live music, cultural and family events. Upcoming shows include Polyphonic Spree, Dave Davies, Bela Fleck & Abigail Washburn and Dr Dog. Aside from the great artists booked, the location itself is special: Bethlehem Steel's abandoned mills are still standing, albeit rusted, though that only adds to their uniqueness as a backdrop for concerts. Impressive they are, pictures don't fully capture how large the stacks are in person towering over the stages. There's also steel used decoratively throughout the area, including a bar continuously lit on fire above one of the streets.
https://instagram.com/p/6Ls64yEhyv/
Started by ArtsQuest in 1984 to highlight the area's talent and history in a recover effort from the closing of Bethlehem Steel, Musikfest has grown to encompass – in Artsquest current Senior Director of Communications Mark Demko's words – "Afrobeat to zydeco; classical and country to rock and reggae." This includes the international touring acts that have headlined recent years – among them MGMT, Peter Frampton's Guitar Circus (featuring B.B. King, Sonny Landreth and others), The Avett Brothers and Weezer – though it's still fundamentally a community festival. The grounds are full of artisans and private food vendors, children's art and craft activities and local organizations' community outreach tents and interactive booths. For many attendees Musikfest is more about the food and beer than the music. This year's 32nd annual Musikfest is the biggest yet for music and other activities alike. ArtQuest's first year president and CEO Kassie Hilgert is aiming to expand its national draw as a music festival even further though, to the level of South by Southwest. Bookended by The Flaming Lips and Alice in Chains, with a pre-fest show by Duran Duran, 2015 sees the addition of comedians (Jerry Seinfeld in the house), a 16th stage (Hotel Bethlehem Platz, for acoustic and jazz acts), buskers and acrobats downtown (Fire Guy from Toronto incorporates fire into skateboarding tricks; The Red Trouser fire juggling acrobatics; and acrobat-bagpiping-beatboxing unicyclist Kilted Colin), two New York-based contemporary dance artists in residence, the most street performers in the history of the festival and a creativity tent and 200-foot zip line for the kids.
The addition of big names and many other changes are not without criticism from some locals, though Matt Molchany, singer and guitarist for Bethlehem indie-poppers VoirVoir, is "really excited about Musikfest including so many local bands. It feels more about the community than it ever has." In addition to supporting CHAPPO and The Flaming Lips on opening night VoirVoir is booked for three shows on August 15th. "It's partially Musikfest making this connection, but the local scene it's reaching out to is full of passionate artists, musicians, and even small business owners. It's really exciting to see our good friends out playing this festival different nights and on these big stages with awesome national acts." All of the gorgeous black and white photos below were taken by Jess Cuttic at VoirVoir's Musikfest set opening for the Lips.
VoirVoir started as a side project in Bethlehem in 2012. "It was just April and myself writing songs in our studio space," Matt explains. "All was going well until we met our creative nemesis, the drum machine. That's when we decided to bring in friends to help us fulfill what we were trying to create musically. We brought [bassist] Matt Juknevic, aka Matty Love, and [drummer] Josh Maskornick close to a year after April and I began writing together."
VoirVoir's opening slot for The Flaming Lips was their Musikfest debut, though the group has a long history with the fest both as attendees and performers with previous groups. "Our other band members have played in various bands of theirs,"  Molchany says. "April and I have both gone since we were kids. I missed a few but not many while living in California. My favorite part was [in 1995] getting to play with a family friend who passed soon after our gig. I was 15. My father and I wrote a song together for a performance art piece where there was live painting, dancers, poetry. It was wild. The person who put together the whole idea of a mixed media performance was Paul Harryn, a visual artist and musician."
"It was always cool happening upon new musical discoveries," Matt says of his many times attending Musikfest. "For April, she loved getting away from the poconos and getting a gyro. There seemed to be more traditional and multi-ethnic music in the past as well as a catering more towards families, having arts and crafts, smaller vendors. There are a lot more sponsors which takes away from the small town vibe, but on the other hand, the festival has been able to spread to the Southside of Bethlehem and has brought in larger acts which is exciting for our community both musically and in general."
As for how VoirVoir got the coveted slot opening for one of those larger acts, namely The Flaming Lips: "Our good friends slingshot Dakota were supposed to play but were on tour so the word got passed down to us and we talked to the person who booked us at Musikfest and three days later got an email that The Flaming Lips management approved us! We all couldn't stop smiling for days." Matt says they learned from the experience that "we need more lasers! Seriously, it was amazing to get to be that close to them and their show. We saw them two years ago – traveled to South Carolina. It was a beautiful and somewhat scary marriage of music and visuals."
Matt has been familiar with the Lips since the early '90s but it wasn't until a friend he was traveling with turned him on to Yoshimi Battles the Pink Robots and that album became the soundtrack of their road trip that he got hooked. Similarly, he says "April borrowed our room mates' iPod and heard the Yoshimi album about five years ago and she couldn't stop listening to them. April and I both revisited the Lips after their otherworldly show in South Carolina with The Black Keys. We both took influence, maybe even saw some of our own lyrical voices in the honesty and directness of the song "Do You Realize???" We both dig into the dark side of being a human being, but lace it with hope as I feel like that song does. And in general, anything we listen to on repeat ends up being an influence whether we realize it or not."
"The aesthetic they create on their albums we can imagine took so much time," Matt says of the Lips. "It's like a huge dreamscape. We've always been very particular about the sounds we create and the recording process so I can say the Lips have been one of our inspirations to make a whole album like a piece of art. That's why we record ourselves. That and because were beyond broke [and it would be too expensive] if we had to pay for the studio time it would take."
Stream or download VoirVoir's debut album there are no good goodbyes at voirvoir.bandcamp.com; follow them on Facebook and twitter; and look for a Future Heart interview with VoirVoir in the near future coinciding with the release of their upcoming Converse Rubber Tracks recordings. "Our session with Rubber Tracks will be the first time recording in a different studio, on different gear, with limited time. But we're really looking forward to this new process," Matt says.