Tyson Meade is known most for his past lives as Defenestration and Chainsaw Kittens' frontman. Less known is that he walked away from the rock world to become a teacher, eventually moving to Shanghai and working as the Dean of Students at a college prep school. While in China his students' playing abilities and enthusiasm for music inspired him to reignite his own music career. Recording with a student named Haffijy begat collaborations with members of The Flaming Lips and Smashing Pumpkins, and additional work with old friends – Trent Bell, Meade's former Kittens bandmate, and Pumpkins associate Kerry Brown – yielded Meade's bold comeback album, 2014's Tomorrow in Progress.
So what's Tyson up to lately? "I have been working on songs for my new record," he tells The Future Heart. "I will be recording in the US and in China with some of the kids signed to Maybe Mars – one of my fave labels there – playing on it, and my violin player Haffijy playing on it again as well. Oh and I am painting and selling my paintings. I've sold eight pieces in the last month or so."
Additionally Tyson both scored and is the producer of Bradley Beesley's latest documentary (with Ben Steinbauer), Calls to Okies: The Park Grubbs Story. Tyson collaborated on its music with Flaming Lips musical mastermind Steven Drozd (who appears in the doc, as does Wayne Coyne). The film, a profile of legendary Oklahoma prank callers, will be on tour this week in Texas, Oklahoma, Missouri and Kansas. Catch it while you can: there's limited cinema viewing opportunities!
Tyson discussed all of the above, plus the possibility of a full album with Drozd, how his life has changed with sobriety, his Record Store Day 2012 Winter Boys release, the creation of last year's Tomorrow in Progress LP, stray Chainsaw Kittens recollections, the likelihood of their reunion and much more in an extremely generous and endearing interview with The Future Heart.
Read on…
Call To Okies: The Park Grubbs Story
Park Grubbs world premiered at SXSW 2015, followed by a series of screenings in June: San Francisco's Doc Fest on June 7th, Oklahoma City's Dead Center Film Fest on June 12th and June 14th, and New York's Rooftop Films on June 17th. Tyson discussed how he got involved with the film:
"The film takes place in my hometown and I know the characters that it is centered around. And so I just helped at first because Bradley is my fave filmmaker and it takes place in my hometown. One day he just called me up and told me I'm the producer. I was a bit of a press agent and lined up people like the Bartlesville Chamber of Commerce. I basically did – or tried to do – anything he asked me to do. He is awesome to work for and with, and I hope that he has me produce other films because I am such a big fan of his films and I love him as a person.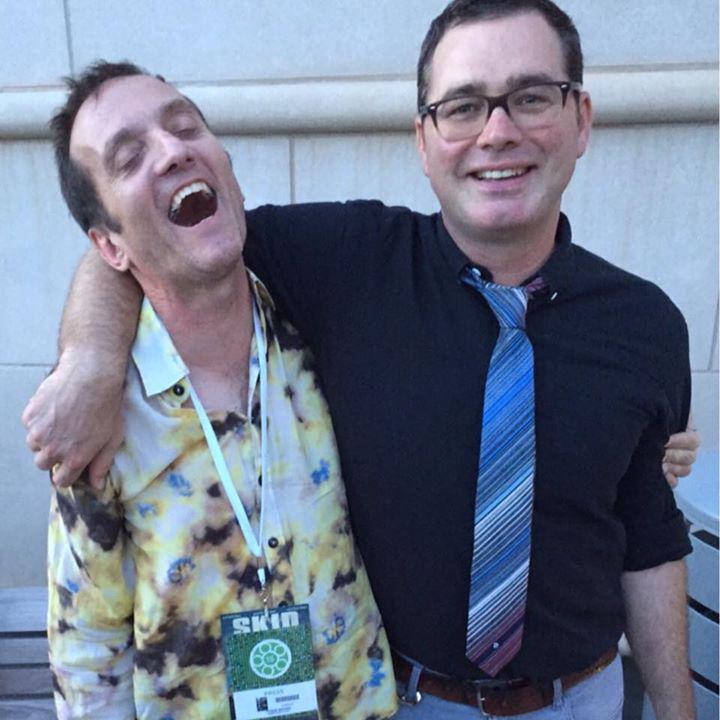 I've known him since 1989. He was a senior in high school. He showed Spike Jonze how to load a 16 millimeter camera on our [Chainsaw Kittens] "High in High School" vid that Spike shot. Brad was the assistant. We go way back! That was in '92.
Other than him helping on our [Chainsaw Kittens] music videos here and there, I don't think we had [worked together before]. I have not worked on his films. He interviewed me for Fearless Freaks, which is pretty great!
He truly is one of my oldest, dearest friends. He is like a little brother to me but I am also a huge fan of his work."
Call To Okies Soundtrack and Beyond
In addition to working with Steven Drozd on the music for Park Grubbs, the pair are possibly collaborating on a future project together. Meade explains:
"Steven [Drozd] and I have been working together. We have written two songs which I hope will be on my record. One of them was in the film but just the short instrumental. We expanded on that and then there is another song as well. He seemed all for it so that would add another element [to the next Meade album] that is a bit of a departure, though he said the melody was very Tyson 'but then that's okay because you're singing it.'"
"Bradley is close friends with both of us [Tyson and Steven Drozd] and he instigated [the Call to Okies music collab] and I was absolutely thrilled by the instigation and I think Steven was too because he is so creative. He had the chords and melody and I just came up with words and riffed on the melody as well. He is probably the – or one of the – most knowledgeable musicians when it comes to the mechanics, that I know.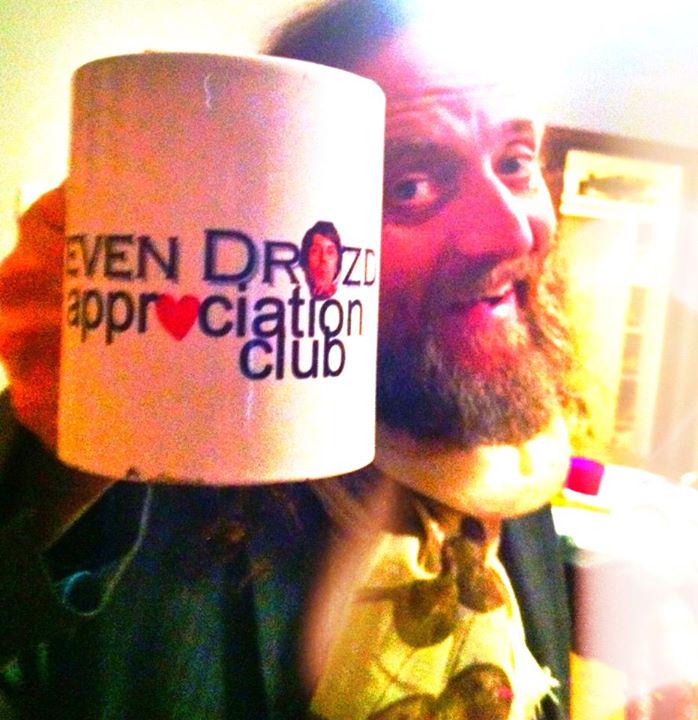 It would be killer to do a whole record with Steven because we both like Yes, Queen and the Psychedelic Furs! Steven is one of the sweetest people I have ever met. He is a true sweet soul.
I absolutely want to [record more with Steven] but he is really busy with the Lips and not only is he a dad, but he is a really good dad so that takes a LOT of his time which it absolutely should."
Winter Boys
Jesse Tabish of Other Lives teamed with Tyson and others for a vinyl single released exclusively at Guestroom Records in Oklahoma City and Norman on Record Store Day 2012. As Meade explains, this was his first public step toward a music comeback:
"It took me a bit to really decide to get back into music because I wasn't drinking anymore and I didn't know if I wanted to open that Pandora's Box. I had actually just returned from a brief tiptoe into Saudi Arabia when the Winter Boys single came about.
Aaron Frisby is one of Jesse's best friends and he helped spear head it. We were going to do more songs but schedules didn't allow it and at the end of the day I thought "Winter Boys Cutting the Rug" fit nicely on the [Tomorrow in Progress] album. [Flaming Lips multi-instumentalist] Derek Brown plays on that as well. He drove all the way to Stillwater to play on it which is pretty great since he is a husband and has a full time job beyond the Lips.
When we put that song out as a single, I had still not decided to go back into music. I thought it was a one off."
Winter Boys would love to record a whole album at some point but everyone is all over the place and Jesse is married as well and busy with Other Lives. I had thought it would be a rotating band like the Golden Palominos.
"Dusty Come up for Air" I had given to Derek [Brown] for [his electronic pop trio] Crocodile because it is about Derek's cousin Dusty and Ramona's song is for his daughter so two songs are about his family, which I just realized the other day when I had lunch with him, mom and grandma.
Derek used to come to [my] shows before he could drive; his mom and dad would drive him. I met him as a 15 year old and he was so polite and nice and unassuming. He had a band with his cousins [Frequency Bliss] that Trent recorded and so Trent got to know him too. Before that or around that time he gave me a demo which I don't remember anything but the piano was great. I asked him who played the piano and he told me his mom made him learn piano before he could learn guitar. I told him he has a smart mom. We were about to record [Chainsaw Kittens final album] The All American. I told Trent I knew someone – so it must have been before he recorded with Trent – who played piano and I had a few songs. "Light" and "John Wayne" I think, and so he played on those songs and was flawless and so we just kept the tape running and he played on a bunch more unrehearsed. Then we toured one last tour with the Starlight Mints opening. He and I became close during the tour because he is just such a good person. And so I would find myself going to family events with him and his grandma basically adopted me. He is one of my favorite people in the whole world!
He was 19 when he played on All American.
We had talked about him being on other tracks [on Tomorrow in Progress, besides "Winter Boys Cutting the Rug"] but it didn't work out because of schedules and I was still in China off and on."
Recording Tomorrow in Progess
Meade followed Winter Boys with a little help from his friends – and Kickstarter donors – to release a full length solo album last year. Tyson details how it all came together:
"I was freer than I had ever been and was joyful about this. I had only my multiple personalities to contend with.
I had all of the songs written in some sort of ghost manner and then [Smashing Pumpkins drummer] Jimmy [Chamberlin] flew in his drums. I recorded the Chinese musicians in China and then Trent [Bell] or Kerry [Brown], depending on the song, dumped it into their studio gear. It was done in a way that could not have been done when the Kittens were recording. The last Kittens record was still done on tape even though ProTools was out at that time.
I sort of took the kitchen sink approach and figured we would sort it out in the mix which thank god Trent Bell and Kerry Brown – who both mixed tracks on the record – were able to do that. I could not find better engineers anywhere. I am lucky to have them both on my side!
And to make it even more complicated I stopped in Houston on a layover and recorded some middle schoolers for "Nihilists Need Love Too." Trent and Kerry are saints and wizards!
I was able to make the record that I truly wanted to make. Though I had a lot of freedom in the Kittens there was always others to consider. My management want me to be who I am and that makes it easier, and more awesome as well. And we had the budget to make it and not have to cut corners.  I told Jimmy any song that he added drums to that I would give him a co-write. Same with Kerry [Brown] on mixing because he was just doing it to do it and so I wanted them to have their imprint. "Buddy Dash" Kerry rebuilt from the ground up.
Jimmy played [drums on] "Buddy Dash," "Dusty" and "Ramona's Song." Aaron [Frisby] played "Winter Boys." Matt [Duckworth, drummer for Stardeath and White Dwarfs, The Flaming Lips and Brainwasher] played on the rest. "Mao into Madame Mao" is drummerless.
Trent lined up Matt because he is the one that Trent uses at this studio and I have known and love Matt as well. There was really no rhyme or reason [to which drummer plays on which tracks]. Jimmy I sent some songs and whatever he returned were his, if that makes sense. "Dusty Come Up For Air" is basically a drum solo with a song around it but I LOVE it. I love where Jimmy took it. It was very folky before he laid the drum track.
Playing with Stardeath and White Dwarfs
Meade has also played gigs in the past few years with Stardeath and White Dwarfs, including performances of David Bowie's entire The Rise and Fall of Ziggy Stardust and the Spiders from Mars on New Year's Eve 2013 and Record Store Day 2014. Tyson explains:
"Trent Bell is how I met them, how I meet everyone because he records everyone, and everyone loves him… including me!
Andy Nunez at the Opolis put together bands for a Tyson night [on November 22, 2013] in Norman right after I had come back to Oklahoma the fall before my record came out [the following May]. Stardeath backed me on a few songs of mine.
That [covering The Rise and Fall of Ziggy Stardust and the Spiders from Mars] was great! I love those guys and it was a great reintroduction into the scene as it were. They approached me. They were playing a New Year's show and they wanted to do something special. I knew if would be pretty great so I was excited to do it.
Tyson's Next Album
Meade previewed Tomorrow In progress' follow-up: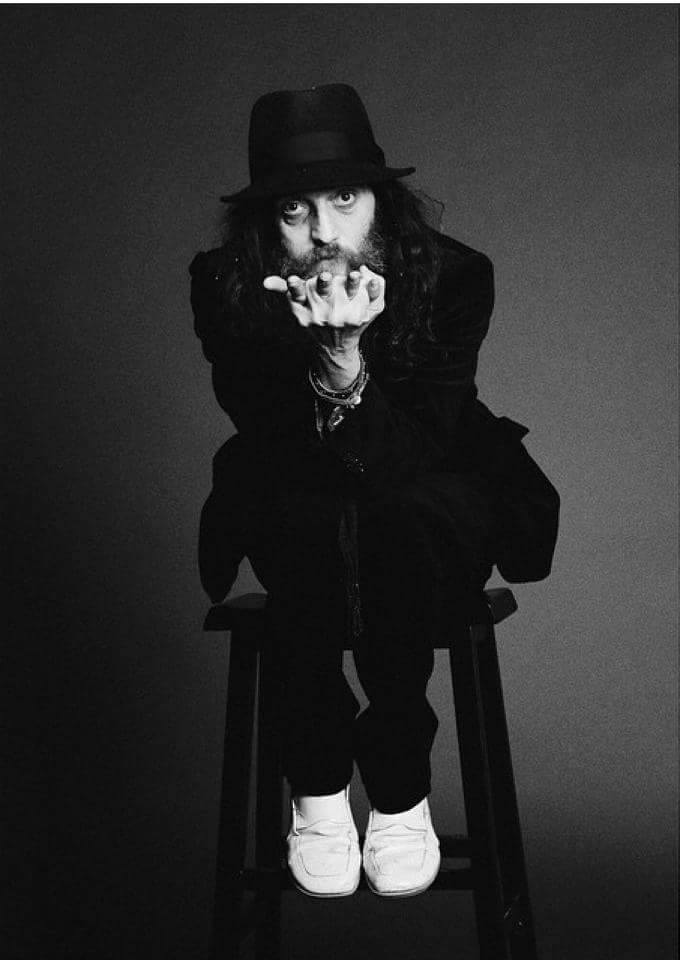 "I am still tirelessly devoted to bringing our two cultures together. After living in Shanghai for several years, I fell in love with the Chinese people, their sweet innocence. I want the world at large to know about their beautiful souls. I am still pinning down all of the specifics and all of that but I am really excited about this record. I was really proud of the last one and I want to be as proud of this one!
All of my records are like my children. And now my paintings are as well.
I would say in a way [it will be a continuation of Tomorrow In Progress], in the way that Heroes was a continuation of Low for Bowie. My mantra in China when I was making Tomorrow in Progress was 'What would Iggy and Bowie do (without the drugs)?'
Speaking of which…
"Sobriety is the easiest hardest thing I've ever done.
A friend told me I was killing myself and he was not going to sit by and watch, and it was like my fairy godmother told me I don't have to drink anymore. So I stopped. I always thought I had to drink for people to like me because I was so shy when I started making music but then I developed a personality of sorts over the years maybe or maybe not with the help of drugs and alcohol.
I stopped before Labor Day nearly ten years ago and I was going to Chicago to play a show on that Labor Day weekend. I had never been sober in Chicago and so it was a test. Everyone around me was drinking and my bandmate brought his girlfriend and the night after we played they got drunk fought and she wandered off into the night pouting. It was all very dramatic. I was watching it all unfold telling myself, 'this is why I stopped.' They found her at a Starbucks the next morning and she was fine and it was just all for the drama. That alone was enough to get me to stop and not drink again.
I knew that I had to stop and could not slow down because I had seen the sad results of those who had tried to slow down. That usually made their drinking worse. I had a lot of really good 'bad examples'..
I have more energy than I did when I was in my '30s and I push myself harder creatively than I did then. I feel as if I have a gift but then I also feel as if I am really lucky to be alive after having people who lived as hard as I did die.
Nevertheless, I miss drinking when I see people drinking in movies and having a grand old time but that is really the only time I miss it. I am really lucky."
Kickstarter and the Ever-Changing Music Industry
Having successfully run Kickstarter campaigns for Tomorrow in Progress and Call to Okies, Meade has a thing or two to say about the popular crowdfunding site and the opportunities it can provide artists. In Meade's view:
"I am so grateful for Kickstarter and all of the contributors that basically told me, 'you NEED to be making records.' Bradley Beesley was one of the first people to really tell me I needed to do it. He is another one of my fave people in the world!
[With Kickstarter] there is no one looking for the hit single. We [Chainsaw Kittens] were sheltered from that a bit in our day, but at the same time on [1994 major label distributed] Pop Heiress they wanted a hit, which that album has about five hits on it but that is beside the point. And Kickstarter is the people who love you getting to show the love, which is pretty great.
I think there is good and bad. CDs were a new thing when I started and it brought a change from having to physically get up and change the record to making it easier to just skip songs and not listen to something as a whole piece and that has brought on this just a few songs at a time listening with downloads and not listening to a whole Sticky Fingers record or Surfer Rosa or whatever. But I think the kids are getting back into vinyl. I was at the local record shop, Guestroom, this last week and it was basically teen time there. I was thrilled to see these teenagers walking around looking at and buying vinyl. All is not lost.
The fact that record companies don't run the show anymore is awesome. I think there are so many changes. That is just one of them.
I could easily give you a 2000 word answer starting in 1985 and going 30 years forward. I do feel as if it is more democratic now, however that does not mean the music is better, but then I think people listen to music for different reasons.
I am not spending a huge amount of time in a studio recording the whole album like the Kittens did for Pop Heiress. Our budget was 25k and we were not able to experiment. I have my own equipment so I have days, weeks, months to experiment. That is a pretty huge change for the better."
The Chainsaw Kittens and the '90s Alt-Rock Explosion
The Kittens worked through line-up changes in the early '90s while broadening their fanbase on tour with the Smashing Pumpkins and others. Their sophomore release, 1992's Flipped Out in Singapore, was produced by Butch Vig, and 1994's Pop Heiress was distributed by Atlantic Records. They had numerous tracks worthy of the period's  airwaves, yet their mainstream breakthrough never came. Tyson sums it up:
"I think we were writing the way we wrote and that we were doing it ahead of the curve and I think my gayness in the '90s did not help matters. We just wanted to write really great songs that could be on the radio. I would say [pressure came from] the label but at the same time they were pretty dang great to us so I cannot slam them in any way. We had some pressure [to create hit singles] but not the sort that I heard artists like Jeff Buckley had… It was never that bad for us.
Butch [Vig] is an awesome person. We loved him. He treated us really great. He was the first glimpse into what life might be like. Nirvana was just hitting and we didn't know what Nirvana would become. It seemed fortunate [to be recording with the producer of Nevermind] but not that big of a deal. Butch told me that Kurt could not sing a song all the way through and he couldn't come in halfway through so he would have Kurt sing all of the verses as the first verse and then Butch would fly them to where they belonged. He told us to beat the hell out of a hook. On 'She Gets' there was not a true chorus and he told me to repeat what in the end I repeated and give it more of a hook. I was drinking a lot then so I don't really remember anything else.
I was actually with Billy [Corgan] when they got the call to head up Lolla-whatchmacallit [in 1994] because Nirvana pulled out. The Lips and Defenestration and Nirvana all had the same booking agency [Bulging Eye], though Nirvana came after Defenestration."
'Janis 18-Kittens' Connections
Oklahoma/ Texas rockers Janis 18 are mostly known in hindsight as the band Steven Drozd was in prior The Flaming Lips. Tyson explains there's more connections:
"Trent [Bell] was one of the original members in Janis 18. They formed in Norman and then moved to Austin and then moved back to Norman. I saw them many times and when Steven [Drozd] joined it was like, 'who in the fuck is that drummer? He's amazing.'  Trent had already joined the Kittens [by the time Steven drummed for Janis 18]. Members were stolen from them regularly. We stole the drummer before Steven as well. That was Aaron Preston, who was on Flipped Out in Singapore.
All of this is so ridiculous to think about, in a good way though."
Tyson Ranks Chainsaw Kittens' Discography
So, how to listen to Chainsaw Kittens? Meade weighs in, starting with his take on their most essential album:
"Violent Religion is a document of my nervous breakdown that was happening during Defenestration. It could be my favorite baby.
Pop Heiress is looking fame in the face and not sure if it's worth it or not. The Scratchie Record is us getting the time and money to do what we wanted and I think this is Trent's fave. This and The All American, I love both of them. My mom had just passed a few weeks before we started writing and recording it and a lot of the songs are informed by that, like "Light" and "John Wayne." I love Flipped Out for its big dumb rockness and that I got to make a big dumb rock record that still rocks pretty hard. I think Flipped Out is for the young. Of course, someone else would totally have a different order and I might have a different order on a different day.
Pop Heiress is a really fun record."
How The Local Music Scene Has Changed in Oklahoma
"I think now the establishment is part of the scene where it was certainly not that way in the '80s and changing a bit in the '90s. I don't think 'kids today' know how much pioneering was done back then. In the '80s we had the Legion Hall and house parties and a few clubs where you probably wouldn't get paid though I don't want to lump John Manson in that because he was always good to the Kittens. David Box was always really good to me too.
Clubs only booked cover bands in the '80s. There was the Bowery in OKC that didn't, but everyone else wanted people playing Flock of Seagulls or whatever. So we would put on shows at the American Legion or play a house party. In Defenestration, we played this house, long since gone, where 200 people showed up and it was really one of the first times I knew that what I was doing was hitting people in the right way.
We would also get jumped or whatever. I have a scar on my face from getting jumped. It didn't hurt because I had just snorted some coke thank god! And I signed autographs for some rough housing frat boys at the hospital. That was during the Kittens. Maybe around '92? We were getting a lot of attention that year. Butch Vig had just produced us.
We weren't hardcore but we would play with hardcore bands because we couldn't get gigs at real clubs probably like the Beatles period in Hamburg somehow though I'm not sure how. It was such a small crowd that went to shows and most people just didn't know.
Naturally The Flaming Lips did [have impact on the scene] even though people really seemed to ignore them around here until around 1989 when people started to wise up and see how cool and different they were/are. And my band Defenestration had an impact as well as the Kittens. There were probably other great bands but the Lips and Defenestration (or the Kittens) I suppose have the local legacy.

I had a friend from China come visit and he told me that it is even cheaper to live in Oklahoma [today] than it is anywhere in China.
My response [to being asked about being from Oklahoma] was always how could we not be from Oklahoma. If you knew Oklahoma it can be the only place we could be from. At first it was a stigma for sure because you just weren't from places like this. I had someone tell me once I was from Dallas and I just laughed in their face. It was so different then."
The Chances of a Chansaw Kittens Reunion
"It could happen but I wouldn't hold my breath. If it made sense, like a song becomes a smash after the fact and we are asked to play Reading or something…I cannot even really imagine. I love the freedom of being solo. Though I love the guys. We have [discussed reuniting] but not very seriously."
The Kittens Legacy
All Music Guide calls the Chainsaw Kittens "arguably the best American band who never made it when alternative music suddenly became a huge proposition in the early '90s, the Chainsaw Kittens predated and outlasted that time with [their] own marvelous, energetic blend of glam-damaged energy, theatrical extremity, and punk rock basics." It's a statement that has been copied by countless sites on the web – including iTunes and iHeart Radio – and agreed upon by many more. But this begs a question: why did mainstream popularity elude them? According to Tyson:
"I think that some of it has to do with we were not on a cool label like Sub Pop where there would be tons of people listening just because. I love the people at Mammoth but it was really more of a MOR college label and was not a real sort of rock and roll label. They loved us and treated us great and I think they really tried to break us but it just wasn't to be. I think we had a lot of the problems that plagued Big Star if I may be so bold to draw a parallel.
And we already had a contract and were making records before everyone and their dog was getting signed which I think was a factor. You could make money off of these brand new bands as a record label. Everyone was getting signed. We were asked to change our name at one point just to appear to be new, and we were like "Fuck NO!" That was during the Scratchie period. I think our management at the time suggested it.
There are so many contributing factors but in the end I am happy where I am. I think I would still be drinking and have friends that are not necessarily my friends [had Chainsaw Kittens become rock stars]. I think you become a rock and roll lifer and I am glad I am not that.
China would not have happened. I have so much to be grateful for that eclipses money and I would probably be drunk and broke anyway. I am very grateful for what I have and what I have been given and the chance to keep making art. And the Kittens are remembered fondly, which is really nice."