Steve-n-steveN's FOREVERYWHERE – the Chinese Democracy of the pre-school set – is finally set for release!
Like, for real this time!
Steve-n-steveN is Steve Burns, former host of beloved kids show Blue's Clues, and Flaming Lips mastermind Steven Drozd. Following years of complications that delayed the release of their adult-friendly, psychedelic rock children's album, the duo opened a twitter account today, shared their album cover (below) and released the music video for "The Unicorn and Princess Rainbow" (watch it here). Meanwhile Burns tweeted a promo image (above right) and the pair launched their new website and YouTube channel. Visit stevensteven.com to sign-up for updates and download "The Unicorn and Princess Rainbow" for free.
In a 2013 interview with Pop Matters Steven Drozd recalled meeting Steve Burns.  It was 2001. Burns – then the host of the wildly popular children's program Blue's Clues – was a Flaming Lips fanatic and aspiring musician. Drozd meanwhile was "going through the worst of kicking heroin." Burns trekked to Dave Fridmann's Tarbox Road Studios in the Fredonia, New York to connect with the Lips any way he could. "He came to Dave," Drozd recalled, "and I was up at Daves and within 30 minutes of meeting each other we really hit it off. So here I was, this junkie going through the throws of withdraw, and here is, the host of Blue's Clues, and we're upstairs making up these goofy songs within 30 minutes of meeting each other."
"Steve Burns changed my life. We're still really good friends to this day."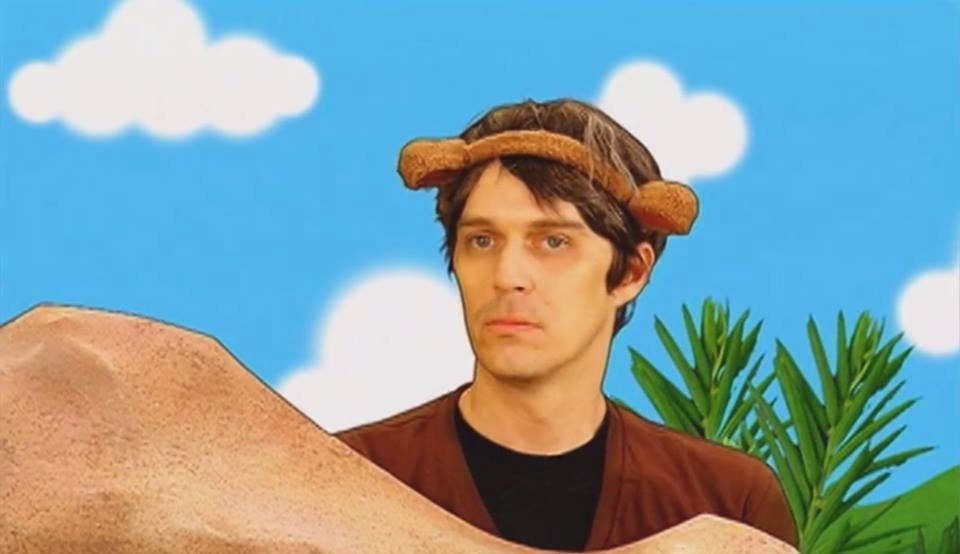 Drozd went on to extensively work on Burns' debut album, Songs for Dustmites, released in 2003, and its follow-up Deep Sea Recovery Efforts (scheduled to drop in 2009, never officially issued but bootlegged on the web, including YouTube). These are all out, kick-ass indie-rock albums; not kiddie tunes or mere side projects.
"I guess in around 2001/2002, when he first 'retired' from Blue's Clues," Drozd told Rock Sucker, "there was a big urban myth that he'd OD'd, that he was a heroin addict, all this crazy stuff that people like to get going. I think some people thought it was true, and it's housewives and kids so it's a weird group of people. We met at the end of 2001 when I was actually kicking heroin. I was trying to change my whole life at that point when I met him and we couldn't have been more opposite: I'd be curled up on the couch like a junkie, trying to get well, and then: "Here he is! He's the guy from Blue's Clues!"
"So he went from being the host of this children's show to hanging out with drug addict rock and rollers in no time. He's one of the smartest people I've known in my whole life, he's just a brilliant guy and a really good friend of mine now."
Their partnership changed directions after writing and recording "I Hog the Ground," a collaborative song for the Groundhog Day 2007 episode of Nick Jr.'s Jack's Big Music Show. "He wrote the lyrics, I wrote the music and we wrote the vocal melodies together in an hour over a bottle of wine at my house," Drozd told Rock Sucker. "We recorded it the next day, sent it to Nickelodeon and they loved it. They shot a video a month later and it still pops up on Nickelodeon to this day. After we did that song, we thought, "Man, we should just make a whole record. I bet we could do this." So over the course of a couple of years he would fly down to Oklahoma from New York to spend five days in the recording studio, and we came up with eleven or twelve songs."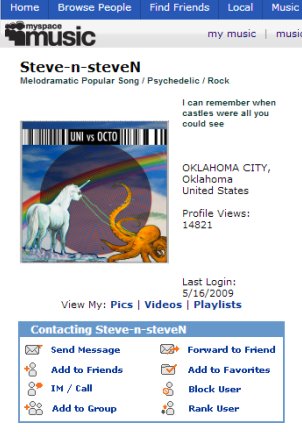 Fast forward to March 28, 2009 – the day a MySpace page for Steven-n-steveN appeared, along with six tracks of "Melodramatic Popular Song / Psychedelic / Rock" they had recorded in 2008. In fact, those six songs are still streaming on that MySpace page to this day. The profile described their sound as "a glam unicorn accompanied by a psychedelic octopus " and listed their "influences" as "Wondering, Burt, Black Sabbath, cephalopods, Grover, toy commercials from the 1970's, Harry Nilsson, Dr. Seuss, Science, Bill Conti, Queen, futzees, Rocky Balboa, Harcourt Brace Jovanovich, true love, Neil Diamond, the zoo, Holly Hobbie, fairy tales, David Bowie and Mister Rogers.
It was easy to imagine these songs soundtracking children's cartoons, even just by reading their titles: "The Unicorn and Princess Rainbow," "The Lonely Unicorn Is Never Giving Up," "Mimic Octopus (Secret Wizard of the Sea)," "Space Rock Rock," "A Fact Is A Gift That You Give Your Brain." These songs are silly, yes, but with a playfulness and color-filled harmonic and sonic palette that makes them undeniable to kids of all ages. The music and lyrics evoke an animated, rainbow bright sense of wonder. Then there's "OK, Toilet Bowl." Suffice to say, creating a song to help toddlers potty train that aside from the pragmatism of that parent-helping task is great on its own merits – the type of tune you hear once and are joyfully humming for days after – is no easy undertaking. Kudos Steve-n-steveN!
The MySpace page also included this bio:
"One day, while searching everywhere for Princess Rainbow, a lonely unicorn named Steve Burns met a magical musical octopus named Steven Drozd in Oklahoma City, Oklahoma. "Hi," said Steve to Steven. "I like writing stories about outer space, wizards, and feelings." "That's cool," said Steven to Steve while playing a bass guitar, Micro Moog synthesizer, and two Stylophones simultaneously. "I like to make brain burning musical soundscapes. Maybe you could add your stories to my music." "Okay", answered Steve, "let's always do that right here in Oklahoma and never in New York City." And that's just what they did… for all us children."
It goes without saying the MySpace page doesn't get much action these days, though it was updated with an allmusic.com bio of the duo at some point in the past few years. In 2014 the six songs from the MySpace, plus "I Hog The Ground" and five more tracks ("If You're Ginormous," "The Itsy Bitsy Spider Suite," "The Return of Princess Rainbow," "Struggling With Sleep… Okay, I'm Up" and "Hey, Bully") streamed on a website made for the project, stevenstevenawesome.com (screen shot of its banner below). That site was still active until recently, but has now been replaced by stevensteven.com. All along the official release was plagued by issues negotiating with labels. (The original MySpace page joke listed the duo's "Record Label" as "the best one ever? who are you?" It rumored in 2010 that Sub Pop was interested in issuing the album, that now appears to be bogus internet hearsay though.)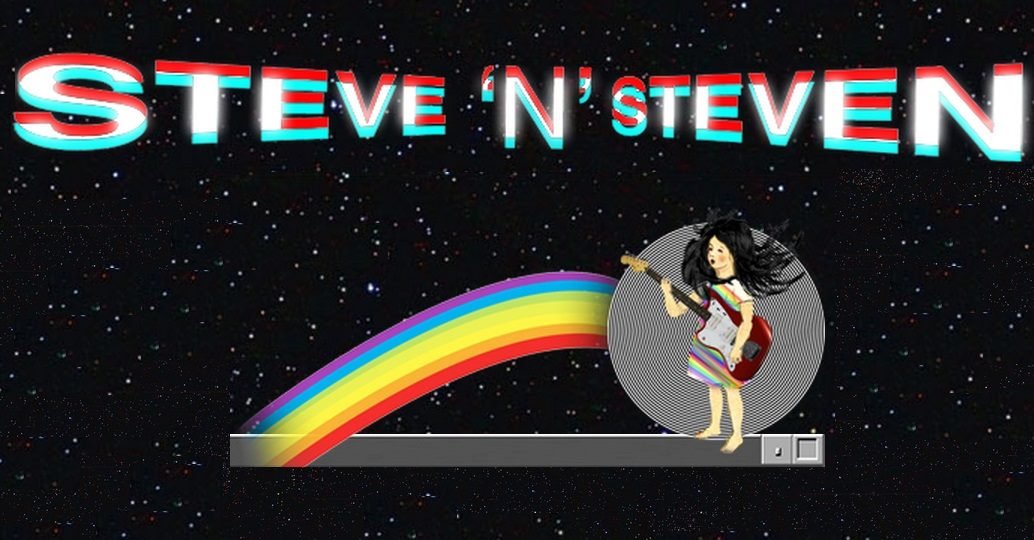 All of the songs are fun for adults – sometimes rocking hard, as on "Space Rock Rock" – but geared towards little ones. "Both of my kids have heard all of those songs at least fifty times, because I'd play them and be like, 'Is this catchy to you? Does it make you want to dance?'" Steven told Rock Sucker. "I had a pretty good test market right in my own home!"
Not your typical children's album, Steven told MTV in 2013 that "anyone that's heard it has just really flipped out on it. Kids love it, parents love it — if you have kids and don't want to listen to Barney or Raffi or whatever, this is another thing you can put on."
"We wanted to make a more adult-friendly, a more parent-friendly, kids' psychedelic rock record," he told Rock Sucker.
Drozd added to Pop Matters: "It's just him doing all the singing and me doing all the music…It helped me get through some of the worst of the depressing and stuff just to stay busy and do those recordings 'cos he such a fun-loving guy."