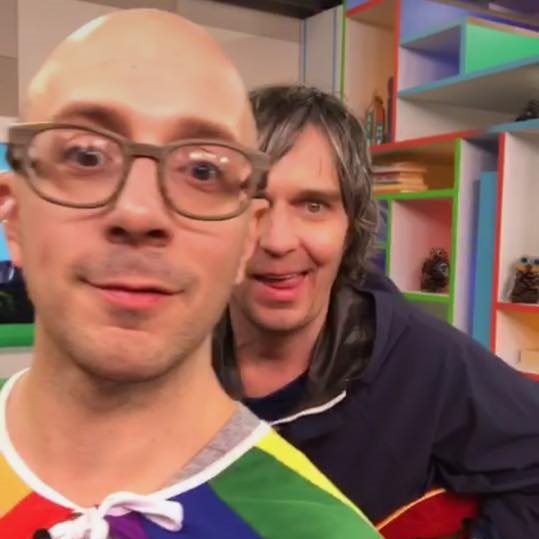 Former Blue's Clues host Steve Burns and The Flaming Lips musical mastermind Steven Drozd have made a kid-tested, adult-approved rock album for children of all ages called Foreverywhere, as previously posted about in depth here. There's been a number of updates since the last post, most notably: the album, years in the making, is now finally out! Stream the full album on bandcamp or spotify; download it from bandcamp (including FLAC option), iTunes or Amazon. CDs are also available from Amazon and the band's online store. In other news, Steven Steven joined Facebook, released their long-awaited music video for "OK Toilet Bowl" (more on that below), supported their album release with exclusive performances for Paste and Relix and on February 26th the duo made their live debut at Brooklyn Bowl's Rock and Roll Playhouse kids concert series. They'll appear on NBC's kids cable station Sprout in a segment for Sunny Side Up, a morning show on Sprout that airs throughout the entire morning in short bits between the regularly scheduled programs (thus you won't see it listed in TV schedules). Their performance airs March 3rd at 9:30 am (right before Noddy: Toyland Detective). Additionally Burns was the featured guest on The Kiddie Pool Podcast and SiriusXM Radio's Kids Place Live is airing an hour special on StevenSteven's Foreverywhere at the following times:
March 3 – 10pET/7pPT
March 4 – 9aET & 5pET/2pPT
March 5 – 12pET/9aPT

The biggest news however – besides the album release is that after four years in limbo the music video for "OK Toilet Bowl" is finally out!
Watch it below, followed by the previously released videos for "Fact Is A Gift" and "The Unicorn And Princess Rainbow," and then read the years-long backstory of all three videos releases.
Foreverywhere is a long time coming. As explained here, it was recorded in 2008 and many of its songs originally streamed on MySpace in 2009. Nothing came of the project however until a couple of years later when "Animation Art Director" David Bizarro created a cartoon music video for "Fact is a Gift," one of the standouts from the MySpace preview tracks. After delays it was finally released in October 2012 by DELO Creative, a Flaming Lips-associated graphics and video production group.
In March 2014 Steven Drozd explained the album delay to Rock Sucker. "We've got a whole record that's been done since 2008," Steven said. "I think Steve thought that since I'm in The Flaming Lips and Scott Booker's my manager and I have Grammies, I think he thought, 'This will happen, Steven knows what he's doing.' And at the same time I thought, 'Steve Burns, he's kind of a big star and knows a lot of people in all the industries. Surely he can get something going.' So I think both of us were waiting for the other to do something!"
Steven tweeted about finally finishing off the album in March 2013, and Kliph Scurlock mastered it. That spring, right as the Lips were releasing The Terror, Steve and Steven teamed with Bizarro again to "shoot a bunch of videos … for this kids record." First came a video shoot for the "rocktopus" effect pictured below (via sideshowgoshko.blogspot; visit for more photos and details):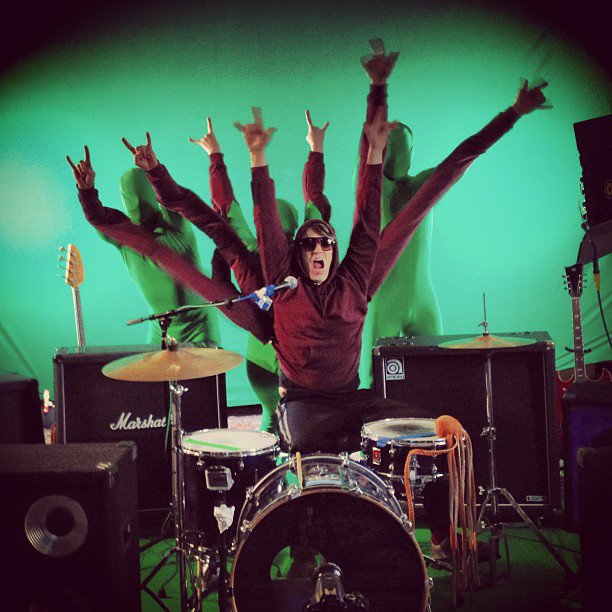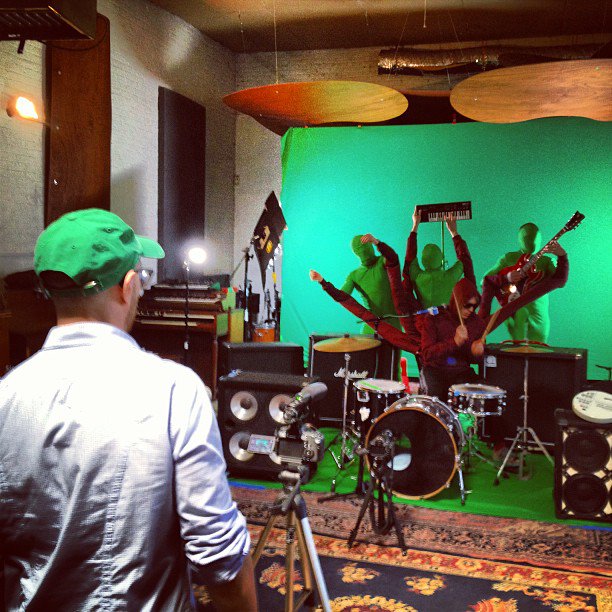 A casting call for a May 4, 2013 "OK Toilet Bowl" video shoot – choreographed by Kyla Piscopink – sought "Children: between the ages of 3-12 with outgoing personalities and a love of music."
Now, four years later, it's finally out!