Updated December 20th
A few of The Flaming Lips' favorite things:
Christmas
covering David Bowie
dressing up
playful, colorful visuals
. . . thus, their new music video – coming soon!
Christmases past have seen the Lips release the secret album Atlas Eets Christmas under the pseudonym Imagene Peise, not secretly reissue it years later under their own name, add new songs to the collection via YouTube uploads, create a "Silver Trembling Fetus" Christmas tree ornament, stream a 24-7 Lips-only holiday music online station with rare recordings, perform a variety of holiday songs in a variety of settings, collaborate with Yoko Ono on a new version of "Happy Xmas (War Is Over)" and teach us the true meaning of the season (or something like that) with their movie Christmas on Mars. And let's not forget alt-rock yuletide classic "Christmas At The Zoo" (which wasn't even released for Christmas, just as another album track on Clouds taste Metallic).
The Lips are equally enthusiastic about David Bowie. Prior the icon's death – at concerts ranging from a fabled 1990 concert in Norman, Oklahoma where they almost burnt down the venue, to a 2015 Carnegie Hall collaboration with Philip Glass and Julianna Barwick – the Lips covered "Five Years," "Moonage Daydream," "The Man Who Sold the World," "Life On Mars," "Heroes," "Under Pressure" and "Warszawa." In the wake of his passing the Lips played two consecutive Bowie eulogy concerts with full sets of Bowie covers, recorded a studio version of "Space Oddity" and companion music video, made the same song a fixture of their live set ever since and participated in the "Music Of David Bowie" multi-act tributes at Radio City Music Hall and Carnegie Hall. (The feeling was mutual. David Bowie proclaimed his Lips' fandom on numerous occasions).
Now The Flaming Lips are taking on Bowie and Bing Crosby's seasonal duet 'Peace on Earth/Little Drummer Boy' in a new performance video – watch at the top of this page. Recorded (audio track) and filmed at the Lips' own Pink Floor Studios in Oklahoma City, the video was co-directed by Wayne Coyne and long-time Lips collaborator for all things visual, George Salisbury.
Below are stills from the video, followed by Wayne Coyne and Steven Drozd's Instagrams documenting its creation.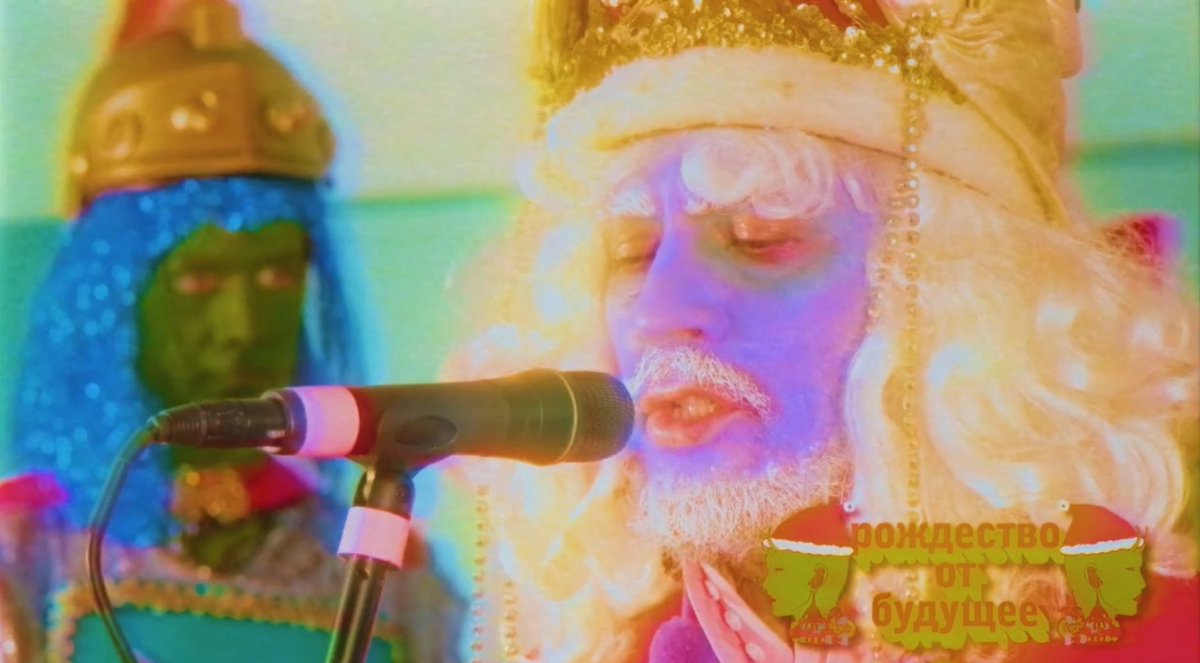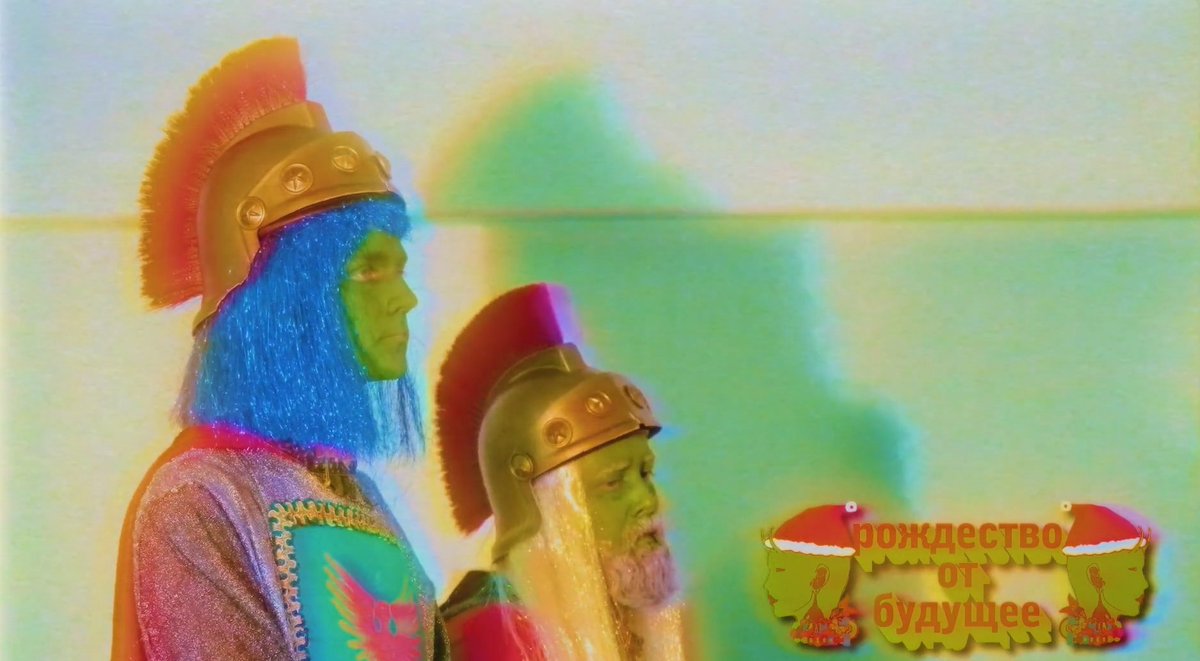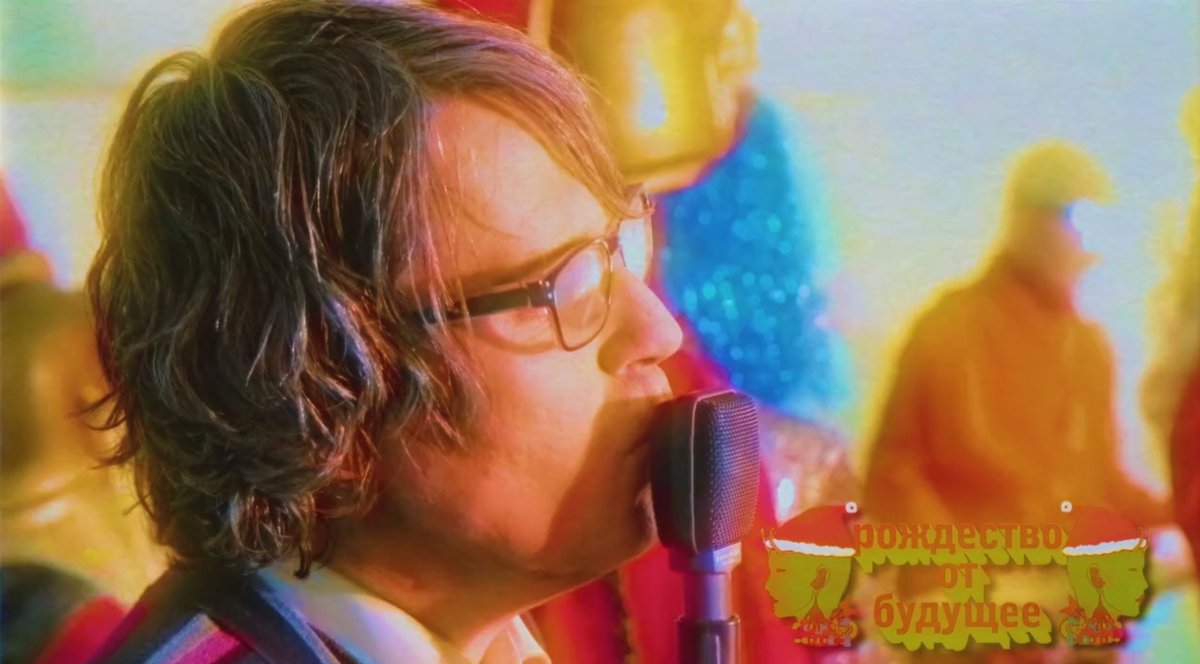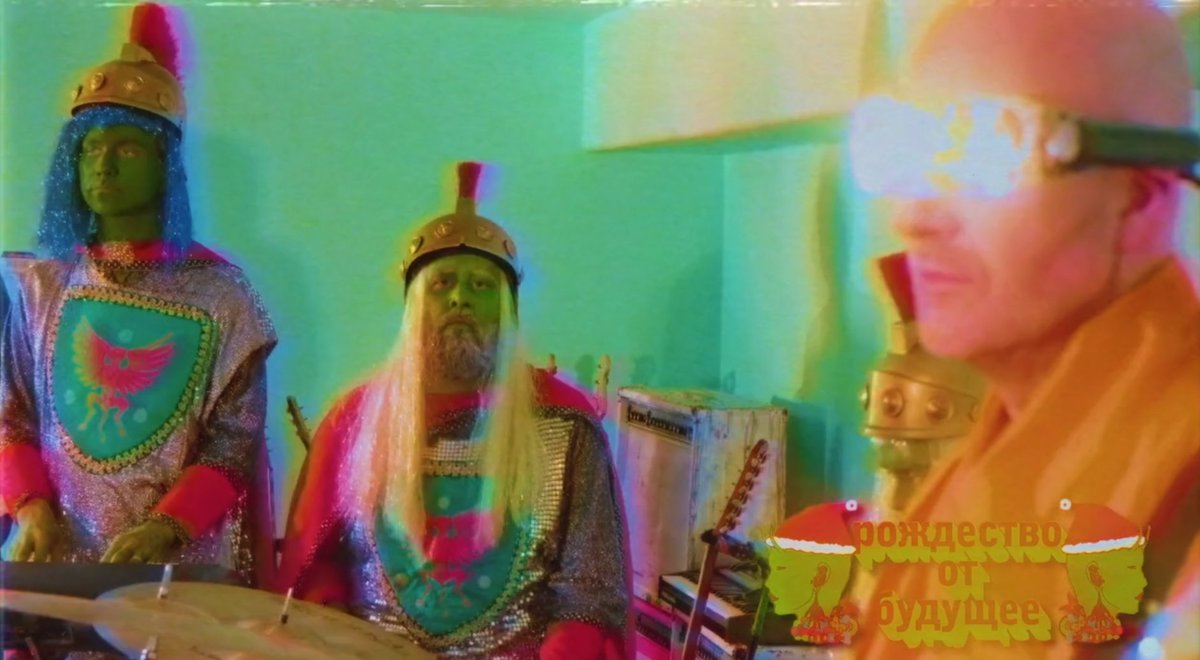 Also for this Christmas season: Wayne Coyne created a one-of-a-kind doghouse auctioned by 12 Doghouses of Christmas, an Oklahoma City fundraiser for Bella SPCA. Likewise, for the second year, Coyne has designed Christmas wrapping paper for The Curbside Chronicle's holiday Wrap Up Homelessness (shown right). Wayne's 2018 wrapping paper design can be purchased at wrapuphomelessness.com. 100% of proceeds supports The Curbside Chronicle's "mission to employ and empower men and women transitioning out of homelessness" in Oklahoma City.
Earlier this month the Lips returned to Tarbox, the recording studio they've created their masterpieces at since 1997. According to the studio's log, on October 10th the Lips began "work on a new record with Dave" Fridmann, their long-time producer. Coyne shared bits of new song "The National Anthem Of The Magic Forest" on December 3rd. Stay tuned for more news on that. In the meantime the visit yielded a Christmas single from Flaming Lips' Jake Ingalls – under the guise of Spaceface, the Memphis psych band he leads – with fellow Lip Steven Drozd on bass. Mixed and mastered by Dave's assistant (and son) Mike Fridmann (who also added drums), their cover of Charlie Brown classic "Christmas Time Is Here" is available for name-your-price on bandcamp.
In other news, The Flaming Lips will ring out 2018 performing New Year's Eve in the caves underground Pelham, Tennessee's The Caverns (as seen on PBS program Bluegrass Underground; no confirmation yet if the Lips performance will or will not be taped for the show). More information on this concert is here. Although sold out, tickets can be won from both do615.com and The Caverns' Facebook page:
2019 promises to be a big one for Coyne and the Lips. So far, a new live album has been confirmed, there's the aforementioned new record the Lips began working on in October at Tarbox Studios, and the music from King's Mouth – to be narrated by legendary Clash co-founder Mick Jones – will be released as a Record Store Day LP. On the personal front, Coyne is also due to wed and father his first child.
The aforementioned live album is the highly anticipated release of the Lips' 2016 Red Rocks concert featuring their magnum opus The Soft Bulletin played in full with the Colorado Symphony Orchestra. The release date and other details have not been announced yet.
The Lips will also team again with the Colorado Symphony for a one-night-only encore symphonic performance of The Soft Bulletin at Boettcher Concert Hall on February 22, 2019 (which also happens to be the 36th anniversary of the Lips' first ever gig). Single ticket on-sale is Friday, December 21, 2018 at 10:00 a.m. MST. Pre-sale tickets are available now with password SOFTBULLETIN.
While in Colorado, the Lips will also play the next night – February 23rd – at Aspen's The Belly-Up (pre-sale starts Wednesday, December 19 at 2PM MST with password THECASTLE; public onsale starts Friday, December 21 at 10AM).
On January 22nd – Daniel Johnston's birthday – the Lips will headline A Benefit for The Hi, How Are You Project at Austin's Moody Theater Austin. Built To Spill, Yo La Tengo and others are also on the bill.  Tickets can be purchased at acl-live.com; proceeds benefit peer-to-peer mental health training and grants to leading mental health organizations.
No further 2019 tour dates have been announced yet (though they're rumored for Bonnaroo).