Last Revised March 31th – Latest Updates:
Flaming Lips "Late Show" David Bowie Tribute bumped from episode.
Michael Stipe covered "The Man Who Sold The World" on "Tonight Show."
Sean Lennon and Miley Cyrus/Dead Petz added to April 1st Radio City show. 
The Roots, Tariq, Bilal pull out after "miscommunication" over shared drumset.

Michael Dorf and City Winery host annual tribute concerts at Carnegie Hall honoring artists such as The Who, Neil Young, The Rolling Stones, Joni Mitchell, Bob Dylan and REM. Seven months into planning this year's David Bowie tribute, the initial line-up was announced this past January mere hours before David's passing. With that the March 31st event instantly took on new meanings; no longer just a "tribute," it became a memorial. No, scratch that – don't call it a "memorial" – it's "a poignant celebration of his music by his friends, peers and fans" in the words of Dorf's website. As with prior shows, it's also a benefit for music education programs serving underprivileged youth (specifically Young Audiences New York, Little Kids Rock, Church Street School of Music, the Center for Arts Education, Sonic Arts for All!, American Symphony Orchestra, and Grammy in the Schools).
In the wake of Bowie's death, tickets sold-out within two hours, so a second show was added the next night, April 1st, at Radio City Music Hall. That concert quickly sold-out as well (as of March 29th there are four tickets up for grabs). Which brings us to the latest update: can't make it in person? Watch online! 'The Music of David Bowie' organizers have teamed with Skype to stream the April 1st concert and are asking webcast viewers for donations to go towards the same charities listed above that ticket sales will benefit. The official site reads:
"Due to unprecedented interest in the David Bowie memorial concert in Radio City, we have teamed up with Skype and ammado to stream the concert around the world, in return for a small donation to our charity partners. We suggest a minimum donation equivalent to $20 or £15."
A press release elaborates:
"Through a partnership with the Melodic Caring Project, a non profit who streams live concerts into the hospital rooms of critically ill children, this concert will be available to a global audience. The stream will be accessible with a minimal $5 donation made via the ammado donation platform, with 100% of the revenues going to the non-profit organizations benefiting from the concerts. Receive your streaming link by making a donation at: http://musicofdavidbowie.com."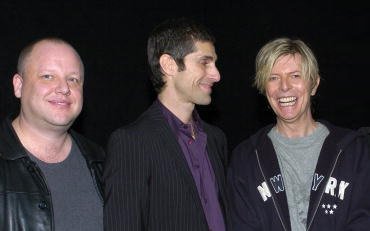 Several of the artist to play these tributes were championed by Bowie himself, most notably The Polyphonic Spree and The Pixies (in the video above watch David discuss The Pixies – and give shout-outs to Grandaddy, Mercury Rev and The Flaming Lips – in 2002). Most noteworthy of all, crucial Bowie collaborator Tony Visconti is musical director for both nights and the house band is Holy Holy (Visconti's group with Spiders From Mars drummer Woody Woodmansey). Visconti produced thirteen Bowie albums from his eponymous 1969 LP through this year's Blackstar. Likewise every member of the Donny McCaslin Group playing the tribute – McCaslin and Visconti, as well as Mark Guiliana and Jason Lindner – contributed to Blackstar. It has not been revealed which Bowie songs are being covered, only that Toronto-based Choir! Choir! Choir! co-founders Nobu Adilman and Daveed Goldman will conclude each show with a sing-along of their choral arrangement of "Space Oddity."
The Flaming Lips – a band Bowie himself was an outspoken fan of, and that has covered Bowie numerous times since the early '90s, most notably with two all Bowie sets in the wake of his passing earlier this year – will promote "The Music of David Bowie" New York tributes with an appearance on The Late Show with Stephen Colbert on March 30th. [Update – The Lips were bumped from this episode by the late addition of Elizabeth Warren to the show's guestlist. Regardless they taped their performance to be aired in a TBA episode in April.] A new video for their cover of "Space Oddity" is also in the works. Thursday will mark the Flaming Lips third performance at Carnegie Hall, and the second time they'll play Bowie's music on its prestigious stage (they performed "Warszawa" with Philip Glass there last year during his annual Tibet House Benefit).
Amanda Palmer, Jherek Bischoff, John Cameron and Anna Calvi are hosting a "string quartet evening" at City Winery on March 29th dubbed "Strung Out" ahead of their appearance at the Radio City Music Hall Bowie tribute. Stream it for free at huzza/amandapalmer. Michael Stipe is scheduled for his first solo appearance on a late night talk show since the 2011 dissolution of R.E.M.: March 29th, on The Tonight Show Starring Jimmy Fallon [Update – Stipe performed Bowie classic "The Man Who Sold The World." Watch here.]
Bowie played Carnegie Hall twice, both times for Philip Glass' Tibet House Benefit. Glass – who wrote two symphonies based on Bowie's compositions, Symphony No. 1 "Low" and Symphony No. 4 "Heroes" – recently spoke about performing at Carnegie with Bowie. "For David, nothing was casual. Every time he did a performance, it was the best he could do," Glass recalled to the NY Times. "[He] wasn't hard to talk to, but came better prepared than anybody else."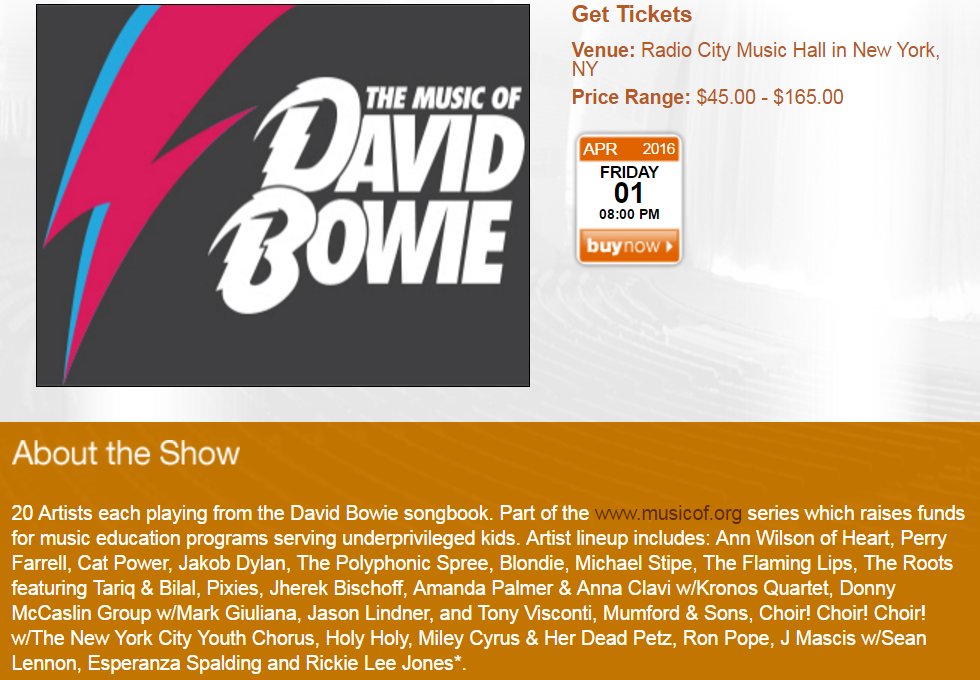 There's been numerous alterations to the 'Music of David Bowie' line-ups over the past two months and consequently it is unclear what will be come showtime. It appears Bette Midler is no longer performing at either show – but maybe she will. Confusing the matter further, the line-ups on the Carnegie Hall and Radio City Music Hall websites differ from the latest press release confirmation of the line-ups. In the case of Carnegie Hall, it appears the line-up listed on their website has not been updated in over a month, and even then was incomplete. On the other hand, Radio City Music Hall's website listing is more complete and up to date than the press release linked above. Patti Smith is not listed on either site or the press release, but has been reported to play both nights by Pitchfork (probably not true) and just the first night at Carnegie hall by other sites (probably true). Likewise depending on the source, TV on the Radio's Kyp Malone is either playing both nights (probably not), neither (probably not), or just the second night (most likely, though casting doubt on even that he's not listed on Radio City's website). Despite this confusion and these conflicting reports it has been confirmed by Radio City Music Hall that Miley Cyrus is the latest addition to the second night line-up, billed with her Dead Petz (aka The Flaming Lips – though it's possible she's performing solo and using the Dead Petz billing for other reasons; the Lips will play their own slot regardless of whether they also play with Cyrus or not). Sean Lennon has also been added to Radio City Music Hall, playing with J Mascis. It is unknown if Cyrus will perform at the Carnegie Hall show as well. Lennon has said it "looks like" he will play both. The Roots were scheduled to play both shows with Tariq and Bilal but pulled out due to an incident involving the sharing of Woody Woodmansey's (Spiders from Mars, Holy Holy) drumset that Questlove referred to on Instagram as "#Bitchassness." "There was a production miscommunication about the use of the Holy Holy's drum kit last night on the tight City Winery stage for the rehearsal show," Michael Dorf said in an e-mail to Spin on March 31st. "I would hope that after a night's sleep and knowing we have a much larger stage with multiple drum kits and other equipment that The Roots will still join us this evening." Questlove did not respond, but did announce he's performing at a Tribe Called Quest tribute at Brooklyn Bowl the night of the Carnegie Hall show – essentially ruling out The Roots, Tariq and Bilal's return to 'The Music of David Bowie.'
This is all a long-winded way of saying: line-ups are subject to change….
'The Music of David Bowie' Lineups
March 31 – Carnegie Hall

The Flaming Lips
Michael Stipe
Patti Smith
Pixies
J Mascis and Sean Lennon
Debbie Harry and Matt Katz-Bohen
Perry Farrell
Cyndi Lauper
Cat Power
Laurie Anderson
Robyn Hitchcock
Eugene Hütz (of Gogol Bordello)
Jakob Dylan
Bettye LaVette
The Mountain Goats
Ann Wilson
Rickie Lee Jones
Holy Holy
Choir! Choir! Choir! and New York City Youth Chorus
April 1 – Radio City Music
The Flaming Lips
Miley Cyrus and Her Dead Petz
Kyp Malone (of TV on the Radio)
Michael Stipe
Pixies
J Mascis and Sean Lennon
Blondie
Perry Farrell
Cat Power
Mumford & Sons
The Polyphonic Spree
Jherek Bischoff, Amanda Palmer and Anna Calvi with the Kronos Quartet
Jakob Dylan
Esperanza Spalding
Ann Wilson
Rickie Lee Jones
Ron Pope
Donny McCaslin Group with Mark Guiliana, Jason Lindner, and Tony Visconti
Holy Holy
Choir! Choir! Choir! with The New York City Youth Chorus