An estimated 15,000 (perhaps many more) Bernie Sanders supporters came to Seattle's Safeco Field tonight to help Democratic presidential hopeful Bernie Sanders rally for a pivotal win over Democratic front-runner Hillary Clinton in Washington's Democratic caucuses, one of three states choosing its nominee on March 26th (the others being Alaska and Hawaii).
The opening act: Greensky Bluegrass and Blues Traveler frontman John Popper.
The jamgrass favs began with a short set of their own – "Windshield," Bill Monroe's "I'm Working On A Building," "Lose My Way" and "Burn Them" – before backing Popper on his Blues Traveler hits. Watch below, followed by photos by Lindsey Wasson of The Seattle Times and Genna Martin of Seattle Pi via twitter. Photo above by Jordan Auleb Popper via instagram.
"This song is dedicated to the current political system," Popper said introducing his mid-'90s ubiquitousness "Run-Around." They followed with Blues Traveler hit "Hook," and then Popper's solo harmonica rendition of "The Star-Spangled Banner."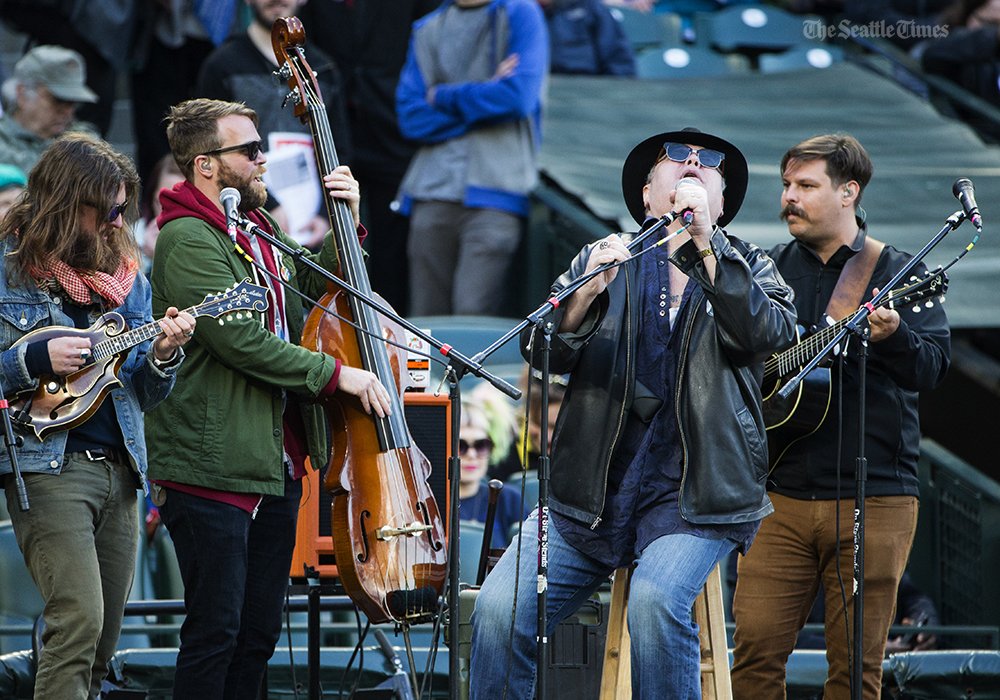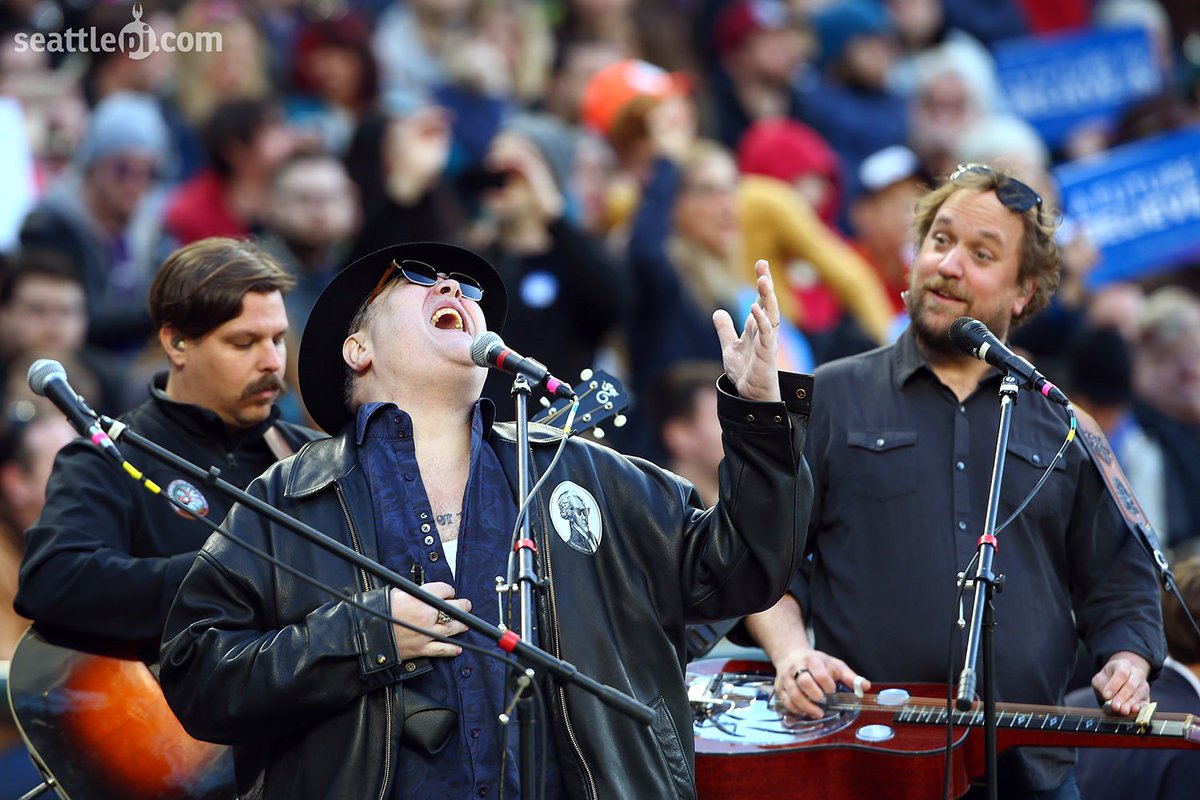 Popper is in Seattle promoting his soon to be released autobiography Suck and Blow: And Other Stories I'm Not Supposed to Tell. He'll discuss his book with fellow author Chris Kornelis at Seattle's Elliott Bay Book Company at 5 PM this Saturday, March 26th, followed by a signing. The book's press release notes one of the topics covered within is "his wide- reaching political views," some of which were discussed earlier this week in a conversation about Sanders and the 2016 presidential election on Popper's facebook. Among other views, he expressed:
"I'm considering not voting at all the way this sucker's going… But I'm down to play a rally for Bernie as is the rest of the band… He's the most genuine candidate on either side… I am more of a centrist,…but this year if U aren't feeling the Bern,U likely just feel like burning stuff…"
"I'm big on the middle… I find that these days there isn't much of that going on at all… I still don'tknow how I'm voting…& couldn't advise anyone how to vote this year…strange bedfellows& all the topsy turvey…&there is real anger out there that must be acknowledged… I can't say that any of the candidates hold a solution,but I can say based on my perseption,I believe this is a guy [Bernie Sanders] who believes in what he's doing… Personally I don't think I can know that for sure about any of the others… If U are getting that vibe from the trumpinator… then U kind of have to vote for him…&I wish U well…That's all politics are…each of our best guesses&gut feelings about the options available… I like the discussions about trade…&Donald has some good ideas there…but for me,once he claimed that all mexicans were rapists,it was a secret code in my mind that said he was not serious… I don't want any part of the 2nd ammendment messed w/…but I must weigh that against the will of my countrymen…&I also don't want an isolationist country where one's religion determines the validity of their citizenship…& again I must weigh that against the will of all of my other countrymen…
But assuming that it was up to me… I don't know how to choose between freedom to be armed&freedom to be identified as a muslim…&each candidate acts as though they will insure only some of the rights I believe we are all entitled to despite who's president… I feel this year is the toughest on we the citizenry who are forced to choose from polarized extremes…"
"I view this year as a great big reset of what the political fishpond will yield for the next one…&hope always springs eternal… But remember the wisdom of southpark… It's always ultimately between a turdsandwich& a giant dueshe…that's democracy…my advice is to drink heavily…that's actually the longest political tradition in american history!"
"I'm a prochoice propot,progun libertarian who wants the inheritance tax done away with… I have no party…my people were scattered to the winds…in the great "Righty/Lefty wars" that started in the late '80s…"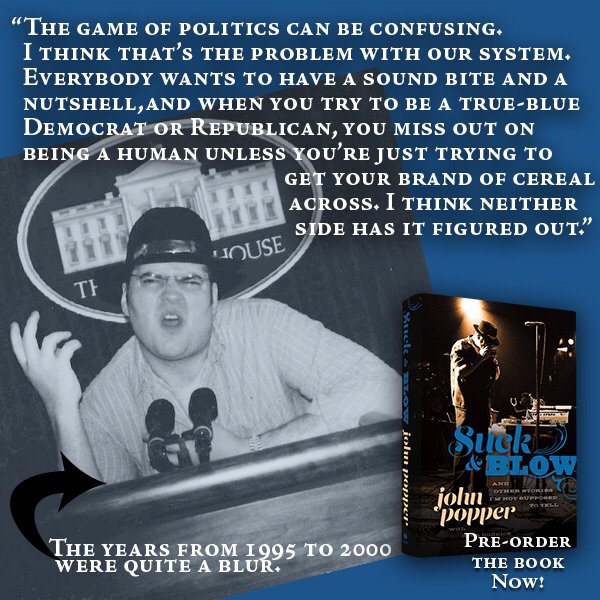 Greensky Bluegrass and Popper are the latest additions to an ever-growing list of famous musicians at Sanders' rallies. Foster The People, Vampire Weekend's Ezra Koenig with Dirty Projectors' Dave Longstreth and others, and Jill Sobule were among the artists that performed at Bernie's Iowa City rally on January 30th; Horse Thief performed and Flaming Lips frontman Wayne Coyne spoke at Bernie's Oklahoma City rally on February 28th; Phish drummer Jon Fishman performed and spoke at a Portland, Maine rally on March 2nd (at which Sanders called Phish "one of the great bands in this country") and Vampire Weekend's Ezra Koenig and Chris Tomson performed at Bernie's Summit, Illinois. rally on March 11th. Additionally Fishman played a surprise show at Portland's Bayside Bowl with local favorites Dominic & The Lucid to stump for Sanders on March 4th; and Red Hot Chili Peppers performed at a Bernie Sanders fundraiser at LA's Ace Hotel on February 5th.
Bernie's Seattle rally marked the first time Greensky and Popper played together, though the second was soon to follow as he sat in for a cover of The Grateful Dead's "Mr. Charlie" and fronted them again on "Hook" at their show at The Showbox tonight: