Updated August 1st
Two men were assaulted as Phish played their second of three consecutive nights at the Gorge Amphitheater near George, Washington on Saturday, July 21st. "One victim is hospitalized in stable condition, the other was treated and released," according to the initial police statement issued July 24th by the Grant County Sheriff's Office. "What is known so far is that the victims were assaulted around the same time, but at locations far apart from one another inside the concert venue; one victim was down near the stage, the other up high on the hill above. Both victims were struck with rocks. Neither victim can identify their assailant. The victims do not know each other."
The attacks have been a hot topic among Phish fans online since July 22nd, particularly the lack of a response from Phish and racial aspects of the situation. Fans also helped circulate three GoFundMe campaigns to benefit the victims and in the first week of the appeals donated over 65 thousand dollars.
Many fans on social media associated the attacks to men allegedly selling nitrous balloons, one of which had a swastika tattoo. Grant County Sheriff Office addressed this claim July 26th on their facebook page:
"No suspects have been identified. We're exploring all possibilities but have developed no links. The persons who were involved with the nitrous (including the one seen on social media with the swastika tattoo) were identified and questioned by deputies but not arrested. None of those persons can be linked to the assaults."
In response to whether the assaults are a "hate crime," the Grant County Sheriff Office commented on their facebook page:
"There are witnesses who describe and photo'd/video'd seeing one man with a swastika at the campground possibly selling nitrous. He was ID'd by deputies, questioned, couldn't be linked to the assault/s. We so far haven't found anyone who was inside the concert venue who can describe either suspect."
On July 27th the Sheriff's office updated:
"No bias speech heard or gestures seen during either assault. No suspects yet. Hoping someone will come forward who saw either suspect. Contact us at 509-762-1160, crimetips@grantcountywa.gov"
The Sheriff's office has also publicly stated that there is "no indication that anything was taken from either victim." These police statements reiterate a point public information officer Kyle Foreman made to freelance journalist Leah Sottile on July 24th:
"One of the frustrations early on is that most people took to social media to discuss [what occurred], but few people stepped forward to share information with us first hand. … if they have firsthand information, come tell us."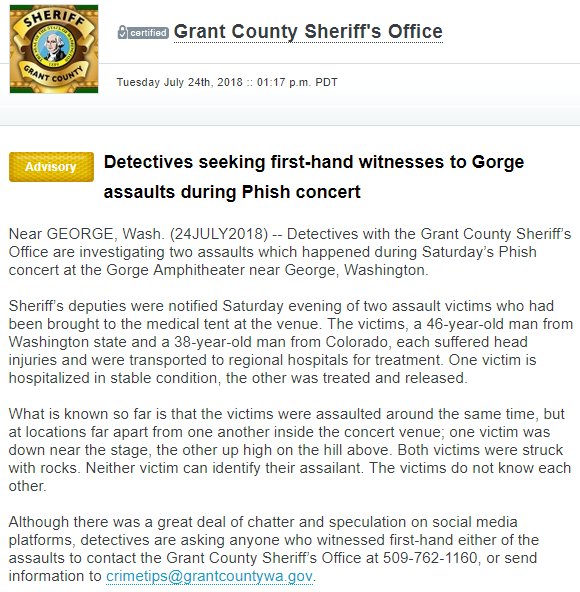 July 24th's initial police statement by the Grant County Sheriff's Office (shown above) was issued along with social media requests for witnesses (shown below). That same day JEMP Radio host Andy Michels shared an interview with the department's public information officer Kyle Forman. The next day Michels shared "a follow up phone interview with Kyle Foreman, the Grant County Sheriff's Department Public Information Officer, regarding the delay between the assaults on Phish fans at the Gorge Amphitheatre and when the police issued a statement." Stream it below.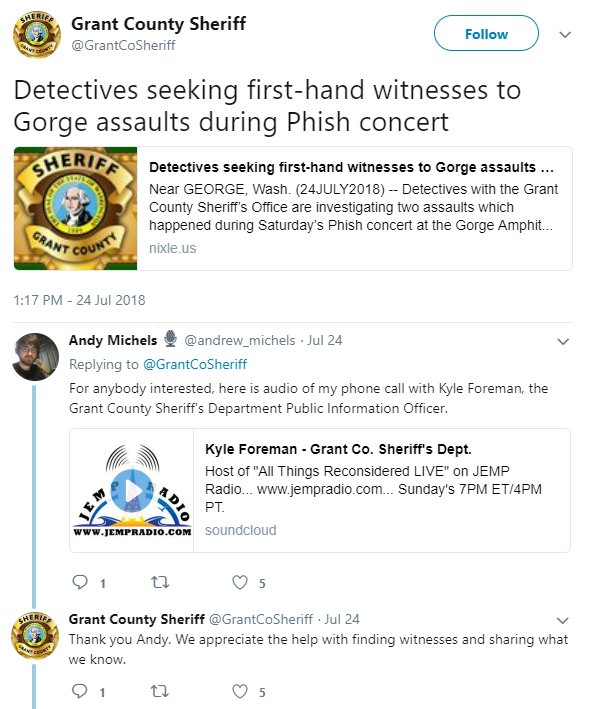 The attacks began to get some larger corporate media attention after the police statement was issued, including a short segment on CBS News 4 Denver and an associated press article published by Fox 28 Spokane, NBC KHQ6, and The Washington Times, among other coverage.
Officer Foreman updated the status of the investigation on JEMP Radio's Phish broadcast All Things Reconsidered episode 75 on July 29th. The entire show can be streamed on host Andy Michels' soundcloud; key excerpts are below. Regarding the men with the swastika tattoos and the lack of arrests to date, Foreman said:
"During the course of this week the one biggest concern that everybody had was the sighting of some guys out at the venue or in the campground, one of them obviously had a swastika on his shoulder. There was a picture of another guy who I believe was in that party who had a swastika tattoo on his side just below the hemline of his shorts. Detectives identified those people out there, could not connect them with either of the assaults. It's great that people did take picture of that because – one, we had the pictures of the subjects so we can try to identify who they are, and we already did – but the picture also captures the deputies interviewing them and also the case detective who was in uniform that day who was interviewing them. So he was there interviewing them and trying to establish what if any connection there was. As of right now we have not found a connection. Now I know there's a lot of people that are worried about this. Here's the world we live in: if we have assumptions we have to prove the assumptions. We can't just go on the assumptions. That's not what takes someone to court and that's not what gets a prosecution."
"It's not that we're not sympathetic to what happened, because we are because it was awful. Phish fans are great. We've had them there before many, many times. The concert-goers are great. It's terrible it happened to anybody, especially that violent of a crime."
Regarding accounts from concert-goers brought to the police and the lack of a first-hand witnesses, Foreman said:
"Most of everyone's attention of course was on the stage, was on Phish playing. It wasn't on the crowds that were moving around. We have people that either heard a scuffle or saw the aftermath, but no one that can give us a good description of what either assailant looks like."
Regarding Live Nation, Foreman said:
"Live Nation has been very good. The case detective went back to the venue this week with a witness who could point out where one of the sites was where one of the assaults occurred. Live Nation has opened their doors for us to conduct the investigation, so they've been cooperative and I think they are concerned about what happened at their venue."
Regarding a claim spread on social media that the Gorge's local security brought in neo-nazis as assistants, Foreman said:
"There were a ton of rumors. All of them we've had to chase down and vet them to see whether was any substance to them or any truth. Some of the rumors actually canceled each other out. As of right now, what's been pieced together so far is rumors of people who were selling nitrous in the campground. We believe that probably did happen. Who was selling it? We have an idea who was selling it but as far as security calling in neo-nazi friends to take care of people who were selling nitrous, we can't find any substance to that. We don't have anything to suggest that even happened."
Foreman also addressed rumors about the timeline of the police's investigation, and criticism that it was not dealt with soon enough:
"Investigation started that night [July 21st] – made public Monday night [July 23rd]. It may have not been visible to the concert-goers, to the public that there was an investigation going on, because there wasn't a big sign that said 'investigation underway,' but it was underway. At some point, early on in the investigation it's going to be a little bit silent because we're trying to gather information and do it in a way that doesn't compromise the investigation if we do find who the assailants are. So when we got to the point on Monday night, when we first made our announcement that we were seeking witnesses and seeking information, we were two days into the investigation by then."
Regarding advice for fans if situations like this repeat in the future, Foreman said:
"If there's any incidents at any of the concerts anywhere you guys are, let law enforcement know right away, be a good witness, and try to help out everybody."
"I'd also caution people to not take justice into your own hands. Please, if you witness somebody who is not part of your crowd that you think is going to cause a problem, don't take it into your own hands. Let law enforcement know, let security know, but we don't need any vigilantes going out, or any gang justice forming or anything like that."
Regarding this situation in general, Foreman said:
"Every year, at every concert, unfortunately something happens. And that's not showing that the music was bad or that it attracts a bad crowd. What it just shows is that anywhere in society where you have a large collection of people there's going to be a small percentage of those people that aren't good people and those are the ones that we get to deal with in law enforcement."
On July 30th Grant County Sheriff Office replied to a claim that were five – not two – attacks at the Gorge, stating that had been debunked: "Aside from the two assaults we have been investigating, there were no other reported assaults during the concert."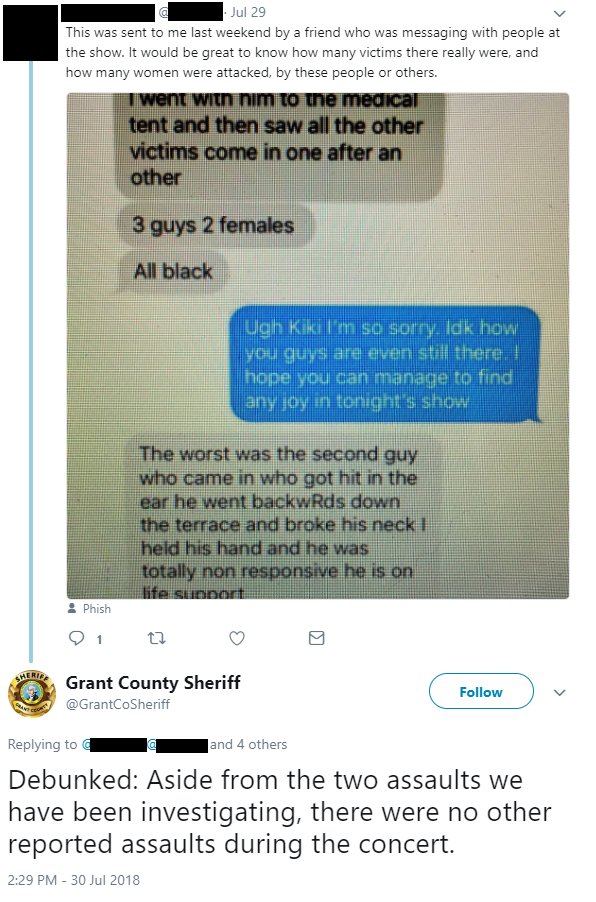 On July 31st Foreman further elaborated on the investigation in response to PopMatters journalist Greg M. Schwartz.
1. There were several groups of persons selling nitrous at the campground and on the path between the campground and the venue.
2. One of the groups included several white men and the persons with the swastika tattoos whose pictures have been shared by concert goers on social media. These men was contacted by security on Sunday and two members of that group were trespassed/ejected by security. These men were not arrested. Their nitrous cylinders were taken by security.
3. Another group included several black men who were caught on Sunday selling nitrous filled balloons along the path from the campground to the venue. These men were also trespassed/ejected by security. These men were not arrested. Their nitrous cylinders were taken by security.
4. One other grouped which included several black males was observed selling nitrous but security and law enforcement was not able to catch them in the act.
5. Thus far we have no information that there was a scuffle on Friday between security and any groups or persons selling nitrous balloons. If a physical altercation happens involving security, they are typically very quick at calling us for assistance.
6. We've found no evidence that neo-Nazis were called in by security as enforcers. The alleged neo-Nazis contacted all had IDs from east coast cities. There was no established link between security and the alleged neo-Nazis, aside from security trespassing/ejecting them on Sunday.
7. The alleged neo-Nazis were at the concert and were caught selling nitrous filled balloon. This sales of balloons seems to be why they were there.
8. We currently have no witnesses who can describe either of the assailants involved in the two assaults.
Regarding the "nitrous mafia", our experience is that nitrous sales are present at Phish concerts. Sheriff's deputies at the Gorge tried their hardest to support security in catching and evicting nitrous sellers, but I am told there was a great deal of nitrous sales activity along Shakedown all weekend. Nitrous sellers in some cases were very organized in operating their businesses. Many employ counter-surveillance teams to alert the persons selling the balloons. When the counter-surveillance team sees security or law enforcement approaching one of their sellers, they alert the seller who typically just abandons the nitrous cylinder and walks away into the crowd before security or law enforcement can reach them.
I have been told that over 80 cylinders were collected by security this year, most of which were abandoned by tipped-off sellers. I was also told that last year over 160 nitrous cylinders were taken by security.
One thing which deputies did experience was the gratitude of concert-goers. I am told scores of concert-goers took the time to say thank you to deputies for their presence and deterrence of misbehavior."
Phish has not commented on the incident in anyway, though according to popular Phish fan account @PhishatMSG drummer Jon Fishman posted a meme in apparent reaction to the incidents from his personal facebook profile: Hitler with a gun in his mouth and his brains splattered behind his head with the text "Follow You Leader." A professed friend of Samir's Gorge RV mate claims that both Phish management and guitarist Trey Anastasio have reached out to him: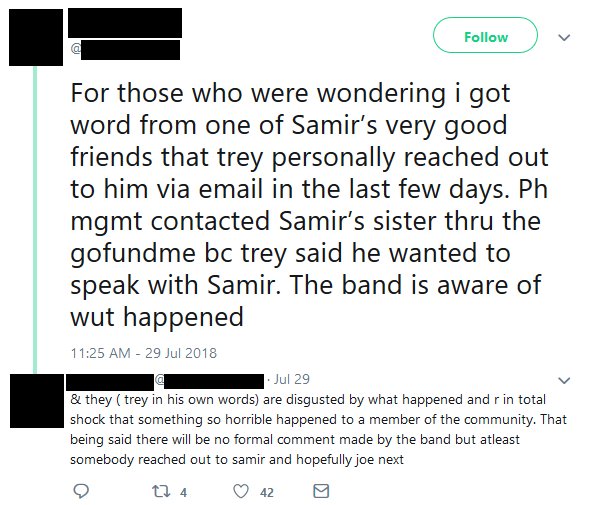 Phish's decision to not publicly acknowledge the attacks has been fiercely debated all places where Phish is discussed online, with thousands of fans arguing their opinions (detailed in depth at the bottom of this page). The divide among fans was seen in a July 27th twitter poll by The Phunion that asked: "Should Phish make a statement on the Gorge attacks?" Of the 498 respondents, 33% voted "Yes;" 29% voted "No" and 38% chose a third option, "Wait For The Facts."
Among those that weighed-in the debate on how Phish should respond were Joel Cummins, keyboardist for like-minded band Umphrey's McGee and a fellow follower of Phish who attended the Gorge shows as a fan. Replying to a request for his thoughts on the matter, Joel said fans expecting a statement from Phish are overreacting. "It goes without saying any violence at a show is awful," he tweeted on July 27th. "Social media & groupthink make people think they know the facts of what happened. I think there are conflicting details about the incidents & few, if any witnesses have come forward. As fans, keep looking out for each other." In a separate tweet he mentioned reasons Phish may not make a statement: "With the way assholes operate in the world today, maybe drawing attention to it would attract more violence to the scene? Maybe they're not convinced there were hate crimes? Maybe the police dept / Live Nation said "let us handle this?"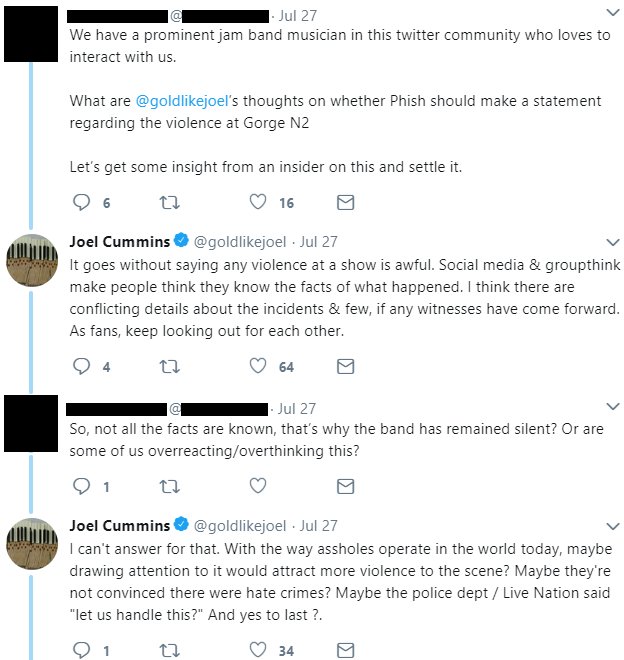 On July 23rd two separate GoFundMe campaigns were created to benefit victim Samir Poles – one by his sister, another by a friend. The former noted Samir was "one of the 2 African American men who were violently attacked during the Phish Festival at the Gorge;" the latter included this account of the assault:
"Sometime during the second set a man ran up and smashed Samir in the mouth with a rock and then disappeared into the crowd. Samir was rushed to a local medical facility where they found a broken palate that required surgery and he lost multiple teeth."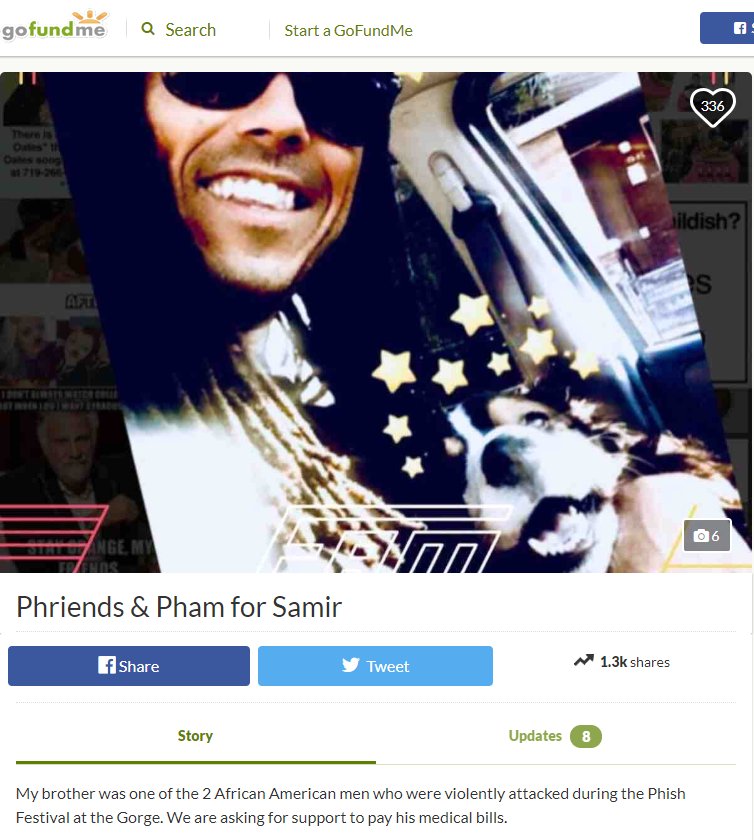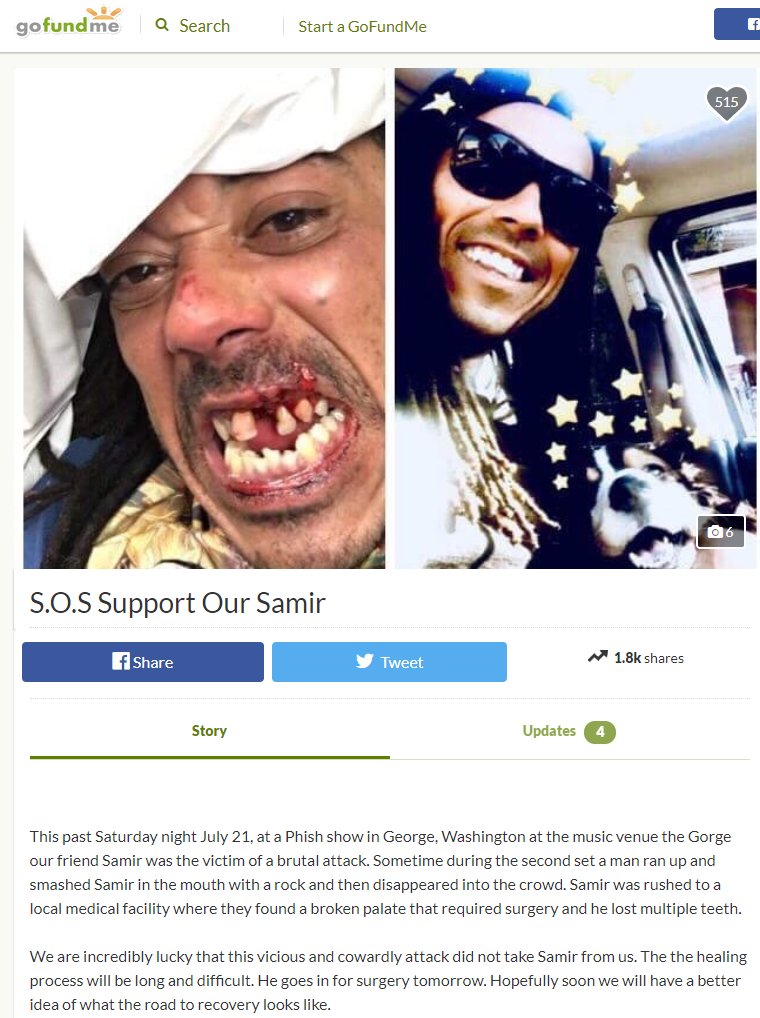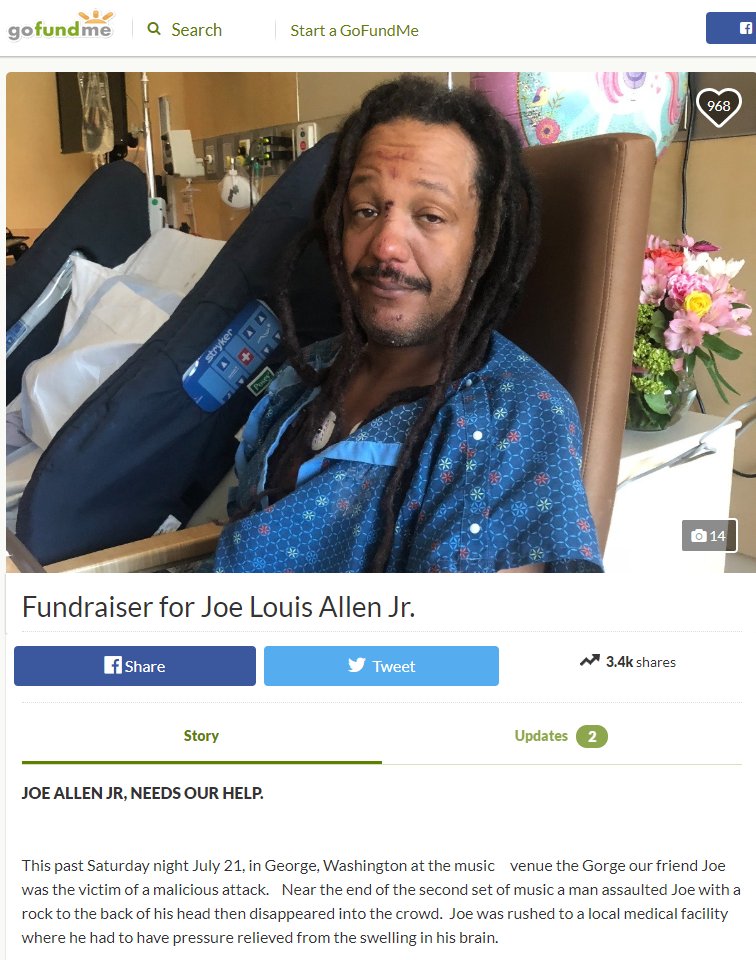 A third GoFundMe campaign was created to benefit the other victim, Joe Louis Allen Jr., and included a similar assault account: "Near the end of the second set of music a man assaulted Joe with a rock to the back of his head then disappeared into the crowd." In their first week, the three campaigns have raised over 65 thousand dollars.
According to Phish fan publication Surrender to the Flow, fellow fans wishing to send "get well soon" mail to the victims can address it to:
Samir Poles
PO Box 181282
Denver, CO 80218
Joe Allen Jr.
PO Box 150282
Grand Rapids, MI 49515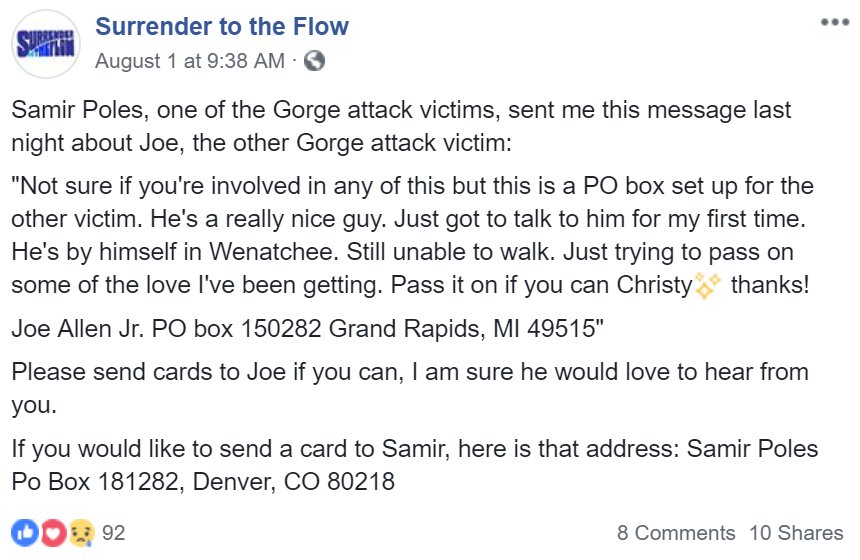 On July 24th Samir shared a statement on facebook, distancing himself from the nitrous scene and pointing fault at Live Nation. "This attack had zero to do with nitrous and was coordinated by at least two men at the exact same time in opposite corners of the venue," he wrote. "I know a lot of people saw it but since the police were never alerted we only have a few witness's to give statements." Read his full post below: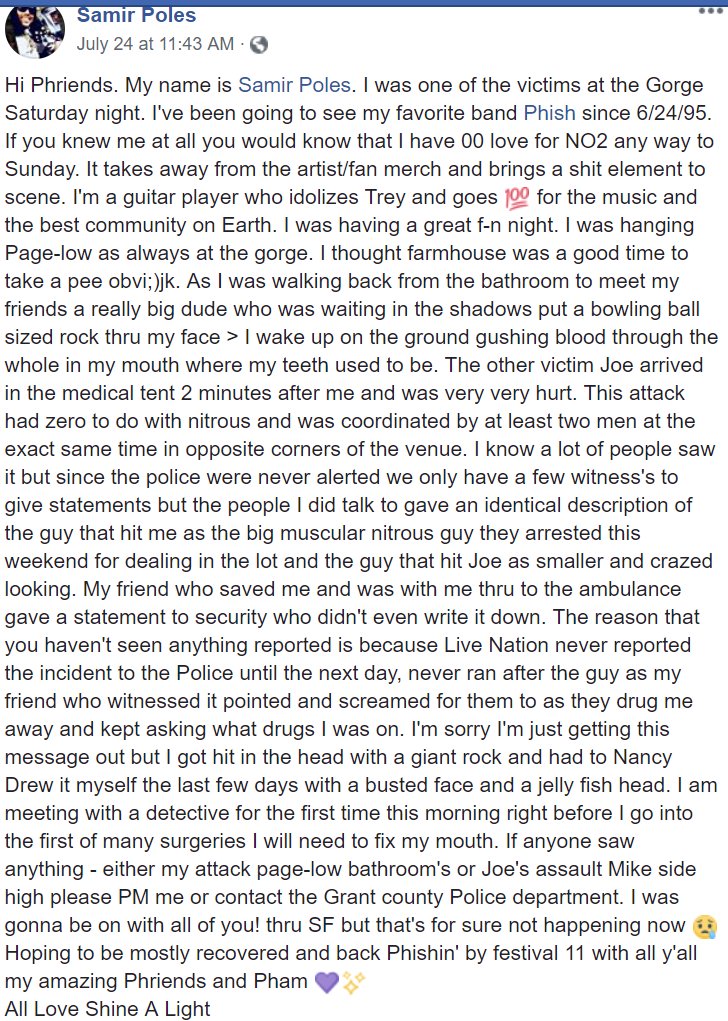 Live Nation Pacific Northwest's facebook page shared the police statement and request for witnesses along with a statement of their own on July 25th. It was followed by a similar statement from their main twitter account on July 27th.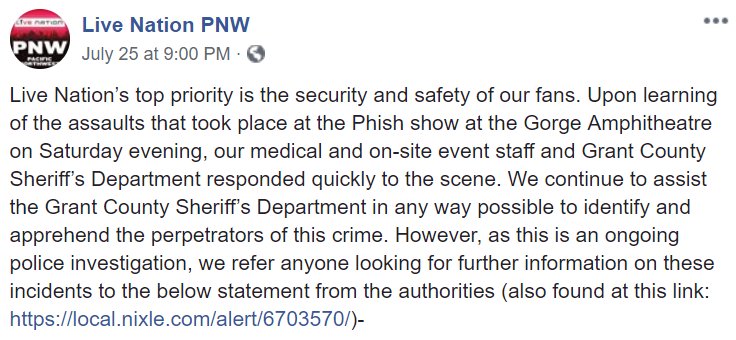 Online chatter among fans has been persistent since July 22nd when alleged witness accounts, debate and speculation spread from various Facebook groups to all other social media platforms and was tweeted about by prominent accounts on "Phish twitter" – author and WFMU radio DJ Jesse Jarnow for instance. Many commented about neo-nazis at the show; others argued some of these comments were presumptuous. An alleged witness "standing a few feet from this incident when it happened" tweeted his recollection of the attack, noting it "seemed completely random" and that's "it's easy to jump to conclusions based on the alleged presence of neo Nazis at the Gorge but neither myself or anybody else on the scene got a good look…"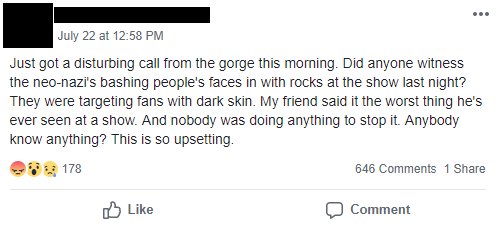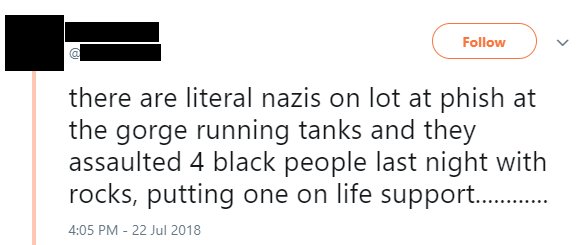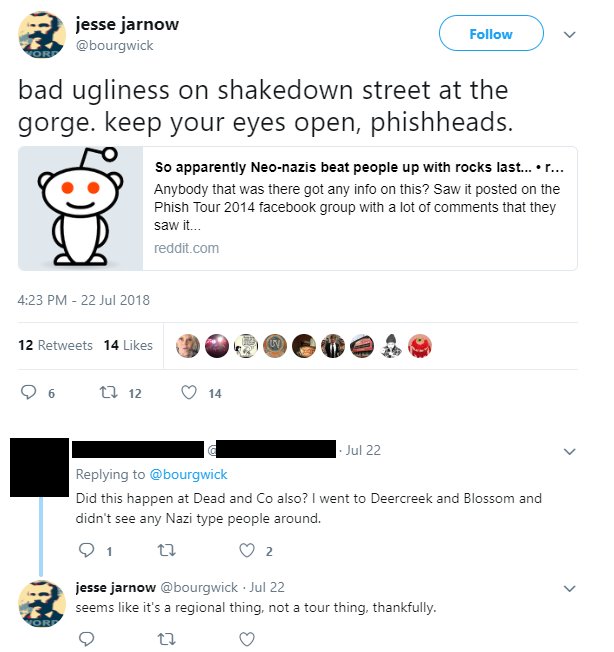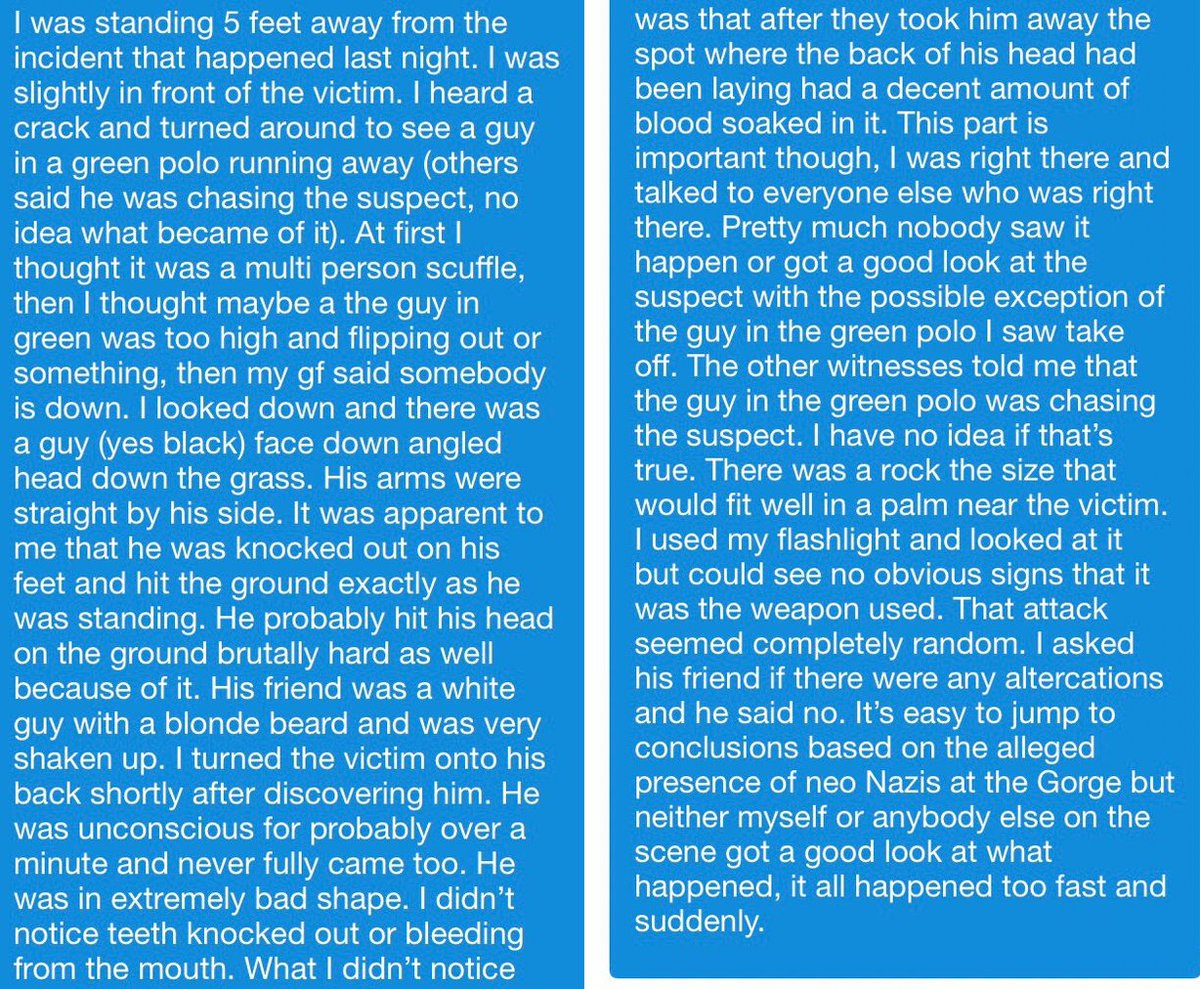 Prior Phish playing their Gorge run's final show the day after the attacks, numerous fans tweeted pictures of the alleged assailant on the concert lot – some showing a swastika tattoo on his right upper arm – including freelance writer Jordan Hoffman and the twitter of PhanArt (a book and series of art shows showcasing artwork by Phish fans). A separate swastika tattoo was also spotted on the leg of one of the men the sheriff was interrogating.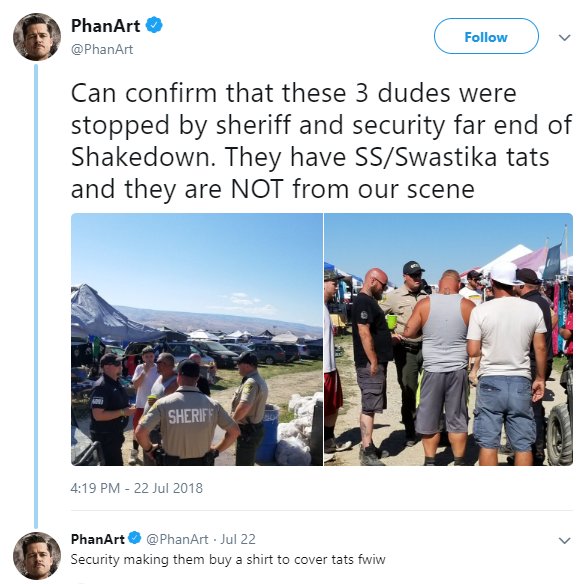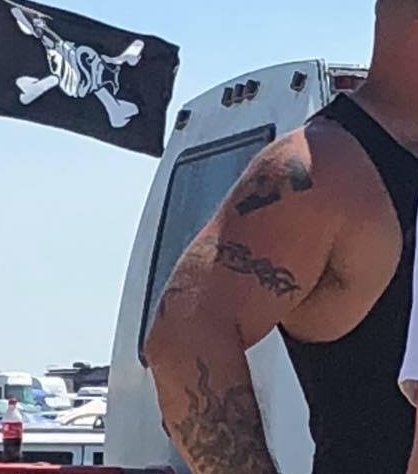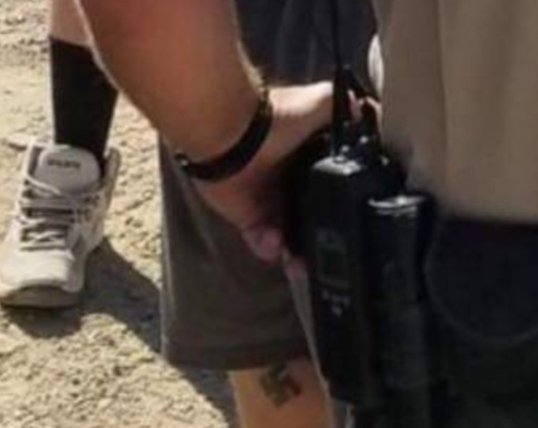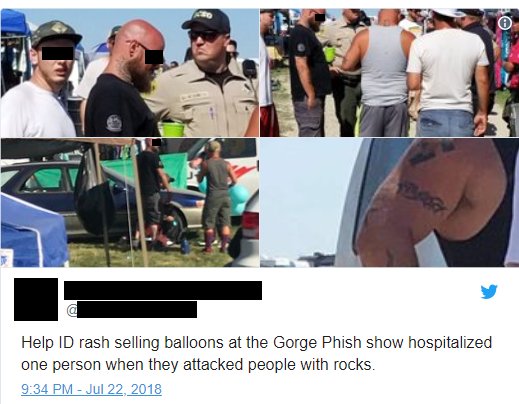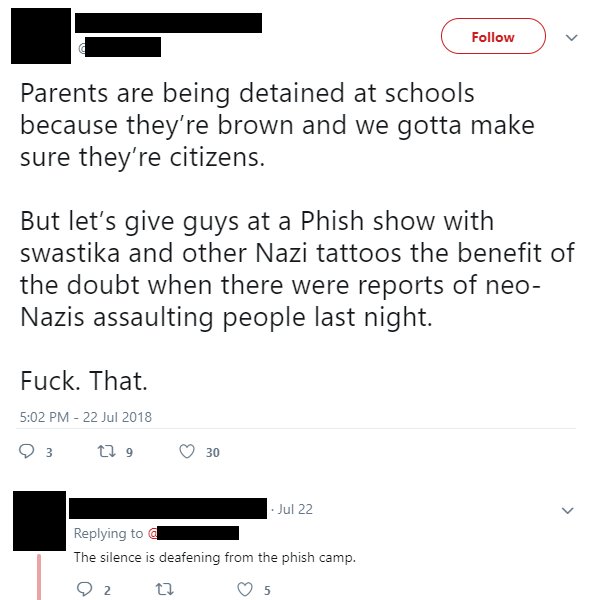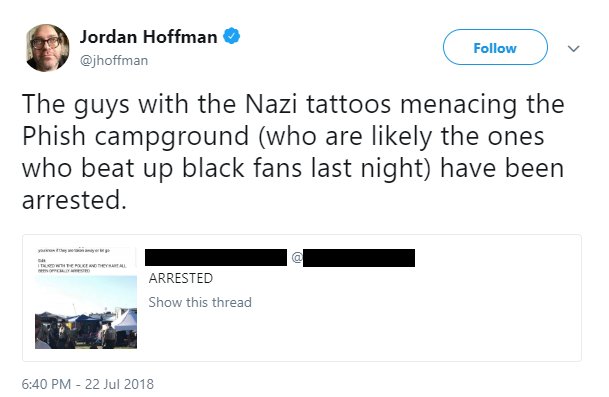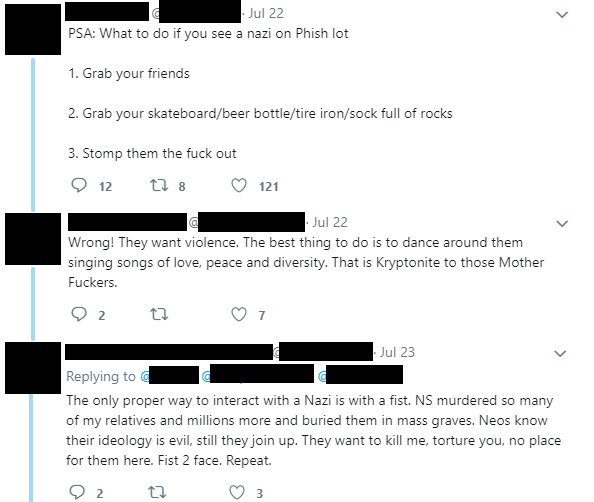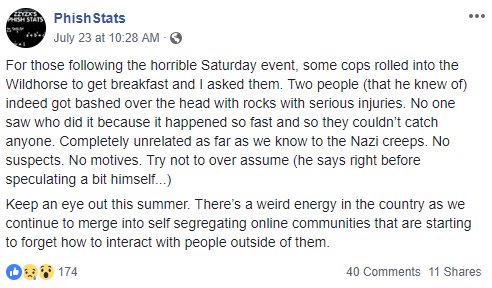 The discussion about the attacks, especially the "hate crime" aspects of them, continued on social media throughout the week from prominent voices in the Phish community, like David Steinberg – author of the book This Has All Been Wonderful, creator of PhishStats, and occasional Relix Magazine contributor known in the Phish community as ZZYZX and The Timer. Phish fan group Phans for Racial Equality issued a statement, itself debated.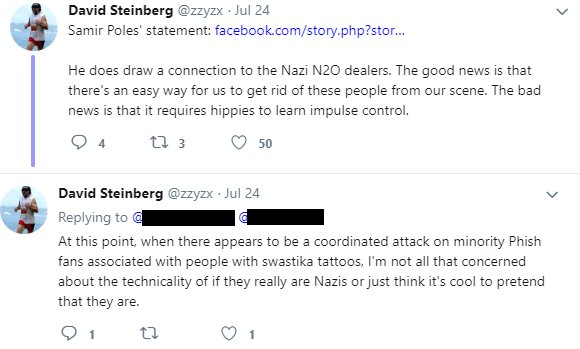 In addition to discourse on social media about the attacks, race issues, nazis and to a lesser extent "Trump's America," the discussion spilled over into unrelated matters such as a review on Phish.net of a subsequent, incident-free show. Neurotribes author and former Wired editor Steve Silberman and former Office of the Secretary of Defense, Public Affairs Strategic Planner Adam Blickstein were among the higher profile twitter users to join this conversation. Phish's strict "no politics" policy was also addressed by some fans. (At a solo show this past Valentine's day Anastasio said, "Even one drop of politics in this world just made me sick to my stomach. But I really couldn't give a fuck, seriously. Just sayin." Fishman on the other hand stumped for Bernie Sanders on several occasions in 2016, and – inspired by Sanders – currently serves as a Lincolnville Board Of Selectmen.)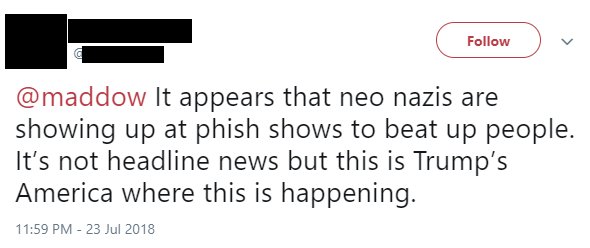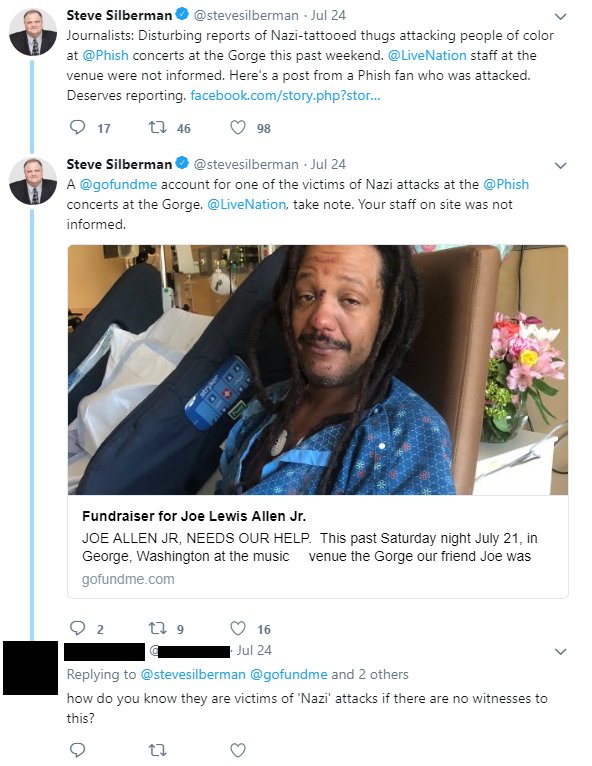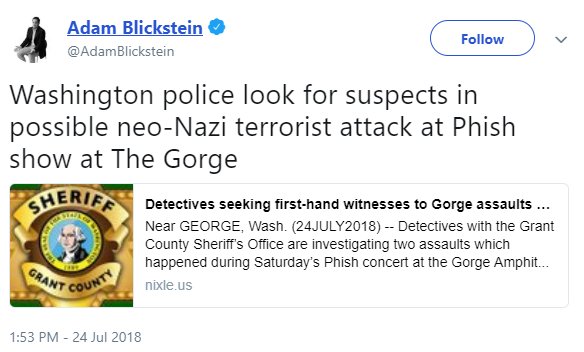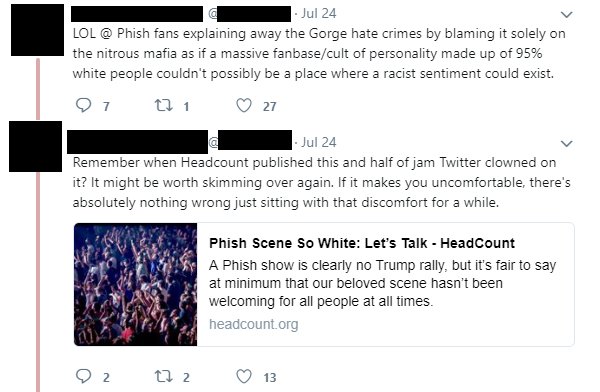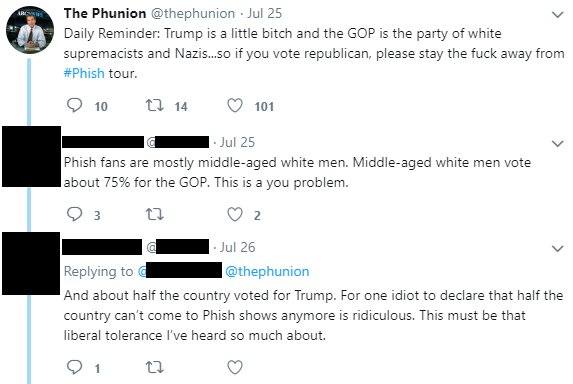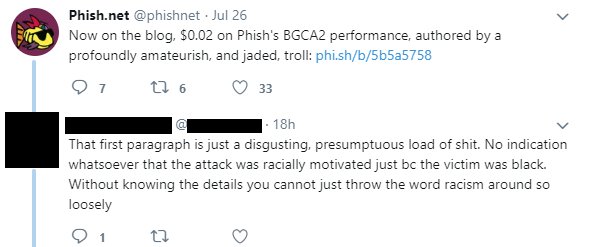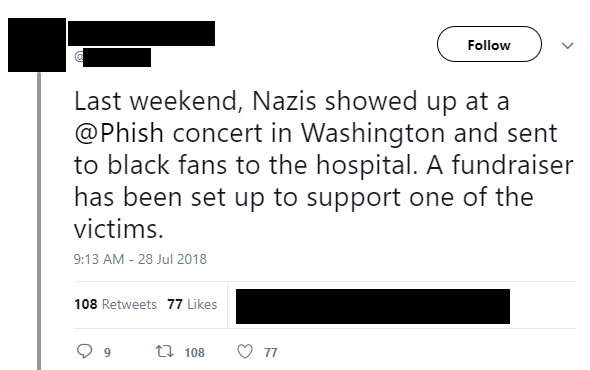 Over the week following the Gorge shows criticism of Phish – for not releasing a statement of their own about the attacks or addressing the attendees with swastika tattoos – intensified on social media from numerous fans, for instance David Steinberg and the twitters' of the blogs Philosophy School of Phish and The Phunion. Many contrasted the band's silence on the attacks with their recent request to use "proper receptacles for garbage and recycling" after attendees of their tour-opening shows in Lake Tahoe left excessive garbage on and around the premises. Other fans argued Phish had no responsibility to make a statement and/or that doing so could make matters worse. The debate reached its apex in YEMblog's weekly "Friday Conversation."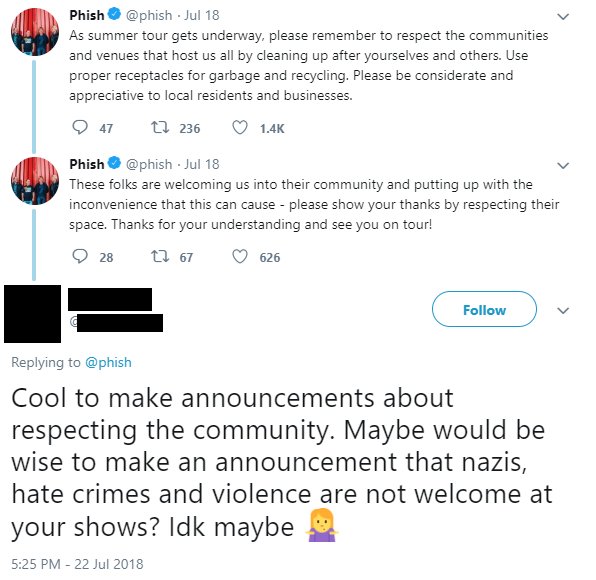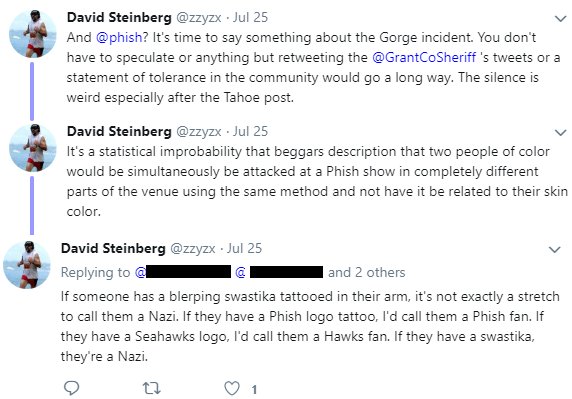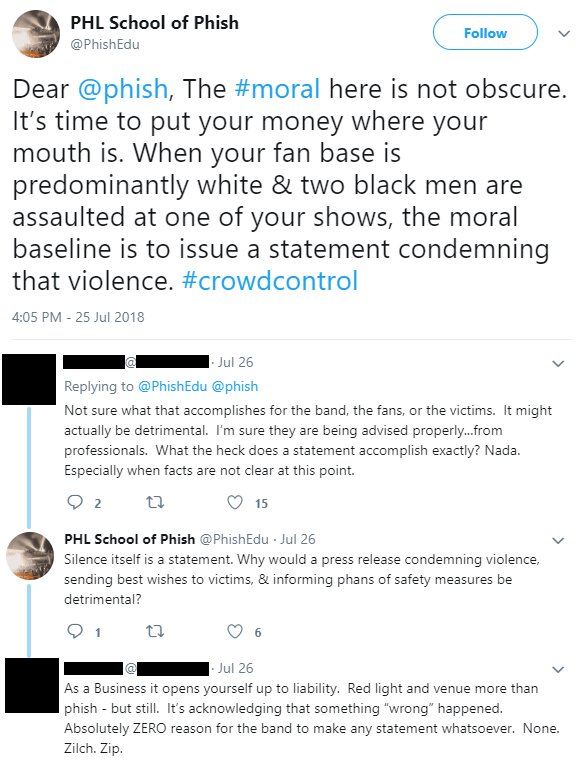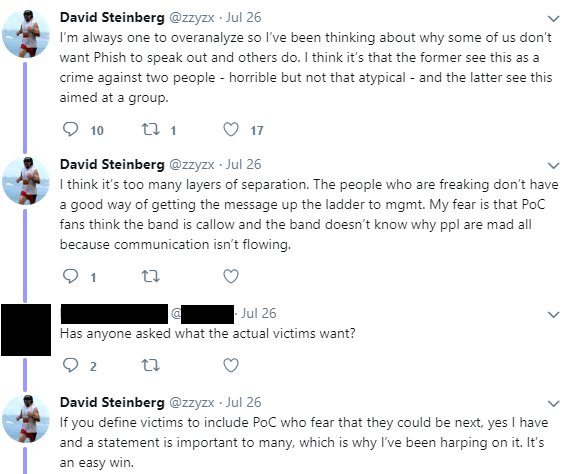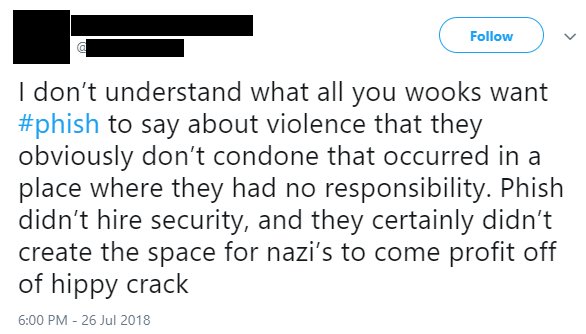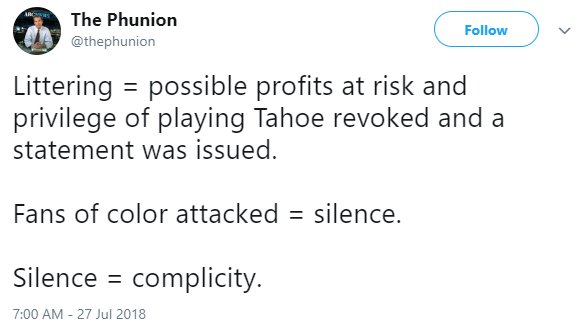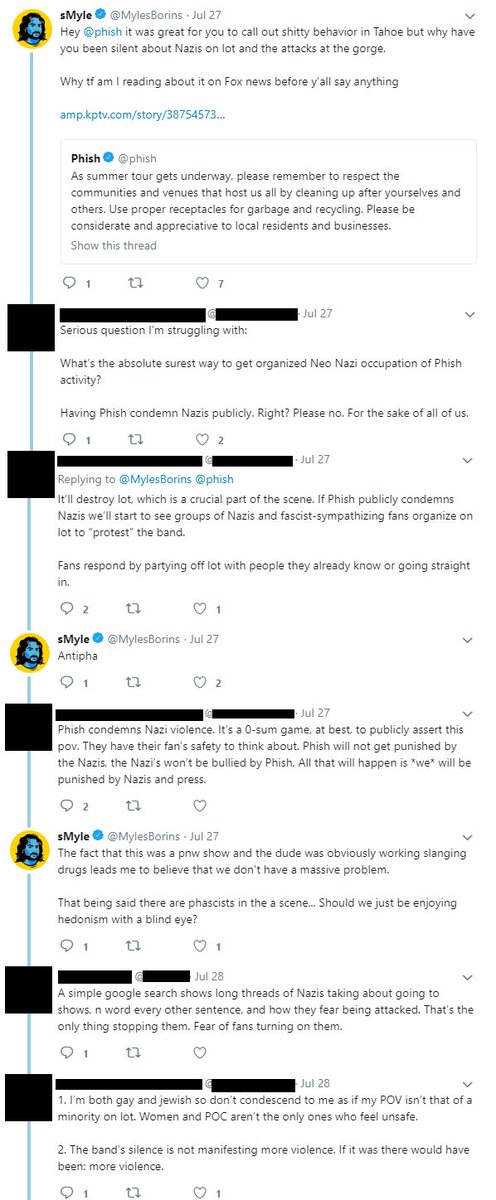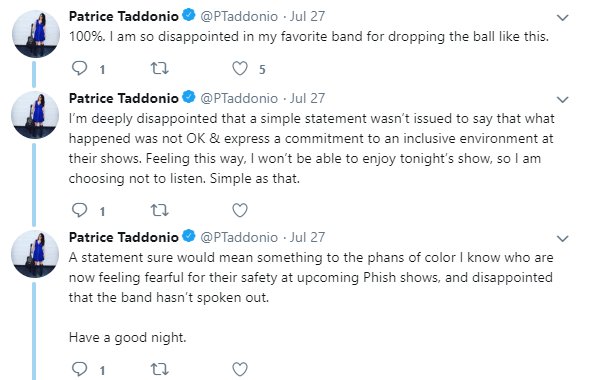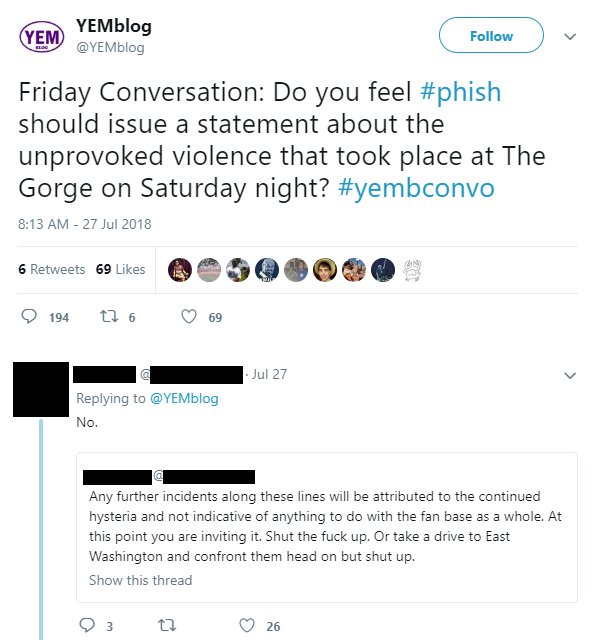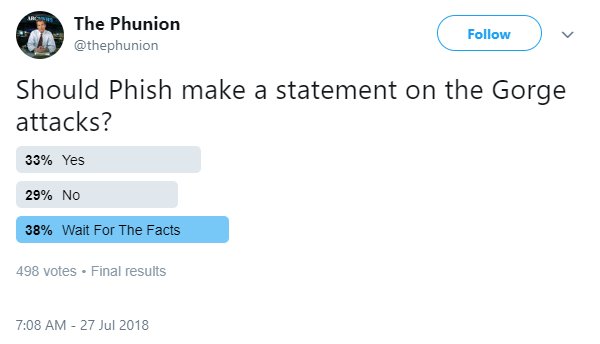 As stated above, first-hand witnesses of either assault are asked to call 509-762-1160 or email crimetips@grantcountywa.gov.
Check back at this page for updates.