Since publishing a preliminary list of vinyl releases confirmed for this Black Friday there's been numerous additions. We already knew about releases from Jimi Hendrix, Bob Dylan The Kinks, Prince, Ramones, Stone Roses, Amanda Palmer, Jaco Pastorius, Muddy Waters, Sun Ra & His Arkestra, Uncle Acid & the Deadbeats, Butch Walker, Mike Watt, Johnny Winter, Fruit Bats and more.
Now we also can confirm the following: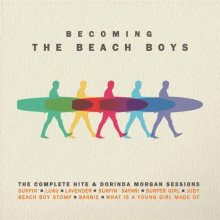 Chet Baker — Love for Sale: Live at The Rising Sun Celebrity Jazz Club
The Bangles — Ladies and Gentlemen: The Bangles!
The Beach Boys — Becoming The Beach Boys: The Complete Hite & Dorinda Morgan Sessions – LP, Red, blue or yellow vinyl
Betts, Hall, Leavell and Trucks — Live at the Coffee Pot 1983 – 2x LP
Big Star — Complete Third Vol 1: Demos to Session to Roughs – 2x LP with download
Errol Brown — Orthodox Dub
Brujeria — Pocho Aztlan
Bill Callahan — Apocalypse: Bill Callahan Tour – LP + DVD
Jazz Cartier — Hotel Paranoia – LP
Chvrches — Under The Tide – 12″ EP, 180 gram yellow vinyl
Gary Clark Jr. — The Healing Live/Church Live – 10″
Leonard Cohen — You Want It Darker
Alice Cooper — Live from the Astroturf: Eighteen/Body – 7″
Count Ossie & The Mystic Revelation Of Rastafari — Grounation
Cynic — Uroboric Forms: The Complete Demo Recordings
Dan & Shay — Obsessed
Dengue Fever — Ganadaramaba – LP
Die Antwoord — Mount Ninji & Da Nice Time Kid
Dungen — Haxan – LP with download, white vinyl
Earth, Wind & Fire — Greatest Hits
Enslaved — Vikingligr Veldi
Explosions in the Sky — Lone Survivor (OST) – LP
Flume — Skin Companion EP
Ben Folds — In Concert 2015-2016 – 10″ 45 RPM with download
Error Garner — Ready Take One
Jerry Goldsmith — Chinatown (OST)
Gonn — Time Travel: 50 Years Come & Gonn
Gorguts — Pleiades Dust
Steve Grossman — Some Shapes To Come
Hot Tuna — The Phosphorescent Rat – LP, red vinyl, gatefold
Iggy and the Stooges — Telluric Chaos – LP, red and white vinyl
Iron Horse — Fade to Bluegrass: Tribute to Metallica – LP, 180 gram
Isasa — Los Dias
Eyvind Kang — Mother Of All Saints (Puppet On A String)
The Lumineers — Cleopatra
Martyrdod — List
Memory Band — Landscape Music Volume Five (A Fair Field Full Of Folk) – LP
Memphis May Fire — This Light I Hold
Tom Petty & The Heartbreakers — The Complete Studio Albums Volume 2 (1994-2014)
Piano Guys — Uncharted
Puscifer — Money Shot: Your Re Load (remixes) – 2x LP, Coke-bottle green vinyl
Revivalists — Strangers In The Bright Lights – LP
Rockabye Baby — Lullaby Renditions of Depeche Mode – LP, purple vinyl
Rolling Stones — Ride 'Em on Down – 10″
Silver Apples — Decatur – LP
T. Rex — Taverne De L'Olypia Paris 1971 – 10″
Mikael Tariverdiev — The Irony of Fate (OST)
Tragically Hip — Tired As Fuck/At The Hundredth Meridian – 7″
Valencia — This Could Be A Possibility
Mark Van Hoen — The Last Flowers from the Darkness
Various — Suicide Squad: The Album
Various — DIM MAK 20th Anniversary
Various — Lagniappe Sessions: Vol. 1
Various — Ninja Scroll (OST)
Various — The Boy and The Beast (OST)
Various — Polyvinyl Plays Polyvinyl
Video Liszt — Ektakrom Killer
Vitamin String Quartet — Radiohead: True Love Waits/Burn the Witch – 7″
Martha Wainwright — Goodnight City
Joy Williams – Venus (Acoustic)
The Yardbirds — Birdland – LP
Neil Young — Original Release Series 8.5-12 – Vinyl box
Follow twitter/TheFutureHeart and facebook/TheFutureHeart for updates and more releases likely to be added to the list in the near future.