Update – June 19th: New Paul McCartney album Egypt Station confirmed by Amazon, due September 7th. All the latest, confirmed information is outlined here.
Cryptic teases posted on all of Paul's social media accounts evidently lead to an imminent announcement. Below is everything known, speculated and rumored about Paul's next album:
The new album will be Paul's 17th solo studio LP and his first in five years, following 2013's New.
In March 2017 Paul McCartney revealed on BBC Radio 6 he was in the midst of recording a new LP with super-producer Greg Kurstin.
Last summer the album was rumored to be titled In The Universe and Beyond and feature a lead single called "A Life of Mercy," a duet with Denny Laine. The rumor was essentially debunked when its alleged release date – Monday, August 28, 2017 – came and went without a trace. It's still possible though that those titles are accurate, or that they were working titles. (If "Yesterday" could originally be called "Scrambled Eggs" by Macca, why not "A Life of Mercy"?) Most interesting to see will be if Denny Laine – who came to notoriety in the Moody Blues but is best known today as the only mainstay member of Paul's post-Beatles band Wings besides Paul and his late wife Linda McCartney – is in fact on the album. If true this would be the closest to a Wings reunion possible at this point. This is particularly notable given the friction that's allegedly existed between Denny and Paul (and Linda) since the dissolution of Wings. Below watch Denny take the lead in Wings on the Moody Blues' "Go Now".
During a Q&A session last July at the Liverpool Institute of Performing Arts McCartney revealed one of his new tunes was inspired by current politics, widely reported as a nod to Donald Trump (although Paul himself is not actually quoted explicitly mentioning Trump). "Sometimes the situation in the world is so crazy that you've got to address it," he said of the song according to the Liverpool Echo. Separately Paul told Australia's Daily Telegraph in July that he's "not a fan at all" of Trump. "He's unleashed a kind of violent prejudice that is sometimes latent among people. Most people don't feel it's okay to be like that. When there were protesters at his rallies, Trump would say, 'Oh, beat them up, give them a good punch' — wait a minute, I'm not sure that's cool for a leader of a country to be saying that. Maybe for a hockey player. He's unleashed the ugly side of America. People feel like they have got a free pass to be, if not violent, at least antagonistic toward people of a different color or a different race. I think we all thought we'd got past that a long time ago."
Another rumored song has a 'latin' feel, and possibly another (or perhaps the same song) is rumored to be called "Brazil."
Work on a music video to promote the new album allegedly began last September.
Also late last summer, MPL copyrighted two new songs: "Let Myself Down" and "Special Day."
A fan that attended Paul's Newark, New Jersey concert on September 11, 2017 claimed on stevehoffman.tv he "was interviewed by one of Paul's people about his concert legacy. When the interview was over I asked about the new album. The guy told me he is finishing the album now and it would be released sometime in 2018." Various other sources also claimed the new album was expected last fall, but that in September MPL postponed the release to 2018.
On December 23, 2017 Paul posted in a Q&A on his official website: "I'll probably be putting out a new album. So, I'd like that to be something I really love and then hopefully the fans will love it too! We're putting the finishing touches to it now and at the beginning of next year. So, I would like to achieve making that a really great album. Fingers crossed! That's not what it's called, but fingers crossed! [Pauses] It could be… it COULD be the new album title!"
Based on the below tweet, legendary Beatles producer Geoff Emerick may have been involved with the mixing of the album:
June 9, 2018: Paul live debuted a brand new song during a surprise show at Liverpool's Philharmonic Pub. Watch below: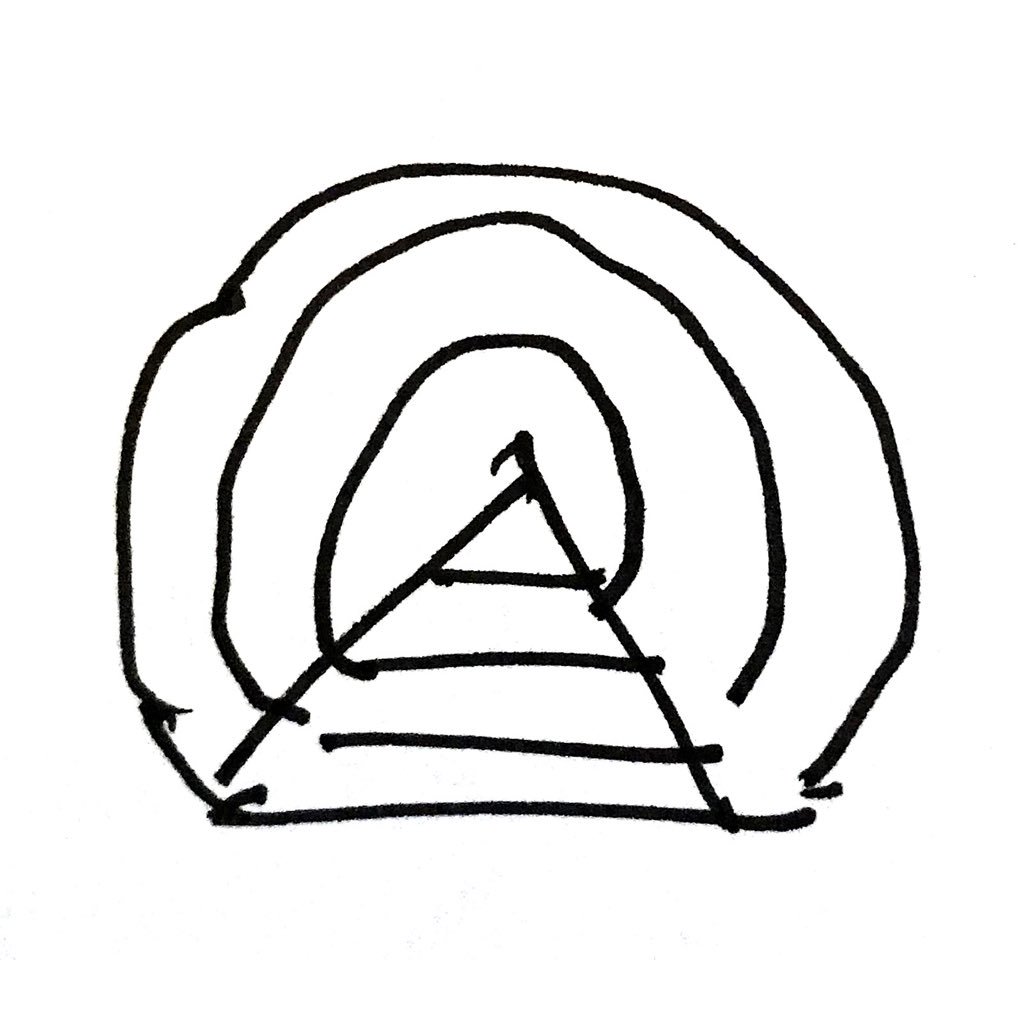 June 10, 2018: All of Paul's social media accounts changed their profile image to a mysterious hand drawing (shown right). It immediately sparks speculation from many followers and music websites alike to be a sign his new album is near. (Is this the album cover? Or at least artwork for the lead single?) Paul's younger brother Mike subsequently commented on the image in a twitter reply to McCartney drummer Abe Laboriel Jr., echoing the thoughts of many fans: is the drawing "a pyramid or is it a road leading us into a tunnel"?
June 10, 2018: More mysteriously still, before sharing the hand drawing on Instagram, all prior posts on Paul's account (which dated back to 2013) were deleted and initially replaced with just a single, blank captionless post. After the hand drawing was shared later the same day, it was followed by another completely blank post Instagram.
https://www.instagram.com/p/Bj2a2C7nRHF/
June 11 – June 16, 2018: Since the mysterious hand drawing Paul's social accounts shared six vague, uncaptioned, black and white photographs presumed to be from the studio sessions of the new album:
June 17, 2018: Paul's accounts moved on to posting images that at first glance resemble photos of old, partially torn train (or perhaps concert) tickets, but at closer look are new visual designs showing Paul's name and a neater variation of the symbol that appeared in the original hand drawing one week ago:
June 18, 2018: On Paul's 76th birthday another cryptic image was shared first, then a short video. Here's another clue for you all (below); similar in style to the last two clues, but this time with blurred-out writing that appears to reference "Egypt Station," the title of a 1988 painting by Paul. Below is the (blurred-out) image Paul shared followed by a GIF that combines it with a speculated version of what the text looks like filled in:
It becomes clear that this is a carefully constructed viral marketing campaign and all of the prior week's posts were planned in groups of three to lay-out neatly in rows on Instagram (this also explains the first and third posts being completely blank). The backgrounds of the last three images (resembling old, torn tickets) are blue, orange and yellow – the same main colors of the background of Paul's painting "Egypt Station." This also implies the hand-drawn image from last week is an Egyptian pyramid, and the logo of sorts for Paul's next project.
Eight hours later Paul shared a short video confirming the speculated filled-in text above is accurate, and the numerous teases all led to something called "Egypt Station." Unlike the week of mysterious images that preceded it however, the new video has a caption (albeit no less vague): "#PaulMcCartney #EgyptStation"
Perhaps related, though probably just a coincidence – there's also a United States Civil War landmark called Egypt Station in Mississippi:

Meanwhile as the blitz of social media clues was ongoing, following the secret gig, CBS confirmed on June 13th that Paul McCartney will be James Corden's next guest on Carpool Karaoke – the popular series that has previously featured Adele, Foo Fighters, Sia, Pink (all artists that have worked with Kurstin by the way) and many others singing and chatting as they drive around in a car with James. Liverpool tour guide Jackie Spencer spotted the filming of the segment. "We were finishing the tour by the new statues," she told Variety. "There was a couple of paparazzi around and we said to one of them, 'Who's the celebrity in town?' We'd heard rumours but nobody would tell us. And then this guy said, 'Well, I'll tell you one of them: It's James Corden. He's with somebody else and they're in that car over there.' "And the next minute this black car pulls up and both Paul McCartney and James Corden get out of it!" She continued, "he just walked to us as we were taking the pictures. About 30-40 people were around, maybe. And he just stood and got pictures with everybody at the statue. He stood by himself. He was being really nice to everybody. He was backing people in so they could get pictures with him. He and James Corden were taking selfies. And they just walked back, got in the car and disappeared off and went 'round Liverpool. It was fabulous."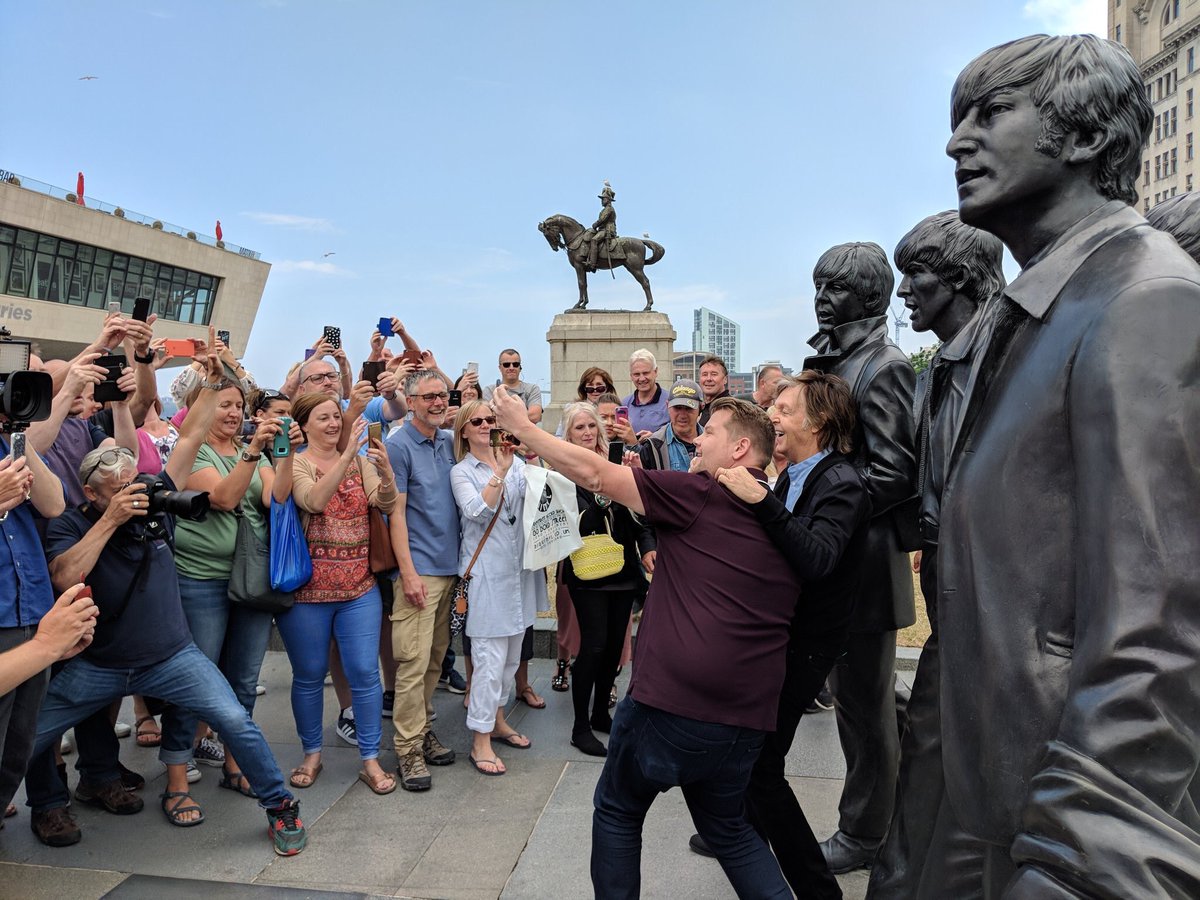 Paul's Carpool Karaoke segment is slated to air on the June 21st episode of CBS' Late Late Show – alongside fellow guests The Foo Fighters. According to CBS James and Paul will sing a medley of Beatle hits and some "brand new material" while driving around Liverpool. A video preview was shared on June 18th.