New Fumes latest music video, "Possession," is streaming now, below. The video features New Fumes' warped, multi-colored visuals with performance footage of him backed by Quincy Holloway on drums. Following "Tricked By Rainbows," this is the second video for his most recent LP, sophomore album Teeming 2. Released November 24, 2017 on Tobacco's label Rad Cult, Teeming 2 is one of just a few albums on the label that's not Tobacco's work (either solo, or as part of Black Moth Super Rainbow, Demon Queen, etc).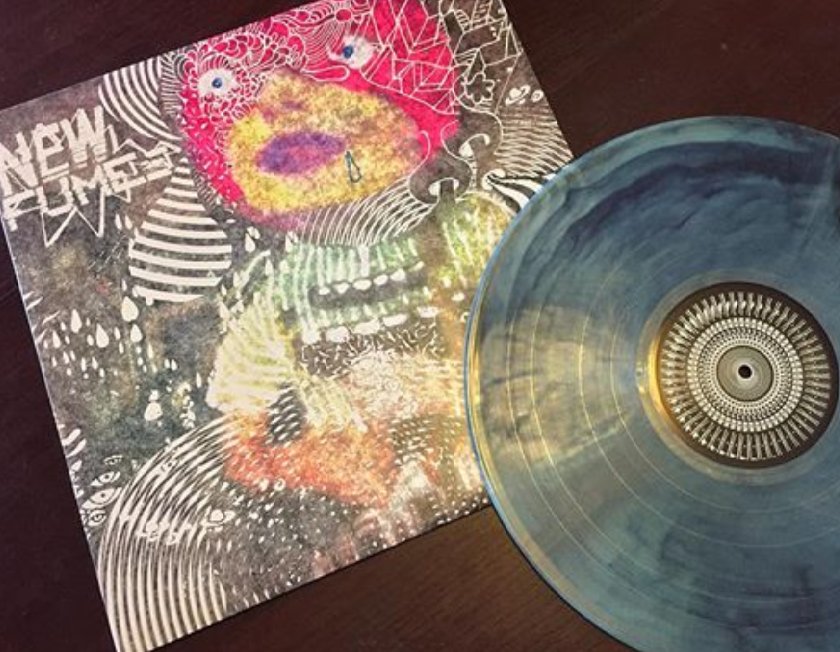 How to classify the music of New Fumes? Indietronica-noise neo-psych? Whatever his brand of sonic fun is called, Daniel Huffman – the man behind New Fumes – has been developing it for years, including stints in the nineties in space rock groups Comet and Ghostcar. He became an occasional touring member of The Flaming Lips for their shows supporting the 2002 release of Yoshimi Battles The Pink Robots, and a few years later Annie Clark's replacement as The Polyphonic Spree's guitarist. Starting in 2011 he went solo under the moniker New Fumes with debut album Bump And Assassination and shows opening for the Lips, Spree, My Bloody Valentine and others. His appearances opening for Tobacco – aka Black Moth Super Rainbow's Tom Fec – led to Huffman touring as the bassist in Tobacco's live band. Throughout this period he recorded frequently at the Lips' Womb Gallery and Pink Floor Studio, and compiled some of these into 2015's single-track EP Teeming Tapes A1. He also made a name for himself creating thousands of one-of-a-kind, hand-poured vinyl LPs with tripped-out designs for the Lips, Tobacco and others. All of which culminated – for now at least – with Teeming 2. New Fumes brings us up to date on the new video, Teeming 2 and what's ahead for him in the interview below, following The Future Heart's video premiere of "Possession:"
The Future Heart: Your music fits well alongside the music of others you're associated with, but also has a strong sense of your own sound and overall aesthetic: this warped, electronic DIY approach and sound that has your name written all over it. Now a common pitfall of DIY is it can be cliché-prone but your music is the opposite of cliché; something that can provoke your audience's imaginations while distinctly being your creation. This is a general characterization of your music, but it also applies to your visuals and it's easy to see the video for "Possession" as the visual equivalent of your sound. Just like the music, it's colorful and uses a variety of distortions and effects to play with the audience's mind. The aforementioned trippy electronics and DIY approach is applied to your visuals just as it is your music. 
With that said, could you speak to how you created both the track and the video for "Possession?" 
New Fumes: Thanks!
"Possession" came out of a recording session, where I challenged myself to write a song a day for about a week. I was recording at home on a 4-track cassette recorder, but using my computer to bounce back and forth, and as instruments. There's a few layers of bass guitar. My friend, Clay Stinnett played some drums here at my house, which is a concrete dome. It's an interesting space with a sound to it. I recorded Clay playing wildly on the four track, then had him play a more steady beat at Klearlight studio later. They have some cool, old mics and consoles.
"Telepathic Lady," "Psyche" and the last song on the album all came from that week of writing and recording.
When I start playing songs live, I usually make a quick video for them and tweak and evolve them over time. I work with video very similarly to how I make music, paint, and draw… I just start something without planning it out, and see where it takes me. Not every time, but I like exploring like that.
I liked a lot of the textures and colors I had put together for the backing video with the rainbows and flowers and wanted to use the whole thing as a foundation for a more proper or compelling music video. It took some time, but my drummer friend, Quincy and I, met up at a practice space we share and acted like we are this interdimensional band. Well, we sort of are.
I got some more footage at home and put it all together. I've always wanted to make animations, so I've been teaching myself and practicing on these videos. It's super time consuming.
It's fun though and makes a good glue for the video collage.
Were you deliberately trying to match the aesthetic of the track to the video, or is that just a byproduct of you creating both?
I don't know if I was deliberately making the aesthetic the same. I think I was just running with what was working, flowing, coming out naturally.
The song and the video, both evolved over time. Neither one happened fast. The foundations came really quickly, but the process of finishing them feels like it took a long time. But that's okay, I wasn't in a race. I think they'd both be very different things if I hadn't let them evolve little by little over time.
How do you decide which songs to make videos for? Why "Possession?"
I want to make videos for all of them. The ones that get me hyped and I want to play live the most, I'll make visuals for those first. But I don't want the live visuals to be the "music videos." I haven't played "Tricked By Rainbows" live yet. I'm not sure how I'd do it. At the time when I made the video I was just excited about that song the most and I had an image in my head I wanted to try and capture on video, separately, so I just went for it. I needed a video to help promote the album and I was wanting to try out some ideas.
I have videos started for other songs as well. I've had video ideas for some of the songs that have more of a narrative to them, but just haven't gotten them together yet. I want to get some actors and a crew together to tell a story.
There were these art students that Natalie Wetzel teaches in Michigan that were going to make this collaborative set and make a video for "Billy" with me directing from Texas, but I heard they couldn't agree on anything and nothing got done. I have the video I filmed of the baby owl I found in my driveway that I named the song after. The song is for the owl, Billy. The owl video compilation I made strangely lined up naturally with the song. I play that when I'm playing the song live. Maybe it doesn't need a big production… The video is made.
"Possession" just seemed like it needed a video. I felt compelled to make it, so I did.
Sorry if I'm going off on tangents too much for ya.
The tangents are great!
How did you come about releasing Teeming 2 on Rad Cult?
I don't remember exactly, but I met Tom [Tobacco] through social media, then got to open for Black Moth in Dallas around the time I had poured that vinyl for the Flaming Lips and Fwends covering the King Crimson debut album [2012's Playing Hide and Seek with the Ghosts of Dawn]. I gave Tom a copy and later I was pouring for the next tobacco album [2014's Ultima II Massage]. Long story short, I did a couple tours opening for Tobacco and we developed a friendship. We'd visit and be driving to eat or something and he and Maux would say "you got any new New Fumes tunes you can play?" So I'd play them what I had been working on.
A couple years ago I was going to Pittsburgh to rehearse for a Tobacco tour where I played bass in the "live band" portion of their shows. I think we were eating Thai food when they said they'd be interested in putting out a New Fumes album. I wasn't finished with it for another year. So when I got close to finished, I asked if they were still interested. Then it was on. It's all very loose. No contract. It feels very much, to me, like a friend helping a friend get his music out there. Which is rad! I got a bunch of texts and emails from friends and bands asking if Rad Cult could put their records out too. I just feel lucky to have a label put it out at all, let alone that one, run by my friends, who happen to be among my favorite sound and song crafters.
They aren't a big operation, so it's not like there's an office and interns and a social media team with A&R and a big bank roll. Literally mom and pop, out of the house, between their Black Moth Super Rainbow and Tobacco activities. I'm grateful.
What is the connection between Teeming 2 and the release that preceded it, Teeming Tapes A1?
"Teeming" is the name of a collection of songs and found bits I had put together over a few years, but never was quite finished with. It's like I had a big pile of sounds and music, song ideas, etc. I like the word "Teeming" and knew I was going to use it.
If there is a Teeming 1 album, it's on a CDR in someone's glovebox, forgotten and will never be heard. It has some of the songs that ended up on Teeming 2, but is way looser and less focused.
The Teeming Tapes thing I put on Bandcamp was a collage made up of stuff I knew wouldn't be on the "album" but I thought were interesting and wanted to collage together in different ways, for fun. Originally, it was gonna be a cassette release when I was doing a west coast trip opening for Tobacco.
Teeming 2 is the more focused thing made from the more focused songs in that Teeming collection, and it's the second proper album from New Fumes. Putting a "2" on it was also a way of numbering the album. There's still a hand full of things that didn't get used that could end up on future releases. I play some of those things when I play live, sometimes.
I can't recall the name of it right now but there was also a limited edition collage release circa 2011. And of course you played a big role in many of The Flaming Lips' "Fwends" full album cover releases. The Stone Roses tribute Time Has Come to Shoot You Down in particular seemed like it was one part New Fumes album. Do you have a favorite of your releases, or one that you think you really got right?
I think that tape you are talking about was called Panthers From Your Mind. I almost forgot about that! Sometimes I just wanna spend time stringing things together. I don't know if most people have the attention span for hour long sound collages, but they are fun to make. Ha. I think that's it.
Teeming 2 is my favorite right now. Doing that podcast with Mike Watt reminded me about some of the songs on [debut album] Bump And Assassination. There was a point I got bummed on them and didn't want to hear them any more. I moved on. Now I'm thinking about bringing them back into the fold. Thanks, Mike!
I don't look at that Stone Roses cover album [Time Has Come to Shoot You Down] as a New Fumes album at all. It's a Flaming Lips album if it's anybody's, I guess. I just happened to be there for a lot of it. It's as much Stardeath's as it is mine. Dennis was there the whole time. I'm not claiming ownership of it.
I haven't gotten any of them "right" yet. I have some new songs I'm excited about, so maybe I'll get it right eventually. Maybe they are all right? They are what they are, perfectly imperfect. "Perfect," "imperfect" – both have the word "perfect" in them. They are right, they are wrong. Depends on perspective.
I do feel like I have better art and albums to come. I hope.
I like the albums and videos to speak for themselves. I will say that I am heavily influenced by dreams and make dreams into songs pretty often. I'd encourage people to pay attention and enjoy their dreams. Even the nightmares.
And finally, what else is on your horizon?
I'm going to keep making music and art. I'll travel and share it any chance I get.
That's my plan.