More so than any other night of the year, Halloween concerts offer the most tricks and treats. Among this year's thrills, 13th Floor Elevators founding frontman Roky Erickson will perform his 1981 cult classic The Evil One LP in its entirety at San Francisco's The Independent. Billed as "A Halloween Masquerade Ball," local psych favorites The Fresh & Onlys are set to open. This will be the third and final of a trio of shows Roky has scheduled for Halloween; the first in his hometown Austin on October 28th at The Charles Johnson House, the second at North Fork, California's Vertigo Festival in Bandit Town on October 30th. Following his trip to California this past March for Burgerama IV and the 13th Floor Elevators reunion at Levitation in May – the group's sole performance since 1967 – Roky's Halloween run are his only dates of 2015. All three concerts of the October mini-tour will feature Roky with The Hounds of Baskerville performing The Evil One. The Austin show on Wednesday, October 28 is the second annual Roky Erickson's Celebration of a Family Curse, a benefit for the SIMS Foundation (a low-cost counseling service for members of the Austin music community). Pumpkin patches, apple bobbing and a hunted house are all planned. The evening starts at 6pm with "Trick or Treat" for both kids and adults. The Gorlons​ will kick-off the live music at 7pm, with sets by The Hounds of Baskerville​, Scott H. Biram​ and headliner Roky Erickson to follow​.
For context, a brief overview of Roky's career and why The Evil One is apt for Halloween:
A) Erickson and the 13th Floor Elevators were targeted by authorities for their outspoken embrace of drugs in the mid '60s. B) Erickson was arrested for possession of a joint and pleaded insanity to avoid prison. C) Roky was sent to Rusk State Hospital for the criminally insane and while there received electroconvulsive therapy and Thorazine treatment, damaging him for years to come. D) While away his cult status grew, in large part due to "You're Gonna Miss Me" being featured on Lenny Kaye's seminal Nuggets comp in 1972. E) After being released Roky sought a harder rock sound with a new band, the Aliens. F) While struggling to rehabilitate and cope with addiction, over two years Roky recorded his first solo album with the Aliens, The Evil One. Produced by former Creedence Clearwater Revival bassist Stu Cook, and taking the form of the I Think of Demons LP in the UK, its idiosyncratic lyrics were hell bent on ghoulishness, as illustrated by the song titles of some of its stand-out tracks: "Two Headed Dog," "I Think of Demons," "Don't Shake Me Lucifer," "If You Have Ghosts," "I Walked with a Zombie," "Night of the Vampire." In short, an album virtually made to order to be performed on Halloween.
The hottest ticket this Halloween is undoubtedly the latest incarnation of The Grateful Dead. Following the Dead's 50th anniversary "Fare Thee Well" concerts this summer grossing $52.2 million in five shows, three of the "core four" living members of the band (Bob Weir, Mickey Hart, and Bill Kreutzmann) are teaming with John Mayer under the name Dead & Company for a pair of shows October 31st and November 1st at Madison Square Garden.  It will be preceded by a tour opening night gig in Albany on October 29th, essentially a warm-up for the Garden Halloween shows.
Numerous other Grateful Dead related shows are happenin' around the country this Halloween as well, particularly in New York. Among them: Deadgrass plays Pinks, The Cutting Room presents "Reflections: A Jerry Garcia Tribute" and Sunshine Garcia Band is playing Halloween afternoon and two sets November 1st (the first an unplugged American Beauty sing-along) at American Beauty Bar (formerly Slake). The sets are scheduled around Dead & Co.'s shows at the Garden so the party doesn't have to stop when John Mayer does….
Phil Lesh, the one member of the Grateful Dead's "core four" not at the Garden, has six shows between October 30th and November 7th at his east coast home away from home: Port Chester, New York's Capitol Theatre. Phil and Friends' Halloween concerts takes place just 30 miles north of Dead & Company's Madison Square Garden party. For his upcoming run Phil will be joined by Stanley Jordan, John Kadlecik, Jason Crosby and Tony Leone and Nugs.tv has announced webcasts of all three Halloween shows in both standard and high definition.
There's no band associated with Halloween tricks and treats more than Phish, and their return to Las Vegas for last Halloween yielded one of the most beloved performances of their three decades. This Halloween however finds the band taking the night off for the first time since 2011. In its place Phish singer/ guitarist Trey Anastasio launches his new solo album Paper Wheel – in stores Halloween eve – with three shows that weekend: Las Vegas' Brooklyn Bowl October 30-31 and San Diego's House of Blues on November 1st. Does Trey have some tricks or treats of his own up his sleeve? We shall find out…
Last month tickets sold out in hours for Danny Elfman's The Nightmare Before Christmas orchestration live at the Hollywood Bowl on Halloween night, yielding an encore performance scheduled for November 1st. Elfman's score will be played by an orchestra and chorus led by conductor John Mauceri in sync with a screening of Tim Burton's 1993 stop-motion animation classic, and Elfman singing the role of Jack Skellington, the film's "Pumpkin King."
Voodoo Music + Arts Experience returns to New Orleans October 30th through November 1st and Yahoo! Live has announced free live webcasts from all three days. Halloween night will be headlined by Ozzy Osbourne's super group featuring Geezer Butler, Tom Morello and Slash. Also on Halloween: Jane's Addiction, Public Image ltd, Santigold, Lettuce, The Growlers, Django Django, Giorgio Moroder, Peaches, Babes In Toyland and more. Playing the fest the days before or after Halloween: Modest Mouse, Zac Brown Band, Florence + The Machine, Jack U, Deadmau5, Girl Talk, Chance the Rapper, Metric, Slightly Stoopid and many more.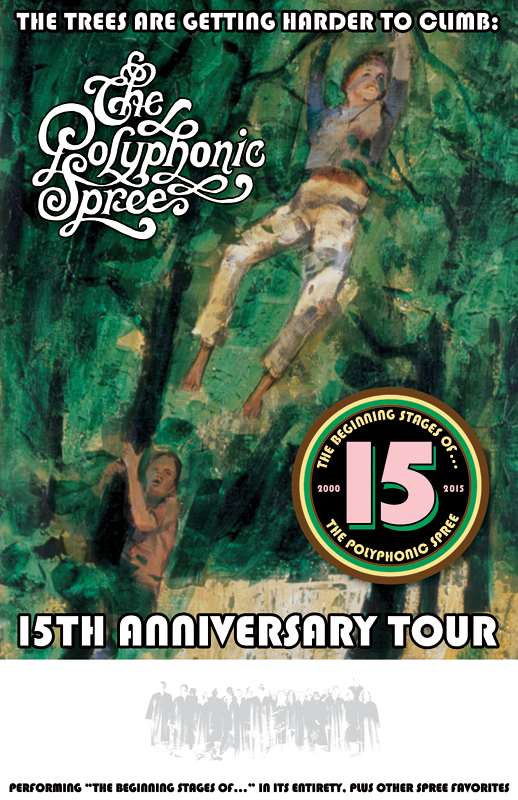 Polyphonic Spree 15th anniversary tour runs from October 17th through November 21st, including a Halloween show in Somerville, MA. As they are on every stop of the tour, Spree will perform their debut album The Beginning Stages of… in its entirety for the first set on Halloween, followed by a second set of other treats. Telegraph Canyon and Party Bois will open, and there will be a Halloween costume contest.
Nearby in Boston, Grace Potter has a two-night Halloween run at The Orpheum, October 30th and 31st. These dates, both with Charles Bradley, will end Grace's Fall tour. Also in Boston Gary Clark Jr. plays House of Blues.
Chappo will play a Halloween Party at The Flaming Lips' freak/art space The Womb. Lips associate Zachary Cox will unveil his MDMA therapy paintings, and Wicked Hippie (Katy Weaver and Tanner White) will host a pop-up shop beforehand. All attendees are requested (required?) to come as a "naked green witch, a red blob or a silver space alien." Doors open at 10pm, and it's free!
Spaceface will play their final show of the year this Halloween on a co-bill with Fever The Ghost at Memphis' The Hi-Tone. They'll host a costume contest with the winner receiving a personalized song written by Spaceface's Matt Strong and performed by the band. There will also be a raffle with assorted goodies, plus bouncy castles, balloon artists, interactive projection games, a freaky tadpole spawn installation and more. Sweetest treat of all: it's only five bucks if you bring two canned goods to donate! New Spaceface T-shirts designed by Andrew Pawley (who also created the poster art shown below) will be available at the Halloween show as well. This will be a super limited run of shirts; be there if you want one!
All three nights of Umphrey's McGee Halloween run in Milwaukee will be webcast by TourGigs with looping replays for about 24 hours after each show. Expect some monster mash-ups, as is the Umphrey's tradition.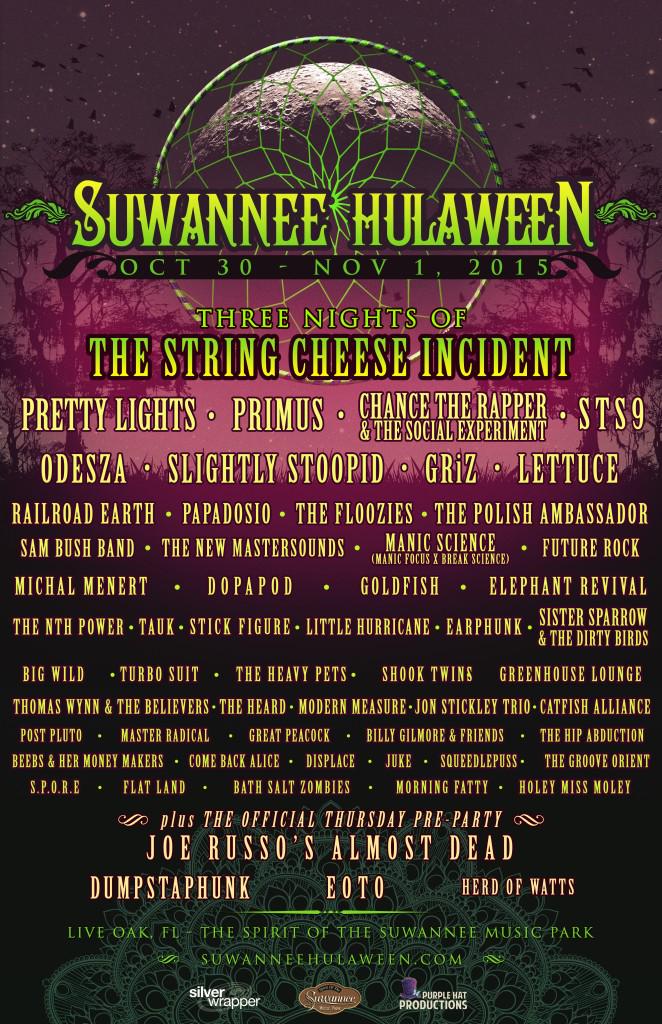 The String Cheese Incident host their annual Suwannee Hulaween in Live Oak, FL. String Cheese play three nights, and are the main attraction on Halloween. Other nights feature Primus, Pretty Lights, Chance The Rapper & The Social Experiment, STS9, Slightly Stoopid, Lettuce and Railroad Earth. All three nights will be broadcast on SiriusXM's Jam On.
Widespread Panic also have webcasts this Halloween. Video of their October 30th and 31st performances in Asheville will be available at LiveWidespreadPanic in standard and high-definition formats. Finally, Nugs.TV will present webcasts of Disco Biscuits October 29th performance in Boston and Halloween gig in Syracuse.
Halloween 2015's Most Anticipated Concerts
Trey Anastasio Band
Brooklyn Bowl
Las Vegas, NV
Elton John
The Colosseum at Caesars Palace
Las Vegas, NV
The Polyphonic Spree
Johnny D's
Somerville, MA
Grace Potter and Charles Bradley
Orpheum Theatre
Boston, MA
Gary Clark Jr.
House of Blues
Boston, MA
Hole, PJ Harvey and The Pretenders
O'Brien's
Lynn, MA
Spaceface and Fever The Ghost
Hi Tone
Memphis, TN
CHAPPO
The Womb
Oklahoma City, OK
Theory of a Deadman
Diamond Ballroom
Oklahoma City, OK
Sufjan Stevens
Loews Jersey Theater
Jersey City, NJ
The Disco Biscuits
Crouse Hinds Theater
Syracuse, NY
Richard Lloyd (of Television)
Hi-Fi
New York, NY
Ron Carter
Birdland
New York, NY
Preservation Hall Jazz Band
McKittrick Hotel
New York, NY
Dead & Company
Madison Square Garden
New York, NY
Phil Lesh & Friends (Stanley Jordan, John Kadlecik, Jason Crosby, Tony Leone)
The Capitol Theatre
Port Chester, NY
Deadgrass
Pinks
New York, NY
Reflections: A Jerry Garcia Tribute
The Cutting Room
New York, NY
Sunshine Garcia Band
American Beauty (formerly Slake)
New York, NY
Skrillex
Pier 94
New York, NY
Ringo and the All Starrs
King's Theater
Brooklyn, NY
The Budos Band
Grey Eagle
Asheville, NC
Widespread Panic
U.S. Cellular Center
Asheville, NC
Umphrey's McGee
Riverside Theater
Milwaukee, WI
Peaches
One Eyed Jacks
New Orleans, LA
Ozzy Osbourne featuring Geezer Butler, Tom Morello and Slash, Jane's Addiction, Public Image ltd, Santigold, Lettuce, The Growlers, Django Django, Giorgio Moroder, Peaches, Babes In Toyland, more
Voodoo Music + Arts Experience at New Orleans City Park
New Orleans, LA
Lettuce, Break Science, Adam Deitch, Jesus Coomes (of Lettuce), more
The Joy Theater
New Orleans, LA
Galactic
Tipitina's Uptown
New Orleans, LA
Mastodon and Corrosion of Conformity
The Civic Theatre
New Orleans, LA
Fruit Bats
Schubas
Chicago, IL
Futurebirds
Subterranean
Chicago, IL
Steve Gunn
Constellation
Chicago, IL
Dave Rawlings Machine
The Vic Theatre
Chicago, IL
The Lone Bellow
Thalia Hall
Chicago, IL
Marina & the Diamonds
The Riviera Theatre
Chicago, IL
Armin van Buuren, Big Gigantic, Riff Raff, more
Freaky Deaky at Toyota Park
Bridgeview, IL
STS9
The Fillmore Silver Spring
Silver Spring, MD
Grimes
The Fillmore
San Francisco, CA
Roky Erickson and The Fresh & Onlys
The Independent
San Francisco, CA
Jacob Fred Jazz Odyssey
Doc's Lab
San Francisco, CA
Quilt and Wild Ones
Amigo Row
Visalia, CA
Deftones
Ventura Theater
Ventura, CA
The Melvins
Echo
Los Angeles, CA
Danny Elfman
Hollywood Bowl
Los Angeles, CA
FIDLAR
Regent Theatre
Los Angeles, CA
John Prine and Kris Kristofferson
San Diego Civic Theatre
San Diego, CA
Scott Weiland
The Boardwalk
Orangevale, CA
Greensky Bluegrass
Tumbleweed Wanderers Fox Theater
Oakland, CA
George Clinton & Parliament Funkadelic
Sapphire Palace
Blue Lake, CA
Tool, Primus, Coheed and Cambria
Monster Mash Music Festival
Tempe Beach Park
Tempe, AZ
Albert Hammond Jr.
Lost Lake Lounge
Denver, CO
Lotus
The Fillmore Auditorium
Denver, CO
Mac DeMarco, Wand
Commodore Ballroom
Vancouver, BC
Mavis Staples and Joan Osborne
Lisner Auditorium
Washington, DC
Heartless Bastards
Neurolux Lounge
Boise, ID
Dumpstaphunk
The Hive
Sandpoint, ID
Black Lips
Variety Playhouse
Atlanta, GA
Marilyn Manson
Hard Rock Casino & Resort
Biloxi, MS
Deafheaven
Envy Shelter at St. Andrews
Detroit, MI
Insane Clown Posse, P.O.D.
The Fillmore Detroit
Detroit, MI
The String Cheese Incident, Chance The Rapper, more
Suwannee Hulaween at Spirit of The Suwannee Music Park
Live Oak, FL
CHVRCHES
Jannus Live
St. Petersburg, FL
Taylor Swift and Vance Joy
Raymond James Stadium
Tampa, FL
Mark Knopfler
Broward Center for the Performing Arts
Fort Lauderdale, FL
Boz Scaggs
Saenger Theatre
Pensacola, FL
Matisyahu
The Englert Theatre
Iowa CIty, IA