This past summer a few teases of upcoming episodes of IFC's satirical sketch comedy Portlandia surfaced online. First the TV show visited Oregon's Pendarvis Farm on July 30th to film an episode with The Flaming Lips and John Levenstein at the 16th annual Pickathon Independent Music Festival. Then Carrie Brownstein shared a photo of herself on set with fellow co-star Fred Armisen and Misfits/Danzig founder Glenn Danzig.
Today IFC released the official details for Portlandia's sixth season, confirming the guest roles of the Lips, Levenstein and Danzig, as well as a slew of others, including:
Louis C.K.
Jillian Bell ("Workaholics")
Gregory Gourdet ("Top Chef")
Mitchell Hurwitz ("Arrested Development")
Moshe Kasher ("Another Period")
Zoe Kravitz ("Mad Max")
Kai Ryssdal (NPR)
Alia Shawkat ("Arrested Development")
Robert Smigel ("Saturday Night Live")
Bitsie Tulloch ("Grimm")
This season's returning guest stars include Steve Buscemi ("Boardwalk Empire"), Natasha Lyonne ("Orange Is the New Black"), Kumail Nanjiani ("Silicon Valley") and Kyle MacLachlan ("Twin Peaks"). The show is known for cameos, including many by musicians (click to watch past cameos by St. Vincent, Jeff Tweedy and many more).
The press release also announced season 6 premieres January 21, 2016 and offered the following previews:
"In season six, Fred and Carrie deliver even more of their Portland point of view:  a couple inadvertently create a ramen noodle monster that wreaks havoc on the city while the Mayor tries to lure a tech company to Portland… Doug and Claire break up, only to wind up frustrated by a way-younger party girl and an overly caring feminist, respectively… Dave and Kath decide to run a marathon that takes place the following day… The Mayor puts the moves on Carrie with a canister of frozen sperm from his office refrigerator… Fred turns grey overnight and, in seeking answers from the universe, gets sucked into a black hole."
The Flaming Lips/ John Levenstein episode is previewed here with as much of the plot as could be deciphered from the taping and tons of photos, a few of which are below, following Carrie's Danzig photo: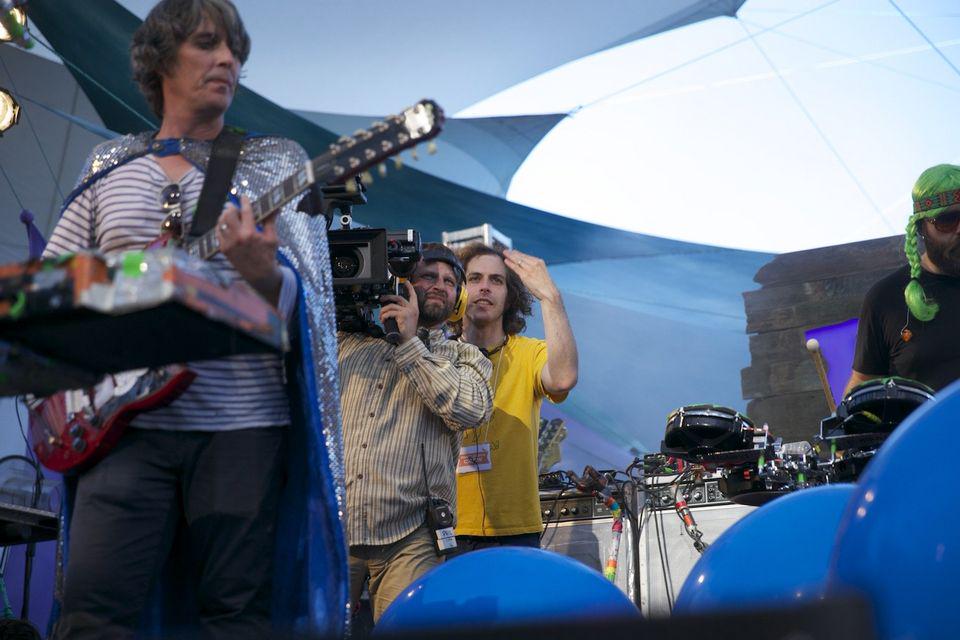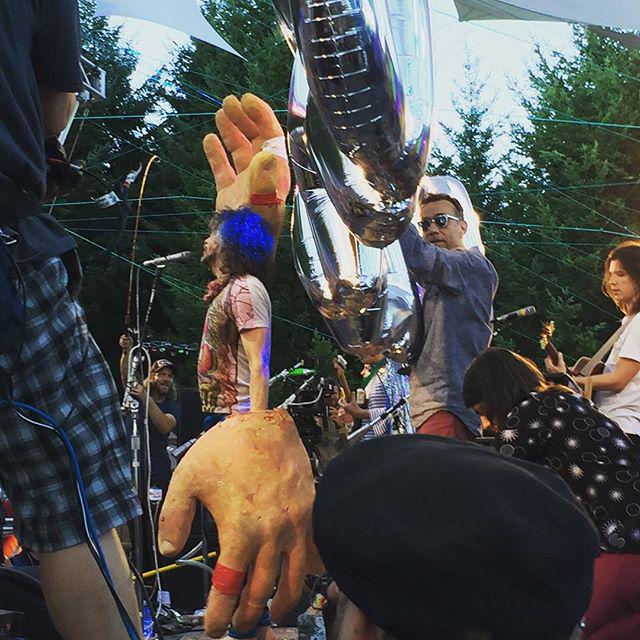 Click here for more photos from The Flaming Lips Portlandia taping.
Click here for an overview of past cameos by musicians on Portlandia.