More so than any other night of the year audiences can never be too sure of what to expect at Halloween concerts. Perhaps an entire album will be debuted live, unannounced, or the Rocky Horror Picture Show will be reimagined. Both of those happened last year courtesy of Phish and the Polyphonic Spree respectively. Maybe Wayne Coyne will dress as Stephen King's "Carrie" and be drenched with a bucket of "pig's blood" by "Miley Cyrus," or Umphreys McGee will monster mash-up the theme from Halloween with Michael Jackson's "Thriller." Both of those also happened in 2013.
As for this year: Voodoo Music and Arts Experience kicked off with OutKast, Slayer and others; Andrew WK preached to unbelievers, held a "Halloween Party," and hosted a look-alike contest; Sunbears' "Costume Party" launched their tour leading up to the release of Future Sounds; Circulatory System and Elf Power returned to Athens' 40 Watt Club; and Suwannee Hulaween featured The String Cheese Incident (watch here). Elsewhere Marnie Stern headlined Chicago's Phantom Phest; Johnny Depp and Die Antwoord's Ninja appeared with Marilyn Manson at the Roxy (during an  encore of "The Beautiful People"); Phil Lesh & Friends kicked off their latest 10-show run at The Capitol Theatre; and Widespread Panic dressed to the nines. It was also the second day of Pitchfork Music Festival in Paris (stream St. Vincent's full set here), among much more (a recap of musicians on twitter this Halloween – complete with some of their zany costumes – is here). Not to mention numerous other events on Halloween weekend (but not the 31st), like Third Man Record's "Devil's Night" (photos, recap and video from here).
Read on the next two pages for a run down of the ten Halloween happenings with the sweetest treats and most musical trickery in 2014, photos and video included. Did you witness any of these sets? Did you see a great performance that was left off this list?  Sound off in the comments below.
Electric Würms and Spaceface
Although The Flaming Lips have long been known to trick and treat fans on Halloween, the left turns of this year set a new high bar. Rather than play a conventional venue like Bill Graham Civic Auditorium (as they did for last year's Blood Bath with Tame Impala) or Oklahoma City's Zoo Amphitheatre (site of their 2012 "Freak Night – The Largest Costume Party in the Midwest"), they rocked The Womb, their psychedelic art gallery. Another curve ball: The Flaming Lips did not perform, rather two other bands led by Lips members put the "freak" in this freakiest of "Freak Outs." This allowed a presentation that was not just more intimate (maximum capacity was 252), but also unlike any of the many buzzed-about concerts that went down October 31, 2014.
That the band owns The Womb allowed a level of environment control musicians rarely have and a concert experience defined by the music as much as the space itself and the scene it set. Not a sports arena or music venue per se, but rather an "art space" in the most outlandish sense of the term, The Womb is as trippy as the jams. The bar is an homage to A Clockwork Orange, there's a giant "King's Head," a claw machine with skulls and other assorted prizes, all sorts of blobs and whatnot draped from the ceiling and all around, psychedelic lighting (understatement), and true to its name, vagina doorways to birth all who enter. This is not a place to merely hear music; this is a space to be reborn (or something like that). Even the bathrooms  are part of the experience. Which isn't to suggest the music didn't deliver. Just the opposite: Steven Drozd and Wayne Coyne's spin-off group The Electric Würms continued the Lips' tradition of tricks and treats in ways their best known band perhaps no longer can three-plus-decade into their career.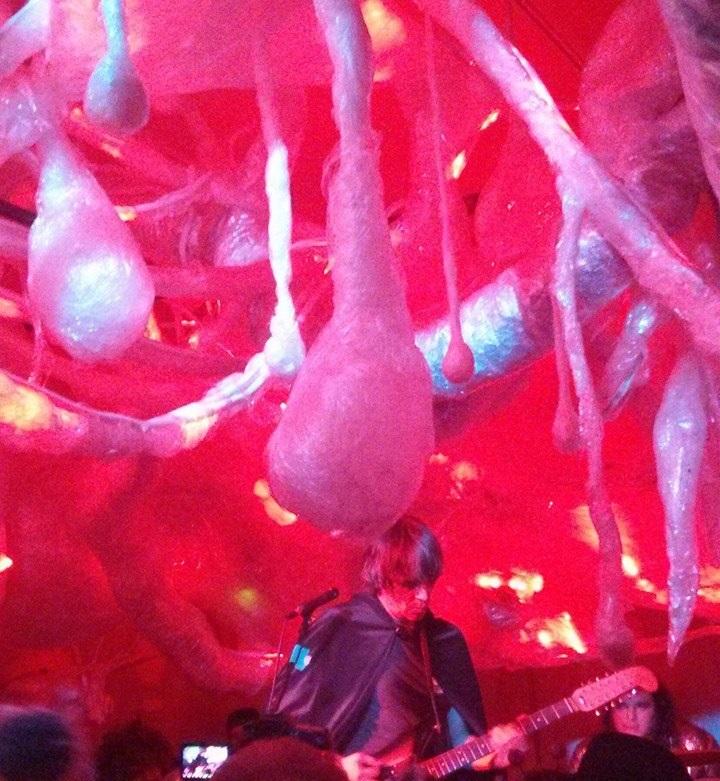 Whereas The Flaming Lips began last year's Blood Bath with John Carpenter's "Halloween" movie theme, The Electric Würms opened this year's Freak Out with The Carpenters' "Superstar." Well, technically it's a Delaney and Bonnie song, but as with Sonic Youth's immortalized cover, Karen and Richard's version is clearly the canvas the Würms repainted. Although Drozd has has long admired The Carpenters (evident in his copping of their use of major sevenths and ninths in the harmonies of Lips originals), nobody would've guessed the Würms would start with this slice of seminal '70s soft-pop segued into their own "Living." "[Steven and Wayne] just sent us a little clip of them messing with ["Superstar'] and said they wanted to do it over the 'Living' beat," Würm Charlee Cook recalls to The Future Heart. "So we did it and I absolutely love that song." 
"Nothing surprises me anymore," says Cook. "It's always something I would never think of and always ends up great." Thankfully for those not in attendance Daniel Huffman – better known as New Fumes and one half of Birdflower, and a major contributor to the Würms' record – captured the entire performance in all its bliss:
With only a half-hour record to their name and two gigs under their belt, it was anybody's guess what The Electric Würms would play. Fronted by Steven, various friends contribute on record, but live the band is the two Lips with Nashville's "psychotic" Linear Downfall (side note – though not created for Halloween per se, Linear Downfall's new video "Bloodhead" fits the occasion; watch it now). At the first Würms show they dug deep with Lips rarity "The Switch That Turns Off the Universe" and a segment of "6 hour song" "Found This Star on the Ground" (neither of which has ever been played by the Lips in concert). On social media prior the Halloween show, Coyne teased The Beatles' "Fixing a Hole" (as covered by the Würms – though actually it's just Steven – on the Lips and "fwends" new tribute to Sgt Pepper's) and Drozd suggested the return of Michael Myers via John Carpenter's Halloween theme. Both were performed Halloween night, as were originals "I Could Only See Clouds," "The Bat," "Transform" and Yes' "Heart of Sunrise" (click on the preceding song titles to watch snippets of each performed at The Womb or here for "Fixing a Hole;" watch "The Bat" in full below via Inky Brown):
In addition to Steven and Wayne's October 31st Würms set, that same night Wayne was featured throughout IFC's Comedy Bang! Bang! special, "Wayne Coyne Wears a Halloween Costume." Also that night – which happened to lead up to the band's one billionth second of existence – ABC's Jimmy Kimmel Live televised The Flaming Lips' cover of "With a Little Help From My Friends" (with Grace Potter and Morgan Delt – all dressed as characters from The Wizard of Oz) from the band's October 27th free outdoor costume mini-concert (stream that and "Lucy in the Sky With Diamonds" here). Finally, the Lips were among the bands featured on Bonnaroo's "Roo Radio" Halloween program (if you missed it catch a rerun next Wednesday). All this following a busy week for the band, including the release of their new collaborative album With a Little Help from My Fwends, a full LP remake of The Fab Four's Sgt Pepper's.
October 31st was Lips bandmate Jake Ingalls' second 2014 Halloween performance fronting Spaceface, his other group (following their Memphis "Haunted House of Horrors Costume Party" the night before with The Black Cadillacs). Prior these two shows Jake told The Future Heart what to expect: "Halloween costumes, black lights – the works! It's gonna be a blast."
He wasn't kidding!
With Jake's attire and stage presence triggering flashbacks to some sort of Ziggy Stardust cosmic rockstar from an (imaginary?) era passed, Spaceface blasted The Womb. Below watch a 34 minute chunk of their set, starting with "Taking It Off" (soon to be released as a PIAPTK vinyl-CD hybrid, as discussed by Jake here) and including – at Drozd's request – a bitchin' Bowie cover. Yes, that is a double-neck guitar that shoots a laser from its head when played by the glow-head astronaut wolf (be sure to "like" facebook/Spaceface for your daily dose of this variety of awesomeness).
Spaceface Setlist
Reading Rainbow Theme (ultra slow intro)
Cosmic Trigger
Madness In Your Mind
Taking It Off
Up Here in the Clouds
Trust
Queen Bitch (David Bowie cover)
Chemical Sea
Crazyman
Lazer Jam (G'Nat's Space Lion Spreads Your Head)
Moonblood
Carnivore
Naked and Red (Colour Revolt cover)
Electric Würms Setlist
Superstar (The Carpenter cover) >
Living
I Could Only See Clouds
The Bat
Transform
Fixing a Hole (The Beatles cover)
Heart of Sunrise (Yes cover) (with a snippet of John Carpenter's Halloween movie theme)
Many more photos of both bands have been collected here.
The Top Ten Halloween Concerts of 2013 are here.