Every year for the past decade SXSW has moved a little further away from its origins as a festival-styled music industry conference week for pros, towards a beer-soaked spring break music marathon for tourists.  In 2014 that means the multi-night iTunes Festival, Lady Gaga headlining Stubb's Doritos #BoldStage on Thursday and making a keynote address the following morning, radio-friendly punk courtesy of Against Me! and Green Day (albeit under their retro guise Foxboro Hot Tubs alias) and a bevy of appearances from mainstream rappers (B.o.B., 2 Chainz, Tyler the Creator, Nas, Action Bronson, the return of 50 Cent).
The iTunes Festival will take over ACL Live at the Moody Theater from March 11-15 for five nights of free shows featuring Coldplay, Imagine Dragons, Pitbull, Keith Urban, ZEDD, Kendrick Lamar and others (stream these shows live or afterwards from the iTunes Store on an iPhone, iPad, iPod touch, Apple TV or computer). The highlight of the iTunes festival for rock fans of a certain age will no doubt be Soundgarden commemorating Superunknown's 20th anniversary by performing it front-to-back for the first time ever on Thursday, March 13th.
SXSW also offers large, free, non-badge holder concerts at Auditorium Shores. For instance, last year's Friday show featuring Jim James and the world première of The Flaming Lips' The Terror drew the largest crowd in SXSW history. Due to construction, this year the series will host their concerts across the street at Butler Park.  On Thursday night legendary MC5 guitarist Wayne Kramer is curating A Jimi Hendrix Celebration with Slash, Dave & Phil Alvin, Robby Krieger, Perry & Etty Farrell and others. The program, presented by the US Postal Service, will be prefaced by the new limited edition Jimi Hendrix stamp unveiling at 8pm. Washed Out and Foster the People top Friday's show and Saturday's will be headlined by Childish Gambino. The complete lineup schedules for all three nights are here.
Rachael Ray is serving up Whiskey Chicken Drummer, 7-Hour Smoked Brisket Sliders, Grilled Eggplant and Tomato Sliders with Spicy Tahini at her open party with music by Green Day's Foxboro Hot Tubs side project, Cee Lo Green and Blondie. SXSW 2014 even includes Edward Snowden – well, kind of.  ACLU's Ben Wizner and Christopher Soghoian will Skype with the NSA whistleblower at a SXSW Interactive conference tomorrow. [UPDATE – Watch the full hour with Snowden here].
The Samsung Concert Series starts with Jay Z and Kanye West on Wednesday, followed by Janelle Monae and Gary Clark Jr. on Thursday, Broken Bells on Friday, and Cut Copy and Holy Ghost! on Saturday. Samsung will give select complimentary tickets to Galaxy owners for all shows. Check available concerts, wristband pick-up times and full details here. Good luck getting into any of those shows!

The below guide highlights some of the lesser hyped but highly recommended performances scheduled for the next five days in the shadows of the bright light attractions described above. Also, if you've never been to SXSW and want a few tips on how to manage the barrage of showcases without a pro $795 badge, read up at NPR.
Tuesday, March 11
The world premiere screening of Super Furry Animals frontman Gruff Rhys' American Interior film is 2pm on March 11th at the Alamo Ritz, followed by a performance by Gruff with Kliph Scurlock and Keith Bear. American Interior is being released this spring as a film, an album, a book and an app. More details on the project and its amusing backstory are here. Steve Lamacq interveiwed Gruff and world debuted music from the album – which features Kliph – earlier today on his BBC program. Listen here. Gruff is also playing Turnstile's showcase on Thursday with Cate Le Bon, Christopher Owens (former Girls frontman) and others (more details on that below under the Thursday heading) and Under the Radar's showcase on Friday (more details listed under Friday below).

Spotify is throwing a house party with Phantogram, Real Estate, Warpaint, Dum Dum Girls and many more on Tuesday; and Avi Buffalo headline SAG-AFTRA's showcase at Buffalo Billards. Also on Tuesday Neil Young is set to finally unveil PonoPlayer, his high-quality digital music player. More details are here.
Wednesday, March 12
Island Empire are teaming with Burger City Rick and Roll and Ping Pong Booking for a full day and night of music at Hotel Vegas, including Stardeath and White Dwarfs and many others. Stardeath will also play Austin Psych Fest's Levitaion on Thursday (more details below) and the Future of Music showcase on Friday.
Also on Wednesday, Kurt Vile headlines JanSport Bonfire Sessions showcase at Cheer Up Charlie's (with Cloud Nothings and more); NPR Music's showcase at Stubbs features Damon Albarn, St . Vincent, Kelis and Perfect Pussy; Colourmusic and others appear at Avenue on Congress Rooftop; Wanda Jackson plays St David's Historic Sanctuary; Poliça headlines Dickies showcase at Banger's; and there's numerous shows by Sunbears (click the link in the above tweet for times).
Thursday, March 13
Turnstile Music is throwing a killer showcase on Thursday with Cate Le Bon, Gruff Rhys, Christopher Owens (former Girls frontman), H. Hawkline, Perfume Genius and Sea Lion at St. David's Historic Sanctuary. Starting at 7 with H. Hawkline, Cate will close the show at midnight in support of her excellent recent album Mug Museum. Cate will also play earlier on Thursday at Brooklyn Vegan's party (12.45pm) as well as at Waterloo Records showcase on Friday at 2 pm. The full schedule for Turstile's showcase and other details are here. Waterloo has four showcases in all, Wednesday-Saturday, and they are all free (click here for daily schedules).
Thursday is also Austin Psych Fest's massive day party/ night showcase, Levitation. Catch headliners The Black Lips along with (Sean Lennon's) Ghost of a Saber Tooth Tiger, Stardeath and White Dwarfs, Quilt, Forrest Swords, Temples and many more at Hotel Vegas! Levitation's full schedule and other details are here.
Ghost of a Saber Tooth Tiger is playing numerous shows at SXSW this year. Besides Levitation, there's the Nylon Party (3:30pm Friday at Malverde), Northern Spy / Ba-Da-Bing! (8pm Friday at Palm Door), Filter / Guitar Center party hosted by Nic Harcourt (3pm Saturday at Starr Building Rooftop) and School Night hosted by Chris Douridas  (8pm Saturday at The Parish).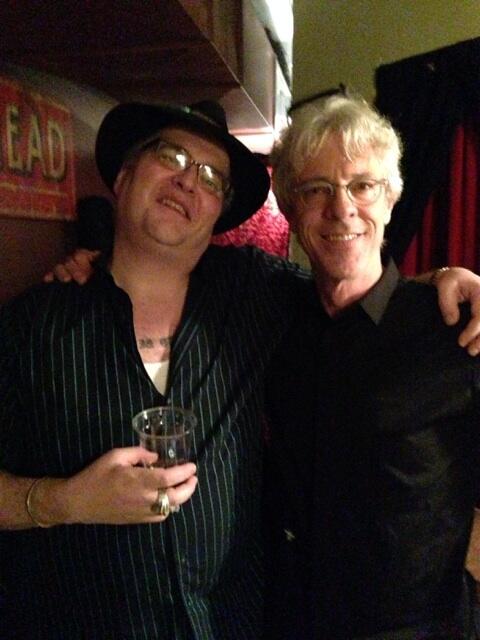 JamBase will host a pair of "pop-up" sets by Les Claypool's Duo de Twang. The exact place and times have yet to be revealed – thus the term 'pop up' – but stayed tuned to JamBase for updates. Legendary Police drummer Stewart Copeland and Blues Traveler frontman John Popper recently sat in with Les – sort of like Oysterhead swapping Trey Anastasio with his old harp slinging pal from Princeton. Will there be surprise guests at the SXSW pop-up gigs? We'll see…
Other shows on Thursday include ANTI- Records/Danny Rose Booking's showcase at Bungalow with BRONCHO and Tinariwen; The Magic Numbers at Palm Door at midnight; Carpark Records' showcase at the Parish Underground headlined by Speedy Ortiz and Cloud Nothings; Doc Martens showcase at Bar 69 with Parquet Courts and Real Estate; Merge's showcase with Hospitality, Wye Oak, Bob Mould and more at Parish; and the Yep Roc Music Group showcase with The Autumn Defense (Wilco side project), Dave Alvin and Phil Alvin, John Doe and more (full Yep Roc lineup and other Autumn Defense shows are listed here).
Jack White's Third Man Records has a variety of plans for SXSW: a pop-up shop, films, art, poetry, a listening lounge, the "Rolling Record Store," a food truck and no doubt some surprises. Click the link in the below tweet for more details.
Friday, March 14
WFUV, WXPN, KUTX, The Current and KXT are co-presenting the Radio Day Stage Austin Convention Center with Damon Albarn, Lucius, The Hold Steady, Phantogram, Temples and more on Friday.
Under the Radar magazine is hosting three SXSW 2014 day parties, including Friday's with Gruff Rhys, Yamantaka // Sonic Titan, Arthur Beatrice, Weekend and more. All events are free and open to the public. No SXSW badges are required – just show up at any time – but to secure entry in case of large capacity get the Applauze app to RSVP for preferred admission by searching for "Under the Radar" and then tapping "I'm In."
Pitchfork is hosting day parties at SXSW 2014 daily from Tuesday through Thursday. Their official showcase follows on Friday at Central Presbyterian with Real Estate, Forest Swords and more. Full schedules for all four events are here.
Also on Friday Spaceface play Circus on the Moon Presents The Lone Star Bash in the afternoon then headline Black Castle Collective's free show at The Lost Well Public that night; Albert Hammond, Jr. (The Strokes) and Wanda Jackson play Pandora Discovery Den at The Gatsby; The Front Bottoms headline Bar None's showcase at 710 Red River; Julian Casablancas + the Voidz play The Chevrolet Courtyard at Cedar Street; Har Mar Superstar headlines Rocky Road Touring's showcase at Swan Dive Patio; Mexican Summer's showcase features Quilt, The Fresh & Onlys, No Joy and more at Swan Dive; and Temples and Washed Out top Doc Martens showcase at Bar 69.
Saturday, March 15
Miles Davis has a strong presence at SXSW annually despite having died in 1991! This year the Davis family is hosting the "ultimate jam session" on March 15th at the Old School Bar & Grill in Austin, TX from noon to 6 p.m. In addition to music there's a happy hour, a Miles Davis pop-up store, giveaways and party favors.
Finally on Saturday, Washed Out, Gary Numan and others will be at Hype Hotel; and Guitar Center and DIRECTV are hosting sets by Phantogram and Snoop Dogg at Starr Rooftop.