If you're just now tuning in…
…we've spent the last few weeks detailing expected 2013 records – from those without due dates (Built to Spill, Sebadoh, Meat Puppets, Magic Numbers, Belle and Sebastian, Sleigh Bells, Cloud Nothings, Franz Ferdinand, The Hold Steady, Grandaddy, etc), to the most buzzed scheduled releases (David Bowie, Yeah Yeah Yeahs, Atoms For Peace, Black Sabbath, et al). We've also kept a running list of updates here (The Strokes, Iron and Wine, Cold War Kids, Akron/ Family, Elvis Costello with The Roots and others) and explained how The Pixies, Olivia Tremor Control, Modest Mouse (with Outkast's Big Boi), Deerhunter, The Jesus and Mary Chain, Spoon, Mazzy Star, Warpaint and others might also have new albums out this year. I kid you not.
Better still – we're finishing off 13 articles on The Future Heart's top 13 most anticipated albums of 2013. There's the usual suspects – like MGMT, Beck (possibly with Jack White), Wilco, Edward Sharpe and the Magtic Zeros, The Black Keys – but also some surprises. What should come as no shock to anybody who follows The Future Heart however is the placement on this list of The Flaming Lips' The Terror. Out April 2nd, the Lips new LP (with guests Phantogram) is just the tip of what they have planned for release this year though. Below in handy guide to the Lips ever enlarging ambitions for 2013 – and no, that doesn't just mean them staring in one of this year's most viral Super Bowl commercials or playing a few gigs with The Black Keys….
New tracks with special guests on a USB inside an anatomical chocolate heart for Valentine's Day were released yesterday. Here's what's next: Flaming Lips Valentine's chocolate skulls with "human blood in brains," a collaborative remake of The Stone Roses' entire debut album; a music video with Bon Iver; a photo exhibit of Wayne Coyne and Steven Drozd with football coaching legend Barry Switzer and Thunder star Desmond Mason; 4 CD experimental set Zaireeka reissued on four vinyl for Record Store Day; Yoshimi Battles the Pink Robots the cartoon featuring new music; Des McAnuff's Yoshimi musical possibly opening on Broadway (or at least a touring production and/or cast recording release); side projects and albums for most members of the band; the avant garde film A Year on Wayne's Phone; several projects celebrating the band's 30th anniversary this year including an updated version of rockumentary The Fearless Freaks; the re-opening of their weirdo art gallery The Womb (featuring work by Damien Hirst and others); Flaming Lips coffee; and more!
That's in addition to leftover releases from last year – such as concert film Freak Night or contributing to a Sparklehorse tribute album – and the inevitable new projects they'll think up in the remaining eleven months of 2013 (at least one likely to involve a skull). A new LP also means more touring, magazine features, festival appearances and TV performances. Who knows? Maybe they'll even guest on My Crazy Beautiful Life, Ke$ha's reality show coming this April…
"For a couple of years there, from 2010 to 2012, the pace was just too much," Flaming Lips music mastermind Steven Drozd recently admitted to Spin about his band's relentlessly prolific activity. "Now is a mellow time for the Flaming Lips."
Mellow? Only by Lips' standards! I guess Albert's theory rings true again:
it's all relative…
The Stone Roses' Debut Album Remake
What We Know
Last year Wayne Coyne spearheaded Playing Hide and Seek with the Ghosts of Dawn, a new version of In the Court of the Crimson King featuring New Fumes, Linear Downfall, Stardeath and White Dwarfs, Spaceface and The Flaming Lips covering ever song from the milestone 1969 prog LP. As reported at that time exclusively by The Future Heart, Coyne intended to continually remake entire classic albums in a series of collaborative side projects with other bands. Fans responded on twitter @TheFutureHeart with the albums they'd like to hear. Most suggestions were '60s masterpieces like Pink Floyd's Piper at the Gates of Dawn, Frank Zappa and The Mothers of Invention's Freak Out, The Who's Tommy, The Beatles' "White Album," Grateful Dead's Anthem of the Sun, and The Psychedelic Sounds of the 13th Floor Elevators. Can's Tago Mago seemed like a legit contender and Wayne himself admitted to Spinner a few years back that the Lips had considered taking on Black Sabbath's début. But instead of selecting a mind-expanding record circa 40 to 45 years ago, the Lips' next collaborative remake heads in a different direction…
The Flaming Lips are now recording a remake of The Stone Roses eponymous 1989 début album with fwends – possibly including Polica's Channy Leaneagh on Madchester anthem "She Bangs The Drums." In the video above watch HOTT MT and New Fumes record "I Am The Resurrection," the former mix "I Wanna Be Adored" with Stardeath, and the latter work on "Bye Bye Badman." Norman, Oklahoma shoegaze band Depth & Current (or as Wayne calls them, "Blobs from Heaven"), Def Rain and surprise guests are also contributing:
The timing of this release couldn't be more apt: 2013 will be mark the third coming of The Stone Roses. Not only are the alt-dance, neo-psych, indie rockers headlining the world's biggest music festivals (Coachella, Isle of Wight), they are also rumored to be working on a new album, their first since sophomore set Second Coming dropped nearly twenty years ago. Last August a source close to the band allegedly told The Sun "John [Squire] and Ian [Brown] have been sending each other ideas for over a year now….they have decided they will give it another spin with new music next year." The news was greeted with skepticism – the source after all is a notorious British tabloid. And though there's still no certainty it's true, the claim is supported by a recent comment from Suede's Brett Anderson. "I spoke to Mani a couple of months ago – I saw him at a party – and he said they'd written a couple of songs," Brett told NME. What we know for sure is there's a documentary coming to theaters in 2013 about the group – which broke up in 1996 but spent 2012 on a global reunion tour. Directed Shane Meadows (This Is England) captured the band last year for the film, titled The Stone Roses: Made of Stone. It is currently in post-production for a late spring/early summer release.
What We Hope
The Stone Roses shares sonic reference points with The Flaming Lips' major label début, Hit to Death in the Future Head. Hopefully the Lips and their fwends can expand upon these similarities. It's unclear whether this will be a "Flaming Lips album" (like their iTunes exclusive/ Record Store Day remake of Dark Star of the Moon) – as opposed to a release curated by and featuring the Lips (i.e. Playing Hide and Seek with the Ghosts of Dawn was not a "Flaming Lips album" despite almost all the media referring to it as such; only Wayne and Steven appear on it, and only one track at that). Either way it's possible Ghosts of Dawn contributors Spaceface and Linear Downfall will return for some Roses covers and it would be cool if they got some of the other artists Wayne's been tweeting about: Phantogram, Beach House, Diplo, Skating Polly or these guys: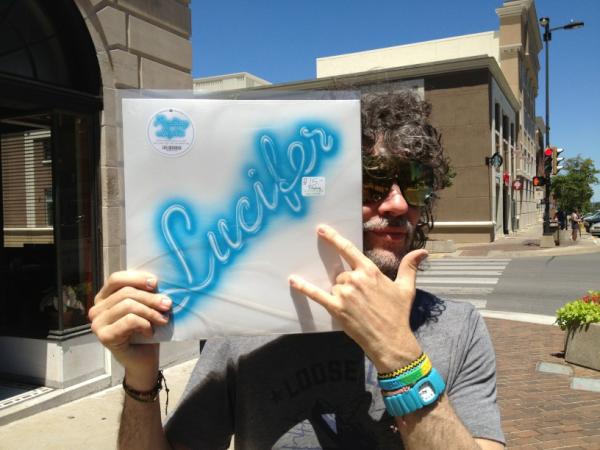 "Ashes in the Air" Music Video featuring Bon Iver
What We Know
Last Record Store Day The Flaming Lips released Heady Fwends featuring a different guest on each of its 13 tracks. Several songs from the album received official music videos: "Supermoon Made Me Want to Pee" with Prefuse 73, "I'm Working at NASA on Acid" with Lightning Bolt, "Girl, You're So Weird" with New Fumes, "The First Time Ever I Saw Your Face" with Erykah Badu… oh, nevermind…
There were also several videos featuring Yoko Ono (for both their studio and live collaborations), though her Heady Fwends cut "Do It!" is so far video-less. Now The Flaming Lips are finally ready to release their long-awaited video featuring Bon Iver, "Ashes in the Air."
The video was filmed last summer and has apparently been in (periodic) post-production since. It was originally announced to be released on Christmas day 2012, but Santa decided to bring news of the My Bloody album instead. On December 27th Coyne updated fans on instagram, "Lips/Bon Iver Ashes in the Air video almost done !!!fuck!!! Ha ha." Don't be so hard on yourself bro. We can wait. It's not like it's taking 22 years or anything…
Here's what we know about the video from Coyne's social media updates:
1) Wayne is dressed in a "
weird 'shiny entity' costume wrap
"
2) There's a "
cheap space ship
"
3) …and a "
crash landing scene
"
4) ….then "
rescuing Bon Iver baby!!
!"
5) and climatic "
morphed millisecond space faces
"
.
All of this can be glimpsed in this "making the video" clip:
Wayne's hand-written "Ashes in the Air" lyric sheet plus his commentary on this and every Heady Fwends song with a stream of the entire album is here.
What We Hope
The Flaming Lips are great at blowing minds with bizarre images. In their videos however they have a tendency to indulge this sensibility to extremes that detract (or at least distract) from their music. All signs are pointing to "Ashes in the Air" avoiding this criticism though. Just check out these photos and Wayne's sketches for the video's treatment: an actual plot, freak sci-fi imagery, bizarrely non-smutty nudity, and, of course, blood. Yes, yes, yes, alright!
Wayne Coyne, Steven Drozd, Barry Switzer, Desmond Mason Photo Exhibit by Josh Welch
What We Know
Photographer Josh Welch spent a couple of days last December shooting pictures for an upcoming charity exhibit of Wayne Coyne and Steven Drozd with University of Oklahoma football coaching legend Barry Switzer and former Thunder star Desmond Mason. The portraits show each of the three parties playing in the other two's field. They all jam together in some photos for examples (Barry on guitar or drums, Desmond on drums or bass). Others show the Lips geared up for football or on the b-ball court just chillin' out, maxin' relaxin' all cool. They also got freaky while painting. Check out a behind the scenes glimpse at the shoot in this photo album.
"This was a project conceived by myself and Cheena Pazzo, to host an exhibit of these images with all of the proceeds to benefit charity," Josh recently explained on facebook. "All of these guys have chosen Oklahoma as their home, and each bring different attractions to our city."
The exhibit will take place in April for an as-yet-unidentified charity. Each picture will be autographed by all figures involved in them. Until then make sure to check out Josh's fabulous photos at joshwel.ch and follow him at twitter/joshwelch. Below is one of the images that will be in the exhibit:
And speaking of football, here's the extended edit of The Flaming Lips Super Bowl commercial plus photos from the filming and a free download of the new song used in the ad, "Sun Blows Up Today."
What We Hope
Josh does more exhibits like this. He has a great eye for capturing motion and personalities. Did I mention you should check out joshwel.ch. Yep, you should….
Zaireeka Reissue on Four Vinyl Records
What We Know
"We just finished a re-packaging of Zaireeka for Record Store Day," Coyne reports on Spin.com. "You want to be in the here and now thinking about the future and not the past. Luckily, the Flaming Lips have been around 30 years this year and part of our time is spent constantly and luckily revisiting these older records."
He's referring to the Lips infamous 1997 project Zaireeka, originally issued on four CDs designed to be played simultaneously using four separate stereo systems. Now the band is re-issuing the album on vinyl – yes, requiring four record players according to Coyne. It's not a new pursuit – the group's visual media expert George Salisbury mentioned the idea on their message board a couple of years ago – just one of the least likely of the Lips' many far-fetched schemes to actually become reality.
What We Hope
…that this isn't too expensive.
"Songs of Love" Valentines Heart featuring New Tunes and "All You Need Is Love" with Alex Ebert and Jade Castrinos from Edward Sharpe and the Magnetic Zeros
Destiny's Child and Billy Joel aren't the only artists releasing "love song" compilations for V-day….
…so too have the cool, the crazy, the Flaming Lips!
From "With You" – the tune that bookends The Lips' debut LP, Here It Is – to Embryonic's iTunes-only rarity "Just Above Love," the brand new 16 track comp spans the Lips' entire career. Titled Songs of Love, its other standouts are Yoshimi-era cult fav B-side "Sunship Balloons" and new material. Firth there's an opening greeting, the band speaking over an orchestral synth "Valetine's Theme." That leads into the new song they co-wrote and recorded with Stardeath and White Dwarfs, "Love Is Mind Control." The entire disc is edited together in a seemless mix with snippets of new music by the Lips and HOTT MT transitioning one cut to the next. Songs of Love ends with another new recording, a cover of Beatles classic "All You Need Is Love" featuring Edward Sharpe and the Magnetic Zeros' Alex Ebert and Jade Castrinos – they know a thing or two about love. Below is a stream of the tail of the "Greeting" fading into the new "Love is Mind Control" and then HOTT MTs first "transition." That is followed by the full tracklist and a stream of the Lips final "transition" into "All You Need Is Love."
0. Valentine's Theme 2013 Greeting
1. Love is Mind Control (featuring Stardeath and the White Dwarfs)
2. Be My Head
3. Can't Exist
4. Hit Me Like You Did The First Time
5. Let Me Be it
6. Moth In The Incubator
7. Sunship Balloons
8. Thanks To You
9. Spiderbite Song
10. When You Smile
11. With You
12. Pompei Am Götterdammerung
13. What Is The Light?
14. Just Above Love
15. All You Need is Love (featuring Alex and Jade of Edward Sharpe and the Magnetic Zeros)
Of course this being The Flaming Lips, Songs of Love is issued on a USB stick inside a chocolate, "anatomically correct," life-size heart (not one of those cutesy red symbols). Released yesterday, only 100 are available exclusively at Dwelling Spaces (with 50 reserved for online sale). The hearts are packaged inside special boxes designed by the artist Michelle Romo (visit crowdedteeth.com for more on her work), each autographed by Wayne Coyne and Steven Drozd. Priced at $60, they weigh approximately 2 pounds. According to Dwelling Spaces' webstore currently selling the product, "this edible piece of art created by Dude, Sweet Chocolate in Dallas, TX consists of 72% South American dark chocolate studded with hazelnut mini whoppers and waffle cone crunch." Pictures of the heart and packaging are here.
Don't have sixty smackers to spend on novelty in the name of love? Worry not.
Next Saturday Dwelling Spaces is hosting a "Chocolate Human Heart Cherry Pie Eating Contest" at their Tulsa location, a charity event to benefit children's heart research. It's simple: donate $5 to enter; have your hands tied behind your back; be the first to eat to the "conversation heart" hidden inside their cherry pie and you'll win a free chocolate heart with the Lips' Songs of Love.
…and now a romantic tip from Maurice, the gangster of love. Eat through the heart on Valentine's Day with your special sweetie ala the lady and the tramp chowing down on spaghetti – but instead of kissing when you meet in the middle, take the USB out and get ur freak on!
https://twitter.com/dwellingokc/status/297910813996511232
https://twitter.com/dwellingokc/status/298493902430806017
….But wait, there's more. Dwelling Spaces will also be selling Flaming Lips chocolate skulls with "human blood in brains for Valentines!!!" Fear not – it's not real blood, just "pink brain goo."
Munching on this skull with your beau is the sixth romantic gesture to make any girl swoon!
https://twitter.com/dwellingokc/status/291658757455360000
https://twitter.com/dwellingokc/status/291295416216072192
Check back for details on the remaining projects outlined at the top of this post in part 2, coming soon – as is a track-by-track preview of The Terror. Watch the band record several of the forthcoming album's cuts below ("Try To Explain," "Always There… in Our Hearts," "Butterfly, How Long it Takes to Die" (new mix), "Turning Violent," the title-track and more).
Follow updates at twitter/TheFutureHeart and facebook/TheFutureHeart