Update – "Dear Life's" lyric video and digital release are out now, as is the official press release for Colors, shown below. Stream "Dear Life" on Spotify, Tidal, Google Play, Apple or YouTube:
Colors official press release:
Hailed in advance by ROLLING STONE as a "euphoric blast of experimental pop," Beck's 13th album Colors has been confirmed for an October 13 release on Capitol Records. Possibly the most aptly titled work in Beck's storied discography, Colors unfolds in an intoxicating rainbow of auditory tricks and treats, making it a shoo-in for the summeriest smash of the fall season. The newest advance taste of the album is the captivating piano-driven "Dear Life," available instantly with pre-orders placed at http://beck.to/colors and subject of a lyric video directed by Jimmy Turrell, Laura Gorun and Brook Linder and featuring animation by Drew Tyndell and Rhiannon Tyndell live now at http://beck.to/dearlifelyric.
Colors is Beck's first full length offering of new material since 2014's Morning Phase took Album of the Year top honors at the 57th Annual Grammy Awards, as well as Best Rock Album and Best Engineered Album (Non-Classical) category. In addition to the newly unveiled "Dear Life," Colors includes both Beck singles that preceded it: a new mix of the psych-dance summer jam "Dreams" that NPR hailed as "urgently contemporary and irresistibly vintage" as it gave Beck his second #1 single at AAA radio (the first being Morning Phase's "Blue Moon"), and the retro-futuristic earworm and USA TODAY Song of the Week "Wow" that had STEREOGUM praising its "big, sweet incandescent hook" and plainly stating "It's a great song!" while ESQUIRE rejoiced "All hail the return of Party Beck."Colors is also available for pre-order at Beck.com in a limited edition deluxe vinyl format featuring two 180g 45rpm red vinyl LPs in a special die-cut gatefold package, with a customizable color transparency cover and 24-page booklet. Digitally, Colors can be pre-ordered through Apple Music, pre-saved via Spotify, and more. The complete track listing for the album is:
Colors
7th Heaven
I'm So Free
Dear Life
No Distraction
Dreams
Wow
Up All Night
Square One
Fix Me
Colors was produced by Greg Kurstin and Beck, with the exception of "Wow" produced by Beck and Cole M.G.N., and "Fix Me" produced by Beck. The album was mixed by Serban Ghenea, except "Dreams" and "Up All Night," which were mixed by Greg Kurstin and Beck.
Beck discussed the new album on Zane Lowe's Beats show today, including the new version of "Dreams" that will appear on the album ("Up All Night" will also be a new version, different than the early mix released last year on FIFA '17 and streaming on the internet). Watch below via Beck Daily, or stream the full interview (two minutes long than the video) on iTunes:
Original Post:
All signs point towards Beck releasing "Dear Life" today as the third official single in advance of his new album Color, along with official confirmation of the release date (October 13th), the album art and tracklist (previously discussed in depth here). Colors pre-orders are also expected to go live today.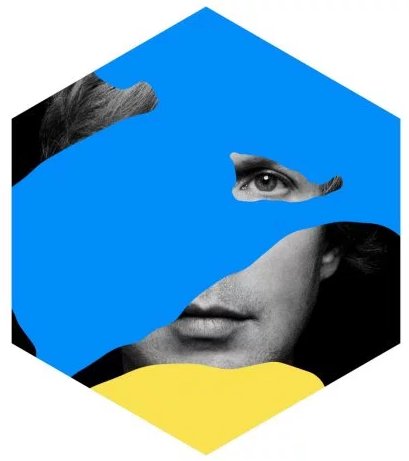 Yesterday, Jimmy Turrell – an artist Beck collaborated with for his current concert visuals and the director of last year's "WOW" lyric video – noted on Instagram: "Some exciting news about Beck coming soon." Also yesterday, Beck teased the lyrics to "Dear Life" in an Instagram story ("Dear Life, I think the Button is stuck," more below) and changed his Instagram avatar to the image shown above (a variation on the hexagon that recently appeared on Beck.com, as discussed here), now confirmed as a variation of the cover art of Colors.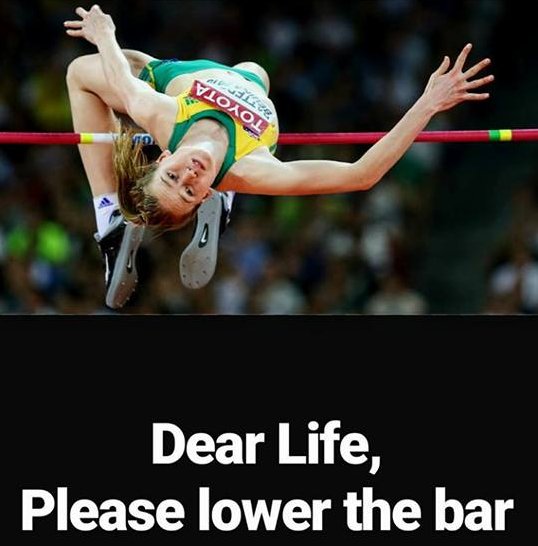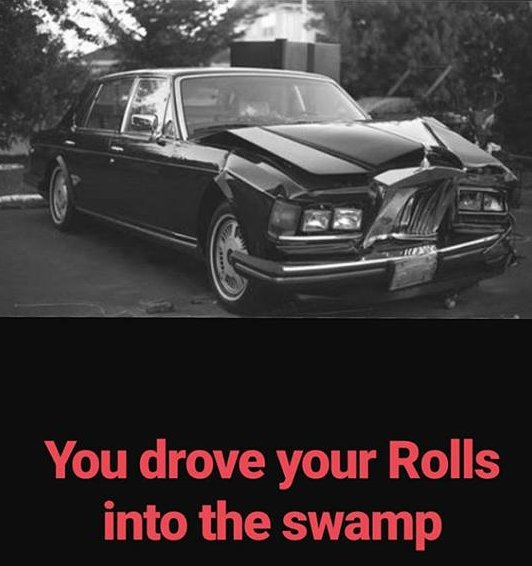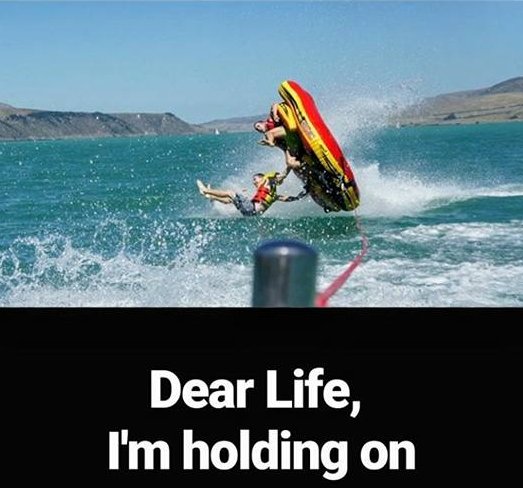 This morning Zane Lowe tweeted "new… Beck" would premier on his Beats show and Spotify prematurely shared this banner:

Also this morning Rough Trade tweeted, then quickly deleted a link to their Colors pre-order page, revealing this yellow vinyl edition: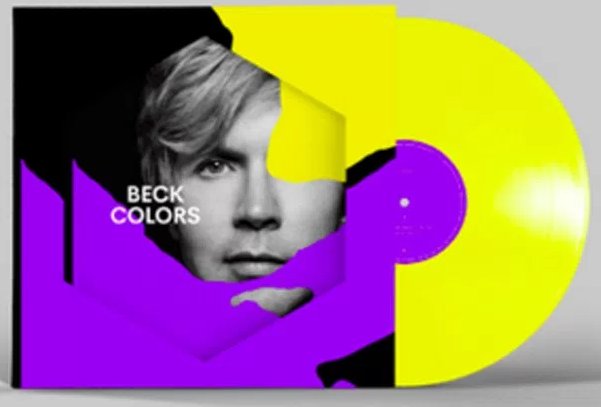 Pre-order pages soon after began appearing on various sites. The CD and single vinyl list this as the cover: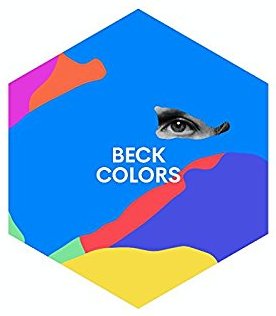 The vinyl versions are listed with different covers depending on the edition. The limited edition deluxe version shown below includes two red LPs pressed on 180 gram vinyl to be played at 45 rpm. Beck's online store lists it with the same cover art as the CD; other retailers list it with the cover shown right. In both cases it comes in a jacket customizable with transparency prints with a 24 page lyrics art book. The standard vinyl edition will be one red vinyl LP; Barnes and Nobles offer white vinyl; and indie stores will have an exclusive yellow vinyl edition (see the aforementioned linked Rough Trade example).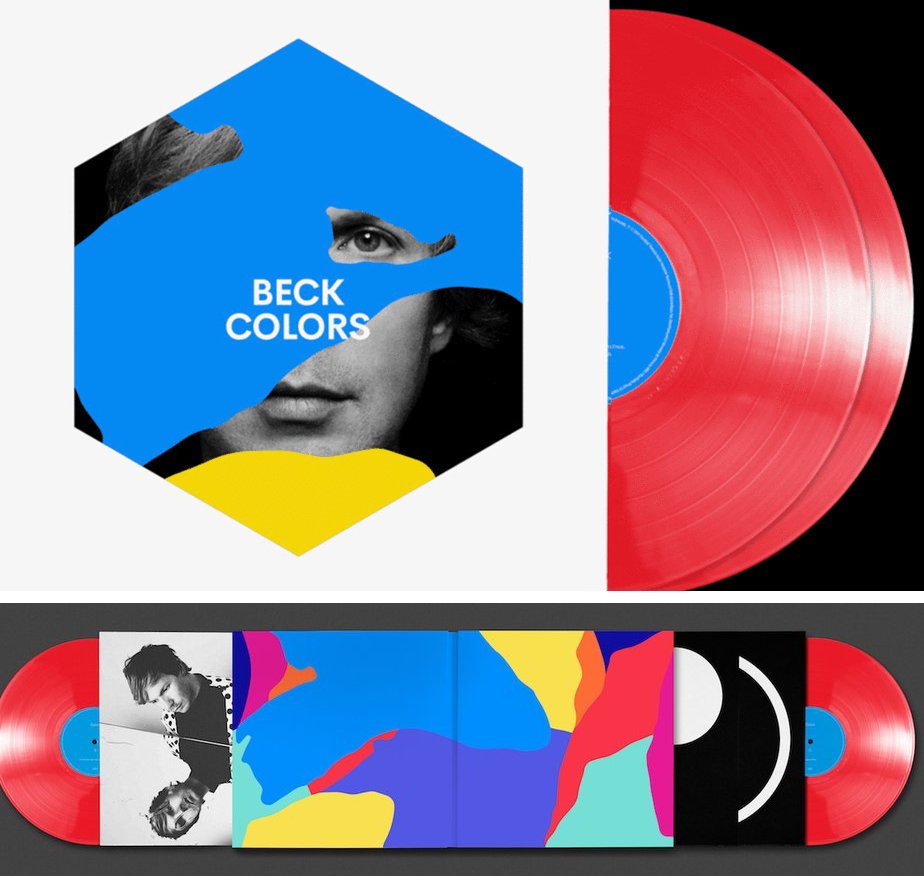 There's numerous additional options at shop.beck.com including deluxe bundles with the double red vinyl edition (or download or CD) paired with an exclusive Colors t-shirt, a kaleidoscope, a limited edition numbered enamel pin (250 worldwide) and a laser engraved glass prism for $59.99. Both the double red vinyl and download are also available with just the t-shirt and kaleidoscope for $29.99; or the double red vinyl can be ordered on its own (no bundle) for $49.99. The single LP red vinyl edition is $19.99, the album download by itself is $9.99, the CD $11.99 and the cassette $12.99.
Follow facebook/TheFutureHeart and twitter/TheFutureHeart for the latest.