Founded and led by Eric Pulido with his Midlake bandmates McKenzie Smith (drums), Joey McClellan (guitar) and Jesse Chandler (keys, also of Mercury Rev), supergroup BNQT formed in 2015 with Jason Lytle (Grandaddy), Ben Bridwell (Band Of Horses), Alex Kapranos (Franz Ferdinand) and Fran Healy (Travis). The backstory goes back years though.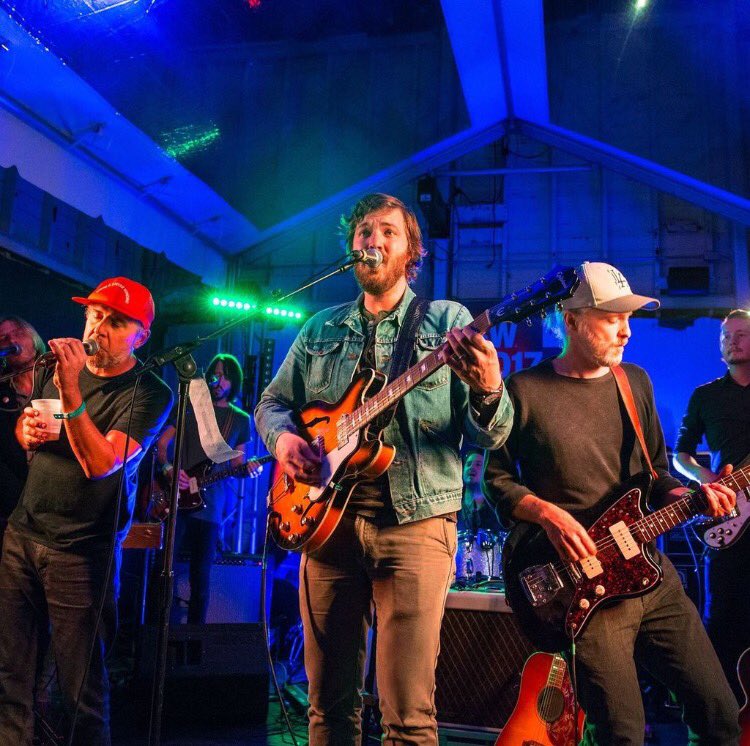 After Grandaddy broke-up in 2006 frontman Jason Lytle released solo albums Yours Truly, The Commuter in 2009, Music to Accompany the Art of Ron Cameron in 2010 and Dept. of Disappearance in 2012. The future of Grandaddy looked non-existent until March 2012 when Lytle returned to his Grandaddy songbook with a set backed by Midlake dubbed 'Grandlake.' Soon after Grandaddy themselves reformed for a few reunion shows, though they were described at the time as being one-offs. Since the plan was simply to "rock out…get paid…get out" new Grandaddy material seemed unlikely until October 2012 when Jason teased to DIY that the first Grandaddy album since 2006's Just Like the Family Cat was on the horizon. Indeed it was, though it took another half decade: it was only just released last month.
Meanwhile Midlake was going through transitions of their own. After releasing critically acclaimed albums The Trials of Van Occupanther in 2006 and The Courage of Others in 2010, and supporting them on tour with The Flaming Lips, Jason Lytle, John Grant, Sarah Jaffe and Band of Horses, among others, the group spent much of 2011 and 2012 back at the Buffalo, Texas farm The Courage Of Others was tracked working on a follow-up, but hitting a wall. "We knew something was missing," guitarist Eric Pulido said. Midlake debuted some of the new material in 2012, most notably at Bella Union's 15th Anniversary End Of The Road Festival, but sensed a change was needed. Shortly after frontman and lead songwriter Tim Smith left the band to form new project Harp while Midlake abandoned their past two years of work to start anew with Pulido stepping up to sing lead and the addition of new members Jesse Chandler (keyboards, piano, flute) and Joey McClellan (guitars) (both played with Sarah Jaffe). "We wanted to embrace the psychedelia, style and nuance you might hear in bands from yesteryear," Pulido said of the new line-up's 2013 album Antiphon, "while also being aware of music influences leading up to and present now.  The result was less folk and more rock. Less nostalgic and more progressive." The album was released to more acclaim and opening slots for Pearl Jam.
Eric Pulido had an idea while touring Antiphon: Midlake should collaborate with numerous artists they had befriended on tour whose styles contrasted with Midlake but would still complement each other regardless. "That's what art is about for me," Pulido says in a recent press statement, "creating with other people that you love and appreciate." He specifically had the collaborative nature of The Band in mind, and as a soon-to-be first-time father at the time decided he should coincide the personal changes in his life with this musical one. The result was new supergroup Banquet – since changed to BNQT to avoid confusion with another band, though still pronounced the same – "like a poor man's version of The Traveling Wilburys!" Pulido jokes. Midlake had previous experience collaborating. Aside from the 'Grandlake' set playing Grandaddy songs as Lytle's backing in 2012, they served as John Grant's band on his solo debut album, 2010's Queen of Denmark. Separately McKenzie Smith has drummed for St. Vincent, Elvis Perkins, Sarah Jaffe, and others, as well as production and writing with Jaffe. Pulido, Joey McClellan and Jesse Chandler have also worked extensively with Jaffe and Chandler is currently an unofficial member of Mercury Rev as well, both in the studio and live. This new project takes collaboration to a whole other level though.
It started open-ended. "I kind of gave them a blank slate of, 'We can be as little or as much for you. We can write with you, we can just be your backing band, we'll help produce things. You can come to Denton. You can do it remotely,'" Pulido explains to Dallas Observer. "I wanted to leave it open to make it as easy and accommodating as possible." They met in person, but traded many of their demos through e-mail with Pulido taking the lead to record much of the basic tracks with his Midlake bandmates in their Denton, Texas studio. Jason Lytle and Fran Healy visited the studio to work on songs and help with production in person. "It was a myriad of responses and opinions about what we were doing," Pulido says.
News of the supergroup and their debut album broke in 2015 by Dallas Observer with Pulido commenting, "it all started with a boy and a dream." He explained it came together initially through e-mails. "I was surprised people said yes. It's a humbling and cool experience to share something like this with some of your musical idols who are also nice people." Lytle added, "To tell you the truth, I'm a little mystified what the whole thing is myself, which is fine. I was asked to contribute however I felt like. I had a couple of songs that were just floating around and didn't have a home in my own catalog and thought it'd be a good opportunity to use them for this Banquet thing."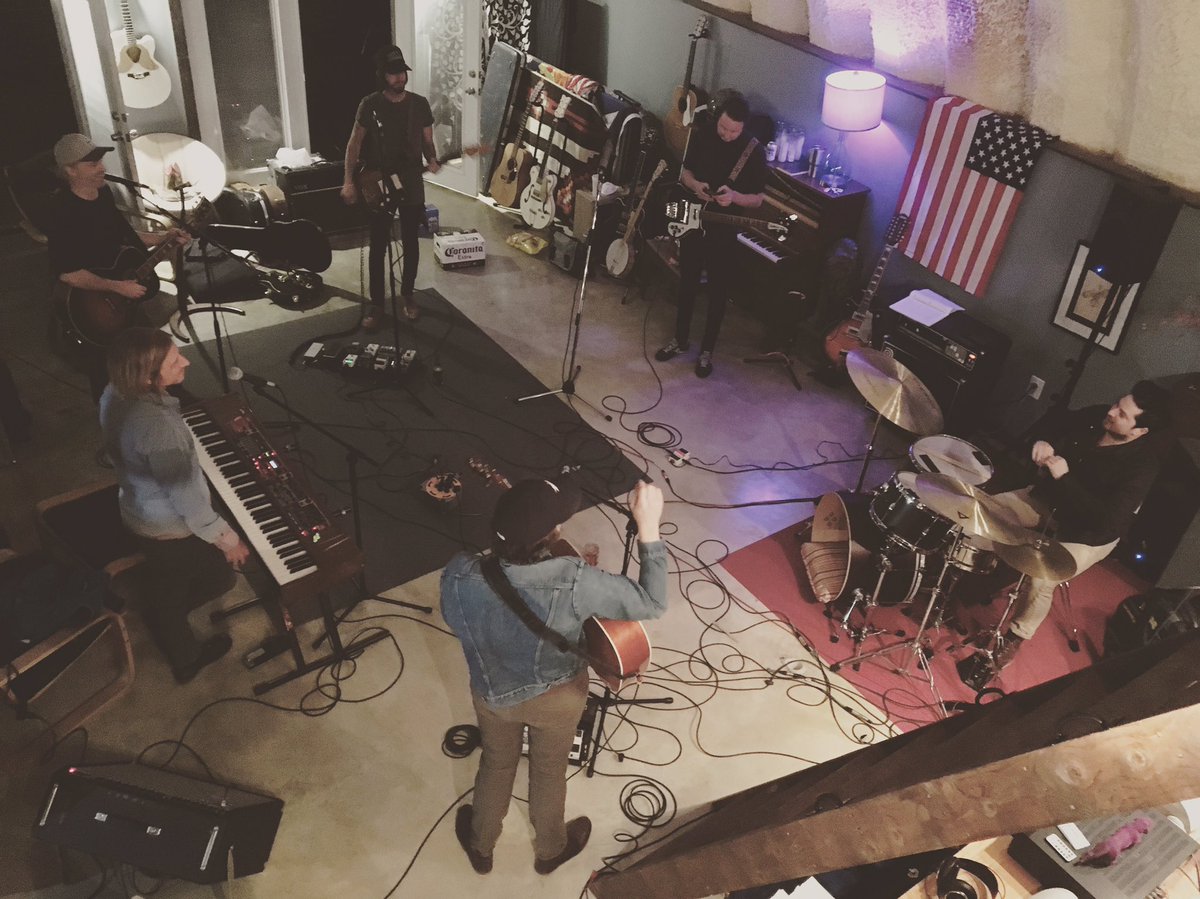 Fast forward to 2017. BNQT's debut album is titled Volume 1, probably not coincidentally the same name as the Traveling Wilburys' first LP, and ahead of its release it's already getting rave reviews from Uncut, Q, Clash and others. They're featured in the May issue of Uncut; getting plenty of radio play on college stations; and were named one of the "Top Artists to Watch at SXSW" by KCRW. Indeed their SXSW debut performance was hailed as one of the highlights of the conference by Billboard and Yahoo.
The album is officially out April 28th on orange vinyl (order now on CD and vinyl at bellaunion.greedbag and Dualtone, or on iTunes), but six days earlier it will be available at indie shops for Record Store Day on exclusive white vinyl. The tracklist, a picture of the orange vinyl and  the album cover art is below:
1. Restart
2. Unlikely Force
3. 100 Million Miles
4. Mind Of A Man
5. Hey Banana
6. Real Love
7. Failing at Feeling
8. L.A. On My Mind
9. Tara
10. Fighting The World
The entire album will world premiere April 19th on Dallas' 96.7 and theticket.com with Eric as guest. Ahead of that, three tracks from the album are streaming online. First came Lonerism-esque lead single and album opening cut "Restart," then Bridwell's jazzy, classic rock styled "Unlikely Force." Stream both below:
Though primarily recorded by Midlake at their Denton, Texas studio under Pulido's direction, two songs each were written by Bridwell, Kapranos, Healy, Lytle and Pulido totaling the debut album's ten tracks. Each writer takes the lead singing their pair of songs. "Real Love," the only track on the LP with all five vocalists, premiered online last week: