Revised April 17th
Neil Young Tonight's The Night: Live At The Roxy 1973 will be released as a limited edition double LP on April 21st for Record Store Day 2018. Recorded September 20th through 22nd, 1973 at Los Angeles' Roxy Theatre, it includes the live debuts of nine songs that ended up on Tonight's the Night, as well as On the Beach's "Walk On." Warner Bros. Records​ will press 9000 copies as with a suggested retail price of $25.98. A 'RSD First' Release, it includes a collectible photo inside the gatefold sleeve and an etching of the Roxy logo on the flipside of the second LP. A standard vinyl edition as well as CD and digital versions will be released April 24th (and are currently available for pre-order on store.warnermusic, Amazon and elsewhere).
"We really knew the Tonight's The Night songs after playing them for a month [in the studio]," Young wrote earlier this year on his online archive of these shows – the first ever, by any artist at the famous Sunset Strip venue. "So we just played them again, the album, top to bottom, without the added songs, two sets a night, for a few days. We had a great time." Young was backed by a band he called the Santa Monica Flyers. Produced by Young and the late David Briggs, the album cover and package is below, followed by the tracklist.
The complete Record Store Day 2018 list is here. Follow updates at twitter/TheFutureHeart and facebook/TheFutureHeart, and in the new Record Releases 2018 Facebook group.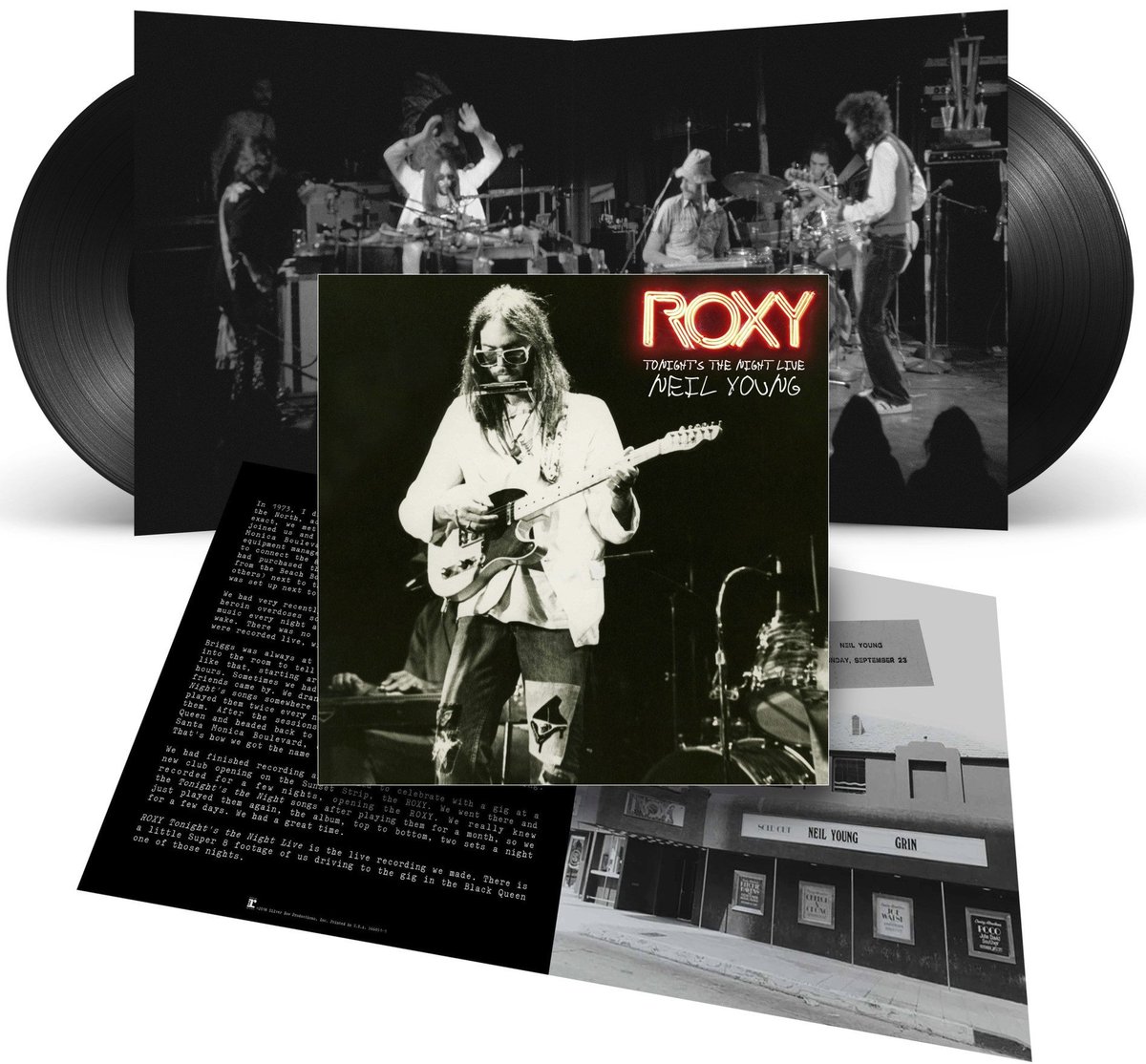 Tracklist
Side A
Intro
Tonight's The Night
Roll Out the Barrel
Mellow My Mind
World On A String
Band Intro
Side B
Speakin' Out
Candy Bar Rap
Albuquerque
Perry Como Rap
New Mama
David Geffen Rap
Roll Another Number (For The Road)
Candy Bar Rap 2
Side C
Tired Eyes Rap
Tired Eyes Rap
Tonight's The Night-Part II
Walk On
Outro
Side D
(Etching)
In related news, Neil released an official video of "Peace Trail (live)" from his film Paradox, which recently premiered at SXSW. Neil's band Promise Of The Real learned to play "Peace Trail" without him. This recording captures the very first time Neil and the band played it together: