Updated August 15th
Ariel Pink's forthcoming album Dedicated to Bobby Jameson is due September 15, with album cover art by Robert Beatty (whose recent LP cover art credits include The Flaming Lips Oczy Mlody, Kesha Rainbow, Oh Sees Orc, Real Estate In Mind, numerous Tame Impala releases and much more). His first LP for Mexican Summer – following three critically acclaimed breakthrough albums on 4AD – Dedicated to Bobby Jameson marks his return to the lo-fi approach of his early releases on Animal Collective's Paw Tracks label. Ariel Pink discussed the label move and his return to home recording with Stereogum:
"I think recording it at home was a big part of it. I pretty much took it back to being more or less me at the helm of the recording. Of course, I did have plenty of guests on the record; there's plenty of other people's contributions. It's not exactly like the way I used to do it when I was at home alone by myself with my 8-track. It's been several years since I got out of my house and started recording with a budget, and in studios, and with band members and stuff like that, and it took me that amount of time to learn that it wasn't the ideal way of working. I brought it back home, where you don't have to worry about hours, or punch a clock or anything like that. So that made it a lot easier and left me wondering why I didn't do this a lot sooner.
Mexican Summer was interested even before we signed to 4AD. The fact that they were interested afterwards and throughout does bode well for my decision to go with them. And their label has come a long way since they first started, so it's good to see that they're thriving or at least above water. The difference between them is stark. One is like, you're part of a small piece in a bigger machine; you don't have as much personalized care and attention. I think Mexican Summer is really investing a lot in what I'm doing, as opposed to 4AD, where I was more of a pet rock on the manager's table, a gift, not something they were really gonna invest much in. Everybody wants things to succeed, but to a point, because then it gets really complicated. They want their indie cred, but they also, don't want to have to be accountable to people for the rest of their lives."
Ariel Pink also discussed at length the album's namesake, Bobby Jameson, a singer and songwriter who flirted with becoming a major star with his 1965 LP Songs of Protest and Anti-Protest but was relegated to becoming a cult act disillusioned with the music industry. Assumed dead by many, he resurfaced in 2007 with a series of autobiographical blog posts and YouTube videos about his life, suicide attempts and the biz that he continued until dying of an aneurysm in 2015.
"I discovered him probably about a year after he died. My friend Giddle Partridge was friends with him, and she pointed me to some of his YouTube rantings. That sort of led me to his blog, which is like his unpublished autobiography, and I read that. I was totally taken by it. I found myself completely engrossed in his writing voice and his story, how well his memory served him, but also the urgency he was writing with. He's not a writer that decided he was going to be a writer. It's not like he ever intended on writing a book about his life. He's grabbing you by the collar and saying, "This is what happened, OK?" It's basically like when you hear a record by people that have no business playing instruments or writing a record, and it feels like a treat. So, it was that, in combination with the way that it resonated with me. There's so many aspects to it; of course I identify with him in many ways. But also just like, the fact that his story, or his Wikipedia entry, the way that people now see it, is all from his mouth. He could've gone to his grave without writing the blog and no one would know anything. That's not a fate that usually befalls a person — they don't get to write out their destiny. It's usually a consensus; what they say is the least important part. Nina Simone — we know she's as crazy as she is, not from her autobiography, but because we see it from everybody else's vantage point in the consensus. [Bobby Jameson's story] is a triumph, and the irony behind it is that he lived just long enough to set in stone his version of the events. That's like, wow, what an amazing way to go out.
I think it says a lot that people thought he was dead for 30 years just by virtue of the fact that he wasn't feeding the madness that came to typify his identity in the music biz. He was barely known from the get go, but if he was known, he was known as essentially that guy, like one of those annoying types that you avoid on the street. There was no Summer Of Love for him; he went straight to Helter Skelter, like in '64 right off the bat. His manager just died a month ago, Tony Alamo. Before he was a religious cult leader-slash-pedophile rapist serving 200 years in jail for these notorious crimes, he was a pot-smoking manager in early '60s LA, with Bobby Jameson as one of his acts. The people on the periphery of his story, they all were way more famous than him. They weren't famous yet, when they worked with him, but they would eventually become famous. They were feeling out their first moves in the whole thing, and he barely merited any mention from any of them.
He was a gnat. He was a nuisance. He thought he was a rock star; he just needed to have the right deal come by, and he would just get what everybody else around him was getting. Everybody was sort of like, fielding the thing properly but somehow he was just stuck lamenting about how he never got paid for his first recordings and that just annoys everybody. Then he became that guy that's on the sidewalk that's basically just a belligerent asshole that you don't even want to talk to. And then he's the guy that's trying to commit suicide every other week. It's the saddest thing, but that's because he was so wrapped up in his identity as a rock star that was on the verge of making it for 20 years. You're supposed to have grown out of this by the time you're 20. Everybody else and their mother sort of has a record deal, shows up, goes away, and life goes on. It's a youth movement. You're supposed to grow up. Well, he didn't grow up, and he never got his five seconds just to like, quell his anxiety about it. And it was still there 30 years after the fact, even after people were like, "he must be dead," because he's not jumping off the Capitol Records building.
But the funny thing about that is as soon as he came back online, in 2007, it was as if his anger and angst that he harbored in the late '70s about it, right before he ditched LA and went up to San Luis Obispo and became a Hells Angel and a bricklayer and took care of his mom in a trailer park, it was like no time had passed. He fell right back into the same archetype and essentially was coming online to stop traffic.
To many people, I might be famous, but I know differently. I know that I'm not famous. I have friends that are talented, that look at me as if I've made it and beat themselves up over why their ship hasn't arrived. It's a matter of how you feel. That angst that I had — I didn't even realize I had it, mind you — I just wanted a little bit of love and attention. I didn't even realize it for 26 years, you know? Then when it came, it was like, aw shit, that's it? I don't have the same urge or drive to create like I used to. That was all just a desperate plea for attention. Maybe that's what informed it and made it so vital at the time, but that's gone now. I had to rearrange my mind on how to write songs. I definitely don't do it the same way or for the same reasons that I used to.
I feel like Bobby Jameson's life, I identify with it. That angst part was me before I felt that acknowledgement, and once you feel the acknowledgement, you can move on. Art is this weird therapeutic thing; you're supposed to actually do it so you don't have to do it anymore. You should get to a place where you've expelled it. Anybody that says that they're an artist and keeps repeating the mantra like if they say it enough times it'll be the case, there's an insecurity there. They use that as a safety net but it's also a crutch. They'd rather be "artists" than be happy and actually purge. God forbid they should stop making "art." So they use their misery and their hardship as a sort of grist for the creative mill, and that's a completely retarded thing. And everybody encourages it. It's juvenile, but that's what we expect from our artists. We infantilize them; we don't want to see them act responsibly.
People want to focus on me and I'm basically like, no no no, let's talk about Bobby Jameson. That's the whole point — it's a way to distract, obviously. I realize that now. I only realized it after the fact though. The song itself, there's no lyric that says "Dedicated To Bobby Jameson." There's no reason why I should've named it that way; I came up with the album title before anything else, and I had to have a song that was named that. Why do I do these things? There's no theme on the record. It's because I'm basically trying to take the spotlight off of me."
 Dedicated to Bobby Jameson is currently available for pre-order at mexicansummer.com and arielpink.bandcamp in four editions:
1) Blue Vinyl LP (limited first edition of 4,000 LPs on blue vinyl)
2) Deluxe LP Package (black vinyl LP with "Non-sequitur Segues" bonus 12″ picture disc, a 24" x 36" poster, download card and translucent PVC slipcase)
3) CD
4) MP3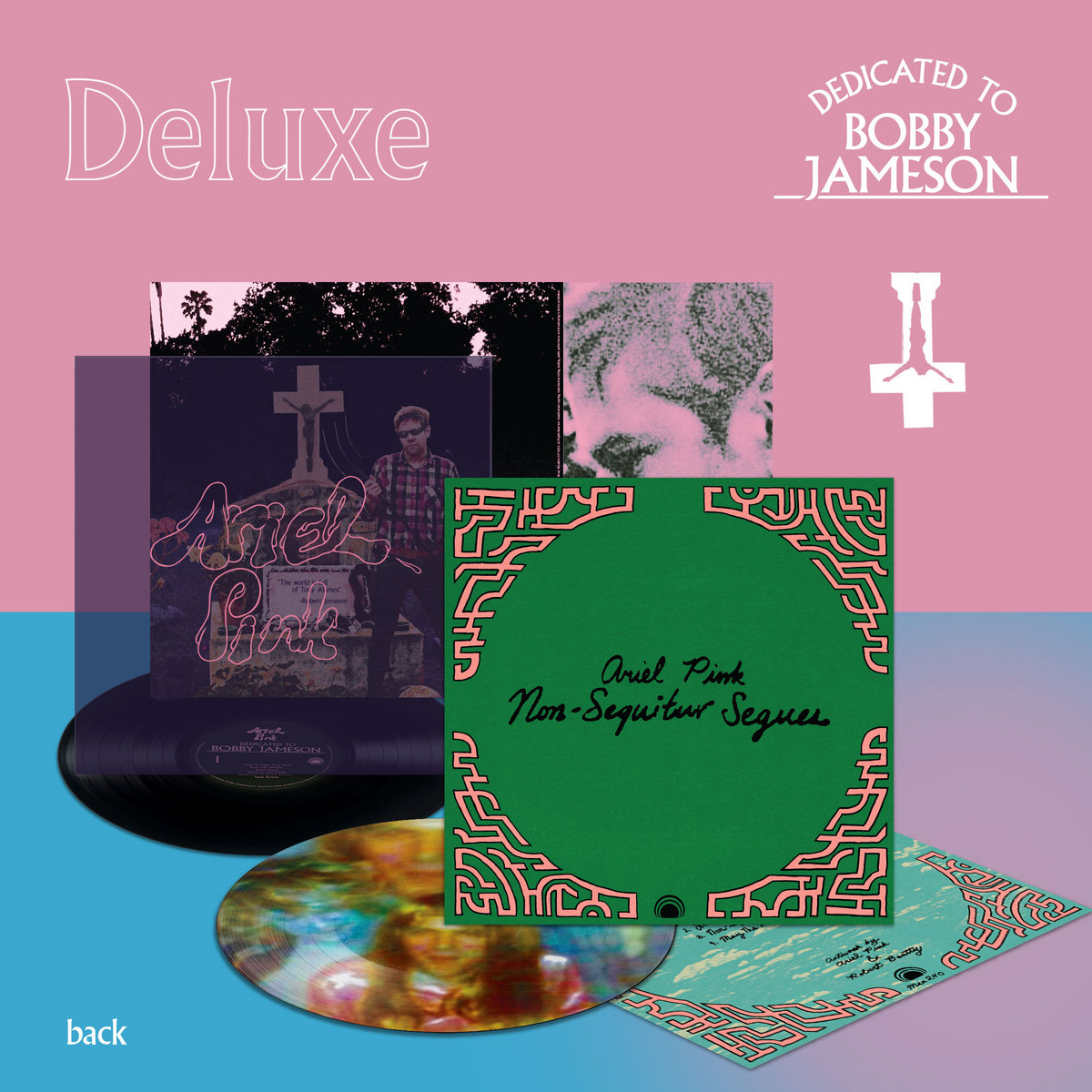 To date three songs have been shared from the album: "Another Weekend," Ariel Pink's first solo music since 2014's pom pom (excluding Myths 002, the collaborative EP he released with Weyes Blood at the start of this year), "Time To Live," the second promo single ahead of Dedicated to Bobby Jameson's release, "Feels Like Heaven," the third.
The official video for "Another Weekend," directed by Grant Singer, is below, followed by the full Dedicated to Bobby Jameson tracklist, and its support tour dates. Note that the tour kicks off October 13 at Desert Daze, which among 2017 festivals easily has the most stacked line-up of psych and noise related artists (also on the bill: Spiritualized​, King Gizzard & The Lizard Wizard​, John Cale​, Courtney Barnett​ and Kurt Vile​, Unknown Mortal Orchestra​, Panda Bear​, Avey Tare​, Hope Sandoval​ (of Mazzy Star​), Thurston Moore​, Terry Riley​, Tortoise​, Boris​, Spaceface​ (fronted by Flaming Lips​' Jake Ingalls​) and dozens more)…
Dedicated to Bobby Jameson Tracklist
1. "Time to Meet Your God"
2. "Feels Like Heaven"
3. "Death Patrol"
4. "Santa's in the Closet"
5. "Dedicated to Bobby Jameson"
6. "Time to Live"
7. "Another Weekend"
8. "I Wanna Be Young"
9. "Bubblegum Dreams"
10. "Dreamdate Narcissist"
11. "Kitchen Witch"
12. "Do Yourself a Favor"
13. "Acting" (feat. Dam-Funk)
Dedicated to Bobby Jameson Tour
October 13 Joshua Tree, CA – Desert Daze Festival
October 14-15-16 San Francisco, CA – The Chapel
October 19 Portland, OR – Revolution Hall
October 20 Vancouver, British Columbia – The Venue
October 21 Seattle, WA – Neumos
October 23 Salt Lake City, UT – Metro Music Hall
October 24 Denver, CO – Bluebird Theater
October 26 Minneapolis, MN – Fine Line Music Cafe
October 28 Chicago, IL – Thalia Hall
October 29 Detroit, MI – El Club
October 30 Toronto, Ontario – The Phoenix Concert Theatre
October 31 Montréal, Québec – Le National
November 02 Boston, MA – Brighton Music Hall
November 03 Philadelphia, PA – Union Transfer
November 04 New York, NY – Le Poisson Rouge
November 05 Washington, DC – 9:30 Club
November 07 Atlanta, GA – The Earl
November 08 New Orleans, LA – Tipitina's
November 10 San Antonio, TX – Paper Tiger
November 11 Dallas, TX – Trees
November 12 Austin, TX – Sound on Sound Festival
November 14 Phoenix, AZ – Crescent Ballroom
November 15 Tucson, AZ – 191 Toole
November 16 San Diego, CA – Belly Up
November 17 Los Angeles, CA – TBD